DISCLOSURE: My articles may contain affiliate links. To click on those links, you won't be charged any extra cost, instead, you help me to get some small commissions to maintain my blog. Thanks for understanding!
Nusa Penida is a small island located off the southeastern coast of Bali. It is definitely one of the most instagram-worthy places in Bali that you must pay a visit to during your Bali trip.
The best way to go to Nusa Penida from Bali is by ferry (fast boat). 
In this post, I'll share a detailed guide on how to go from Bali to Nusa Penida by ferry based on my travel experience.
Read more: Review Kecak fire dance in Uluwatu temple, Bali: its story, ticket price & pro tips
1. Overview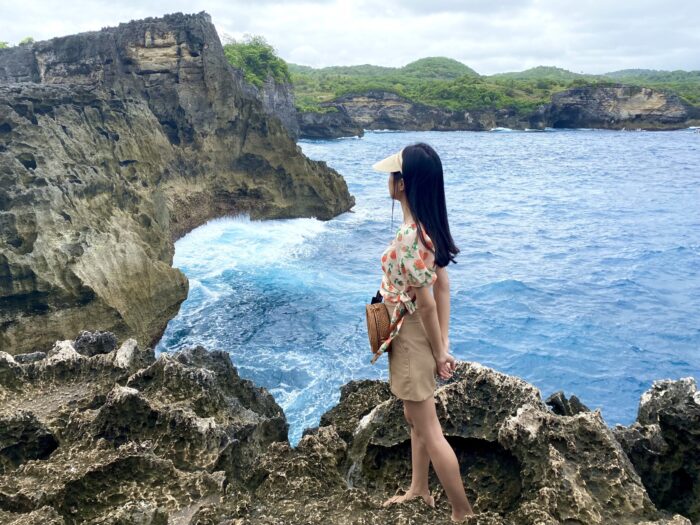 To take the ferry, you will need to go to Sanur Harbour, and from there, take a 30-45 minute ferry to Nusa Penida. 
Note: Besides Sanur Harbour, you can also go to Nusa Penida from other ports in Bali such as Pemelisan, Kusamba, Padang Bai, and Serangan. However, Sanur is the most modern one and there are more ferries departing from this port compared to others.
2. How to go to Sanur harbor?
There are 2 main ways to go to Sanur harbor:
By car: You can either book a taxi or Grab car. Regarding taxis, one of the most reliable taxi brands in Bali is Blue Bird Taxi (Blue color).
Besides, Grab is very common in Bali as well. I was surprised that it's very quick to book a ride from the app. Click here to download Grab.
If you are with a large group, consider renting a van.
By motorbike: If you are a solo traveler, you can take Grab bike as well. Basically, it's a motorbike taxi service from Grab.
Bear in mind that Sanur is pretty far from other tourist destinations such as Ubud, Kuta, Seminyak, etc. Additionally, the traffic in Bali is reallyyyyyyy bad (even during weekdays). Therefore, it's always better to depart from your place earlier to avoid being late for the ferry. 
Below is the estimated distance from some places to Sanur Harbour:
Distance from Ubud to Sanur: 25 km (1-hour drive)
Distance from Kuta to Sanur: 12 km (30-minute drive)
Distance from Seminyak to Sanur: 15 km (35-minute drive)
Distance from Nusa Dua to Sanur: 21 km (40-minute drive)
3. How to buy a boat ticket from Bali to Nusa Penida?
There are a few ferries that operate routes from Sanur to Nusa Penida such as Axe Stone, Angel Billabong, El Rey Junior, etc. 
For my trip, I took the Axe Stone ferry, it's just a standard boat and the journey was fine.
You can buy the boat tickets online via THIS LINK or buy directly at the counter (each ferry has its own counter). However, during my trip, I saw a vast number of people on the boat, so I think it's better to buy online in advance to avoid ticket sold-out. Additionally, buying tickets online is cheaper than buying at the counter.
If you buy online, you will receive an e-voucher. On the departure day, you go to the counter of the ferry company and exchange for the paper ticket. 
After that, they will lead you to the harbor. Then you just need to show your ticket to the staff at the harbor, get inside and find the fast boat.
To check the Nusa Penida ferry schedule and the updated ticket price: Click here
Read more: Review Kecak fire dance in Uluwatu temple, Bali: its story, ticket price & pro tips
4. Taking the ferry from Nusa Penida to Bali
It's the same as when you go to Nusa Penida from Sanur. You have to find the counter of the ferry you want to take. After that, the staff will assist you. 
If you buy your tickets online, the location of the counter will be shown on the booking website.
5. How many days to stay in Nusa Penida?
 

 

Xem bài viết này trên Instagram

 
There are many wonderful natural places to visit in Nusa Penida, and it is also perfect for activities such as snorkeling and surfing. Therefore, it is recommended to stay in Nusa Penida for at least two days (or even longer if you have time) to fully explore this magnificent place.
In addition, day trips to Nusa Penida are also available from many travel operators for tourists with limited time in Bali. However, it is important to note that the distance between destinations on Nusa Penida is significant, and travel times can take at least 30 minutes. If you choose to take a day trip, the itinerary may be rushed, with only 20-30 minutes allotted for each destination. This type of trip is not recommended for those who want to relax and fully enjoy the natural beauty of the island.
Here are the links to book tours from Bali to Nusa Penida (all-inclusive):
6. Things to bear in mind before taking the ferry from Bali to Nusa Penida
Below are some notes before your trip:
If possible, you should buy the ticket online instead of buying from the ticket counter to get a discount.

It's best to check in at the counter 1 hour before the departure time.

If you bring a surfboard, you have to contact their customer support to check whether it's allowed or if you have to pay extra or not.

Although it's said that the ferry trip takes only 30 minutes, sometimes it could be up to 45 minutes.
Read more: Review Kecak fire dance in Uluwatu temple, Bali: its story, ticket price & pro tips
Above is everything you need to know when taking a ferry from Bali to Nusa Penida. I hope you find it helpful and feel free to ask questions below.