When travelling to Ha Giang Loop, one of the most important things you need to concern about is definitely the motorbike rental service here. Ha Giang has a vast number of rental stores to choose from, however, not all of them provide good service. You might see hundreds of recommendations in some "ultimate" travel guides to Ha Giang Loop, however, sometimes, they are just advertising posts. In this post, I will review as much detail as possible about a Ha Giang bike rental shop I had experienced – Anh Anh Motel.
You may also like Ha Giang: The most comprehensive travel guide.
1. General info about Anh Anh Motel
Address: Group 1, Cau Me, Phuong Tien, Ha Giang City
Tel:  0986030405
Price range: from 100,000 – 400,000 vnd/day depending on the type of motorcycle.
Website: Ha Giang bike rental
As for me, I chose the most basic option which was Semi-Automatic Honda Wave and cost only 100,000 vnd per day. I highly recommend Semi-Automatic bikes as we can better control the bike while driving on steep roads and it's safer on rainy days.
2. My feedback about Anh Anh motel
Great location
Anh Anh motel is just 220 meters from Ha Giang bus station, therefore, you can ask the bus driver to stop at this address, they will not mind doing so. In case they don't, you can walk to this motel easily within few minutes. Last time, I went to Ha Giang by Cau Me bus, the driver and ticket conductor were both very nice and dropped us off at Anh Anh motel without hesitation.
In addition, in the vicinity, there are also some petrol stations to fill up your tank.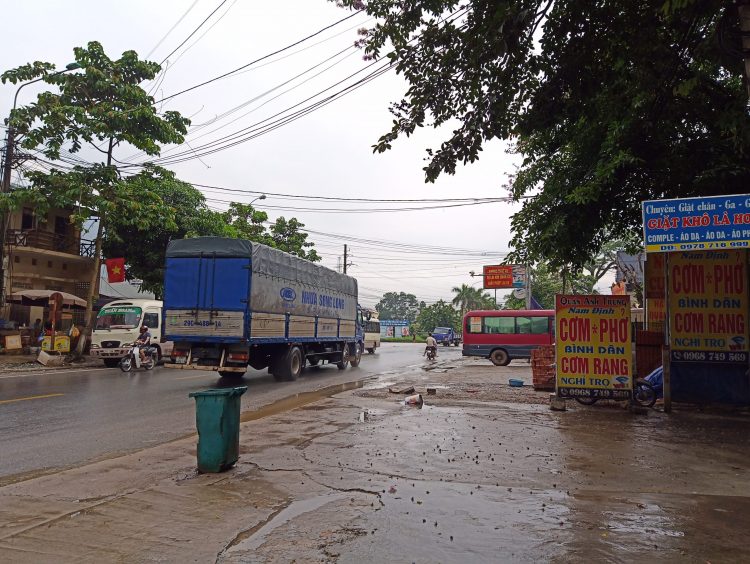 Helpful and informative staffs
First, they give us free dorm beds to rest until morning. There are several bus schedules from Hanoi to Ha Giang, however, the night bus which departs at 21:30 and reaches Ha Giang at 4:30 AM is the most convenient and time-saving option. Once we'd got to Anh Anh motel, the front desk staff just immediately told us to go to take a rest in a dorm room on the second floor (we had contacted them in advance). The room was very clean, the beds were comfortable.
Secondly, when we came down to rent the motorbikes, they were really patient to let us try several motorbikes before signing the rental contract (as driving in Ha Giang is dangerous at some points, it's necessary to check the bike carefully).
In addition, after we signed the contract, they gave us a thorough Ha Giang travel guide through a local map such as what to see in Ha Giang, what to eat, where to eat the best Ha Giang's local food, etc.
Moreover, a long list of motorbike repair shop's phone numbers across Ha Giang was also given. Thus, if your motorbike had any problem along the road, you could call them for help.
Last but not least, on the way back to Ha Giang city from Dong Van town, we were wondering whether we could take a shower at Anh Anh motel. Surprisingly, once we got back, without us asking, the staff just immediately told us to take a rest and take a shower in their motel. This is proof that they really understand customers' needs.
Full package provided
Anh Anh motel provides almost everything you need when driving to Ha Giang loop including helmet, knee and elbow braces, raincoat, rubberband to tie your bag on the back, a bottle of water, etc.
Note: As we visited Ha Giang in June when it was raining every morning (but the weather afterwards was perfect), we had called Anh Anh motel a few days in advance and they said they had a free raincoat for us. Although they gave us only one raincoat (we were a group of 5), I really appreciate that as it also saved us a little bit of money :D.
Well-functioned motorbike
After all, the motorbike is still the main point. After 3 days driving their motorbikes, 3 of our motorbikes functioned properly and hadn't had any issues along the road. Most importantly, the brakes worked really well.
However, one small issue was that the fuel gauge of my bike wasn't working very well as the pointer just jumped up and down all the time and didn't show the accurate amount of fuel left in the tank.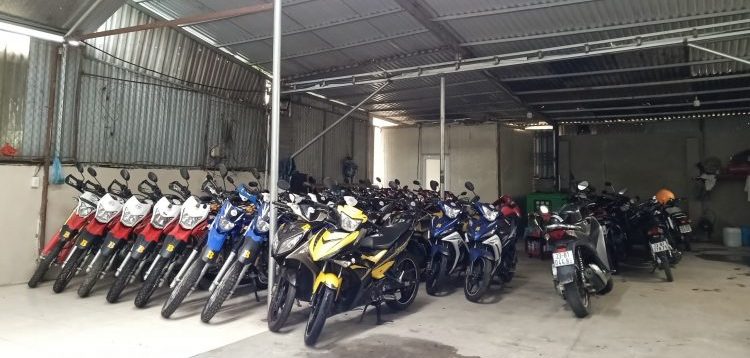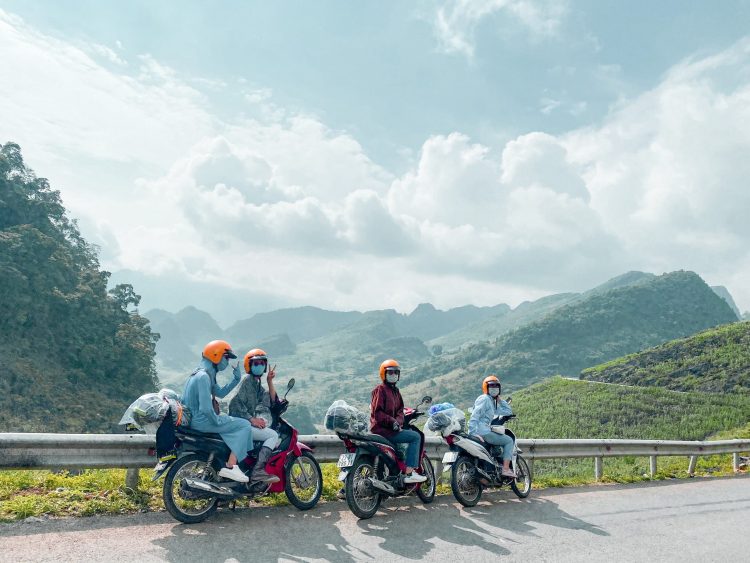 3. Tips tips tips
When testing the motorbike, check carefully the brake because the road in Ha Giang is very steep, especially the path down to Nho Que River (I only suggest people with good driving skills take a boat on Nho Que River, it's more dangerous than you might expect).
The staff will offer you 2 options: standard option and premium option including motorbike insurance which gives you free motorbike repair service. Personally, I think you don't need to buy the insurance package (about 100,000 vnd more expensive than the standard option). As I mentioned above, we didn't meet any bad experiences along the road trip, just be careful driving, then it will be ok.
Whenever you see a gas station, fill the fuel tank as full as possible because once you drive to a more remote area, it's harder to find the gas station.
Note:
Besides rental service, Anh Anh motel also provides dorm room, private room and massage service. If you stay in Ha Giang city, I highly recommend this motel based on what I had experienced with their motorbike rental service.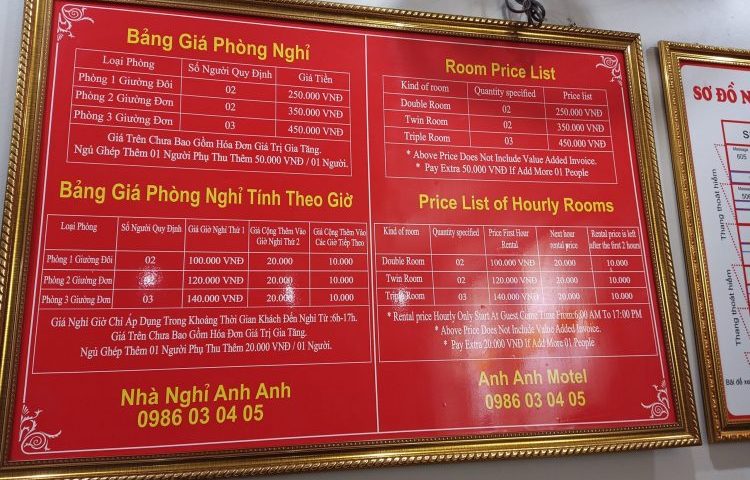 If you want to stay in Dong Van instead, read my thorough and honest review on Aladdin Homestay.
4. Other shops to rent a motorbike in Ha Giang
Giang Son
Address: Km 3 Cau Me, Ha Giang City (next to Ha Giang bus station)
Tel: 0988 470 863 / 094 171 99 55
Facebook: Thue xe may Ha Giang
Price range: 130,000 – 170,000 vnd/day
What they provide: helmet, local map, raincoat, rubberband, water, knee and elbow braces, medical mask.
Customers' feedbacks: This store has gained a lot of rave reviews on their motorbike's quality. The owner does periodical maintenance for the motorbikes to ensure the customers' safeties during the trip. I have also seen a review which mentioned that they even replaced all bikes after only 1 year. Service is also excellent as the staffs are all very informative and caring. Like Anh Anh motel, this place also provides free room to rest when you arrive at Ha Giang in the early morning, and a bathroom to take a shower when coming back.
Hang Thuong
Address: 15B Pham Hong Thai, Group 17, Minh Khai Ward, Ha Giang City
Tel: 083 6399 888 – 0942 50 8448 (Mr Thuong)
Facebook: Hang Thuong – Bike rental in Ha Giang
Price range: the cheapest bike costs 150,000vnd/ day. If you rent for more than 2 days, it will be discounted to 130,000vnd/day.
What they provide: helmet, local map, water, motorbike repair kit
Customers' feedbacks: The shop has many kinds of motorbikes from Wave, Win, automatic bike, sportbike, etc. All of them are pretty new and are maintained frequently. The shop owner is helpful as he can help you to book a bus ticket to Ha Giang, homestay in Dong Van, etc. Similar to other places, this shop also provides a free bed to rest and free shower.
I have summed up everything I had experienced with Ha Giang bike rental service of Anh Anh motel as well as listed down some other bike rental shops for you. Personally, I'm extremely satisfied with Anh Anh motel's service and if I travel to Ha Giang again, there is no reason that I won't rent a bike here, not to mention that its rental fee is the cheapest that you can find in Ha Giang.
How about you? Will you rent a motorbike in Anh Anh motel? How was your experience with it? Share your experience below!
ENJOY YOUR TRIP!
PIN IT!