DISCLOSURE: My articles may contain affiliate links. To click on those links, you won't be charged any extra cost, instead, you help me to get some small commissions to maintain my blog. Thanks for understanding!
Are you planning to visit Ha Giang – a spectacular hidden gem located in North Vietnam – and searching for the most comprehensive Ha Giang travel guide?
Then you are in the right place, I just had a trip to this beautiful landscape and am still so excited when talking about it. The magnificent terraced rice fields, the lush green mountains, the smiling people, the winding road (including the most dangerous path), etc. Everything together made me enamored with this destination. Therefore, I will definitely want to share with you everything I experienced during 4 days in Ha Giang in this Ultimate Ha Giang travel guide.
Let's get started.
Ha Giang trip quick links:
1. How to get to Ha Giang from Hanoi?
Ha Giang is situated 300 kilometers away to the North of Hanoi. Although it's a remote town, nowadays, to meet the higher and higher demand for tourists, many companies provide transportation service between these 2 cities. Here they are:
– Sleeper bus:
The sleeper bus is the most common way to travel to Ha Giang, especially for the locals as it's inexpensive. And best of all is that there is a bus departing at 21:30 and reaching Ha Giang at 4:30, so you can sleep during the transportation time, and reach Ha Giang bus station when it's early morning.
To take the bus from Hanoi to Ha Giang, you need to go to My Dinh bus station and buy the ticket at ticket counters, and then get inside the parking area to pick whatever bus you like.
Note:
At the station, you will see many counters selling tickets to different destinations, so come to the counter that has the word "Ha Giang" to buy your ticket.
Besides, you can also contact the bus operator directly, in this way, maybe you will get a better price. Some famous bus operators that you can consider are:
Cau Me bus: tel 0913217218 (this is the one I took)

GroupTour bus: tel 19006772

Hung Thanh bus: tel 02436337575
Ticket price: 200,000-250,000 vnd/ person/ way
Departure time from My Dinh station: 9:30, 16:30, 21:30
– Limousine:
A limousine would normally be more costly than the previous option because its maximum capacity is only 9-16 people. The best thing to travel to Ha Giang by limousine is that you will be picked up and dropped off at your hotel (not all brands but the ones I recommend below do), as long as it's located inside Hanoi Old Quarter and Ha Giang centre. Just remember to call the operator at least 1 day before your departure and confirm with them the pick-up point.
Reliable limousines from Hanoi Old Quarter to Ha Giang:
Ha Giang Epic Limousine: tel 0866680000
Limousine Luxury Van: tel 0243 9036.036 / 0936 33 00 66
Ha Giang Limousine Bus: tel: 0913096281
Ticket price: about 350,000 – 400,000vnd/ person/ way.
Departure time: 7:00, 10:00, 16:00, 17:00, etc. (check with the operators)
– Motorbike:
I don't recommend you to get to Ha Giang from Hanoi by motorbike, especially for girls, as it would be very tiring and takes time. Imagine how you would feel after driving 300 kilometres and later have to drive 100 kilometers more to reach the famous places of interest? However, if you are brave and strong enough, you can take this challenge.
My experience:
I prefer the overnight sleeper bus as I can sleep on the bus and save my time. Thus, I booked a ticket from My Dinh to Ha Giang from Cau Me bus at the price of 200,000vnd/ person/ way. I think this is a quite famous bus in Ha Giang as I saw many of them along the road.  
Some of my feedback:
The bus driver and ticket conductor were friendly and funny; 
The bed is comfortable with a blanket and pillow provided;
In the middle of the road, there will be a stopover where you can find W.C. for free. But don't expect a clean modern one, it's smelly and dirty; and sadly, even if you find another bus, nothing can be improved as Ha Giang is in the countryside. You can buy some food or a local specialty here as well. If you order cooked food, I have to warn you that it's just at the most basic standard and a bit more expensive than normal, and there are not many options. So if you are a midnight hunger, bring some snacks from Hanoi would be a wise choice.
It's convenient as they drop me off at the place I want to (where I rented my motorbike).
More posts about Ha Giang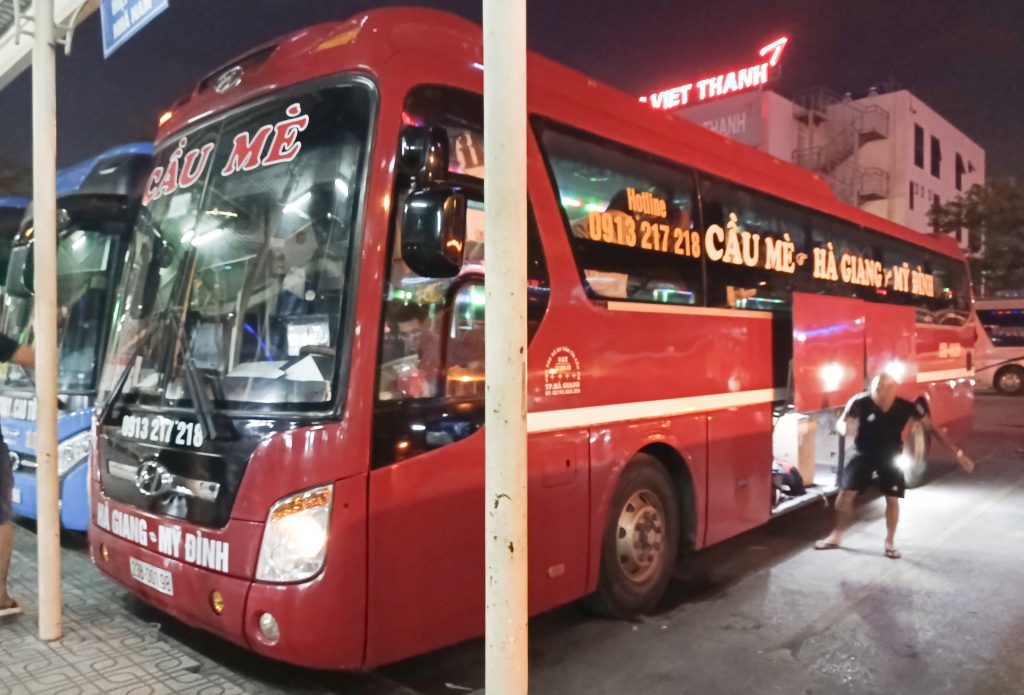 Note:
The bus/ limousine may depart later than the time stated on the schedule (maybe 30 minutes) but it doesn't mean that you should come late.
Expect that, during the national holidays or high season, the sleeper buses might be overbooked and some people will have to sit/sleep on the aisle. So if you don't want that, book a limousine instead. You can also choose the palace sleeper bus to reach Ha Giang. This bus offers a private cabin which is a very nice and modernly-furnished bus with TV, massage system, USB port, etc. Price is about 350,000-450,000 vnd/ cabin (this bus operator is pretty new, therefore, maybe you can't find much information on the Internet. However, I can help you with that, just contact me beforehand)
If you book directly with the bus operator, the ticket fare will be collected once you get on the bus. So don't give them if they ask you to pay before departure.
If you buy it online or at the ticket counter at the station, just show the driver your ticket.
2. How to get around Ha Giang?
As all the attractions in Ha Giang are quite far from each other. For sure you need a motorbike to get around.
So where to rent a motorbike in Ha Giang? There are tons of places that provide rental services for travelers, some of which are recommended below:
Anh Anh Motel
Address: Hamlet 1, Cau Me village, Phuong Thien Commune, Ha Giang
Tel: 098 603 04 05
Giang Son
Address: Km 3 Cau Me, Ha Giang City
Tel: 0988 470 863
Hang Thuong
Address: 15B Pham Hong Thai, Group 17, Minh Khai Ward, Ha Giang City
Tel: 0942 50 8448 (Mr Thuong)
Tips Tips Tips:
The rental fee normally is about 100,000-200,000vnd/bike/day. They may offer you a package including insurance too (in which, if the bike has any problem during the road trip because of your fault, they will send someone to fix your bike with no extra fee), but I think it's not necessary. I and my friends had driven for 3 days and no accidents happened. So just be careful driving, then everything will be fine.

In case you don't want to drive a far distance, buses linking Ha Giang bus station to Quan Ba, Dong Van, and Meo Vac bus stations are also available. Then you can rent a motorbike from those places to get around that area. However, I don't recommend this to people who easily get car sick.
Some shuttle buses from Ha Giang City to other towns
Shuttle bus Ha Giang- Quan Ba
Departure time from Ha Giang: 5h00-6h00
Departure time from Quan Ba: 12h00-16h00
Tel: 0915407522
Departure time from Ha Giang: 11h30
Departure time from Quan Ba: 6h00
Tel: 0915185434
Shuttle bus Ha Giang- Yen Minh
Departure time from Ha Giang: 15:30
Departure time from Yen Minh: 5:30
Tel: 0912 120566
Shuttle bus Ha Giang- Dong Van – Meo Vac
Departure time from Ha Giang: 5:00-12:00
Departure time from Dong Van: 5:00-12:00
Departure time from Meo Vac: 5:00
Tel: 0915448933
My experience:
I arrived at Ha Giang City and reach other attractions by motorbike. I rented my bike at Anh Anh Motel which is situated near Ha Giang bus station (5 minutes drive), thus, I asked the Cau Me bus driver to drop me at this place. As I arrived in the early morning (5:00 am), they gave me a FREE dorm bed to rest. Till 7:00, I rented the bike and started my journey. Overall, I really satisfied with their service.
Read Ha Giang bike rental: Review of Anh Anh Motel for further detailed information about their services, pricing, staff, etc.
3. Where to stay in Ha Giang?
When visiting Ha Giang, you can stay in a homestay or a motel. I strongly recommend homestay as it's a great experience sleeping at a traditional house of ethnic minority groups. Price ranges from 80,000 to 200,000vnd/person depending on the type of room. Most homestays in Ha Giang offer both dorm rooms and double rooms.
There are several towns that you can stay in overnight in Ha Giang including Ha Giang city, Quan Ba,  Yen Minh, Dong Van, or Meo Vac.
My experience:
I decided to spend both nights in Dong Van as it's nearer to other famous sites. Before coming here, I had read some homestays' reviews and found Aladdin Homestay which got quite a lot of good feedback from travelers. So I and my friends decided to come here to book a room for 2 nights (as there were not many travelers during that time, so we didn't contact the host in advance. If you come in September, you should book a room for at least a week in advance). Unfortunately, there was no private room left. But luckily, we got a dorm room at a good price and there was no one else in the room except for us. Would I recommend this place? Hmmm…Although there is a big drawback, I still want to stay here if I come back to Ha Giang and recommend you to stay here because it just feels like home.
Read my extremely detailed review about Aladdin homestay for more information including its Pros and Cons about its room, amenities, staff, etc.
Aladdin Homestay Dong Van
Address: Ly Thuong Kiet, Dong Van
Tel: 0944184666
Here is some other homestay in Dong Van that you can consider:
Ancient House Homestay Dong Van
Address: No.10, Dong Van Old Quarter, Dong Van
Tel: 0388120866 (Mr Than)
Address: Dong Van Welcome Gate,
Tel: 0968890690
Besides, you can either spend your night in other towns, I also found some homestays with excellent reviews for you down here:
Recommended Homestays in Ha Giang City
Tay Homestay
Address: Group 2, Tien Thang, Phuong Thien, Ha Giang
Tel: 0914 843 659 ( Mr Te)
Recommended homestay in Quan Ba
Homestay Dao Lodge
Address: Nam Dam, Quan Ba, Ha Giang
Tel: 0943468488
Recommended homestay in Yen Minh
Du Gia Homestay
Address: 195B, Coc Bang, Du Gia, Yen Minh, Ha Giang
Tel: 0357 720 252
Recommended homestay in Meo Vac
Homestay Aubere De Meo Vac
Address: Meo Vac town, Ha Giang
Tel: 0167 351 4399
Tips tips tips:
Prepare mosquito repellent because there will be a lot of big fat mosquitoes (and other insects) in this mountainous area, especially in the evening.
4. What to see in Ha Giang?
Ha Giang attracts travelers thanks to its magnificent nature as well as its cultural diversity. Thus, coming here, not only can you enjoy the peaceful moment with spectacular landscapes, but you can also dive into the culture and history of ethnic minority tribes living in this province.
Based on my travel experience, I will list down all the places that you can visit in Ha Giang in order of my route.
Day 1:
Quan Ba Heaven Gate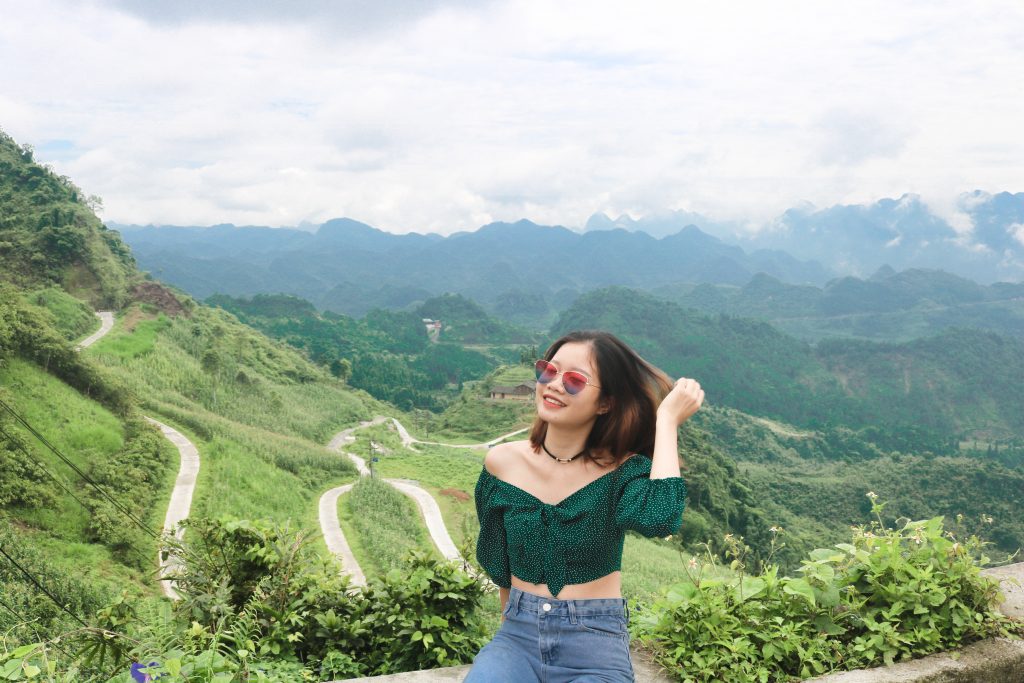 Tham Ma Slope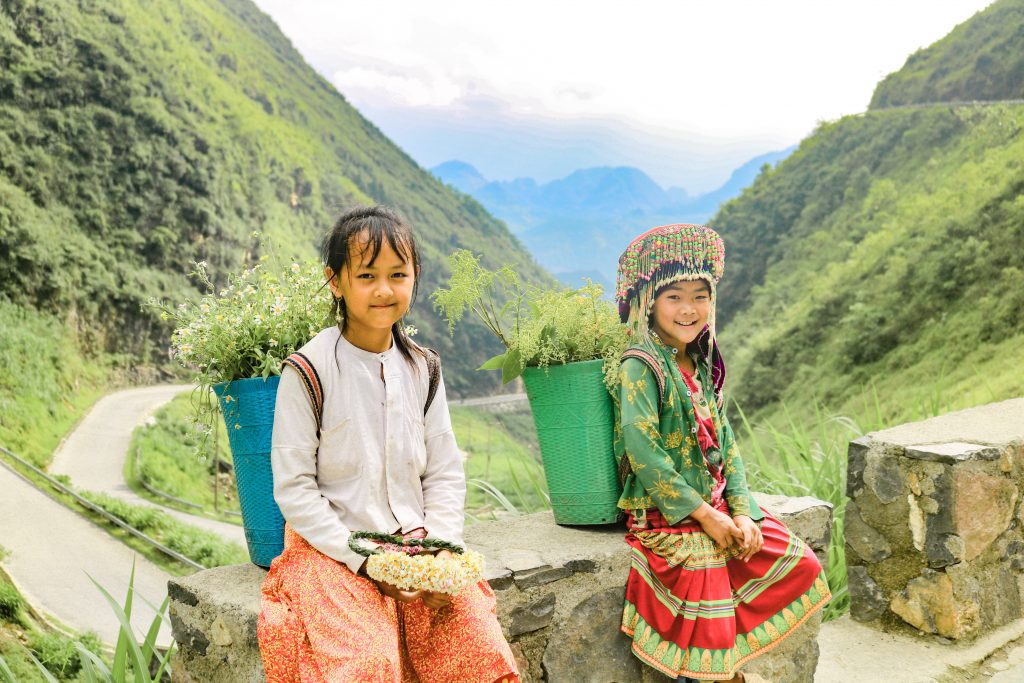 Dong Van Market
If you come here on Sunday, it would be stuffed with people. The ethnic minority sellers bring a lot of special products here (which I haven't seen before in Vietnam) if you want to buy anything, apply your bargaining skills.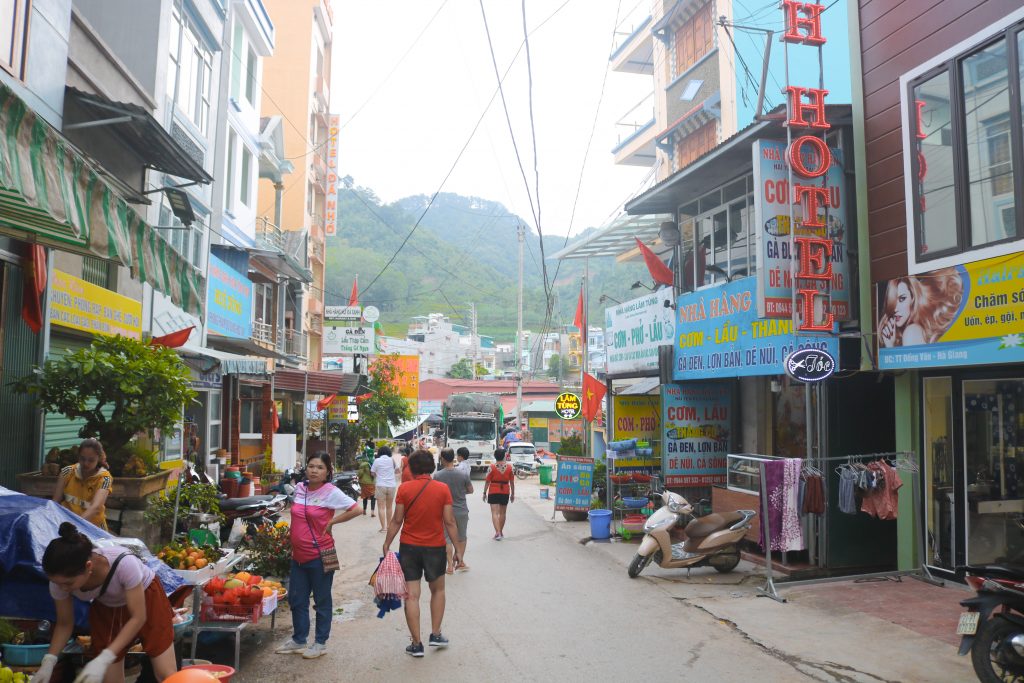 Dong Van Old Quarter
This area was founded in the 20th century as a place for Hmong, Tay and Chinese people to live and trade goods. Nowadays, the Old Quarter remains almost intact because all houses were made of stones. However, when I came here, I felt like it was over-commercialized due to the wide array of restaurants and cafés in the surrounding.
Day 2:
Nho Que River Boat ( Ta Lang ferry station)
Well, until now (after a month), I still couldn't believe that I had conquered the most dangerous path in Ha Giang. I don't suggest you drive down to the boat station by yourself, especially girls, it's really really really challenging (the narrow road that has no barrier). Instead, there are a lot of drivers at the ticket counter, you can ask them for the price. I believe that it's not gonna be more than 200,000vnd/person.
After a long, breath-taking, and heart-beating drive, I finally reached the parking area where I could park my bike and get on the boat. And guess what? It was the most exciting 45-minute cruising of my life.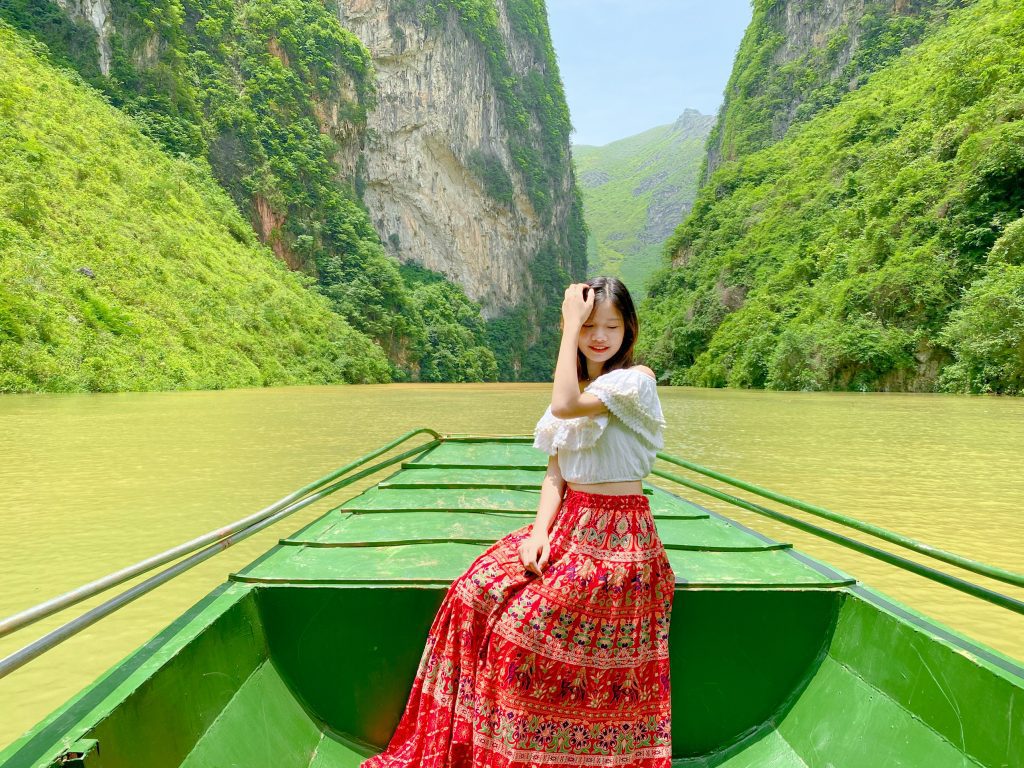 Tips tips tips:
There are a vast number of boats, and you can contact the boat owner directly. Normally, it costs you around 100,000-150,000vnd/person for this experience. As for me, I contacted Mr Thin (0966391085), although he gave me the incorrect price (he said 80,000vnd/person, but it turned out 100,000vnd), I still recommend him for you as he is very caring. Notice that the price varies depending on the number of people in your group.
Café A Pao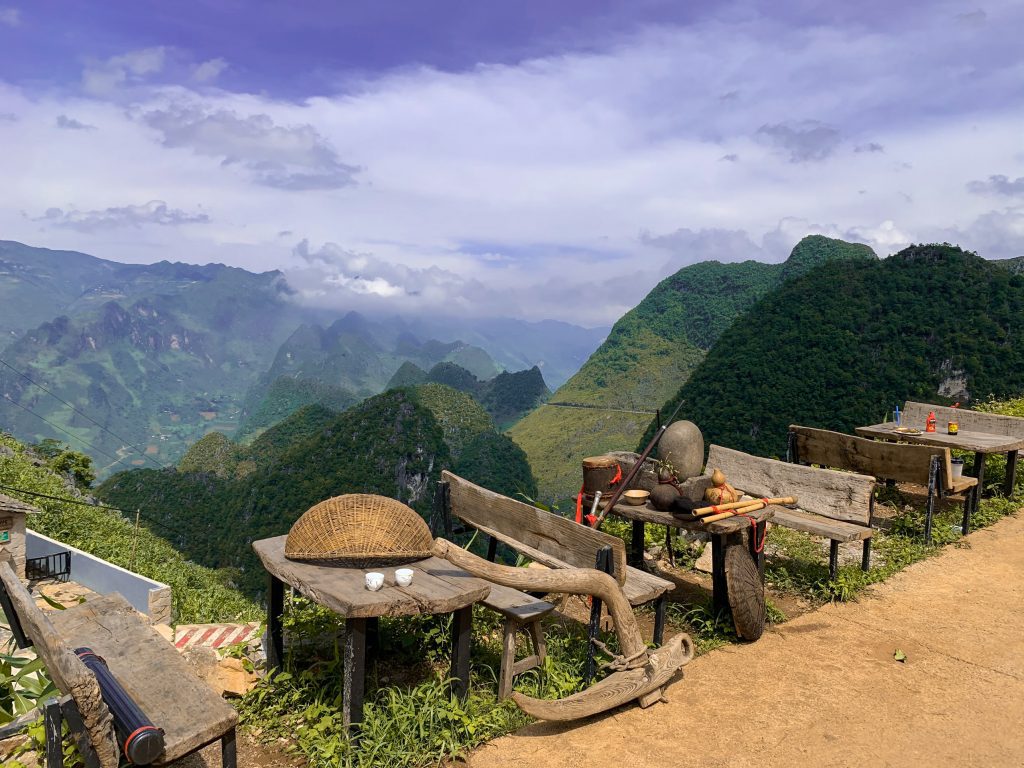 This is a great stopover after taking the river cruise and before conquering the legendary Ma Pi Leng Pass. Actually, we come here for lunch, not for drinks (though they have only 2-3 options..). So, in the end, we order 6 portions of stir-fried noodles with egg and veggie at the price of 35,000– 40,000vnd/portion (sorry, I can't remember exactly).
What is special about this Café is its owner, he is super funny, friendly and smart. He will also sing, play guitar and flute for you in person. So, get your chance to meet this interesting guy – A Pao.
Ma Pi Leng
Besides the road down to Nho Que River, this is the second most adventurous one in Ha Giang – as I felt.
Dong Van Bar Coffee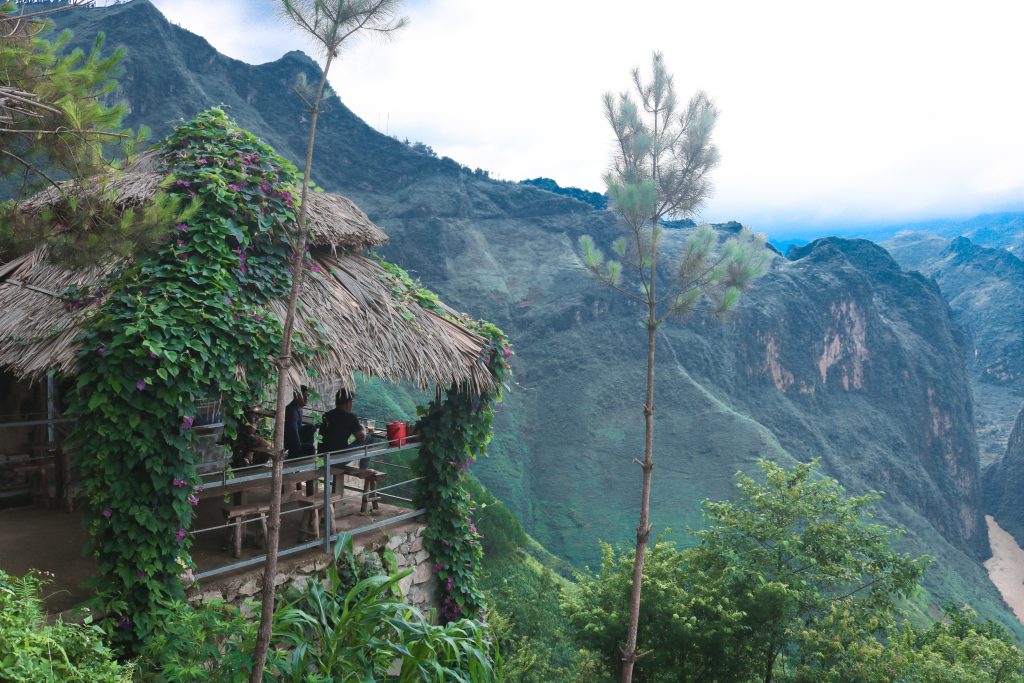 Nothing so special about this café, just the panoramic view that makes it become famous.
We arrived here in the late afternoon (about 17:00) and were already tired, so just need some peaceful moment to rest after the amazing road trip. The menu here is NOT various at all, they have only coffee, milk coffee, Lipton tea, milk tea,… I think that's all. Prices range from 40,000-50,000vnd/drink.
Day 3
Because on the first day, we drove directly from Ha Giang City to Dong Van – a long way, so we decided to visit Pao's house and the Palace of Hmong's King on the way back, thus we could reach Dong Van before the sky turned dark.
Pao's house
It is a typical house of Hmong people which was once chosen to be the background of the film "The story of Pao". Thus, nowadays, this house is one of the most famous destinations for tourists to check in. Until now, there is still a multi-generational family living in the house, so if you want to get inside, make sure you follow these rules:
Don't wear white clothes if you enter a local house as white is considered the colour of death according to Hmong culture.

If you see the kids, don't touch their heads because Hmong people consider this action will make them get sick.

Don't whistle because it will call spirits and ghosts to the village.

Don't touch anything without asking.

Don't sit on the first chair in the house because it's only for parents even if they had passed away.
Hmong's King Palace
This is the most exciting cultural-historical place for me. The entrance ticket was just 20,000 vnd/person which allows you to visit the whole palace of 3000-meter square. Some interesting facts about the palace and its owner:
Vuong Chinh Duc was a King of the Hmong people and his family was the richest family in Ha Giang thanks to drug trading.

The palace was erected in 1898 and took up to 9 years to complete.

Vuong Chinh Duc had to invite a famous Feng Shui expert in China to choose the best land to build this palace.

It cost 150 billion VND – being the most expensive house in Ha Giang.

In 1945, the first son of Vuong Chinh Duc was invited to Hanoi by Ho Chi Minh and they later considered their relationship as brothers.

Nowadays, you can still see his descendants when visiting the palace. One is a male ticket seller, one is a female tour guide, some of them are selling souvenirs and local speciality outside of the palace, etc.
Other stopovers that you can see on the road:
5. What to eat in Ha Giang?
Sour Pho noodle
This is Pho mixed with some ingredients like peanut, beef, Vietnamese coriander, and, most importantly, lime – the component that makes its name. This dish is normally served as breakfast for the locals. I had it for my breakfast too.
Au Tau porridge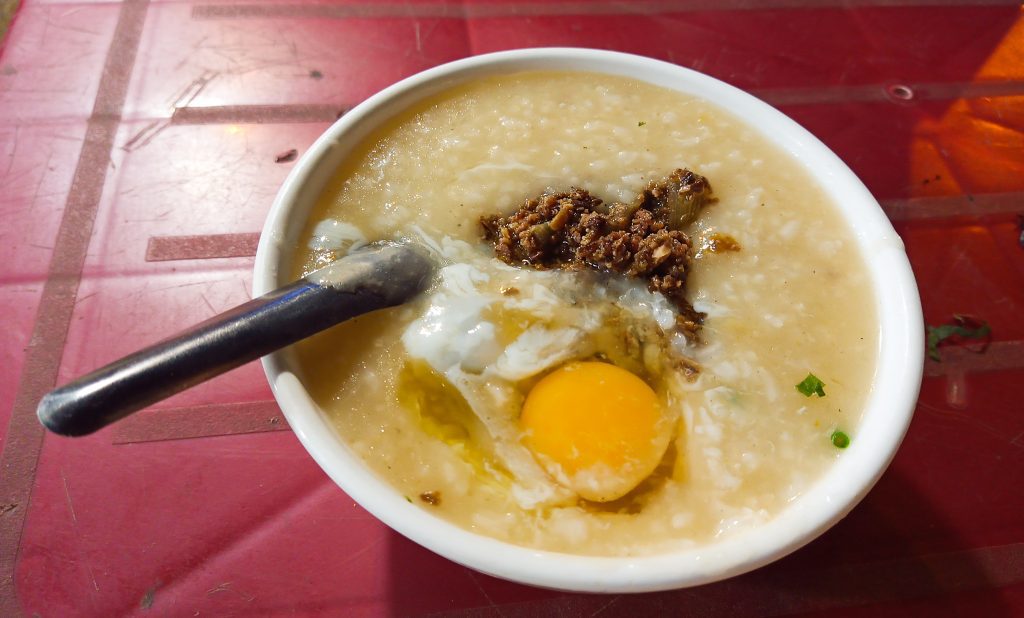 Au Tau porridge is made from Au Tau. What might interest you is that if you eat Au Tau directly, you may get poisoned and…get a chance to meet your ancestor in heaven…Sound dangerous, right? But don't worry, Hmong people do know how to process this food to eliminate all of its poison, making it become food that is good for your health. Some ingredients to make Tau Au porridge are Au Tau, rice, minced chicken/quail meat, pepper, raw egg, etc.
Thang Co
Thang Co is a dish of Hmong people originating from Yun Nan, China. In Chinese, Thang Co means "meat/bone soup". The meat to make Thang Co was originally horse's meat (including its stomach), however, nowadays, there are some variations of Thang Co which can be pork, beef, goat, etc. Then, the dish will be seasoned with lime leaves, cinnamon, salt, etc.
In the past, Thang Co was only made on special occasions. But nowadays, you can find it easily around the famous tourist attractions or in the local market.
Steamed rolled rice pancake (Banh Cuon)
You might have heard of this food in Hanoi and thought they were just similar. Actually no, people in Ha Giang make it in a different way. In Hanoi, you can see Banh Cuon is eaten with fish sauce. In Ha Giang, the sauce is replaced by a pork broth added with some Vietnamese sausage.
Buffalo jerky
Buffalo jerky is a signature food of the Thai ethnic minority group. In the past, they stored raw buffalo meat by hanging it above their traditional stove for 2 months, until the meat was completely dried. In this way, it can be stored for the whole year.
What to expect from Ha Giang's food?
Though I think you should try those local signature dishes to see partly the local life, I will not try them a second time. As for me, they are just acceptable, not much outstanding.

Most of them are not…expensive too, it's about 30,000-40,000vnd/portion, except for the buffalo jerky.
6. How long should you visit Ha Giang?
Ha Giang is a big province with an endless beautiful landscape. So, you should stay there for at least 4 days 4 nights (including 2 nights on the bus) to discover all the most stunning spots.
If you are not pressed for time, spend about a week truly diving into its culture.
More posts about Ha Giang
7. How much to spend in Ha Giang?
It's a tough question because the costs vary largely depending on you. If you are a backpacker and just need the basic service, food, etc., then 2,000,000vnd/person is enough for the whole trip. However, if you prefer something fancier and better service, it may cost up to 4,000,000vnd. Be noticed that in Ha Giang, there are also not many luxury options to choose from. As for me, I spent 4 days 4 nights there and it costs only…1,500,000vnd (stay in a homestay, eat local food, and luckily, I was offered the best prices for everything during the journey).
Above is the comprehensive Ha Giang travel guide which includes everything you need to know for a Ha Giang trip. For any other questions, just drop me a private message through My Instagram, I check it every day and will answer as soon as possible.
Enjoy your trip!