DISCLOSURE: My articles may contain affiliate links. To click on those links, you won't be charged any extra cost, instead, you help me to get some small commissions to maintain my blog. Thanks for understanding!
Buu Long Pagoda is a serene Buddhist temple located in the Dong Nai Province of Vietnam, known for its stunning architectural beauty and tranquil surroundings. 
In this post, you will find all you need to know before visiting Buu Long Pagoda including how to get there, its history, what's inside the pagoda, etc.
Read more: Ho Chi Minh City Blog: Ultimate travel guide for first timers
1. Overview of Buu Long Pagoda
Buu Long Pagoda, also known as Thien Vien To Dinh Buu Long, is located on a hill to the west of Dong Nai River.
Address: 81 Nguyen Xien, Long Binh, District 9, HCMC

Entrance ticket: free

Opening hours: daily, 8 AM – 6 PM (the stupa will close from 11 AM – 2 PM)

Parking: 5000 VND/ motorbike (there are many people providing parking service at 10.000 VND right in front of the pagoda, just ignore them and drive straight inside the pagoda to save cost). 
2. How to get to Buu Long Pagoda?
Buu Long Pagoda is about 28 km from HCM city center which is approximately a 45-minute drive. 
There is no public transportation to the Buu Long Pagoda from HCMC (the only bus station nearby the pagoda is 4km from it). 
To go there, the most convenient way is by private vehicle, either by car or motorbike. Bear in mind that the road to Buu Long Pagoda from the HCM city center can be quite tricky. I got confused many times and always had to stop to check Google Maps. 
Also, remember to always follow traffic laws as there are traffic police on the road, especially on the way back to HCMC.
For motorbike rental in HCMC, you can consider this shop (click to see location). I have rented motorbikes from this shop twice and was extremely satisfied with the service. The price is about 120,000-150,000 VND per day without petrol (30,000 VND for petrol is more than enough for a full day).
If you don't want to drive, download the Grab app (click here to download) to book a car/motorbike taxi at affordable prices.
More posts about Ho Chi Minh City
3. History of Buu Long Pagoda
The pagoda was constructed in 1942 by Venerable Vo Ha Thuat. At first, Venerable Vo Ha Thuat was a layperson (a householder). He retired in 1942 and bought a piece of land to become a hermit. After ordaining under the Dharma lineage of Master Do Tong, he devoted this land to Master Do Tong to establish Buu Long Zen Monastery. At the beginning, the monastery consisted of many small meditation rooms around the forest and a meditation hall.
After 20 years of supporting the monastery, Vo Ha Thuat finally became a Venerable with the Dharma name of Ty Khuu Lao Tam. In 1969, Venerable Vo Ha Thuat passed away. His family and other monks built an Ancestral Stupa to worship him inside the pagoda.
In 1981, Master Do Tong passed away at the age of 88, and the Ancestral Stupa was established behind the Sacred fig tree. The monastery was then called the Buu Long Ancestral Pagoda.
After that, the Chief monk Vien Minh became the abbot of the pagoda. From 1992 to 2018, the pagoda was then reconstructed and renovated many times until it becomes its current appearance today.
Read more: Sai Gon to Can Tho by bus: ticket price, timetable, review of my trip
4. Interesting facts about Buu Long Pagoda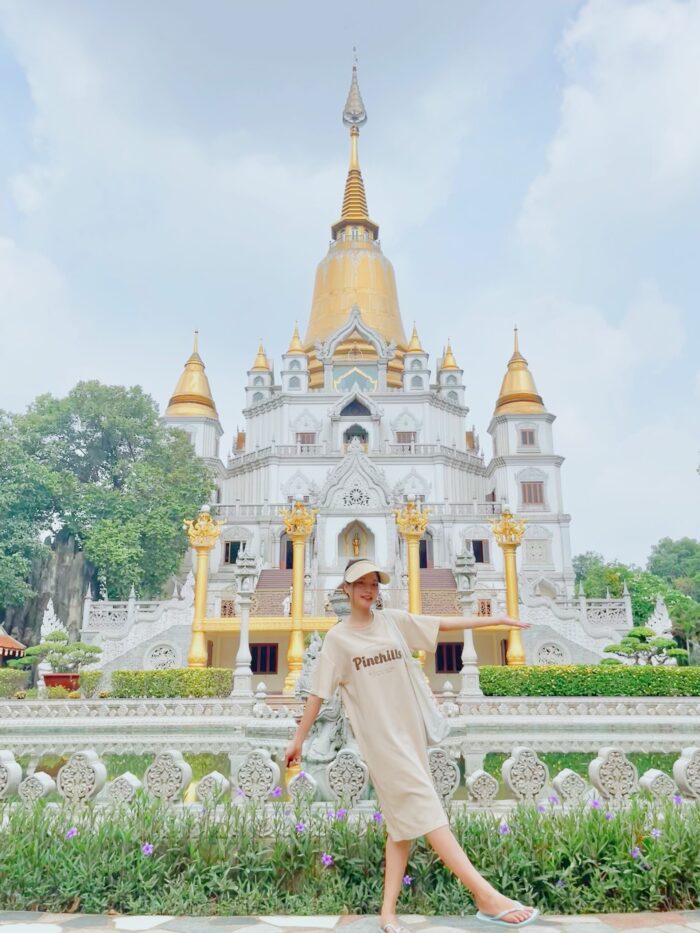 It has unique architecture
Buu Long Pagoda is devoted to Theravada Buddhism, which is distinct from the more commonly practiced Mahayana Buddhism in Vietnam (Buddhism has 2 branches: Theravada and Mahayana). 
Theravada Buddhism is more common in Sri Lanka and Thailand. That's why you may find Buu Long Pagoda similar to pagodas in Thailand.
It is one of the most beautiful Buddhist temples in the world
In 2009, Buu Long Pagoda has been listed among the top 20 most beautiful Buddhist temples in the world voted by the US magazine National Geographic.
Incense offering is not allowed 
Unlike most of the pagodas in Vietnam, visitors are not allowed to burn incense as an offering in Buu Long pagoda.
I love this because incense burning is obviously harm to our environment.
The Gotama Cetiya Stupa is the largest one in Vietnam
When coming to Bao Long Pagoda, visitors will be immediately attracted by the magnificent Gotama Cetiya Stupa amidst the peaceful scenery. It is the largest stupa in Vietnam which is 56 meters high and can accommodate up to 2000 people.
5. Inside Buu Long Pagoda
The pagoda covers an area of over 11 hectares.
The most notable building in this pagoda is Gotama Cetiya Stupa. It is dedicated to Buddha and Noble Sangha relics. Its construction spanned 6 years, beginning in 2007 and ending in 2013. 
The Gotama Cetiya Stupa comprises one large tower and four smaller ones. You can go up there as it welcomes visitors daily from 8 am to 10 am, and from 2 pm to 4 pm.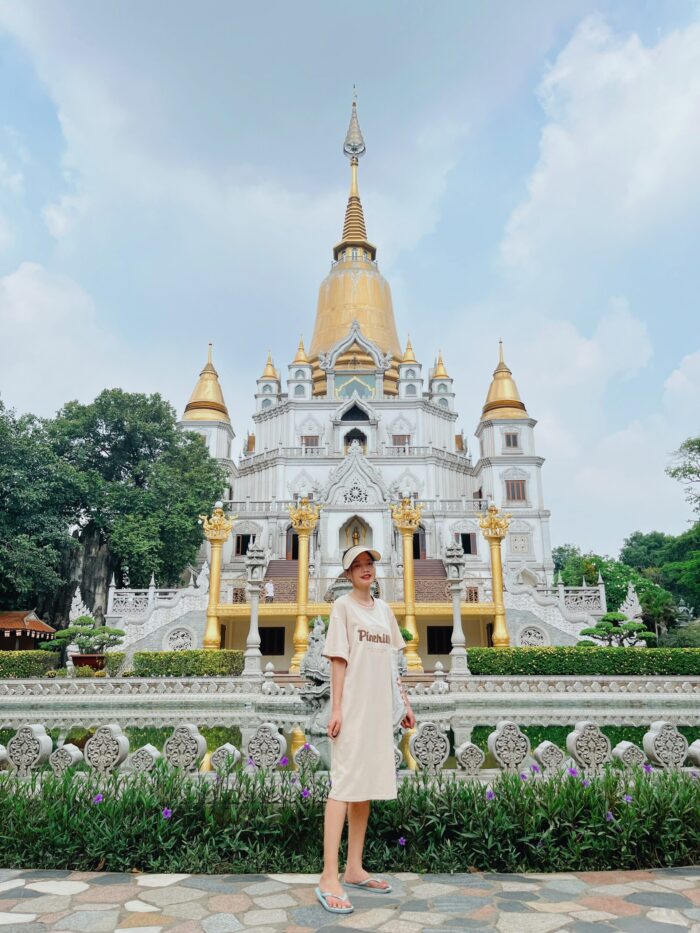 Located in front of the Gotama Cetiya Stupa are two smaller towers and a semicircular pond with a dragon-shaped fountain at its center. 
The Main Shrine Hall is located on the right side of the stupa. To enter, you need to take off your shoes and hat.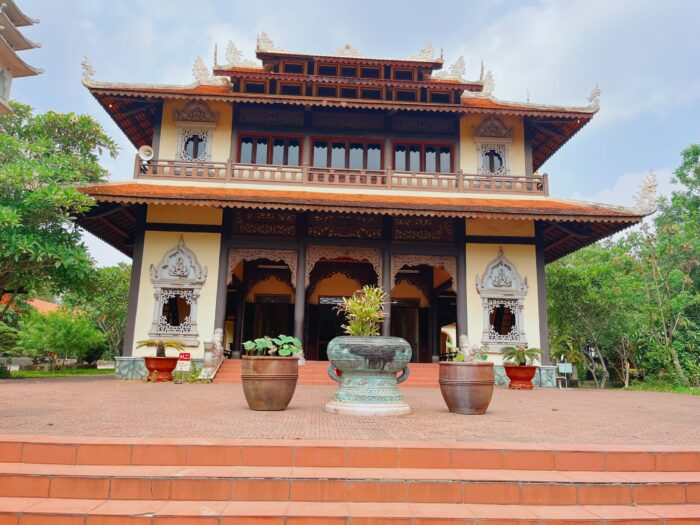 You can also find the Lying Buddha near the Main Shrine Hall.
Read more: Review Sai Gon water bus: timetable, tickets, my experience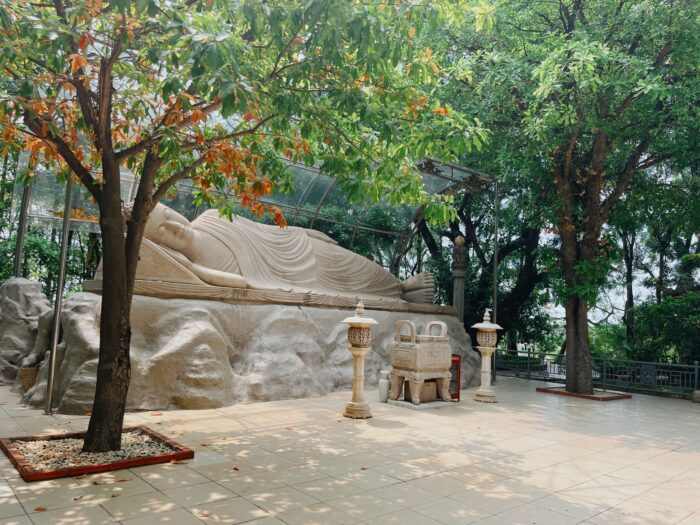 The pagoda is adorned with skillfully crafted stone statues of dragons and cranes, which are scattered throughout the grounds. These statues of dragons and cranes are commonly found in Asian pagodas and temples.
Behind the stupa, there is a road leading to the Sacred fig tree, which was gifted by Venerable Narada Mahathera, the Supreme Patriarch of Sri Lanka's Buddhist Sangha in 1961. The tree was a part of the original tree at the Bodh Gaya Temple (India), where Buddha attained enlightenment or omniscient wisdom.
6. Do and Don't in Buu Long Pagoda
DO
To maintain a peaceful and serene environment in the temple, visitors are advised to walk lightly, speak softly, and respect the common order. 

Dress appropriately and modestly. It's advisable to cover your knee and shoulder.

If you get inside the meditation hall, take off your hat.

If you want to climb the stupa, take off your shoes. There are free bags to keep your shoes at the foot of the stupa.

Dispose of your trash in the designated areas to maintain the cleanliness of the temple grounds.
DON'T
Do not bring your drinks and food inside the pagoda.

Avoid shorts and open dresses.
More posts about Ho Chi Minh City
7. Vegan restaurant in Buu Long Pagoda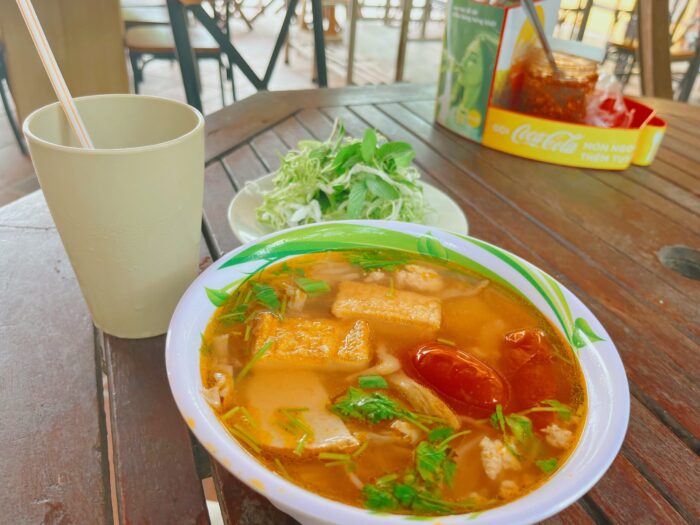 There is a small vegan restaurant located inside Buu Long Pagoda, near the main entrance. The prices are reasonable, as I had a bowl of vegan noodles for 35,000 VND and a cup of tea for 15,000 VND. However, the taste was not very outstanding.
Above is all you need to know before visiting Buu Long Pagoda. If you have any questions, feel free to comment below. Thanks for reading!
Frequently Asked Questions (FAQs)
1. When was Buu Long Pagoda built?
The Buu Long Pagoda was built in 1942 by Venerable Vo Ha Thuat.
2. How do I get to Buu Long Pagoda?
As public transportation to the pagoda is not available, you can only reach there by car or motorbike.