DISCLOSURE: My articles may contain affiliate links. To click on those links, you won't be charged any extra cost, instead, you help me to get some small commissions to maintain my blog. Thanks for understanding!
If you are bored of those famous tourist attractions and are seeking a unique experience, you have come to the right spot. 
This blog post presents a list of 12 hidden gems and unusual things to do in HCMC that I personally discovered after multiple visits to the city.
Unusual things to do in HCMC in the daytime
1. Travel back in time at 14 Ton That Dam Apartment
Among the list of unusual things to do in HCMC, this is probably what I like the most.
It's an old apartment building where you can escape the hustle and bustle of the urban downtown. It feels like time has stood still in this neighborhood, with every corner remaining intact from the past. The building has plenty of cool and retro cafes where you can sit down and enjoy the quiet and cozy atmosphere.
I chose a cafe called Whisfree based on Google reviews. I like its rustic decor and antique interiors, especially the window that has lots of plants and a nice view of the street.
Note:
If you want to take photos, a local resident might approach you and ask you to pay 50.000 VND.

Since this is a residential area, it's advisable to avoid making noise.
Address: 14 Ton That Dam St, Nguyen Thai Binh Ward, District 1, HCMC.
More posts about Ho Chi Minh City
2. Visit Buu Long Pagoda – unusual things to do in HCMC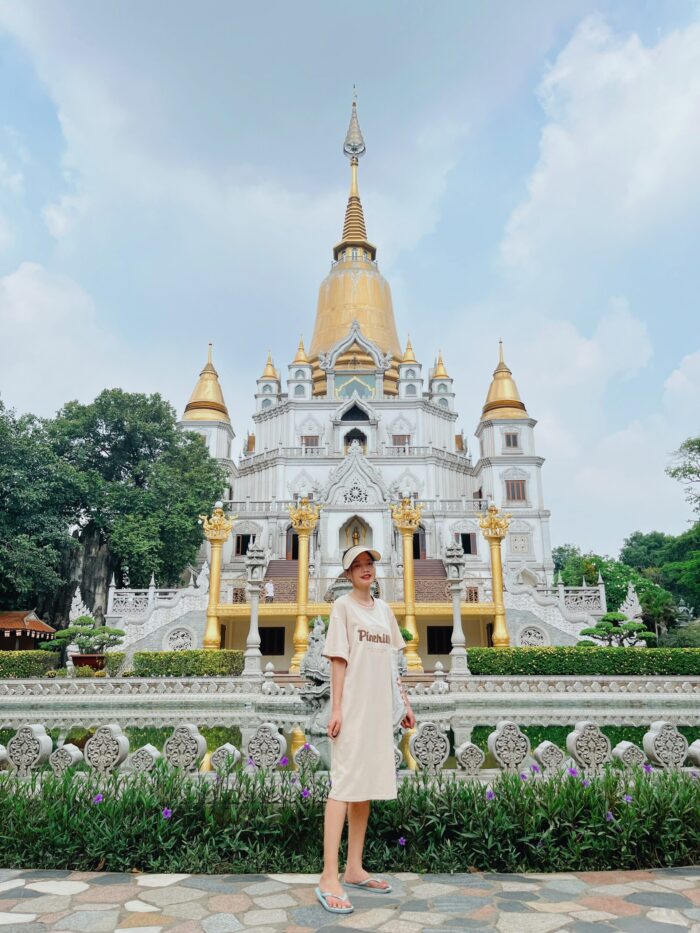 Despite being listed among the top 20 most beautiful Buddhist temples in the world, as voted by the US magazine National Geographic in 2009, the existence of Buu Long Pagoda remains unknown to many tourists due to its distant location from the HCM city center. Therefore, if you are looking for unusual things to do in HCMC, you should add this pagoda to your list. 
Its architectural design and color combination contribute to its breathtaking beauty. Notably, the most awe-inspiring feature of this pagoda is the Gotama Cetiya Stupa, which happens to be the largest stupa in Vietnam.
Pro tip: The only way to go to this pagoda is by private vehicle as there is no public transportation available. You can rent a motorbike or download the Grab app to book a taxi or motorbike taxi at affordable prices.
Read more: Visit Buu Long Pagoda – everything you need to know
Address: 81 Nguyen Xien St, Long Binh, District 9, HCMC

Opening hours: 8:00 – 18:00, daily

Ticket price: free
3. Admire Phu Chau Floating Temple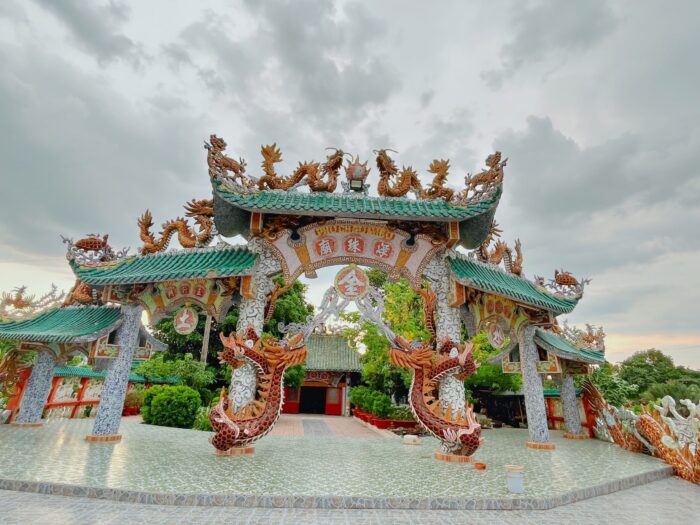 Phu Chau Floating Temple stands out as one of the city's most distinctive religious sites, floating gracefully on the water's surface. To visit this temple, one must take a boat from Mieu Noi. The round-trip ticket is priced at a mere 15,000 VND.
This is a Chinese-influenced pagoda constructed 300 years ago. Interestingly, there are more than 100 dragons in different shapes and sizes in the pagoda. The most popular image you can see is the duo dragon fighting for an emerald on the temple rooftop.
Address: 173/36/7B11 Duong Quang Ham, Ward5, Go Vap District, HCMC

Opening hours: 5:00 – 18:00, daily

Ticket price: free

Parking: 10.000 VND/motorbike

Boat ticket: 15.000 VND/person
4. Explore the Pink Church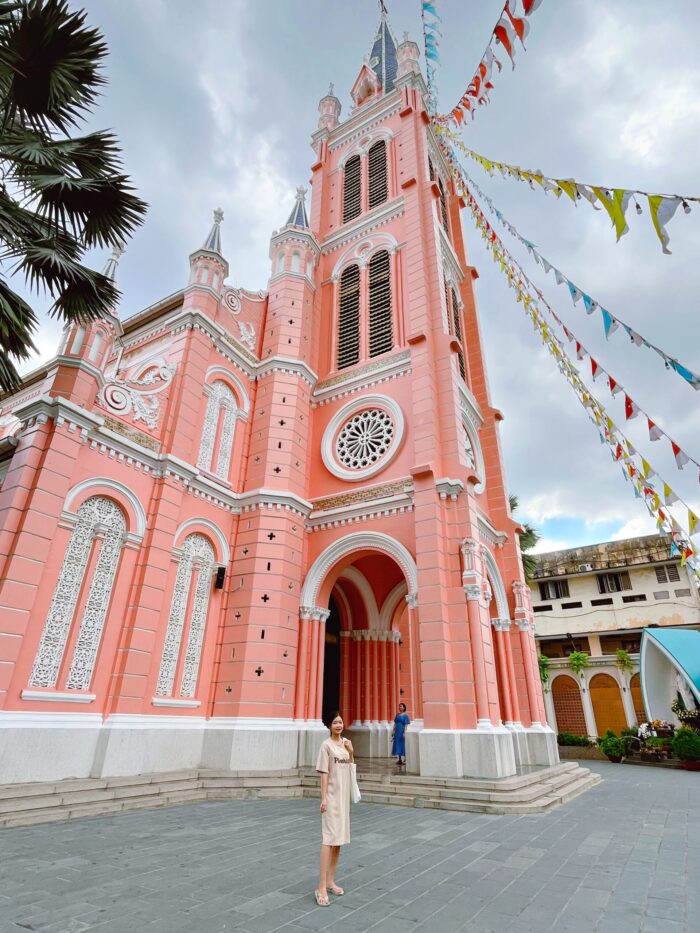 Tan Dinh Church, also known as the Pink Church,  is an awe-inspiring religious landmark in HCMC. It is renowned for its unique pink exterior, which is distinct from other traditional churches. 
The church was built in 1870 and underwent a six-year construction period. It stands as the second-largest church in Ho Chi Minh City, following the Notre-Dame Basilica in District 1. 
Address: 289 Hai Ba Trung, Ward 8, District 3, HCMC

Opening hours: 8:00 – 12:00, 14:00 – 17:00, daily (close on Sunday) 

Ticket price: free
5. Sample different kinds of coffee
The first coffee seeds were imported to Vietnam in 1857 by the French. Over the course of many decades, coffee has become one of the most beloved beverages among the Vietnamese people, leading to the creation of numerous coffee drink variations.
Perhaps the most ubiquitous one in HCMC is ca phe sua da (iced milk coffee), which is available on every street corner of the city. In addition to that, there are several other "unusual" coffee concoctions that actually taste delicious, including egg coffee, coconut coffee, and mung bean coffee. A perfect place to sample all of these coffee drinks is Cong Coffee, a renowned coffee shop chain in Vietnam that also happens to be my favorite spot for gathering with friends.
Unusual things to do in HCMC at night
6. Try your luck at Lo To Show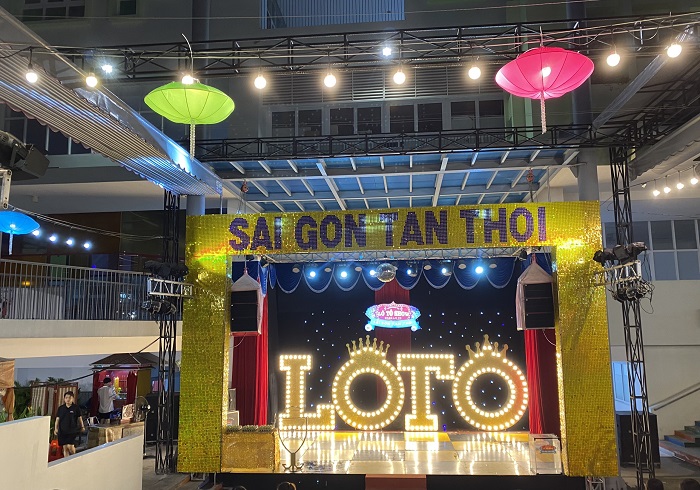 The Lo To Show is highly popular among the locals but remains relatively unknown to many tourists.  
In South Vietnam, Lo To is a game that people eagerly participate in during Tet, the country's biggest and most significant holiday. 
In recent times, Lo To has evolved into a weekly show. During this show, performers sing and announce numbers. It is your task to mark the corresponding number on your ticket. If you manage to form a row of four numbers, remember to raise your hand, as you stand a chance to win a prize.
There are many Lo To troupes in Ho Chi Minh City, but one of the most famous ones is the Tan Thoi Troupe (Doan Lo To Tan Thoi), whose founder and performers belong to the LGBT community. I'll give the theater address below.
Pro tip: Since the performances are in Vietnamese, it is advisable to secure a seat in the front row to have a clear view of the numbers. Additionally, remember to bring ear protection as the music tends to be quite loud.
Address: 141 Bac Hai, 14 Ward, District 10, HCMC (Tan Thoi Troupe)

Show time: 18:00 – 23:00

Ticket price: 20.000 VND/ticket (you can buy as many as you want, the more you buy, the more chance to win)
7. Hop on the Saigon Water Bus
The Saigon Water Bus offers a fantastic opportunity to admire HCMC from a unique angle—the Saigon River. 
Surprisingly, this experience is much more budget-friendly compared to cruises. A one-way ticket costs only 15,000 VND per person, and you can disembark at any point between Bach Dang Station and Linh Dong Station. 
Pro tip: I recommend experiencing the Saigon Water Bus at night when the temperature is cooler, and you can witness the stunning city illuminated by lights.
For more details, you can read my review of Sai Gon Water Bus (Click here)
Address: Bach Dang Water Bus Station, 10B Ton Duc Thang St, District 1, HCMC

Opening hours: 7:00 – 19:30, daily

Ticket price: 15.000 VND/way/person
8. Stroll along Nguyen Van Binh Book Street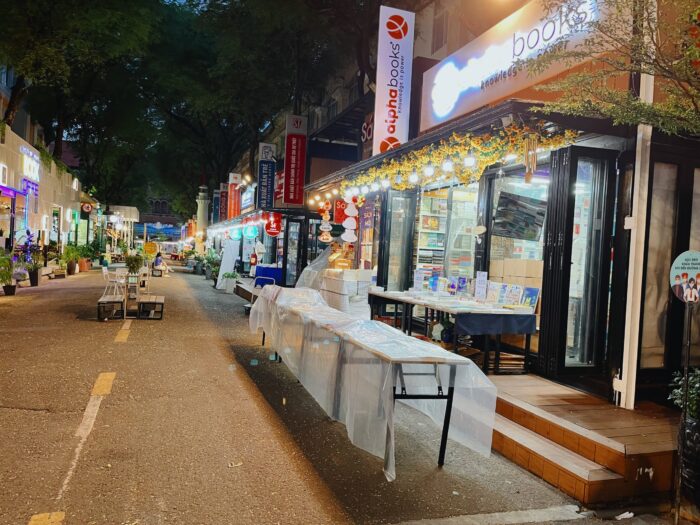 This book street is situated in the heart of District 1, HCMC, close to Turtle Lake. Here, you can discover a wide selection of Vietnamese and English books from well-known publishers in Vietnam. Additionally, there are book cafes and benches available where you can comfortably sit down and enjoy reading books.
Address: Nguyen Van Binh St, Ben Nghe, District 1, HCMC

Opening hours: 8:00 – 22:00, daily

Ticket price: free
9. Enjoy the atmosphere at Turtle Lake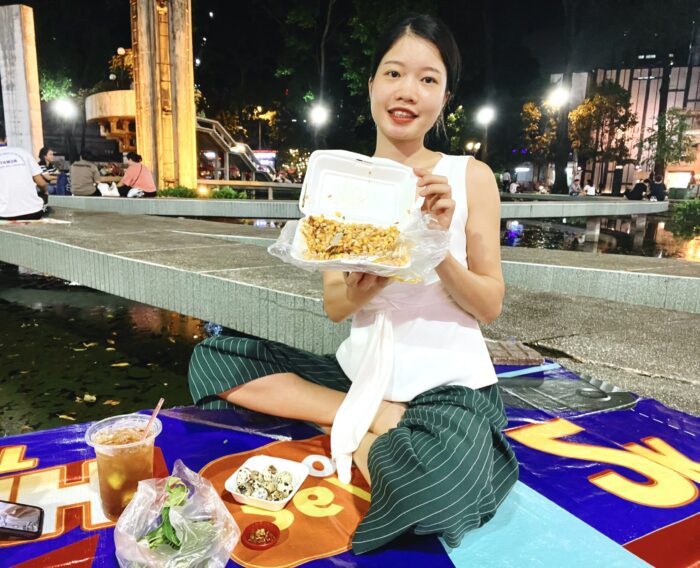 Looking for some unusual things to do in Ho Chi Minh City? Why not visit Turtle Lake? This is a popular spot where young locals often gather to enjoy snacks and drinks. It's a fantastic place to relax and chit-chat with your family or friends.
If you buy food from the street vendors, you can sit on their mats. Alternatively, you can find a spot to sit anywhere, as long as you don't mind getting your clothes dirty.
Note that the vendors may have to quickly pack up their mats if the police arrive, as selling food in this area is actually illegal.
Pro tip:  It's actually more expensive buying food from street vendors around the lake. You can also opt to buy food from elsewhere and bring it with you to Turtle Lake.
Address: Vo Thi Sau Ward, District 3, HCMC

Opening hours: 24/7

Ticket price: free
10. Enjoy some snail dishes – unusual things to do in HCMC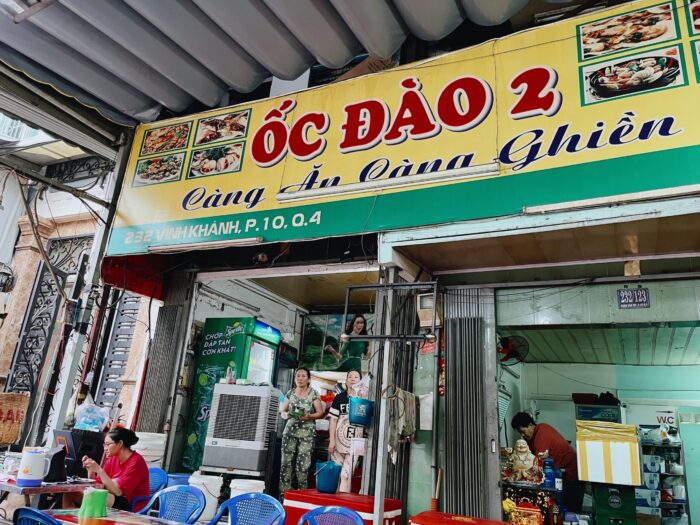 Snails are one of the Vietnamese people's favorite foods when hanging out with friends. In HCMC, you can find this dish in local restaurants that serve various kinds of snails, along with some seafood options as well.
I am personally crazily in love with snail dishes in HCMC as the sauce they use is incredibly delicious and distinct from the cooking style in Northern Vietnam where I come from.
Here are some recommendations for you: 
Address: 25 Nguyen Binh Kiem, Ben Nghe, District 1, HCMC. 
Price: From 100.000-200.000 VND/person
Address:  432A/27 Ba Trac St, Ward 1, District 8, HCMC. 
Price: From 100.000-250.000 VND/person 
Address: 123 Vinh Khanh, Ward 10, District 4, HCMC.
Price: From 100.000-150.000 VND/person 
11. Explore the cafe apartments at 42 Nguyen Hue St.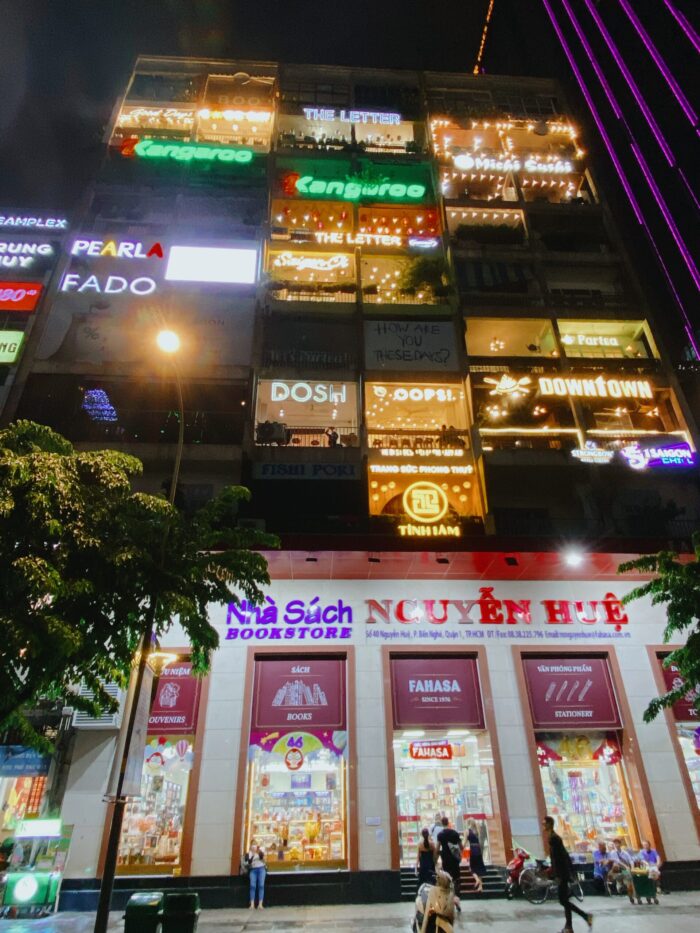 If you're seeking an interesting spot to enjoy a drink and relax, this is the ideal destination to visit.
Having been constructed in the mid-1960s, the apartment was once occupied by American military officers and high-ranking officials working for the South Vietnam government. Nowadays, the building has transformed into an apartment complex that is bustling with cafes, boutiques, salons, and co-working spaces. Visiting this place, you can select a café, sit down, and relish the view of Nguyen Hue Walking Street.
Address: 42 Nguyen Hue St, Ben nghe, District 1, HCMC
12. Indulge in local cuisine on Ton Dao Street
I stumbled upon this local food paradise by chance. This street and its neighborhood offer a wide variety of local delicacies, including snails, seafood, mixed rice, noodles, desserts, and more, all at affordable prices.
Banh canh chao long Tra Vinh
Food: Intestine porridge/ noodles
Address: 161 Ton Dan St.
Price: 35.000 VND-50.000 VND/person
Food: Vietnamese steamed rolled cake
Address: 190 Ton Dan St.
Price:  ~30.000 VND
Food: dessert – sweet soup 
Address: 233 Ton Dan St.
Price: 20.000 VND – 70.000 VND
More posts about Ho Chi Minh City
Above are 12 unique and unusual things to do in HCMC. Which one is your favorite? Share your thoughts below.
Thanks for reading!
Frequently Asked Questions (FAQ)
1. What are the free things to do in HCMC?
Ho Chi Minh City (HCMC) offers a lot of unique and free experiences for tourists. Here is the list of 10 free and interesting things to do in HCMC:
Ton Dan Apartment

42 Nguyen Hue Cafe Apartment

Bui Vien Street

Nguyen Hue Walking Street

Buu Long Pagoda

Thien Hau Temple

Sai Gon Central Post Office

Turtle Lake

Notre Dame Sai Gon

The Pink Church – Tan Dinh Church
2. What to do in HCMC in 2 days?
Here is the recommended itinerary for 2 days in HCMC:
Day 1: 
Morning: check into your hotel

Afternoon: visit the War Remnant Museum (1 hour +) and Independence Palace (1 hour +)

Evening: stroll along Nguyen Hue Walking Street (30 mins), have some cafe at 42 Nguyen Hue Cafe Apartment (1 hour +), and let loose at Bui Vien Street (1-2 hours)
Day 2:
Morning: explore Sai Gon Central Post Office (30 mins)  and Notre Dame Sai Gon (30mins)

Afternoon: discover the Pink Church (30 mins)
3. Is Grab available in HCMC?
Yes, it is.
You can book a motorbike or car taxi via this app at a very affordable price. Pro tips: Always check for discount codes in the app, sometimes I got very cheap rides with discount codes (as cheap as 1000 VND…that's insane).
4. Is HCM a safe place to travel?
Personally, I would rate HCMC a 7/10 for its safety level.
My trips to HCMC were smooth without any problems. However, I was told by the locals that muggings were pretty common in the city. So you must always keep an eye on your belongings and hold your phone tightly while walking outside.