When travelling to Ha Giang, it's not advisable to drive a far distance when the sky is dark, thus you can only stay at the homestay in the evening. Therefore, choosing a good homestay with various entertainment is very essential because you can also have fun in the homestay at night. This is the reason why I came up with this post – Ha Giang homestay: Aladdin homestay review with photos" – to recommend to you what criteria you should consider when choosing a homestay in Ha Giang.
I stayed in Ha Giang for 2 nights and chose Aladdin Homestay. Generally, it was a great experience for me, however, there are some cons that you need to consider as well, especially for foreign tourists. Let's find out whether Aladdin Homestay is a good choice for you or not in this post.
You may also like: Ha Giang: The most comprehensive travel guide
1. GENERAL INFO OF ALADDIN HA GIANG HOMESTAY
Address: Ly Thuong Kiet, Dong Van
Tel: 0944184666
Price range: 80,000 – 200,000 vnd/person                                                                                          
2. PROS OF ALADDIN HA GIANG HOMESTAY
A great chance to stay in a stilt house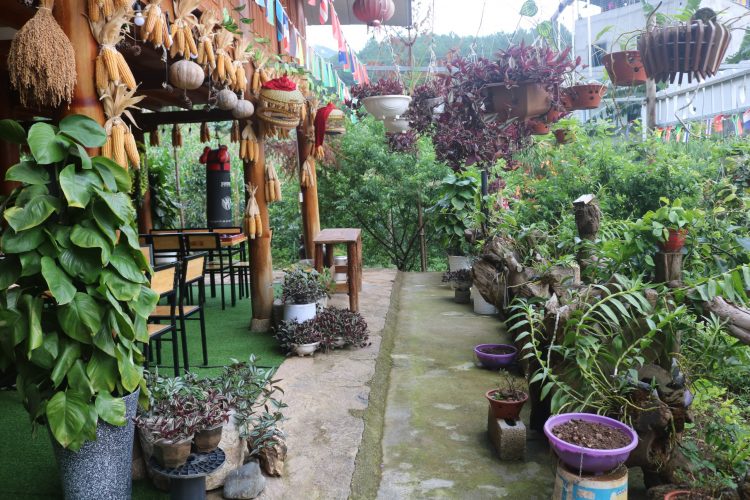 This is my first priority when choosing a homestay in Ha Giang because it gives me a more immersive travelling experience. Stilt houses are something you won't have a chance to see in the modern metropolitan area, and it's a unique feature that only ethnic minority tribes have. In addition, it's inexpensive to stay at a stilt house as well (less than 200,000 vnd/ person/night).
Having been travelling to a lot of places, I must say that I have never EVER met any host like here (of course, in a positive way): friendly, funny, hospitable, caring, etc.
First, he offered to us a lot of things for free. On the 1st night in Ha Giang, he invited us to try some corn wine (a traditional Hmong people's traditional wine). On the 2nd day, we took a 1-litre bottle of water in the fridge, we told him when checking out but he didn't count it on the bill. In the evening, when we were singing karaoke, he also made us a plate of traditional Hmong stir-fried rice for free. He was just too generous and lovely, right? Therefore, I joked with my friends that "maybe he opens this Aladdin homestay just for fun, not for profit" :D.
Furthermore, he was also extremely caring when taking all of our helmets inside in the evening so they wouldn't get wet by the rains (we visited Ha Giang in June, and it was rainy every night until 8-9 AM, but don't worry, afterwards the weather was fantastic!!).
In addition, this host was so also very helpful as he suggested to us things to do in Ha Giang, where to visit, what to eat near Dong Van Old Quarter, etc…If you book with him in advance, he will contact you before your trip to inform you about the weather and suggest a perfect itinerary for your Ha Giang trip.
As a bonus point for puppy lovers, Aladdin homestay has some special staff that are the 3 lovely affectionate little puppies. They are super cute, super friendly, and always snuggle with guests. Awww…
Aladdin homestay is situated just about 500 meters away from the Dong Van Old Quarter where you could come in the evening and enjoy the vibe. Although it's not the best location (next to Dong Van Old Quarter), with what the host offers, I think this homestay is totally worth it.
In the daytime, it's also very convenient to reach other places of interest such as Ma Pi Leng, Nho Que River, Pao's house, etc. by motorbike from Aladdin Homestay. 
You may also need: Ha Giang bike rental: A detailed review of Anh Anh Motel
Various entertainment activities
As Ha Giang is quite boring when the sun is down, it's very necessary to find accommodation which offers numerous recreation facilities to guests.  What Aladdin homestay offers are: charcoal BBQ grill stove, swimming pool (into which natural water is channelled), karaoke, bar, etc.
Well, that's quite enough if you stay in Ha Giang for only 2 nights, right?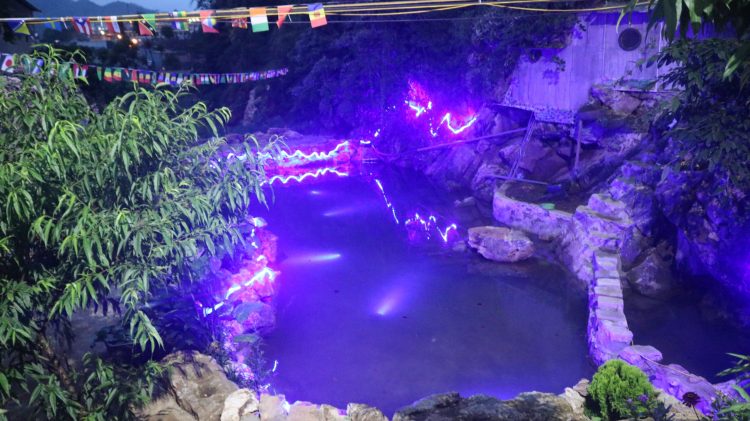 My plan was:
1st night – barbecue (or hotpot if you prefer)
Although eating out is an easier option, personally, I prefer making our own dinner party because it's more fun (and cheaper too :D).
The host helped us to order a raw seasoned chicken and to prepare the BBQ stove. Regarding the price, the chicken cost only 200,000 vnd/ kilogram), and only 10,000 vnd for the BBQ stove preparation. Besides, we also went to the local market nearby (500 meters away) to grab some veggie, fruits, sausage, etc. because a chicken wouldn't be enough.
2nd night – time for Karaoke
After dining outside, we spent the whole evening having fun at the karaoke bar. It was so memorable.
To be honest, I didn't expect much on the cleanliness of homestays in Ha Giang because this area is still undeveloped and poor. However, in Aladdin homestay Dong Van, I was absolutely happy that the bathroom was very clean. Of course, don't expect a luxurious bathroom from a 5-star hotel, but it's so much cleaner compared to the local standard. 
3. CONS OF ALADDIN HA GIANG HOMESTAY
Flying insects are really big cons of not only this homestay but also others. In the mountainous area, unluckily, insects are unavoidable. If insects are your enemies, you might be more interested in motels or hotels. If you wanna stay near Dong Van Old Quarter, then Hoang Ngoc hotel is one of the best choices.
Otherwise, prepare mosquito spray before your trip.
But that's not a big deal because Ha Giang's weather is either cool or cold all year round. I went there in June, although it was very sunny in the daytime (thanks to heavy rains every morning, the temperature seemed to cool down a little bit), it's a bit cold at night.
Do you sleep early at night?
Do you like quiet places?
If the answer is yes, then this homestay is absolutely 100% NOT for you!
As mentioned above, Karaoke is available, so it might be noisy every night until about 23:00.
According to my experience, on the 1st night, it was not so pleasant for us because we were too tired after a long ride and just wanted to sleep right after dinner (as early as 21:30). Ironically, "thanks to" some beautiful and passionate voices, we couldn't fall asleep until midnight.
But on the 2nd night, we'd got our energies back and decided to revenge for the previous night. We had a lot of fun and I wondered whether there was anyone who couldn't sleep that night :D.
Thus, if you like Karaoke and wanna get involved, it will be a plus point, if you don't, then BIG CONS.
Although I gave a big compliment for the bathroom's cleanliness, I still have to say something about bedsheets. As I feel, my bed sheet in the dorm room wasn't clean enough as I saw some dirt on it. But I just simply cleaned it myself as the room price was cheap anyway.
If you stay in a private room, I believe that it would be much better.
4. WILL I COME BACK TO ALADDIN HA GIANG HOMESTAY?
Yes, if possible.
We felt like it was home away from home because of the host's hospitality. Therefore, despite some drawbacks, I still wanna stay at Aladdin Ha Giang homestay when I go back to Ha Giang.
5. OTHER HOMESTAYS IN DONG VAN – HA GIANG
Bui Homestay
Address: Dong Van Welcome Gate, Dong Van, Ha Giang
Tel: 0968890690
Price: about 250,000 vnd/ person/ night
Dong Van B&B
Address: Dong Van town centre, Ha Giang
Tel: 0855188558
Price: about 150,000 vnd/ person/ night for dorm room and 700,000 vnd/night for double room
How about you? Will you choose Aladdin homestay when travelling to Ha Giang? Comment below if you have any experience to share or any question for me.
ENJOY YOUR TRIP!
PIN IT!