DISCLOSURE: My articles may contain affiliate links. To click on those links, you won't be charged any extra cost, instead, you help me to get some small commissions to maintain my blog. Thanks for understanding!
"Don't go to Ha Giang Loop, it's too dangerous for female travellers, bla bla" – my friend kept telling me so when I asked him for his experience driving in the Ha Giang Loop.
Like other people, I was also easily influenced by those sayings. I and my friends even thought of another destination just a few days before the trip. However, eventually, we still decided to challenge ourselves and went for it.
On the 1st  day, I was quite confident.
On the 2nd day, I totally jumped out of my skin!!
You may also like: The most complete Hanoi to Ha Giang travel guide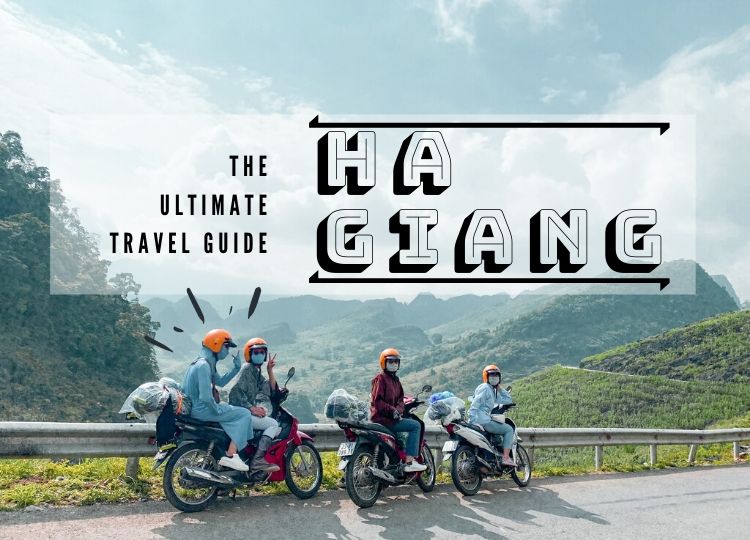 Ha Giang trip quick links:
1. How is the road in Ha Giang?
Ha Giang Loop is not an ideal destination for amateur drivers as driving here is truly a nightmare sometimes. Almost all the way from Ha Giang to Ma Pi Leng pass are narrow curved mountain roads with a countless number of blind corners. Furthermore, those roads are all facing sheer mountain slopes which somewhat can make your blood run cold when looking down.
Given this difficulty level, accidents can happen at any time when driving in Ha Giang Loop if you don't pay attention to driving. During my road trip, I also saw a pretty serious crash between a car and a motorbike (seemingly of a male traveler). From that moment, I had to keep praying for a safe trip until I was back in Hanoi.
However, don't be too obsessed about its risk, yet forget about the picture-postcard scenery that Ha Giang offers. Fortunately, the concrete road in Ha Giang Loop is in quite good condition with safety crash barriers installed at the side of the road to reduce the risk of accidents (except for some parts). Therefore, there are not many accidents in Ha Giang in recent years (as low as 25 cases on average annually).
2. What are the most dangerous roads in Ha Giang?
The number 1 position must definitely belong to the road down to Nho Que River. Wanting to enjoy the breathtaking view of the Tu San corner on a Nho Que riverboat? Consider well before deciding to go. This is THE SCARIEST thing that I had done in my whole life. I thought people just exaggerate the difficulty on the Internet (even my best friend), but it turns out the reality. You cant imagine how hard it is. The road is extremely steep, curvy with a number of blind turns, with no crash barriers, and extremely narrow (just exactly fit 2 bikes). You have to understand that I did keep praying so hard along the whole path to the boat ferry. Therefore, I don't suggest you go there if you are not a skillful driver.
Ranking 2nd place is Ma Pi Leng. Known as the most dangerous pass in Vietnam, Ma Pi Leng is the dream of any adventurer who wants to conquer nature. The pass is actually not that hard (after driving down to Nho Que River, Ma Pi Leng is no longer a concern for me).  However, there is a small and short path behind A Phao Café which is also very narrow (but not steep), this path will lead to an area where you can see the panoramic view of the Ha Giang mountains. So if you believe that you can drive, just go for it, it's not that much frightening.
3. Can I drive to Ha Giang alone?
If you are male, it's definitely possible.
If you are female, same!
However, bear in mind that the road is long, and it's always better to have an accompany who can replace you with driving when you are exhausted halfway, right? According to my experience, after 3 days of driving, although I and my friend did switch after 1 or 2 hours of driving, it was still very tiring, my back, elbow, knee, neck, etc. all hurt.
In case you are not willing to drive in Ha Giang Loop, you can also book a motor-taxi service so that you can enjoy the scenery of Ha Giang without being worried about the road. As I know, the cost is around 500,000 vnd for 1 day and you can just ask your homestay's host, they will help you to find a local driver.
Note: A homestay that you can consider is Aladdin Homestay. Read my other post: Ha Giang homestay: Aladdin Homestay review with photos to see its Pros and Cons
4. Drive in Ha Giang Loop – safety tips
Don't drive when it's dark, early morning, or raining
Given its narrow road with a lot of sharp turns, it's not recommended to drive in the Ha Giang loop after sunset and before sunrise as your vision will be blocked. Moreover, after raining, Ha Giang road will be very slippery and there is a high possibility that a landslide happens which is very dangerous.
Wear knee and elbow braces
To be honest, I didn't wear them for the whole road trip. But I do recommend unskillful drivers to put them on to ensure the safest condition. Fortunately, you don't need to buy it, but the rental shop will provide them for free when you rent their motorbike along with free water, a raincoat, and a rubber band.
Be careful with local drivers
Local people are familiar with this winding road and they seem don't care much about other vehicles. Thus, honk when reaching blind corners to warn people from the opposite direction about your present, and remember to drive on the side.
Drive carefully and slowly if you are not familiar with the motorbike.

Fill up your fuel tank whenever you see a petrol station
When reaching a populated town, you can find a lot of petrol stations. However, once you drive to the Ha Giang Loops, you rarely see one. Thus, fill your tank whenever you meet a petrol station
Check the brake carefully
Ha Giang Loop is steep, therefore, the brake is immensely important to hold your motorbike back when riding down. This is the reason why I always remind my reader to check the brake very carefully in every of my Ha Giang post.
To rent a motorbike, I highly recommend Anh Anh Motel. For more details, have a look through my other post: Ha Giang bike rental: A detailed review of Anh Anh Motel
Save this list of motorbike repair shops
To prepare for the worst situation that your motorbike might break during the trip, this list of bike repair shops in all parts of Ha Giang may help you in such circumstances. You can also get it for free in any bike rental store in Ha Giang when renting their bike.
If you are worried about driving in Ha Giang Loop, rent a driver for 500,000 vnd/day
Driving in most of Ha Giang Loop is not very hard, but for some dangerous routes, as stated in section 2, I strongly recommend a driving guide. So with a driver, you no longer need to care about anything but just enjoy the panoramic view of Ha Giang Loop. If you are interested, ask your homestay's host to arrange one for you, 99% that he/she could do so.
After reading this post, would you change your mind or still wanna conquer the majestic natural beauty of Ha Giang Loop? 
If you are afraid of driving in Ha Giang Loop, you can consider this 3D2N Ha Giang tour from Hanoi. The plus point of this tour is that its price is very affordable and you don't need to worry too much about the road trip. 
And 1 last piece of advice: Just go for it, it's worth your try!
What do you think about Ha Giang? Do you want to change your mind after this post or still want to conquer the beautiful nature of Ha Giang? Share your thought in the comment box.
You may also like: Ha Giang: The most comprehensive travel guide