DISCLOSURE: My articles may contain affiliate links. To click on those links, you won't be charged any extra cost, instead, you help me to get some small commissions to maintain my blog. Thanks for understanding!
Pulau Ketam (or Crab Island) is an island nested off the coast of Port Klang, Selangor, Malaysia. It is renowned for its colorful houses and seafood. This island is a great option for a day trip near KL.
We planned our trip just 3 days in advance and it ended up a pleasant short getaway.
In this post, I'm going to share my Pulau Ketam day trip including details about the ferry price, its famous food, and the best things to do on the island.
Read more:
Cruise Tasik Putrajaya: price, my reviews & pictures
10 Awesome places for a weekend getaway in Selangor
1. Interesting facts about Pulau Ketam
Why is the island called "Pulau Ketam"?
I think there must be a reason behind the name Pulau Ketam (which means "Crab Island"). Thus I tried to find out the answer on Google, but there is no information about that in English. So I decided to observe during my trip and what I saw were crabs, crabs, and crabs.
Firstly, when I arrived at Pulau Ketam Port, the first thing I saw was mud crabs. There are thousands of them living in the mud.
In addition, the island is also renowned for its chili crab. It's interesting that the locals put a basket of crabs in front of their seafood restaurant (maybe to show how many crabs were left for that day).
Moreover, I noticed that people even painted crabs on the roads, or carve/build crab statues on the roof of Chinese temples/ shrines. That's interesting!
Bicycles are the main means of transport in the village
As the narrow road, the locals can only use bicycles or electric bicycles to travel around the island. If you wish to experience riding a bike around Pulau Ketam, there are many rental shops near the Pulau Ketam Port.
The majority of the population in Pulau Ketam is Chinese
The island was founded in the 1870s by a group of fishermen from Hainan, China. Over the years, they have built more than 1000 wooden houses and formed a community of about 8000 citizens on this island nowadays.
2. How to go to Pulau Ketam from KL
To get to Pulau Ketam from KL, you need to go from KL to Port Klang. At Port Klang, you take a ferry to Pulau Ketam.
From KL to Port Klang
By KTM
From KL Sentral station, you can take a KTM Commuter Train to Port Klang (the last station). It costs only 6.40RM/adult and 3.2RM/child and takes 1 hour and 25 minutes.
KTM tickets can be bought at the vendor machine at KL Sentral station.
By car
Driving from KL to Port Klang takes around 45 minutes.
Parking is available right in front of Port Klang. Remember not to park outside on the road, it's illegal and most probably you will be fined if you park outside.
By tour
In case you don't drive and are not confident to travel around by public transportation, then an easy option for you is to join a tour. You can consider this tour: Pulau Ketam Crab Village Rural Adventure Tour which receives quite good reviews from previous customers.
Here is some information about the tour:
Website to book tour: Click here

Inclusion: Round-trip transfers to and from your hotel (in Kuala Lumpur), English-speaking guide, tour at Crab Village Pulau Ketam, simple local lunch, round-trip ferry ticket.

Duration: from 9:00 to 17:00
From Port Klang to Pulau Ketam
From Port Klang, you just need to take a ferry to get to Pulau Ketam. The ferry takes around 45 minutes and the ferry schedule is quite frequent.
3. How much is the Pulau Ketam ferry price?
Where to buy the ferry ticket to Pulau Ketam?
You can buy it at Port Klang (Terminal Penumpang South Port). 
We arrived the Port Klang at 10 AM. There was a lady selling ferry tickets approaching us, so we bought directly from her. I saw a ticket counter at the port as well and the price is the same.
Note: the seller only accepts cash or TNG wallet.
How much is the Pulau Ketam ferry price?
For the Alibaba ferry, it costs 20RM/ person/ 2 ways from Port Klang to Pulau Ketam.
The schedule is printed on the ticket. However, it's not very accurate. When we bought the ticket, the seller said there would be a ferry back to the mainland at 1:30 PM, 3:30 PM, 5:30 PM and marked it on the ticket for us. Thus, we tried to catch the ferry at 3:30 PM, but it was 35 minutes late. We had to stand and queue up at the port for nearly an hour.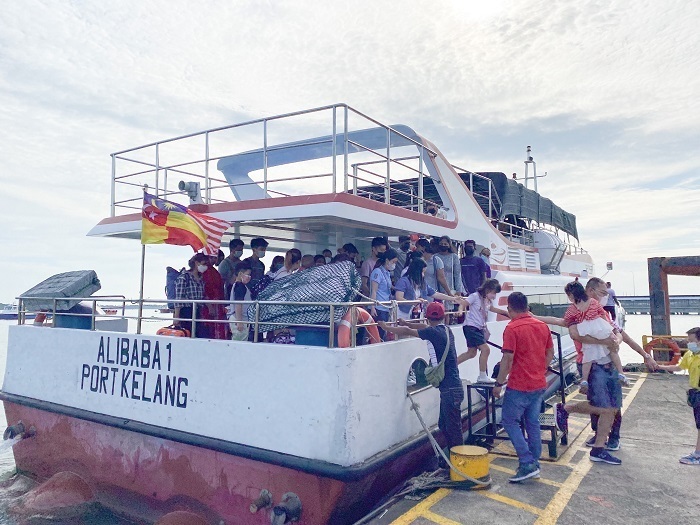 4. Pulau Ketam map
5. What to do in Pulau Ketam?
Here below are the best things to do during your Pulau Ketam day trip.
Try local foods
I realized some famous local foods offered everywhere in Pulau Ketam which are prawn fritters, shrimp balls, fried oyster omelette, Lala omelette, etc.
Personally, I like the prawn fritters the most and their price is very cheap, only 2RM/ piece.
Wander around the village
When coming to Pulau Ketam, I feel like it is Venice of Malaysia with colorful houses and turquoise waters (to be honest, I edited the picture so the color looks more saturated, but it's also very pretty in real life). Therefore, it's a good idea to wander around the village to observe the local life and snap some dazzling photos. 
As the main tourist attractions are within walking distance, we can roam around for an hour.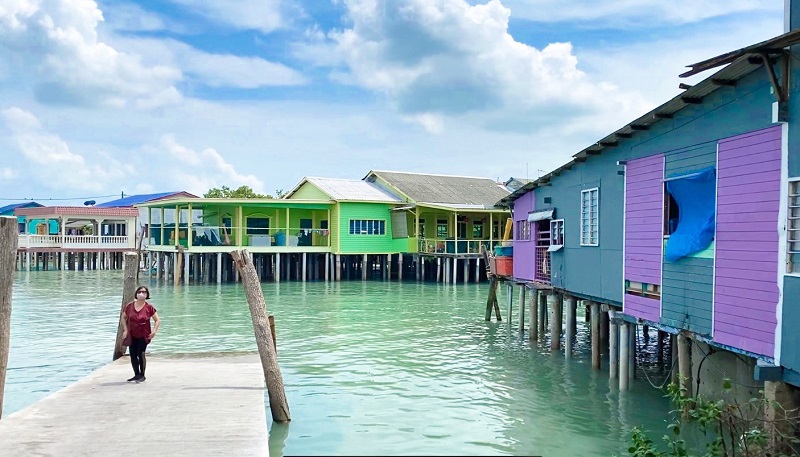 Eat seafood
What you must do when visiting a fishing village is to eat seafood. Pulau Ketam is especially famous for its crab. Interestingly, you can see a crab basket in front of each seafood restaurant to "show off" how many crabs are left for that day.
However, bear in mind that crabs are mostly sold out during the day. If you stay overnight in Pulau Ketam, expect that it's quite hard to find crabs during nighttime.
I had lunch at Restaurant Kim Hoe. Personally, I felt like the crab was not so fresh, but the steamed fish and prawns were sweet and tasty. Overall, my rating is 3.5/5. If you want to try crab, I don't recommend this restaurant.
Ride a bike around the village
As the most common means of transport in Pulau Ketam is bicycles, it's interesting to experience riding a bike to farther areas of the island. You can rent either a manual bike or an electric bike.
We rented an electric bike at Sealion hotel @Pulau Ketam for 20RM/hour. A deposit of 10RM is required. Payment can be by cash or TNG wallet. After payment, the shop owner will give you a receipt, keep this receipt till you finish the journey to get back the deposit.
Visit the Snake Temple
As the majority of the population in Pulau Ketam is Chinese, you will find several Chinese temples around the village, and the most famous one is probably the Snake Temple.
There is a real living giant snake encased in a cage just on the right of the temple. I guess that's why it's named Snake Temple.
Explore the local market
The best way to see the daily life of the locals is to visit the local market. This is probably the busiest area in Pulau Ketam with a lot of restaurants (both halal and non-halal) and local shops where you can buy souvenirs. If you are looking for a place to have lunch, this is a paradise for you.
6. How long does it take to visit Pulau Ketam?
To be honest, the island is quite small and there are not many things to do in Pulau Ketam. Therefore, a day trip is enough.
Here below is my itinerary for the Pulau Ketam day trip:
10:00 AM: Arrived at Port Klang to buy the ferry ticket. The ferry departed at 10:30 AM.
11:15 AM: Arrived at Pulau Ketam Port.
Note: The ferry stopped at Sugai Lima Port before reaching Pulau Ketam. And there was no announcement at all. Thus, check with the staff or look at the port's name to confirm that you are at the right port.
After arrival, I walked around the village, had some local snacks and visited some Chinese temples.
12:30 PM: Had lunch at Restaurant Kim Hoe. Our lunch costed 298RM/ 5 people.
2:00 PM: Rented an electric bike to discover farther part of Pulau Ketam.
2:30 PM: Had fun at KTV.
3:25 PM: Headed back to Pulau Ketam Port. The ferry came at 4:05 PM.
5:10 PM: Reached Port Klang.
In conclusion, my Pulau Ketam day trip took about 9 hours including transportation between KL and Port Klang. I think it's a perfect schedule, not so rushed, not so boring.
7. Best homestays in Pulau Ketam
If you are planning to stay on the island overnight, here are some homestays with the highest ratings that I found:
Longstay Pulau Ketam

Little Happiness Homestay Pulau Ketam

Pulau Ketam D'island Beds & Cafe 别墅一阁
Above is my Pulau Ketam day trip experience which consists of details about the ferry price, its famous food, and the best things to do on the island. I hope you find this post useful and feel free to share your thoughts in the comment section.
FAQ (Frequently asked questions)
1. Where is Pulau Ketam?
Pulau Ketam is located off the coast of Port Klang, Selangor, Malaysia. To get there, you have to go to Port Klang and take a ferry to this island.
2. Is Pulau Ketam worth visiting?
Yes, absolutely.
If you are looking for a short trip, Crab Island must be on your list. It offers beautiful scenery, and fresh seafood and is very accessible from the mainland.
3. Can I drive to Pulau Ketam?
No, you can't. You can only reach the island by speedboat or ferry.
4. How long does it take from Klang to Pulau Ketam?
From Port Klang, it takes around 45 minutes to reach Crab Island by ferry.