Are you looking for a weekend getaway with a low budget? Then Selangor Fruit Valley SFV must be one of the best options.
It is an extensive farm with a total area of 908 hectares. Visiting Selangor Fruit Valley SFV, you can try some seasonal fruits, play with animals, pick your own fruits, etc. Such a great place for friends or family trips!
This post is my personal review of the Selangor Fruit Valley SFV including its general information, ticket price, activities on the farm, and tips to save time.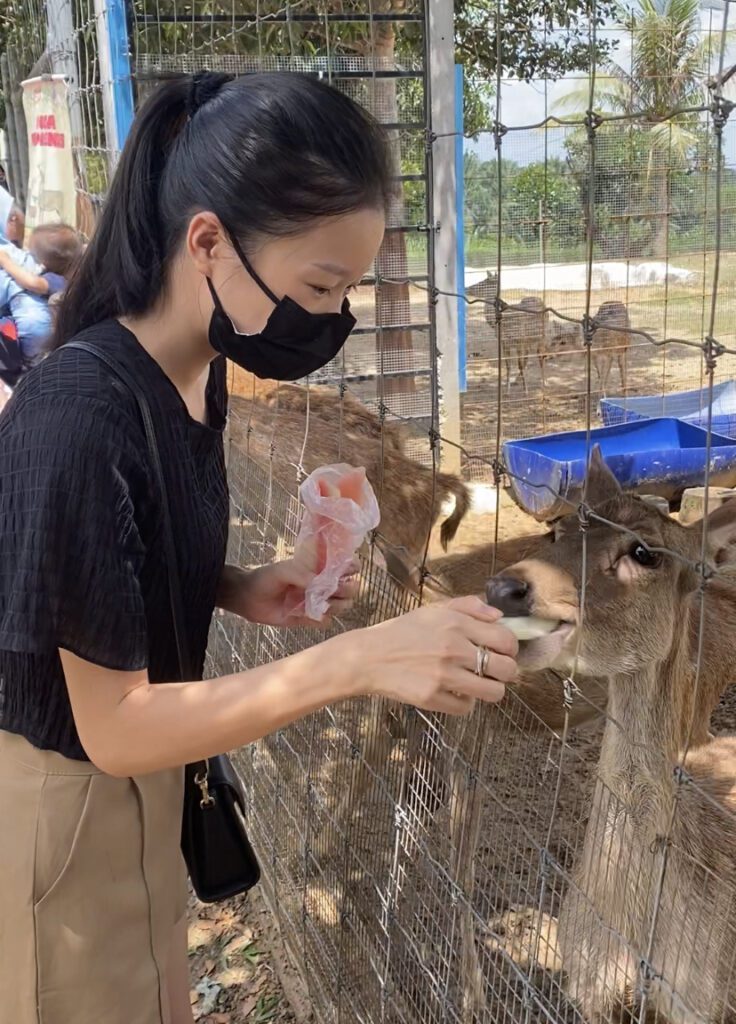 Read more: 11 Awesome places for a weekend getaway in Selangor
1. About Selangor Fruit Valley SFV
Address: KM7, Jalan Batang Berjuntai, Batu Arang, Rawang, 45600 Berjuntai Bestari, Selangor

Opening hours: 9:00 – 16:00, every day except Friday

Website: Selangor Fruit Valley website
Email:

[email protected]

Whatsapp:  016-6880792/ 012-3432971

Parking: Free
2. Entrance ticket to Selangor Fruit Valley
How much is the entrance ticket to Selangor Fruit Valley SFV?
| | | |
| --- | --- | --- |
|   | Adult | Children/ Seniors/ Disabled |
| Malaysian | RM 20 | RM 15 |
| Foreigner | RM 35 | RM 30 |
How to buy Selangor Fruit Valley SFV tickets?
You can either buy the tickets at the entrance or buy them online via their official website. In case you want to organize an event for your group, then you have to contact them in advance to book the slots.
 💡 Read my review of other places for a short trip from KL:
Kuala Selangor – experience Sky mirror, Blue Tears, Fireflies & Eagle feeding
Sekinchan – take pictures with a lush green paddy field
Pulau Ketam– wander around the little Venice of Selangor
3. Review all activities in Selangor Fruit Valley SFV
After buying the tickets to Selangor Fruit Vally SFV, you can go to the next counter to get free fruits (seasonal) and some drinks. Each customer will be assigned a number, you have to wait for them to call your number to get on the tram. The tram will take you around the farm.
There are 6 stations to explore in Selangor Fruit Valley SFV. Each station offers different kinds of fruits to try or activities. Now, let's dig into it!
Read more: 11 Awesome places for a weekend getaway in Selangor
Station 1: Carambola Monument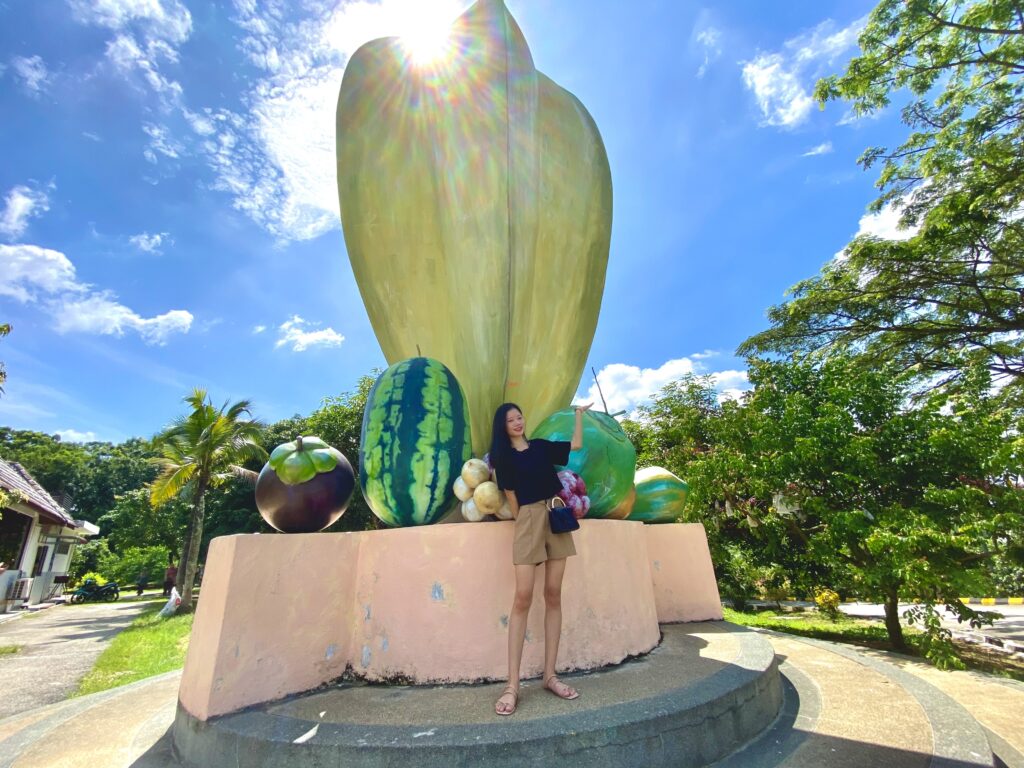 This station has 2 parts: Carambola Pavilion and a garden. 
From the Carambola Pavilion, you can see the Selangor Fruit Valley's panoramic view. Opposite the pavilion is a small garden that grows fruit trees and houses some animals such as peacocks, chickens, etc.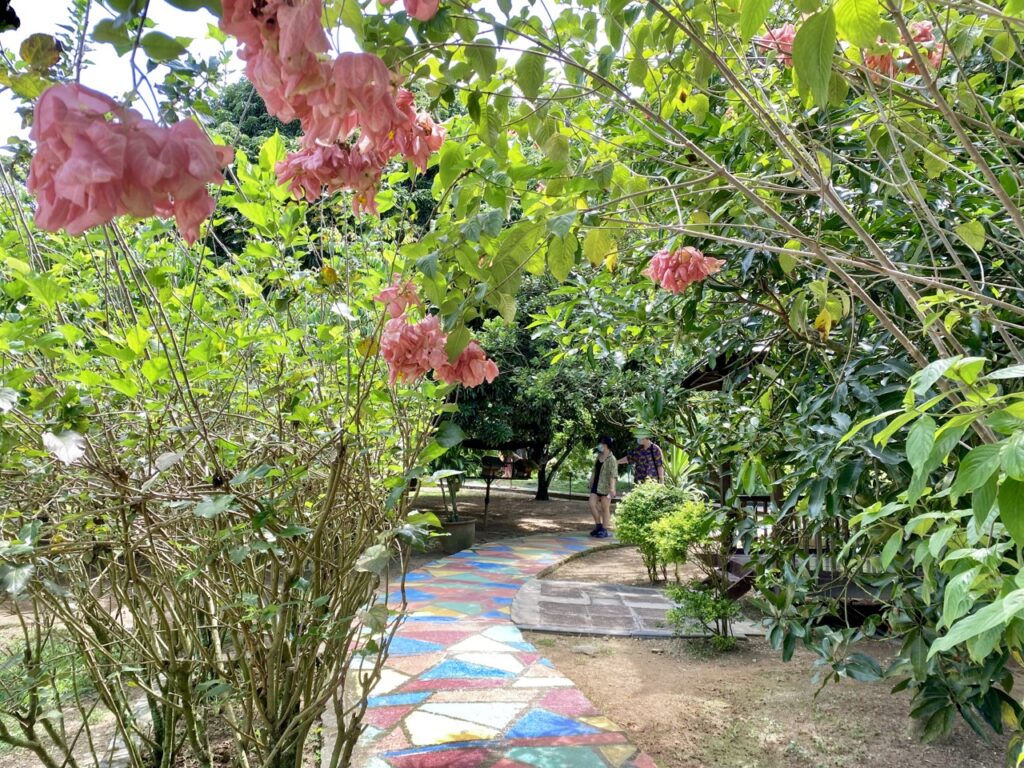 To be honest, there is nothing much to see here. And after walking around, I had to wait for 15 minutes to catch the next tram. The weather was scorching and that made me so uncomfortable and tired to wait for the tram. Thus, if you are not interested in it, just skip it and go directly to the next station.
Station 2: Taman Rusa (Deer Park)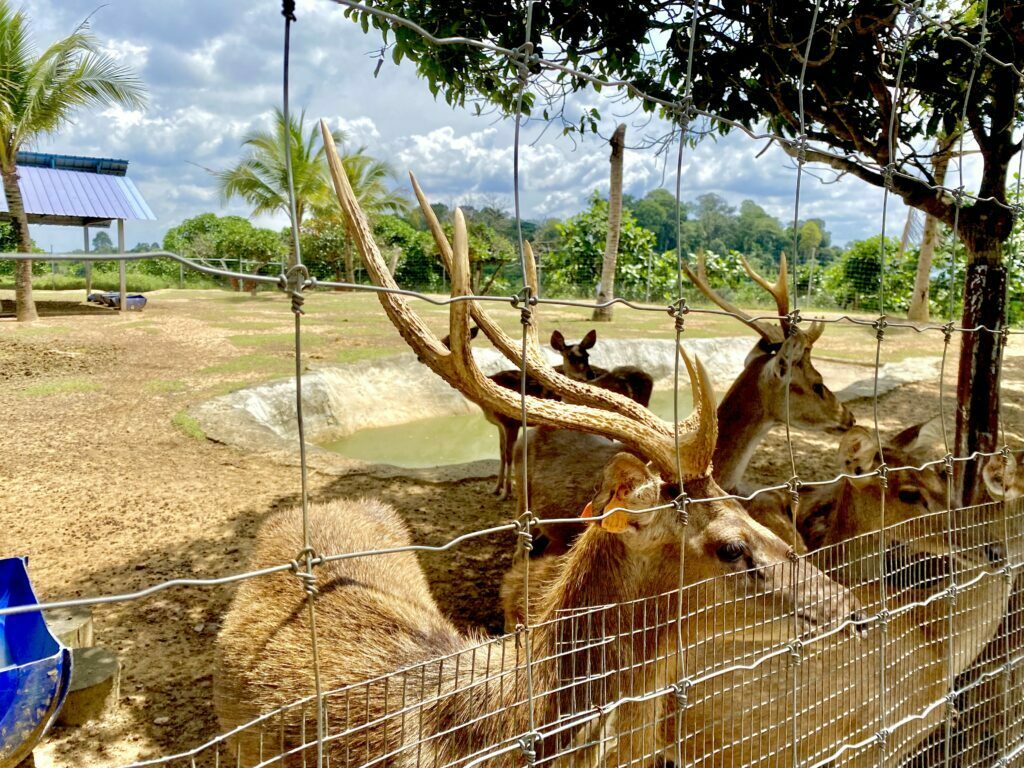 This is a quick stop and is more interesting than the first station. You need to buy food from the staff (only RM1/ pack) to feed the deer. 
It took us around 5 minutes for this activity and the tram waited there to drive us to the next station.
Station 3: Rabbit Park 
Here you can pet the rabbit and take fun pictures with them at NO extra cost. However, I do feel pity for the rabbits, especially the baby rabbits :(, they looked so weak.
Besides, there are some guinea pigs, parrots, and birds as well.
On the opposite side is a small food stall, you can buy some if you are hungry.
Station 4: Guava garden + Boat ride
Welcome to the highlight of our Selangor Fruit Valley trip. There are 2 fun activities to play here: guava picking and boat ride.
When getting off the tram, you can try some guava (for free). If you want to pick your own guava to bring back home, jom! The cost is RM 7/kg, the farmer will lead the way and show you which guava is good to pick. 
After that, there is another super fun thing to do at this station: BOAT RIDE. It costs only RM35/boat (maximum 5 people/boat). They will provide life jackets for your safety. 
Actually, I was a bit scared at first, but after a while, I felt so EXCITEDDD. Definitely a must-try activity in Selangor Fruit Valley SFV
Station 5: Duck pond
This is just a duck pond and they also sell duck eggs. Hmm, nothing much here. You should skip it.
Station 6: Selangor Traditional House
At this station, you can visit the traditional wooden Malay house, drink panda coconut, and play archery.
The traditional stilt house is full of antique furniture and fixtures. Good for foreigners to explore Malaysian culture.
Next to the house is a small stall that sells mainly panda coconut at RM3 each. It was the first time I tried panda coconut, the taste was so interesting, very fragrant, and smelt like panda leaf.
You can also play archery opposite the stilt house. It costs RM12 for 10 arrows. So sad that my friends and I could not even shoot the arrow at the target.
One thing I was dissatisfied with was that the road from Station 6 back to the main entrance was too dusty. My vision was full of sand and dust (not exaggerated at all). I hope they can improve it in the future.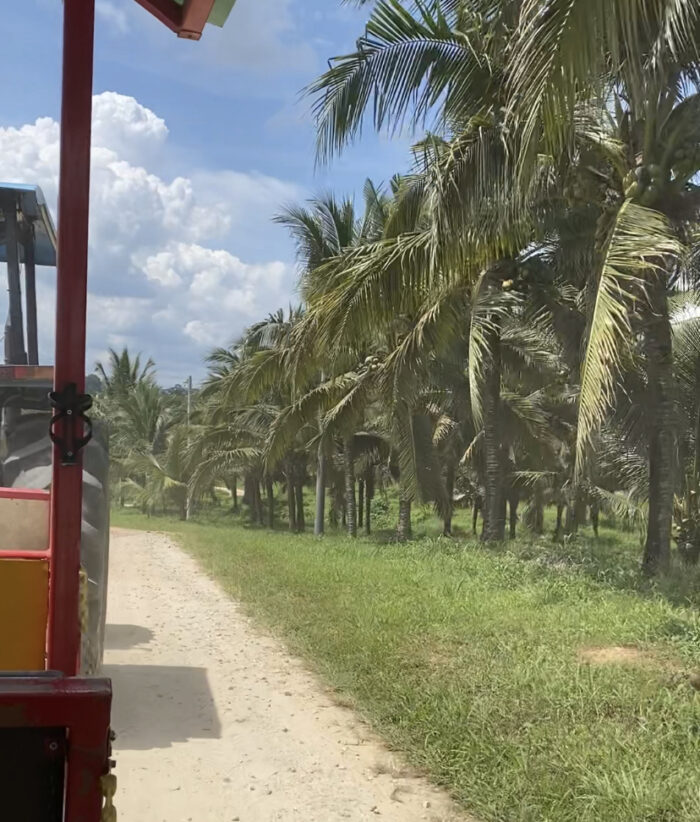 So yah, that's all activities you can do at Selangor Fruit Valley SFV. To conclude, some parts are fun, some are boring. My total visiting time at Selangor Fruit Valley SFV took around 4.5 hours BUT most of the time was wasted because we had to wait for the next tram for so long. That's a huge negative point that they need to improve. My suggestion is that you should skip all those boring stations such as the Carambola Monument and Duck Pond to save time.
👉 Want to rent a private car/ van for a day trip to Selangor Fruit Valley? Contact me via Whatsapp +60 149.776.712 (Mai) or my Instagram for the best price 💸.
Above is my review of the Selangor Fruit Valley SFV including its general information, ticket price, and activities at the farm.
If you have any questions about Selangor Fruit Valley SFV, feel free to comment below. Thanks for reading!
Read more: 11 Awesome places for a weekend getaway in Selangor