DISCLOSURE: My articles may contain affiliate links. To click on those links, you won't be charged any extra cost, instead, you help me to get some small commissions to maintain my blog. Thanks for understanding!
Haloo, you must be looking for a great place to enjoy a Hi-tea buffet in Kuala Lumpur huh?
You are at the right place because I'm going to share my Hi-tea buffet experience in the Atmosphere 360 Revolving Restaurant in KL Tower – one of the most renowned places for sky-dining in KL. Not to mention, this restaurant even rotates around the tower. 
Sound tempting? Let's follow me to discover what's inside this restaurant.
When my mom and grandma visited Malaysia, we decided to let them experience the Hi-tea buffet in Kuala Lumpur and we chose Atmosphere 360 Revolving Restaurant in KL Tower. Here is the general information about this restaurant:
Address:  TH02, Menara KL, 2, Jalan Puncak, 50250 Kuala Lumpur

Opening hours: 12:00 -22:00, every day

Meals: Lunch Buffet, Hi-tea Buffet, Dinner Buffet

Price range: RM 88 – 248/person (see the detailed price CLICK HERE)
Link to reserve: CLICK HERE
Note: If you want to have window seats, you have to pay an extra RM35/table.
When we reached the KL Tower, we just need to show the front desk our reservation. The staff was professional and attentive. She confirmed our reservation and guided us to go to the restaurant. 
After that, we got inside an elevator and went up to the TH02 level. 
The ambiance of 360 Atmosphere restaurant was very luxurious, cozy, and modern. My mom and grannie were absolutely astonished for their first time to have a sky-dining experience in a stunning restaurant. 
More posts about Kuala Lumpur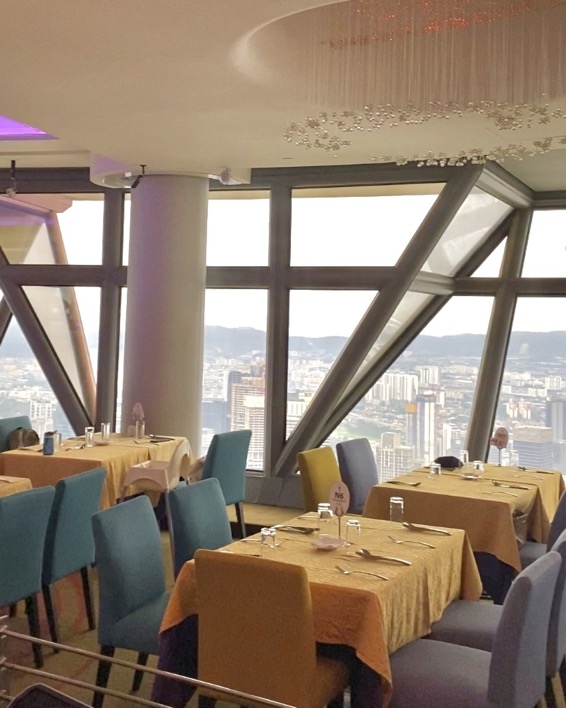 The bird-eye view is the best thing that this Atmosphere 360 Revolving Restaurant offers. From the restaurant, you can see the whole KLCC. Especially, the restaurant revolves 360 degrees, allowing us to see not only one side but a 360-degree view of the city. That is awesome!
Talking about food, there is nothing so special about it. It's totally understandable because we paid only RM88/person, we could not expect too much. There are some cakes, sausages, fried noodles, fruits, etc. We were not so hungry so we just had some cakes and fruit.
The restaurant also offers a lunch and dinner buffet priced from RM 110 per person. For more details and to reserve a table, check out This link (enter code DL6KGF to get RM 20 off).
Note: if you want to give a surprise to your loved one, you can request the staff to prepare a small piece of cake with candles in advance. 
Read more: Review Envi Skydining Restaurant with a view of the Petronas Tower
 

 

Xem bài viết này trên Instagram

 
More posts about Kuala Lumpur
Above is my review of the Hi-tea buffet at Atmosphere 360 Revolving Restaurant in KL Tower. If you have any questions, feel free to comment below. Thanks for reading!