DISCLOSURE: My articles may contain affiliate links. To click on those links, you won't be charged any extra cost, instead, you help me to get some small commissions to maintain my blog. Thanks for understanding!
Kuala Lumpur (KL) serves as a cultural, economic, and financial hub of Malaysia, and it stands as one of the fastest-growing metropolitan cities in Southeast Asia. The city not only offers modern architecture to tourists but also boasts a rich history and culture.
I first visited KL in 2019 and immediately fell in love with this city. Two years later, I decided to move to KL as an expat. Little did I know that the longer I stayed in KL, the more I realized how much there is to discover and the more I love this city.
In this Kuala Lumpur travel blog, I will share a complete guide to this destination, including how to get around, a Kuala Lumpur itinerary, useful travel tips across the post, and more.
1. Interesting facts about Kuala Lumpur
Kuala Lumpur, often abbreviated as KL, is the capital of Malaysia. It is a multicultural, multi-ethnic, multi-religious, and multi-lingual city. In terms of demographics, as of 2020, 47.7% of the population in Kuala Lumpur is Malay, 40.6% are Chinese, 10% are Indian, with the remaining belonging to various other ethnicities.

The Petronas Twin Towers in Kuala Lumpur is renowned as the tallest twin towers in the world, standing at a towering height of 451.9 meters, spread over 81 floors.

Malaysia's government buildings have been relocated to Putrajaya, situated 30 kilometers south of Kuala Lumpur. This move was made to alleviate issues related to overcrowding and congestion in KL.
2. Best areas to stay in Kuala Lumpur?
There are 3 common areas for tourists to stay in Kuala Lumpur: Bukit Bintang, Chinatown, and Kuala Lumpur City Center (KLCC). Each of these locations offers various attractions to visit, and they are all relatively close to each other.
Here are some places to visit in those areas:
KLCC
Bukit Bintang
Chinatown
Attractions: Petaling Street, Chai Kwai Hong street art, Central market, Sri Mahamariamman Temple, Merdeka Square, Sultan Abdul Samad building, Masjid Jamek.

Best hotels in Chinatown: Yu Hotel Chinatown, AnCasa Hotel
Pro tips:
Don't stay too close to Jalan Alor night street, as it gets extremely crowded and hard to catch a taxi or Grab at night, especially during weekends and holidays.

The most affordable accommodations can be found in Chinatown, while the most expensive area is KLCC.

Wanna stay in a hotel/homestay with a

rooftop swimming pool in KL?

, here are the best accommodations: Read this post.
 

 

Xem bài viết này trên Instagram

 
3. How to get around Kuala Lumpur?
From KLIA Airport to Kuala Lumpur
There are 3 ways to travel from the airport to Kuala Lumpur:
By KLIA Ekspres: This is a train that operates the route between KLIA or KLIA2 Airport and KL Sentral. From KL Sentral, you can take a taxi or public transportation to your hotel. The ticket price is RM 55, but you can get it for only RM 49 via This link (enter code DL6KGF to get an additional RM 20 off).
By taxi/Grab car: If you're traveling in a group, sharing a taxi or Grab car can be more cost-effective. A 4-seater car typically costs around 70-100 RM per trip. Download the Grab app: click here.
By bus: You can also purchase a bus ticket from the airport to KL Sentral. The ticket price is approximately 15-20 RM per way. The airport bus station is situated on the 1st floor of Gateway@KLIA2 mall in KLIA2. Link to book cheap online bus tickets CLICK HERE.
Note: KLIA and KLIA 2 are 2 different terminals. You can travel between KLIA and KLIA2 using the free shuttle bus or the Inter-Terminal Rail Transfer for RM2.00.
Getting around Kuala Lumpur
There are 4 ways to get around Kuala Lumpur:
Walking: Some places of interest in Kuala Lumpur are pretty near to each other, you can definitely wander around on foot. Here are 2 routes to walk:
Route 1: Petaling Street, Chai Kwai Hong Street Art, Central Market, Sri Mahamariamman Temple, Merdeka Square, Sultan Abdul Samad building, Masjid Jamek.
Route 2: Petronas Twin Tower, Lake Symphony and Water Show, KLCC Park, Aquaria KLCC, Suria KLCC mall.
Public transport: Kuala Lumpur has a network of buses, LRT, KMT trains, and Rapid KL buses. All public transportation services operate from around 6 a.m. to 12 a.m. You can buy single tickets at the station. The cost depends on the distance, and you can make payments with either cash or credit card. Besides, you can buy a KL Travel Pass with airport transportation and 2-day Unlimited Rail Transfer via This link.
Tips: It's advisable to bring small changes with you because many ticket machines don't accept big notes or cards.
Grab car: Grab is a taxi-hailing app that is pretty cheap. The fare per km is about RM 1 (minimum rate is RM 5), however, it can be more expensive during peak hours.
Hop on Hop off bus: The bus covers a route that passes through 27 famous tourist destinations in Kuala Lumpur. You can hop on and off at any point along the route. To book tickets, check out THIS LINK (enter code DL6KGF to get RM 20 off).
Rent an electric scooter: You can rent scooters on the Beam app. It's quite fun to ride it around the city, however, be careful when riding it, as its speed is quite fast. There are many pick-up and drop-off points in Kuala Lumpur and you can find them in Beam's app. The rental fee is RM1.5 (to unlock) + RM 0.45/ minute. 
Link to download the Beam app: THIS LINK, enter code LxRxqrt8 to get 2.5 RM off for your first trip.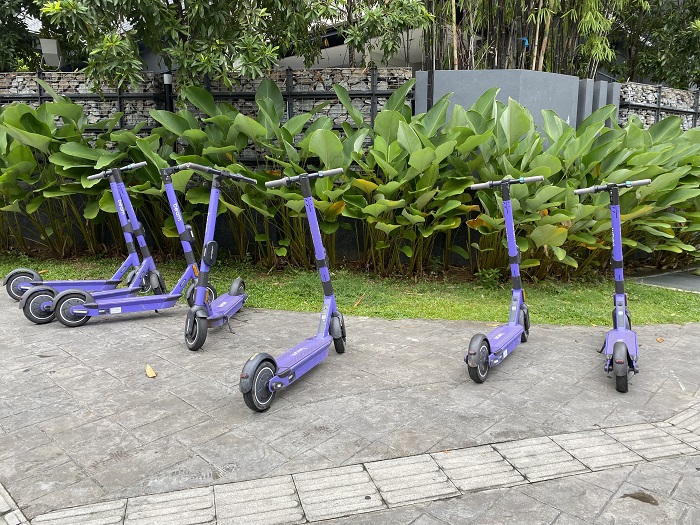 From KL to other destinations
4. Is Kuala Lumpur safe? What are the common scams?
From my personal experience, I would say that Kuala Lumpur is pretty safe to travel.
To be honest, I have been traveling to Kuala Lumpur and living here since 2021, and I have never experienced any scams or robberies. However, I have heard stories about some people falling victim to scams here. Therefore, it's always wise to remain cautious at all times.
Some common scams in Kuala Lumpur are:
Currency exchange scam: While you're exploring an attraction, someone might strike up a conversation, ask where you're from, and say they've never been to your country. They may express interest in exchanging your currency for Ringgit. Be cautious, as they may attempt to confuse you with a sleight of hand, and their actions can be so swift that you may not realize that some of your money is missing until later.
Photography scam: You might encounter individuals offering photography services in front of the Petronas Twin Towers. At first, they say the cost is just RM 10, and you might assume this covers all the photos. But nahh, RM 10 is the price for only 1 photo. This means that if he sends 10 photos to your phone, you'll have to pay RM 100. That's insane.
Taxi scam: This scam is common in many tourist cities, including Kuala Lumpur. Therefore, I always use Grab instead of taxis when traveling.
5. Top 5 must-visit attractions in Kuala Lumpur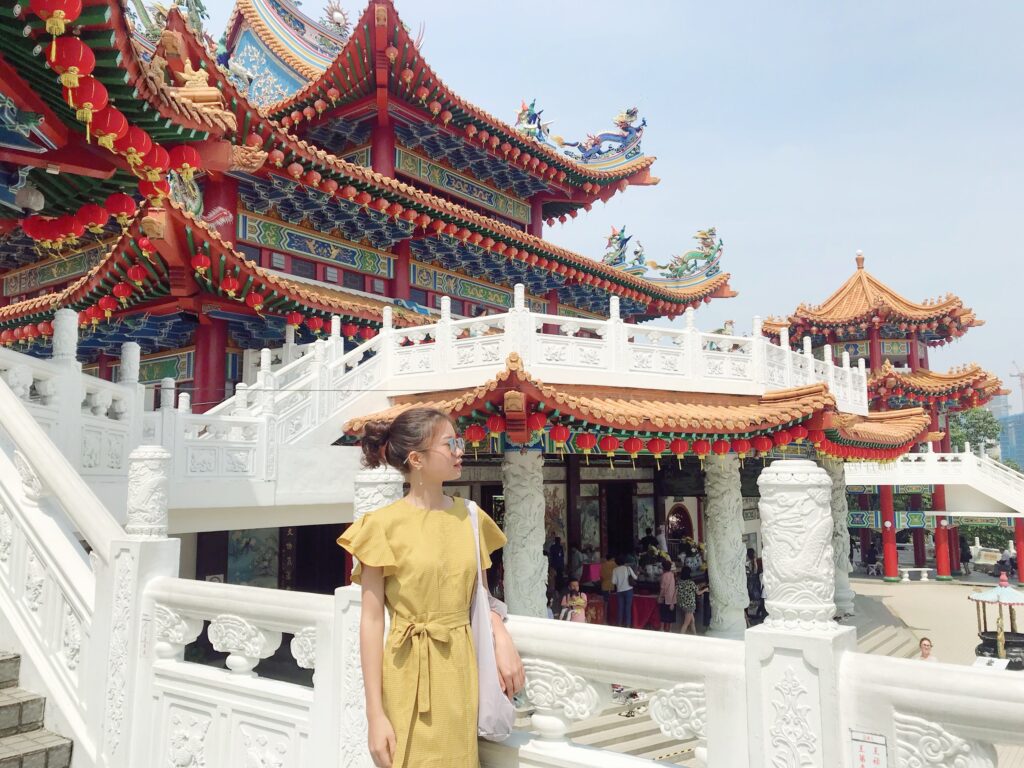 Thean Hou Temple
This stunning temple was constructed in 1894 by the Hainanese community in Kuala Lumpur. It stands as one of the largest and oldest temples in Southeast Asia and is considered one of the most beautiful places to visit in KL. Upon visiting, you'll be awestruck by the splendid beauty of the temple, which perfectly harmonizes modern and traditional architectural styles.
Read my detailed review of Thean Hou Temple: Click here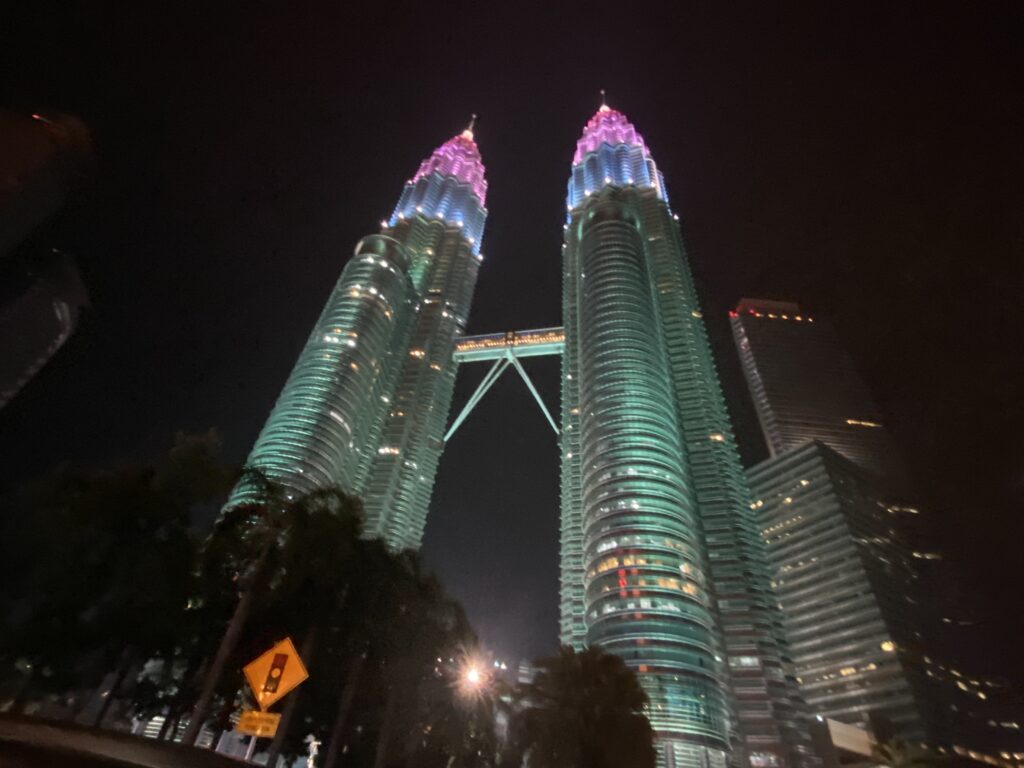 Petronas Twin Towers
This iconic tower is the world's tallest twin tower, standing at 452 meters high with 88 floors. When you visit, you can enjoy a leisurely walk in KLCC Park, witness the mesmerizing musical fountains, shop at Suria KLCC, and take in breathtaking city views from the Skybridge and Observation Desk.
Link to buy Skybridge and Observation Desk desk tickets: Click here (enter code DL6KGF to get RM 20 off).
Merdeka Square and Sultan Abdul Samad Building
The Independence Square (or Dataran Merdeka) is a historical site in Malaysia where Malaysia's first Prime Minister read the Declaration of Independence on August 31, 1957, after many years of being occupied. Opposite Dataran Merdeka, you will see the Sultan Abdul Samad building – which was once the center of the British colonial government.
Read my detailed review of Merdeka Square: Click here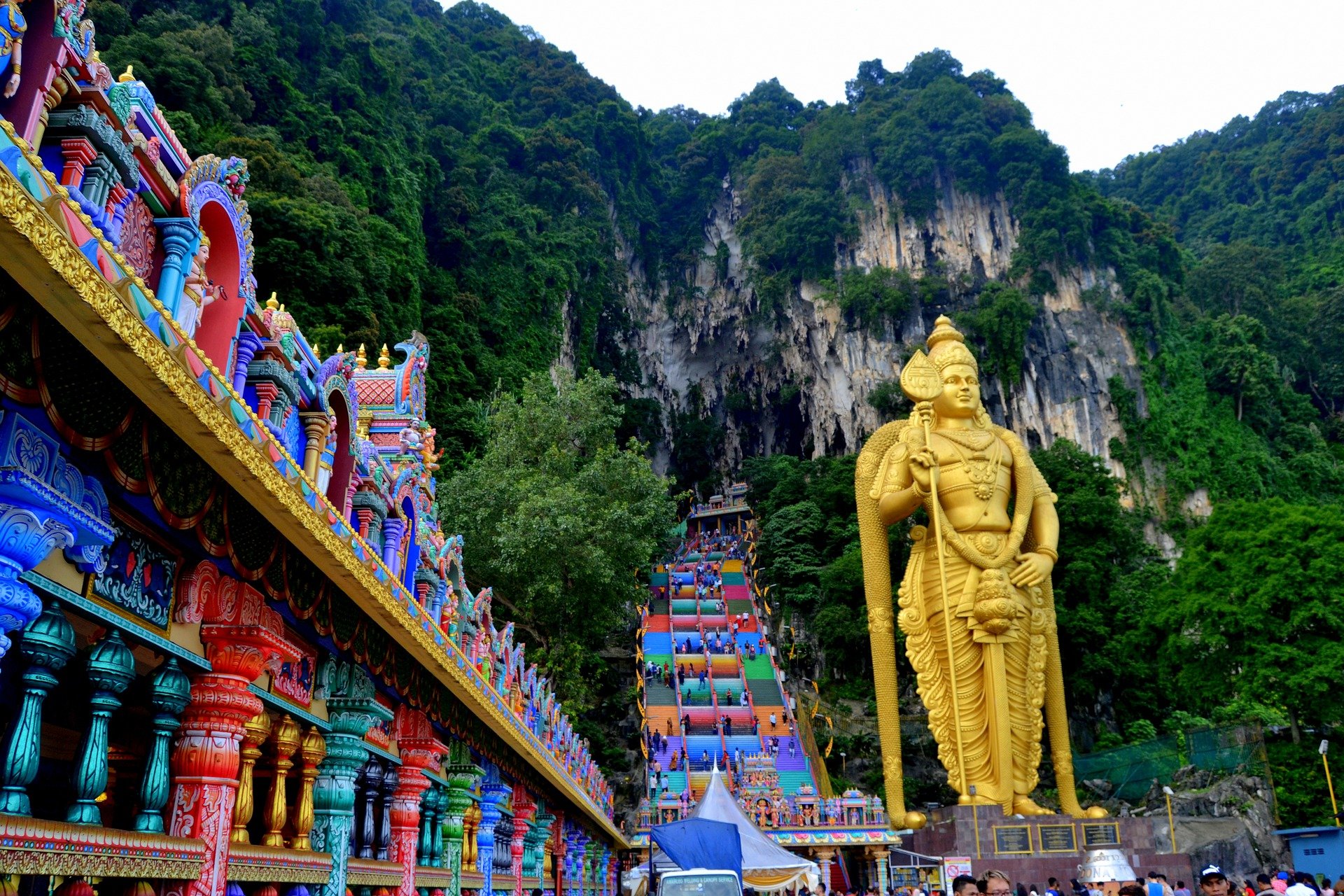 Batu Caves
Batu Caves is a unique tourist destination with colorful steps and a giant statue of Lord Murugan – the 3rd tallest Hindu Deity statue in the world. This is not only a place where you can learn about Hinduism but also an ideal place to take dazzling photos.
Read my detailed review of Batu Caves: Click here
Jamek Mosque
Jamek Mosque, also known as Masjid Jamek in Malay, is the oldest mosque in Kuala Lumpur that is still in operation today. This building, which was designed by British engineer Arthur Benison Hubback, has a Moghul style that is very similar to the Islamic architecture found in northern India
Above are the 5 must-visit places to visit in KL that you should add to your itinerary.
If you want to explore more places in Kuala Lumpur, check out this post: Discover 25 incredible things to do in KL at night to get more ideas for your upcoming trip to Kuala Lumpur.
6. Must-try food in Kuala Lumpur
Nasi Lemak (halal)
Nasi Lemak is the national dish of Malaysia. This dish includes rice (cooked with coconut milk) with sambal sauce, crispy anchovies, peanuts, boiled eggs, cucumbers, and rendang (spicy meat dish) or other flavorful curries. These ingredients are simple but combine quite well, creating a balance of flavor and texture.
Nasi Lemak restaurants: Nasi Lemak Wanjo Kg Baru, Madam Kwan
Roti Tisu (halal)
Roti Tisu is my favorite dish because of its paper-thin and crispy crust. It is typically served as a dessert, often accompanied by condensed milk and sugar. This delectable dish is widely available at Mamak restaurants, which specialize in serving Indian dishes.
Mamak  selling Roti Tisu: Valentine Roti, Restoran Nasi Kandar Pelita.
Roti Canai (halal)
Roti Canai is buttered flatbread served with curry sauce. This dish is the original version of Roti Tisu. While Roti Tisu boasts a crispy texture, Roti Cani is soft and a little crispy on the outside. Roti Canai is also commonly found at Mamak.
Mamak selling Roti Canai: Valentine Roti, Restoran Nasi Kandar Pelita.
Bak Kut Teh (non-halal)
Bak Kut Teh is a popular Chinese dish in Malaysia. This dish is cooked from pork ribs stewed with herbal broth, creating an extremely delicious taste. Bak Kut Teh is eaten with rice and youtiao (Chinese fried dough).
Bak Kut Teh Restaurants: Yik See Ho Bak Kut Teh, Restoran Ah Hei Bak Kut Teh.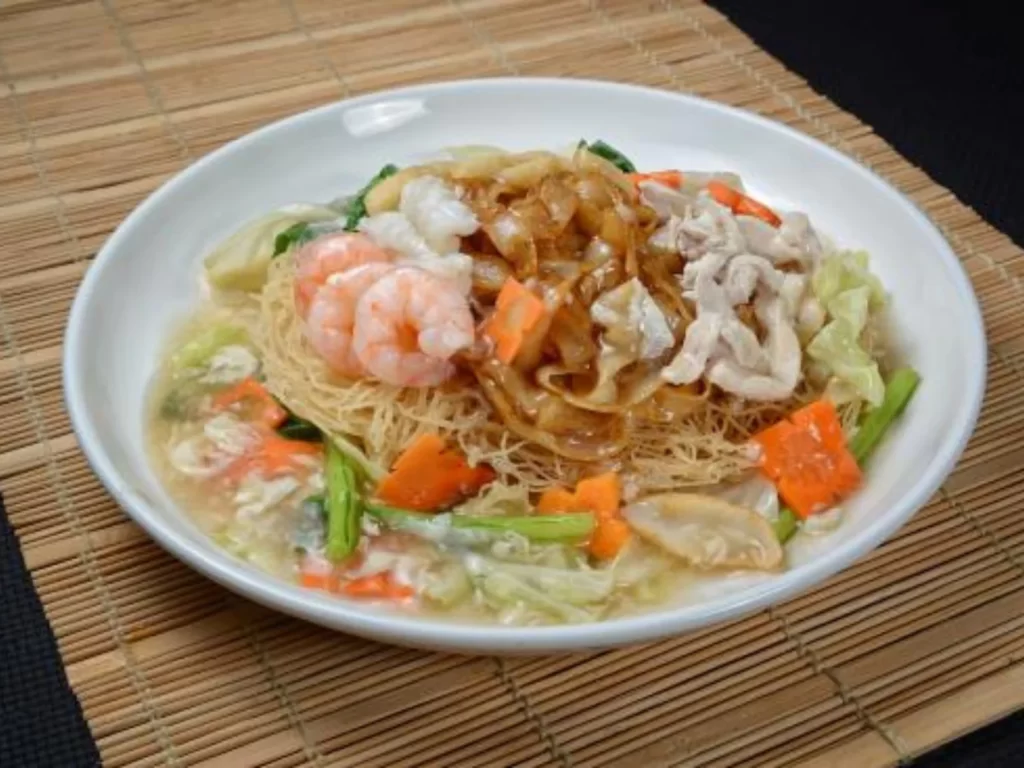 Cantonese Fried Noodle (halal/non-halal)
This is a classic and delectable dish that originates from Cantonese cuisine. It's fried egg noodles cooked with meat or seafood, vegetables, and a delicious Cantonese-style sauce. 
Cantonese Fried Noodles restaurant: Madam Kwan (halal), Westlake restaurant (non-halal).
Sky-dining experiences in KL you might want to try:
7. Short trip from Kuala Lumpur
In addition to Kuala Lumpur, there are nearby places you can visit for 1 or 2 days. Here are my recommendations: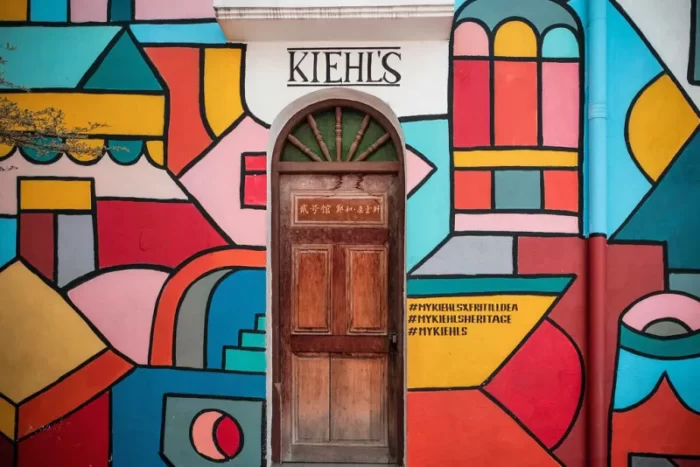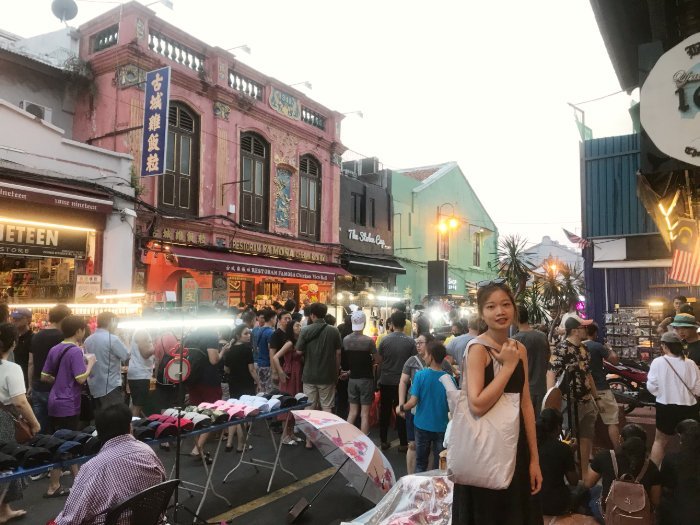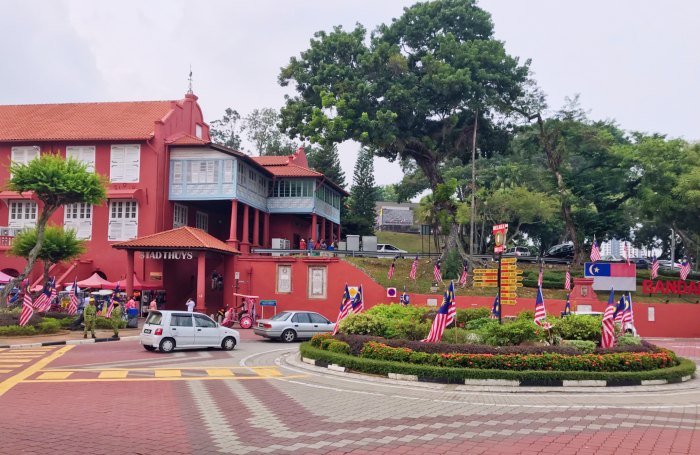 Malacca (or Melaka)
Malacca has a rich and turbulent history, having been invaded by powerful empires like England and the Netherlands due to its strategic port location. As such, it's an ideal destination for those interested in Malaysian history. In Malacca, you can explore ancient houses, colorful mural art, and impressive historical buildings.
Read my detailed Malacca travel guide: Click here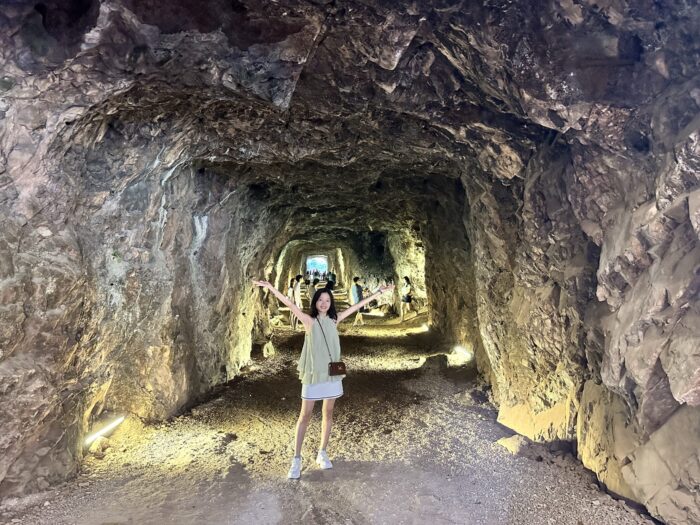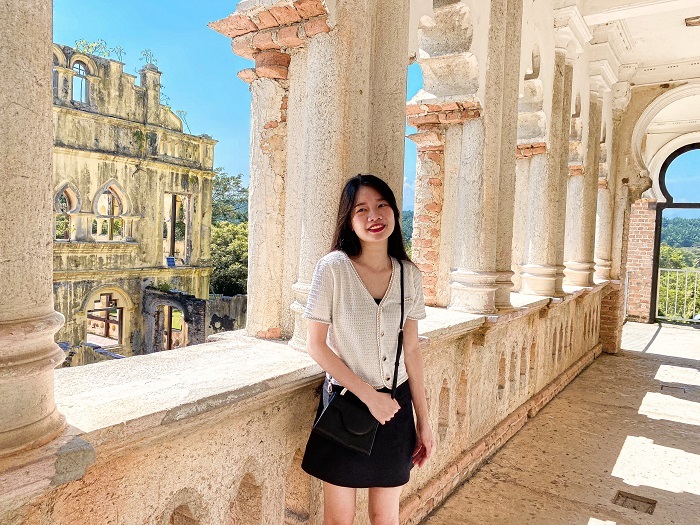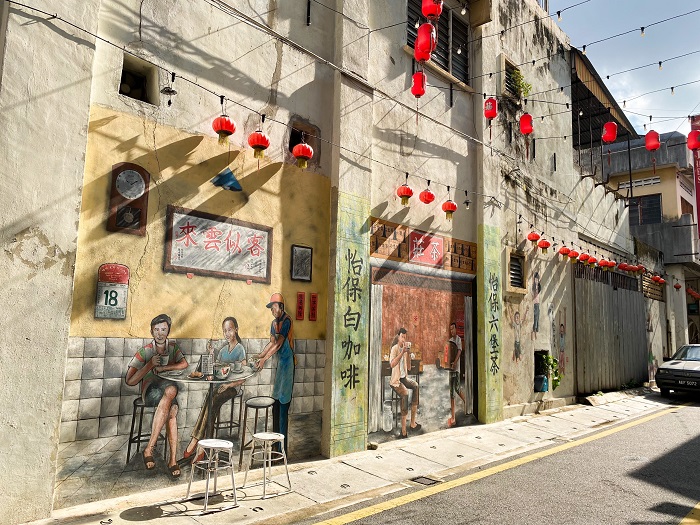 Ipoh
Ipoh was one of the most prosperous cities in the Malaya Peninsula in the 1880s thanks to the development of the tin mining industry. Coming to Ipoh's old town, you will admire ancient houses and interesting historical places. In addition, Ipoh is also famous for many cave temples such as Kek Look Tong, Ling Sen Tong, etc.
Read my detailed Ipoh travel guide: Click here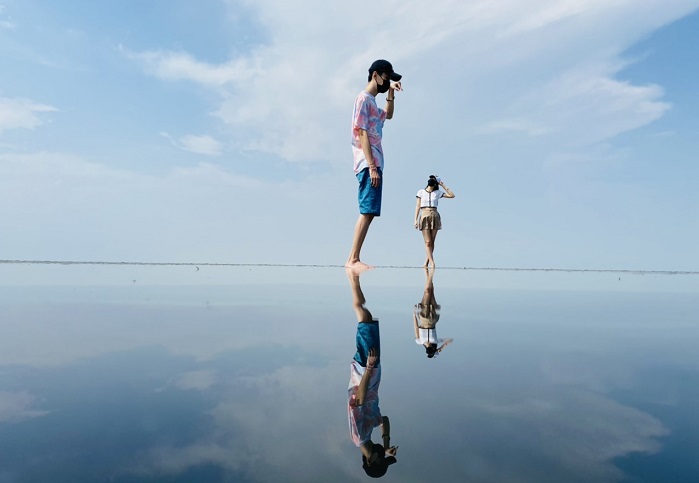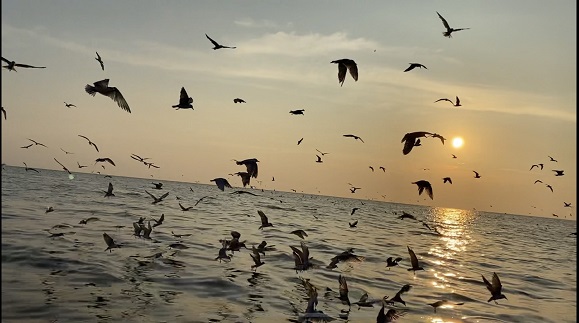 Kuala Selangor
Kuala Selangor is renowned for its interesting natural phenomena, including the Sky Mirror and Blue Tears. Additionally, when you participate in the eagle feeding activity, you can witness the breathtaking sunset scene, with birds and eagles soaring across the sky.
Read my detailed Kuala Selangor travel guide: Click here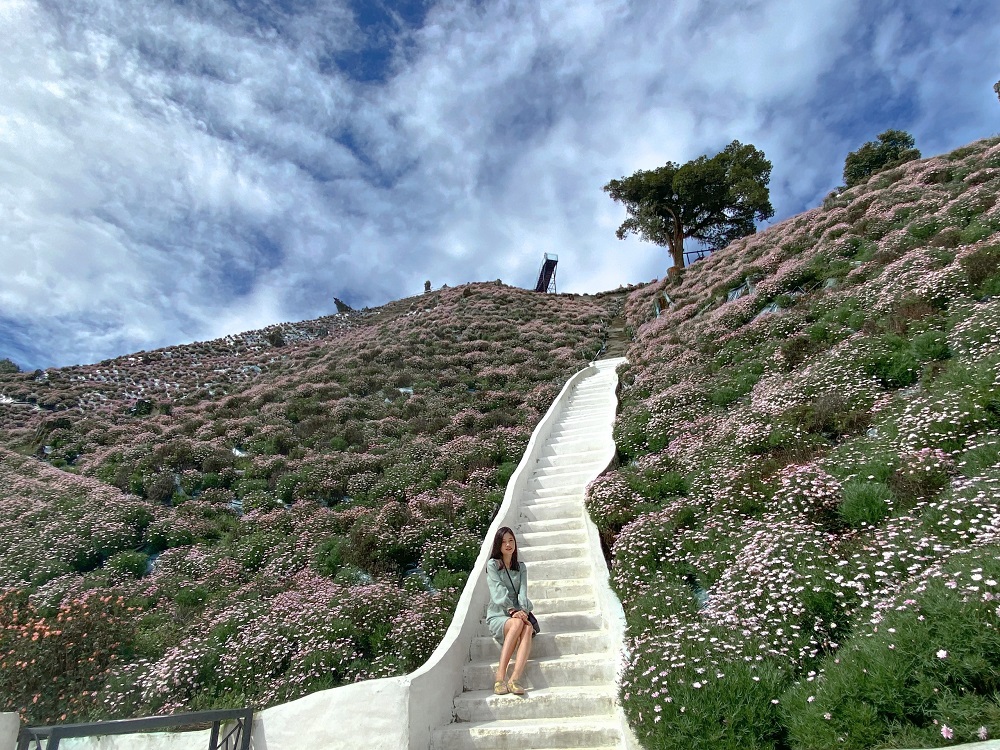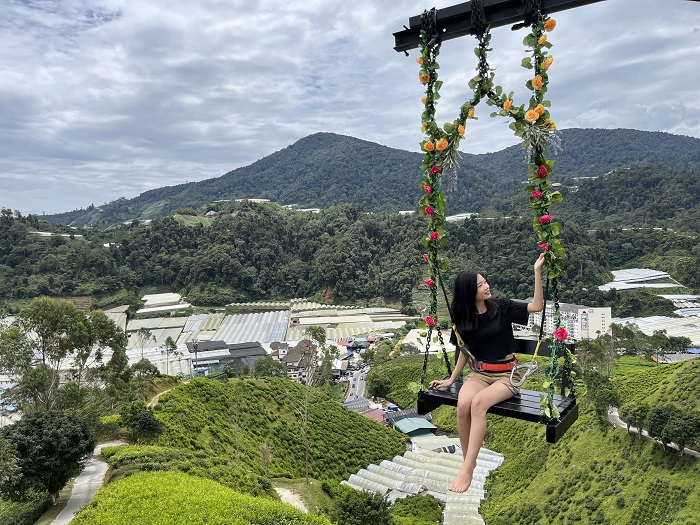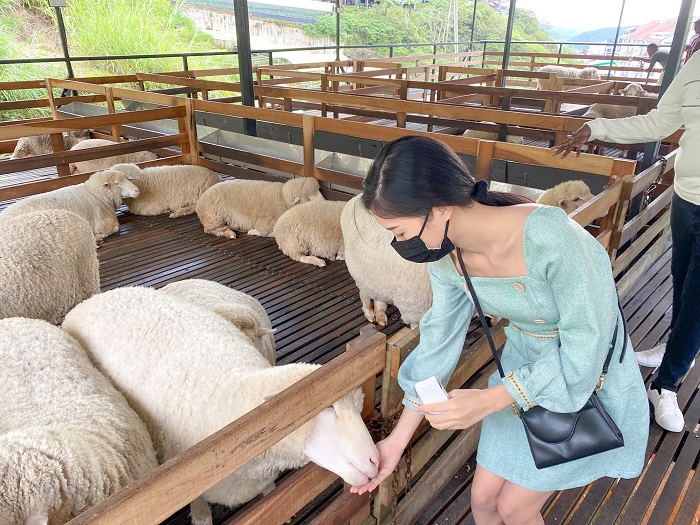 Cameron Highlands
This destination is famous for its stunning natural scenery with lush green tea hills and beautiful flower gardens. When you visit, a must-see place is Cameron Flora Park, an expansive flower garden boasting hundreds of diverse flower species and numerous Instagrammable photo spots.
Read my detailed Cameron Highland travel guide: Click here
Read my post about places for a short trip from Kuala Lumpur to know more destinations to travel in Malaysia.
8. Kuala Lumpur travel cost
As Kuala Lumpur is one of the fastest-growing cities in Southeast Asia, you might assume that traveling there is expensive, but that's not the case. In fact, KL can accommodate all kinds of travel budgets. It offers a wide range of accommodation options, from hostels to luxury hotels, a variety of food choices, including street food and fine dining restaurants, and many tourist attractions with free entrance. Therefore, there's no doubt that you can visit KL without worrying much about your budget.
Regarding my trip, I traveled to KL for 4 days and 3 nights from Hanoi, Vietnam with my friend. During our vacation, we stayed at a 4-star hotel, mostly ate street food, and used Grab cars for transportation. In total, it cost us about RM200 per day per person (excluding flight tickets). 
Below is the cost breakdown for my trip:
Airport transfer 2 ways: ~RM 140/ 2 people

Transportation around KL: ~RM 50/ person

4-star hotel (3 nights): RM 200/ room/ 3 nights

Food: ~RM 300/person

Sim card: ~RM 35/2 people

Attractions: ~25 RM /person
So what do you think about the travel cost in Kuala Lumpur? Cheap, right?
9. How many days to stay in Kuala Lumpur?
I recommend traveling to Kuala Lumpur for at least 4-5 days because the city offers a plethora of interesting attractions, and many of them are free. To know even more places in the city, you can read my post: Discover 25 things to do in KL at night.
As for my own Kuala Lumpur trip, I stayed for 4 days and 3 nights. To be honest, four days weren't enough for me to explore all the places I wanted to visit, despite using Grab throughout the entire trip to save time.
Read more: 15 Awesome places for a weekend getaway from KL in Selangor 
10. Kuala Lumpur itinerary
In this Kuala Lumpur travel blog, I'd like to provide travel itineraries for stays of 2, 3, 4, and 5 days in this destination.
Kuala Lumpur 2-day itinerary
Day 1: Petronas Twin Towers, Aquaria KLCC, Jalan Alor food street
Day 2: Dataran Merdeka, River of Life, Petaling Street (Chinatown), Kwai Chai Hong
Kuala Lumpur 3-day itinerary
Day 1: as above
Day 2: Thien Hau Pagoda, Petaling Street (Chinatown), Kwai Chai Hong, Jamek Mosque, Dataran Merdeka, River of Life
Day 3:  KL Tower 
Kuala Lumpur 4-day itinerary
Day 1: as above
Day 2: as above
Day 3: Batu Caves, Pavilion shopping mall, Bukit Bintang, Museum of Illusion
Day 4: KL Tower
Kuala Lumpur 5-day itinerary
Day 1: as above
Day 2: as above
Day 3: Batu Caves, Pavilion shopping mall, Bukit Bintang, Museum of Illusion
Day 4: Day trip to Kuala Selangor to see fireflies, Blue Tears, Sky Mirror and Eagle feeding
Day 5: KL Tower 
11. Money-saving tips when traveling to Kuala Lumpur
Below are some tips to help you save quite a bit on your Kuala Lumpur trip.
Save money on attraction tickets
Always purchase tickets online in advance when possible, and avoid buying them at the counter. Online tickets are typically 5-10% cheaper than counter tickets. I often buy attraction tickets via This link to get discounted prices.
Consider buying combo tickets instead of individual ones. You can find combo tickets for some Kuala Lumpur attractions at This link (enter code to get RM 20 off)

Visit religious attractions such as Thean Hou Temple, Jamek Mosque, Sri Mahamariamman Temple, etc. as most of them offer free admission.
Save money on transportation
Select a hotel in an area that is close to many attractions, such as Chinatown and KLCC.

Utilize public transportation. Kuala Lumpur is a modern city with a variety of public transportation options. Download the Moovit app to check the routes.

If you're traveling in a large group, you can consider using Grab, as Grab fares are not too expensive in KL.
Save money on food
Say NO to alcoholic beverages. Malaysia imposes relatively high taxes on alcohol, resulting in significantly higher prices compared to other countries.
12. Overview of Kuala Lumpur
A Brief History of Kuala Lumpur
Kuala Lumpur was founded in 1857 and was administrated by Selangor State Government. Thanks to tin ore exploitation, KL became a commercial center that attracted many investors to trade tin. However, its development started to bloom when Yap Ah Loy – the 3rd leader of the Chinese community- took over the position of Kapitan Cina (Chinese headman) in the 1860s. He effectively managed KL in all aspects such as the economy, education, social well-being, etc. 
In 1874, Sultan Abdul Samad – the 4th Sultan of Selangor – allowed the British to rule the state. In 1880, the British colonial administration chose KL to be the capital of Selangor and moved their seat of administration to KL. In 1882, Frank Swettenham, who was appointed the new British Resident Minister, had a dramatic influence on KL's growth. He ordered to construct brick and tile buildings replacing the wooden ones, to widen the streets, to build a railway station in KL, etc. All those efforts made KL become a rapid-grown town and be chosen as the capital of Malaysia in 1896.
From 1942 to 1945, KL was occupied by the Japanese. During that time, Malay people were treated much better than Chinese and Indians because they cooperated with the Japanese and let them administrate KL. Not until August 1945, the occupation of the Japanese in KL ended when the surrender of Imperial Japan was announced bringing the end of World War 2.
After that, the British came back to rule KL. In 1957, Malaysia declared itself an independent country at Merdeka Square.
On 13th May 1969, one of the worst racial riots occurred in Malaysia due to Malays' socio-political status dissatisfaction. After 2 years of being suspended, the Malaysian parliament made major changes in economic policy that prioritise Malay people over other ethnicities.
KL was given city status in 1972. The city was then seceded from Selangor to become a Federal Territory in 1974.
Today, Kuala Lumpur is a hustle and bustle metropolitan with diverse culture. The dominant culture is Malay culture. Demographically, 40.3% of the population in KL is Malay, followed by 36.9% Chinese. The Indians take up 8.62%, and the rest are other ethnicities. Therefore, when coming to Kuala Lumpur, it's not surprising that you will experience a lot of food or architecture from different cultures.
Alright, I hope this Kuala Lumpur travel blog is helpful to you.
I've compiled a comprehensive Kuala Lumpur travel guide based on my experience of traveling and living in this city as an expat. It includes useful Kuala Lumpur travel tips, places to visit, a Kuala Lumpur itinerary, and, most importantly, money-saving tips for your trip.
Do you have any other tips for travelers in Kuala Lumpur? Feel free to share your tips below.
Thanks for reading!
PIN IT!
1. Is 2 days enough in Kuala Lumpur?
No, it's not.
In 2 days, you can only catch a glimpse of Kuala Lumpur. The city has much more to offer, and I recommend staying for at least 4 days and 3 nights to explore some of its famous attractions.
2. Is Kuala Lumpur safe to travel?
Yes, it is.
Based on my personal experience of traveling in KL and living here since 2021, I can say that this city is relatively safe for tourists. Nevertheless, it's essential to remain cautious.
3. How much is food in Kuala Lumpur?
Food in Kuala Lumpur is affordable. If you eat street food or dine at local restaurants, it typically costs around RM 10-15 per portion. For nicer restaurants, you can expect to spend about RM 30-60 per person. If you choose a fine-dining restaurant, prices start at a minimum of RM 150 per person.