Yessssssss, my trip to Bali had finally come. 
After so many years of dreaming about Bali island (Indonesia), I finally made my dream come true when I was 26.   
Bali island, known as the Island of the Gods, is located in the Lesser Sunda Islands, Indonesia. It is one of the most famous destinations in Indonesia thanks to its lush tropical landscapes, vibrant culture, and rich history. From its stunning beaches and iconic temples to its bustling markets and delicious cuisine, Bali is a destination that will leave you enchanted and refreshed.
In this post, I will review my trip to Bali and give you some PRO TIPS that I learned from my Bali travel experience throughout the post.   
Read more: Review Kecak fire dance in Uluwatu temple, Bali: its story, ticket price & pro tips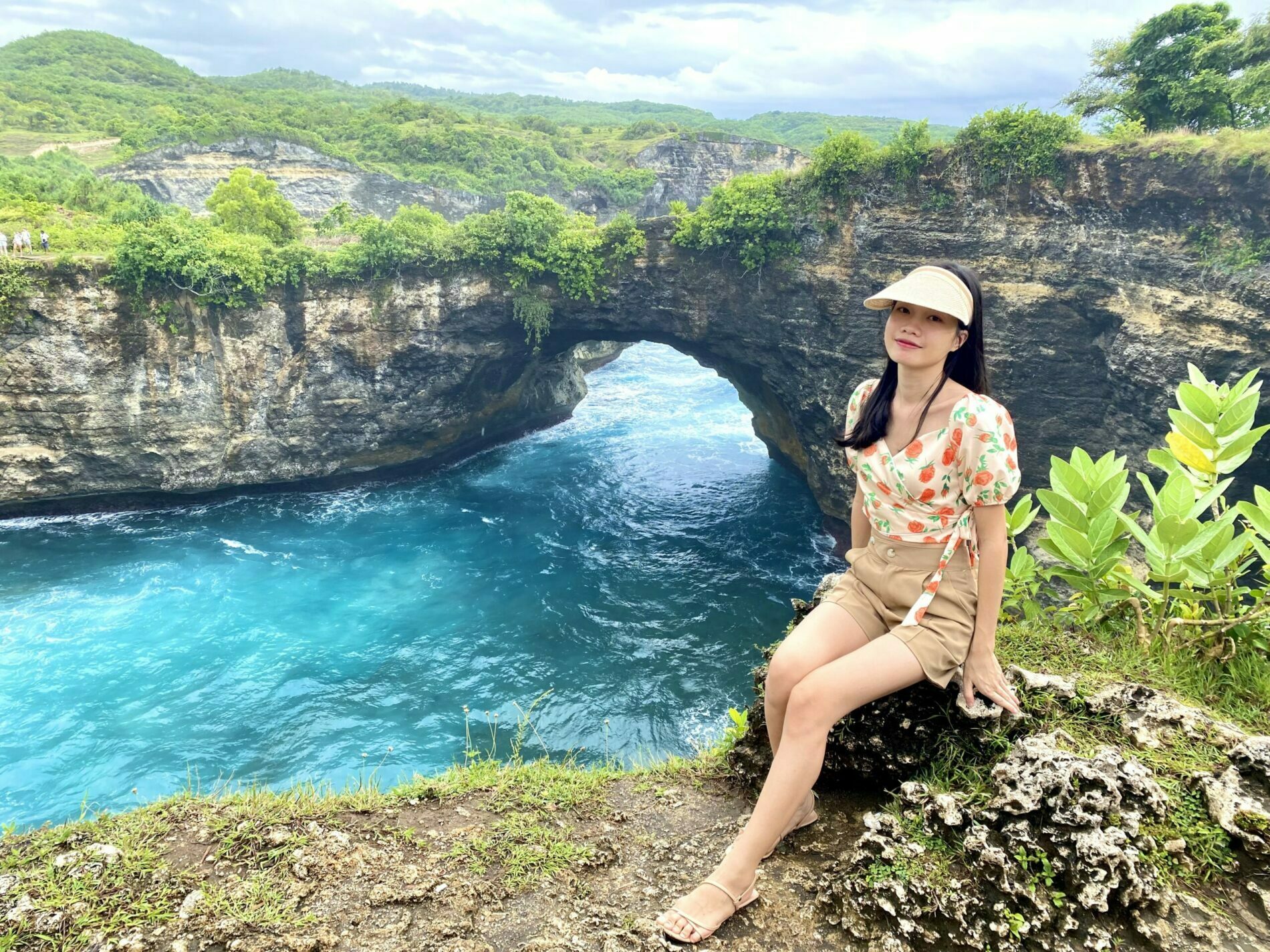 1. Interesting facts about Bali
Bali, along with Java, Sumatra, and Sulawesi, is the largest producer of Kopi Luwak – the most expensive coffee in the world. This coffee costs up to 1300 USD/kg for the wild collected coffee beans. The production method of Kopi Luwak is very special in that the beans are collected after being digested by the Asian Palm Civet (Luwak). However, that also leads to a huge ethical issue since more and more wild palm civets are caught for Kopi Luwak farming.

While 86% of the Indonesian population is identified as Muslim, Bali is an exception where the majority of the Balinese citizens (87%) follow Hinduism. Interestingly, Balinese Hinduism is distinct from Indian one as it has different beliefs and some unique Gods. 

Bali is known as the Island of a Thousand Temples for a reason. In every Bali village, there are at least 3 temples which respectively worship the god Brahma, the god Vishnu, and the god Shiva. And the total number of temples on Bali island is over 20,000. That's a huge number! 

The island is famous for its white sand beaches. However, it's only found in the south. In the north and west, you will see beaches with black volcanic sand instead.
2. Covid update 
During my trip to Bali in 2023, travelers are required to show my COVID-19 vaccination certificate. However, when I passed through immigration, they did not check it at all.
Additionally, I did not see many people in Bali wearing masks. I believe it may not be a requirement anymore.
3. Best time to visit Bali
Bali's weather is divided into 2 seasons: the wet season and the dry season.
The wet season starts from November to March. During this period, downpours might happen during the day, however, they won't last long even in the wettest month (January). Therefore, you can still travel around when there is no rain. If you want to hunt for hotels and tours discount, this is the best time to do so. Furthermore, traveling to Bali during the rainy season will be much less crowded.
Regarding my trip to Bali, I traveled there in mid-February and yes, there were downpours every day but they didn't take long. 
The dry season in Bali runs from April to October with the driest month falling in August. These are the best months to visit Bali for all kinds of activities, especially snorkeling, and diving. Moreover, some Bali festivals also occur during this period such as the Bali Art Festival (mid-June to mid-July) and the Bali Kite Festival (July). However, bear in mind that traveling to Bali during this time is more expensive due to an increase in the price of all the tourism services.
4. How to get to Bali?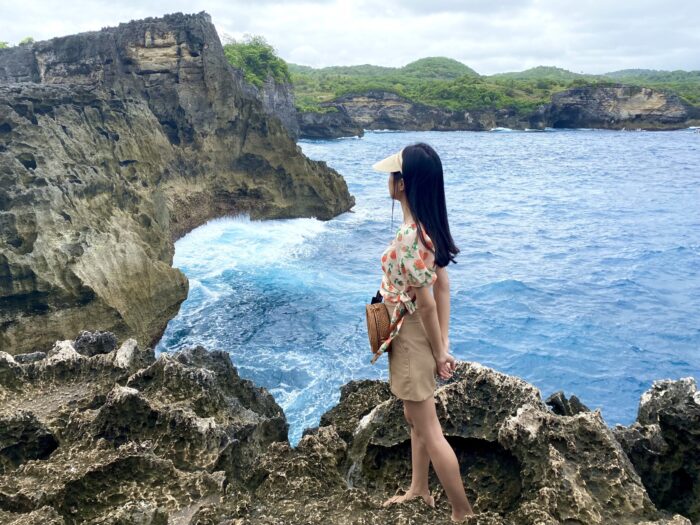 The most convenient way to get to Bali is by flight. 
There is only one airport in Bali which is the Bali Ngurah Rai International Airport (also known as Denpasar International Airport). It is located in Tuban, nearby the capital of Bali – Denpasar.
This airport is the second busiest airport in Indonesia operating both domestic and international routes.
Check out the flight ticket from your city to Bali: Click here
5. Where to stay in Bali?
There are 6 main areas to stay in Bali, namely Kuta, Seminyak, Canggu, Uluwatu, Ubud, and Nusa Dua. Each suits different tastes and budgets. So my advice is that you should do research on what you want to do in Bali and choose your accommodation accordingly.
Below are the pros and cons of each area:
Kuta
Pros: plenty of affordable accommodations, and is a great spot for surfing, and partying, nearby the airport.

Cons: has too many tourists, a lot of buildings, and contaminated beaches. 

Pro tip: During my trip to Bali, I stayed in a hotel that was situated right in front of the beach. Unfortunately, the area was quite dirty, with a lot of garbage and sand from the beach. Therefore, if you plan to stay in Kuta, it's best to avoid beachfront hotels.

Best affordable hotels in Kuta (from 19 USD/night): D'Pande Kuta, Jepun Bali Hotel, Matahari Bungalow
Seminyak
Canggu
Pros: cheaper accommodations, tranquil environment, nice view of the rice field, a great place to explore the local culture, many cool cafes, and beach clubs. 

Cons: limited transportation options (scooters and bicycles are common)

Best affordable hotels in Canggu (from 19 USD/night): Lilis Aksito Akusara, The Uma Guesthouse, Kent Beach House
Uluwatu
Nusa Dua
Ubud 
6. How to get around Bali?
 

 

Xem bài viết này trên Instagram

 
From Ngurah Rai Airport to your hotel
The most convenient way is by car. There are a few options:
Taxi: Always pick the Blue Bird Taxi (blue color) – it's one of the most reliable brands in Bali. However, there are many scam taxis that are purposely painted blue (the same as the real Blue Bird brand). Therefore, you need to be really careful to check whether it is real or fake.
Grab: Grab is very popular in Bali, and I used the app to book a car from Ngurah Rai Airport to Kuta for around 200,000 IDR. However, one drawback of using Grab is that the prices can double during rush hour. Unfortunately, this happened to me, and my journey ended up being more expensive than it should have been.
Pro tip: I just discovered something cool during my trip to Bali – there is a Grab Lounge located just outside the airport. The staff there assist you in booking a ride, finding the car, and even carrying your luggage to the car. It was the first time I felt like a VIP as a Grab user. Haha!
Download the Grab app: Click here.
Airport pick-up service: It's also a great option. The price is stable and fixed. Check out THIS LINK to book the car. The fare is pretty affordable, for the trip to Kuta, it costs only 100.000 IDR for a 4-seater car.
Read more: Review Kecak fire dance in Uluwatu temple, Bali: its story, ticket price & pro tips
Getting around Bali
By car
Traveling around Bali by car is good if you accompany small kids and the elderly. However, the traffic in Bali is really bad, so be mentally prepared to be stuck in jam for hours.
Besides, you can rent a car/van for a whole day trip for your convenience.
During my trip to Bali, I rented a 4-seater car for the whole day at 700.000 IDR/day. But later on, I realized that renting a car online this only around 500.000 IDR for 12 hours… Hmmm, I should have checked the price online before confirming the booking. 
When taking a Grab car in Bali, most of the time the drivers will ask about your plans and offer you a day-trip rental. Based on my experience, I believe that their prices are not competitive compared to online booking.
Here is the link to rent a car at a very affordable price: Click here
By motorbike
Exploring the island by motorbike is one of the most common ways, especially for young travelers. In Bali, you can either rent a scooter or book a grab bike (an app to book motorbike rides). The scooter rental price is up to 100.000 IDR/ day (without petrol) and you can rent it at your hotel or at the rental shop.
On my trip to Bali, I rented a motorbike at 100.000 IDR/day from "Rent bike in Bali" (location here). The bike ran smoothly without any issues and the owners are super friendly. This shop is located in Kuta. So if you stay in Kuta, highly recommend it.
Besides, you can also rent a motorbike via THIS LINK at about 90.000 IDR/day (free delivery service in Seminyak).
7. Must-do things in Bali
Explore Tegalalang Rice Fields
 

 

Xem bài viết này trên Instagram

 
The Tegalalang Rice Fields, also known as the Ceking terrace, or Tegallalang, is famous for its cascading rice field adorned with green coconut trees.
The best time to visit this place is during March, April, September, and October when the rice field is greenest and ready to be harvested.
There are many locations to enter the rice field. For my trip to Bali, I went to this location (Google map link). The entrance fee was 25.000 IDR/person. The rice field there is not so big, but it's easy to walk and you won't need to trek for hours.
The Swings is also offered in this rice field at the price of 150.000 IDR (free dress rental). Even though it's cheaper than the famous Bali Swing (500.000 IDR for all activities and lunch buffet), for me, still a "nah nah".
Pro tip: There's a small café in this place that offers a view of the entire terrace field. Prices are affordable (40,000 IDR for a portion of stir-fried noodles). You can take a rest here and enjoy the view.
Visit Balinese Hindu Temples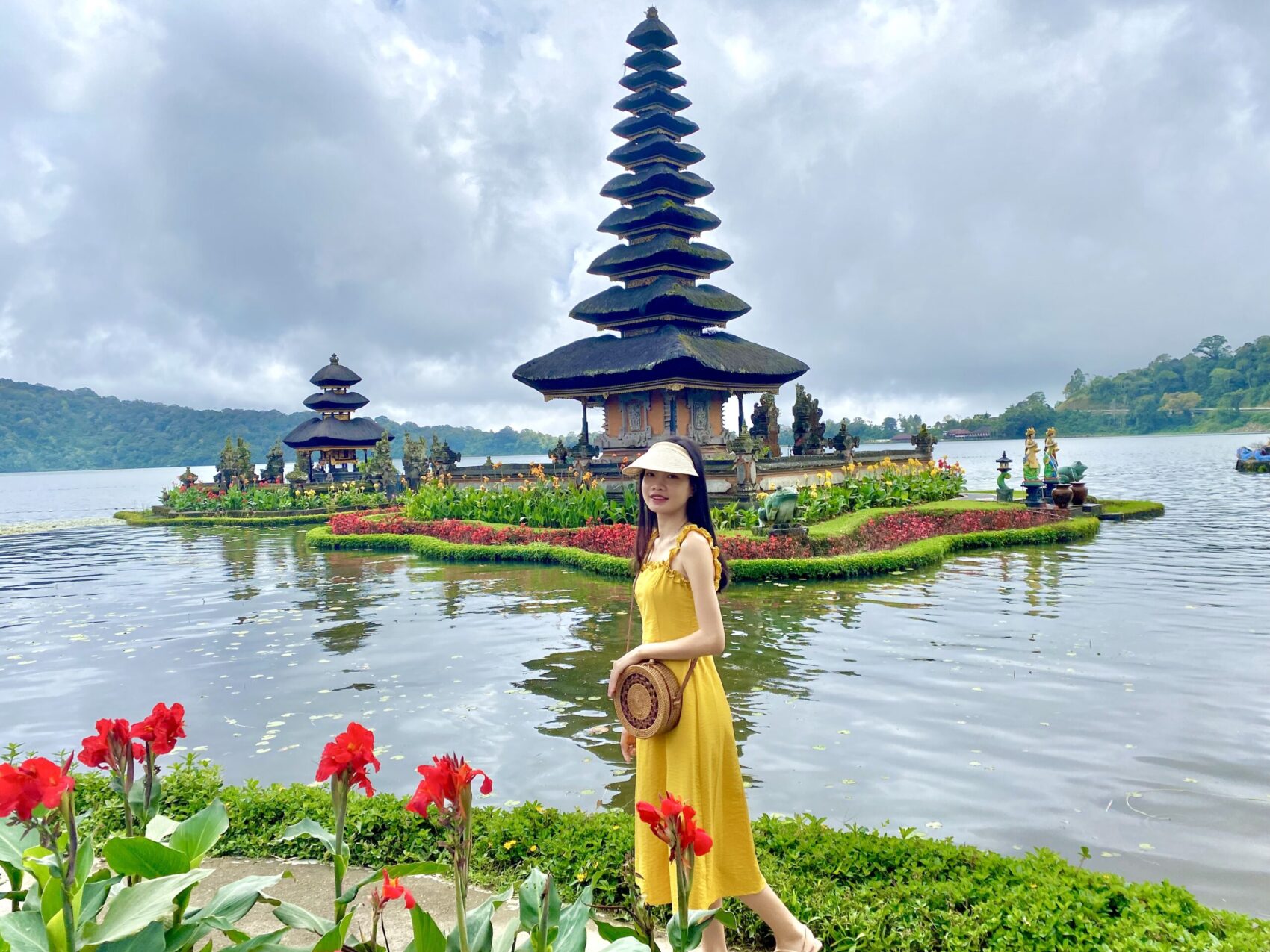 As mentioned previously, Bali is known as the Island of Thousand Temples. Once you arrive on the island, you will see tons of temples everywhere you go. Additionally, Balinese Hindu temples have a totally different look compared to Hindu temples in other places. Thus, there is no excuse not to visit one of the Hindu temples in Bali to understand more about the religion.
Some of the most famous temples for tourists in Bali are Pura Ulun Danu Bratan, Besakih Temple (Pura Besakih), Uluwatu Temple, Tanah Lot Temple, etc.
Note: It is advisable to wear long pants or a dress when entering Hindu temples. Otherwise, they will provide a free sarong for you to cover your legs.
Sunbath at the beach
Renowned for its crystal-clear waters, Balinese beaches are definitely perfect for sunbathing and water sports activities, especially surfing. 
Pro tip: Although Kuta is famous, you should not visit it because it's already contaminated and overcrowded. Instead, you can go to other beaches such as Seminyak Beach, and Nusa Dua Beach
Discover the beautiful Nusa Penida
 

 

Xem bài viết này trên Instagram

 
Undoubtedly, Nusa Penida is a must-visit destination in Bali. This small island, located southeast of Bali, is known for its stunning natural beauty. Visitors can marvel at the island's dramatic cliffs, pristine beaches, and crystal-clear waters, making it a perfect destination for activities like diving and snorkeling.
There are many Instagrammable places to explore on the island, such as Kelingking Beach, Broken Beach, and Crystal Bay. It's recommended to spend at least two days on the island to fully enjoy its mesmerizing beauty. I learned this from my trip to Bali when I took a day tour from Bali to Nusa Penida. Unfortunately, the tour was rushed, and I was only allowed to spend 20-30 minutes at each place. In general, such a tour is only suitable for someone who has limited time in Bali.
To go to Nusa Penida, you have to take a ferry from Bali. You can buy the ferry ticket via THIS LINK. For further information, read my blog post "Detailed guide: How to go to Nusa Penida from Bali by ferry"
If you don't have time to organize your trip, consider these tours from Bali to Nusa Penida:
Nusa Penida day trip from Bali (not recommended): Click here
Nusa Penida multi-day trip from Bali:

Click here
Have fun with Kecak Fire dance
Kecak Fire Dance is a traditional Balinese dance that is based on the Hindu epic Ramayana. It is the story of Prince Rama and his quest to rescue his wife Sinta from the demon king Rahwana.
Interestingly, no musical instrument is used during the dance. Instead, the only sound you can hear during the whole performance is a choir of around 70 male dancers. And the name "Kecak dance" is actually based on the sound "cak-cak-cak" chanted by them.
This fire dance is one of the most significant traditions in Bali and is one of the unique things that you must see when traveling to Bali.
Address: Uluwatu temple, Pecatu, South Kuta, Badung Regency, Bali, Indonesia

Show time: 6PM and 7PM

Ticket price: 150.000 IDR/person
Pro tips: 
You can get tickets at a cheaper price from THIS LINK. 

The best seats are the ones in the middle, as the actors will face that area for most of the performance.
Read more: Review Kecak fire dance in Uluwatu temple, Bali: its story, ticket price & pro tips
Wander around GWK Cultural Park
 

 

Xem bài viết này trên Instagram

 
Garuda Wisnu Kencana Cultural Park, also known as GWK, is a huge cultural park located in the hills of Jimbaran. It has 60 hectares of space and offers several impressive attractions, namely the Garuda Wisnu Kencana statue, the Lotus Pond, the Garuda Cinema, and the Amphitheatre.
Personally, I love the Garuda Cinema the most because it played a 30-minute cartoon about the legend of Garuda. It was lively, and funny and helped me to easily understand a part of the Balinese culture. Highly recommended!
Address: Uluwatu St, Ungasan, South Kuta, Badung Regency, Bali 80364, Indonesia

Opening hours: 9 AM – 9 PM

Ticket price: 125.000 IDR/person 
Pro tips:
Buying tickets online is cheaper via THIS LINK. 

If you visit the park during lunchtime, the package including lunch is pretty worth it. You will pay an extra 75.000 IDR for a 100.000 IDR food voucher in Jendela restaurant. The food there is pretty tasty.
8. How many days is enough for a Bali trip?
Bali is an interesting destination that has so much to offer. There are many areas to explore and each area has its unique features. 
Therefore, you can stay in Bali as long as possible (e.g. 1 month) to explore the fullest of this island.
If you don't have that much time, it's recommended to spend at least 4 days, and don't try to cram your itinerary with too many activities/ places that are far from each other. Note that the street in Bali is narrow and traffic jam is veryyy common. 
9. How much does the Bali trip cost?
Below is the cost of my trip to Bali for 2 people for 4 days (excludes flight tickets):
4-star hotel: ~ 3.000.000 IDR/ 3 nights

Airport transfer: ~ 300.000 IDR for 2 ways ( 200.000 IDR to hotel, 100.000 IDR to airport)

4-seater car rental: 700.000 IDR/day

Grab car: 400.000 IDR 

Day tour from Bali to Nusa Penida for 2 people: 1.100.000 IDR

Food (both local and high-end restaurants): 1.000.000 IDR

Attractions (excludes the one in Nusa Penida tour): 
Uluwatu temple: 50.000 IDR/person
Kecak fire dance: 135.000 IDR/person
Pura Ulun Danu Bratan: 75.000 IDR/person
Rice field: 25.000 IDR/person
Melasti beach: 12.000 IDR/person
GWK Cultural Park: 125.000 IDR/person and 40.000 IDR/person for buggy service
Motorbike rental: 100.000 IDR/day
To conclude, for my trip to Bali, I spent around 7,524,000 IDR for 2 people. To be honest, it was a bit expensive. I could have saved more money by checking the prices more carefully before the trip. Well, at least I am sharing my lesson in this post so that you won't make the same mistake as I did.
So, that's my Bali travel guide and some tips I've learned during my trip to Bali. I hope it's helpful to you, and please feel free to ask any questions in the comment box below. Thank you for reading!