DISCLOSURE: My articles may contain affiliate links. To click on those links, you won't be charged any extra cost, instead, you help me to get some small commissions to maintain my blog. Thanks for understanding!
One of the most incredible road trips I've ever taken in Vietnam is the Ha Giang Loop. Driving along the loop and being captivated by the breathtaking nature is incredibly satisfying; the feeling is indescribable.
I was very lucky because I traveled to the Ha Giang Loop a couple of years ago when it wasn't as popular as today. Nowadays, many places are commercialized and packed with tourists. However, Ha Giang's beauty remains the same and it is still definitely worth your visit.
In the near future, I believe Ha Giang's tourism will not experience a dramatic boom. The reason is that it is far from popular attractions such as Hanoi or Ha Long Bay; thus, it's mostly skipped by regular tourists who spend just a few days exploring Vietnam. And that's good news for adventurers!
In this post, I'll share my Ha Giang Loop route and itinerary, as well as useful travel tips for the Ha Giang Loop.
Read it thoroughly to gather all the information you need to know before visiting this beautiful natural destination.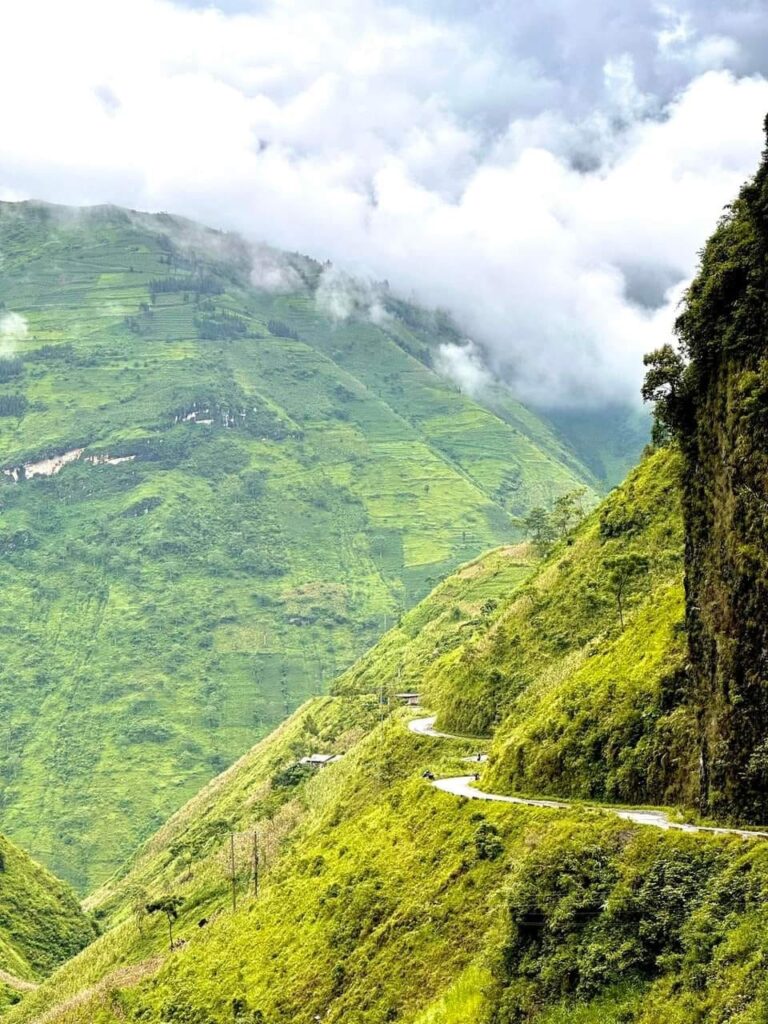 Save these Ha Giang travel tips 😉
Bring insect repellent because there are a lot of insects and mosquitoes in Ha Giang at night.

AVOID travel to Ha Giang on weekends because it will be packed with local tourists.

Fill up the petrol tank whenever you see a petrol station because the distance between them is very far.

DON'T drive when it's dark or rainy for your safety.

Drive slowly when you see a blind turn because you never know what vehicles are coming from the opposite side.

Bring cash with you; most local places don't accept credit card payments.

Most locals don't speak English, so make sure to buy a Vietnamese 4G sim card to use Google Translate.
More useful tips are provided along the post. 😉
1. Best things to do in Ha Giang Loop 
Enjoy the inspiring scenery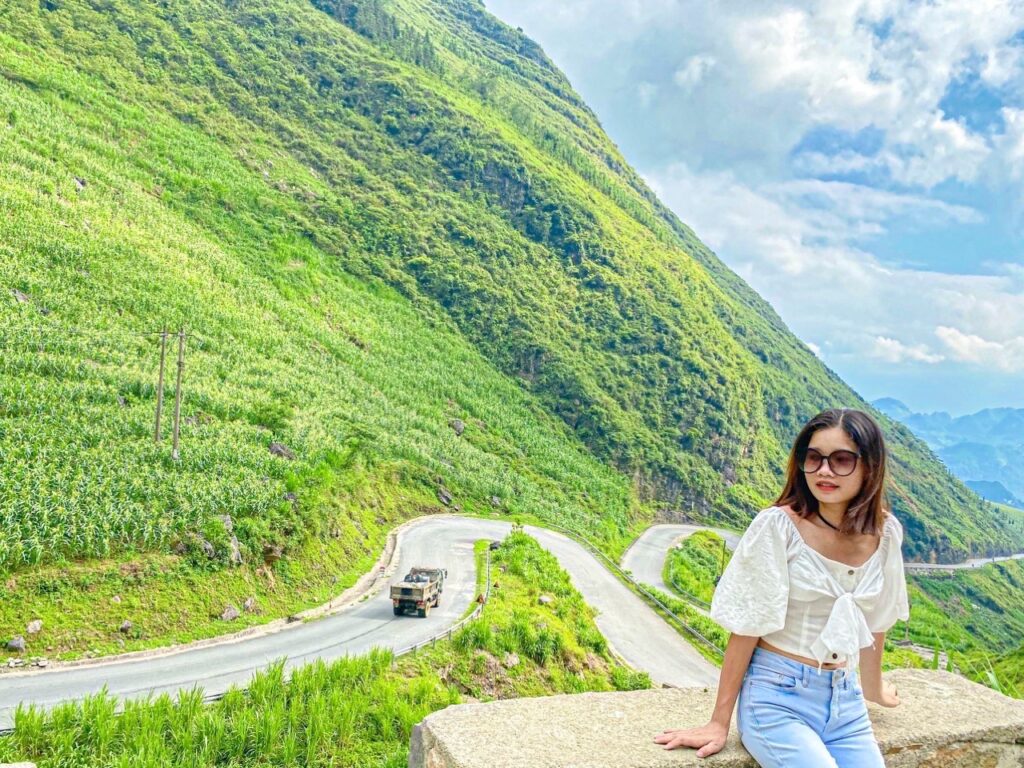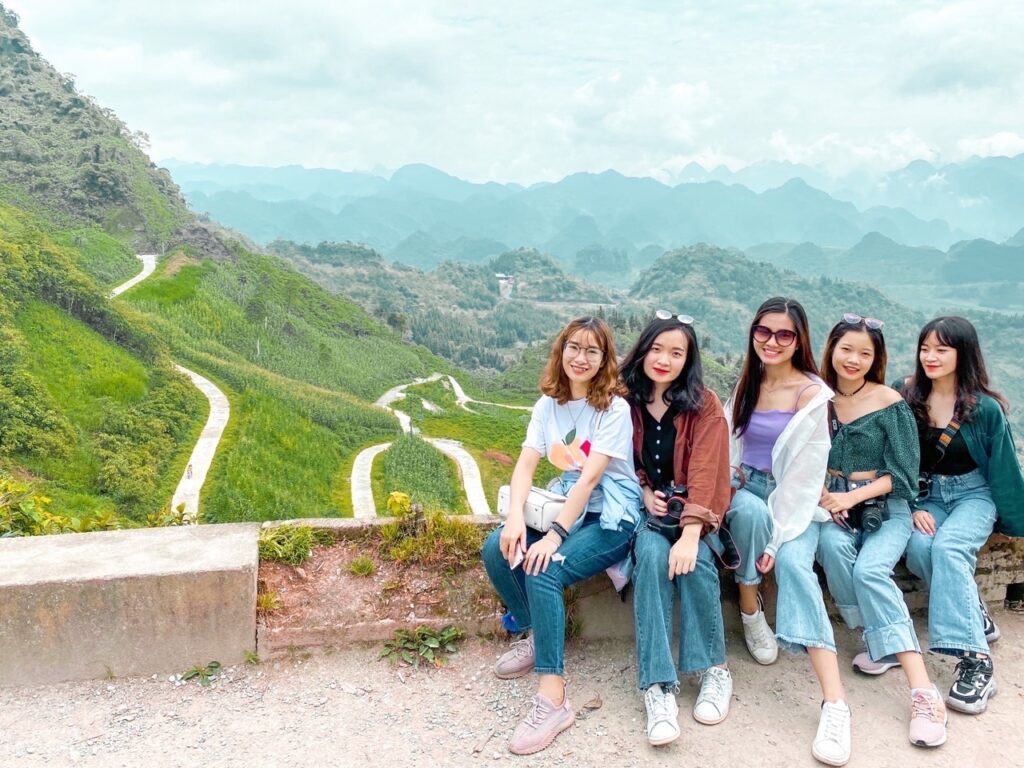 For sure, all of us dream of traveling to the Ha Giang Loop because of its mesmerizing nature. The magnificent terraced rice fields, lush green mountains, winding roads, a flowing river– everything together left me enamored with this destination.
During our Ha Giang Loop road trip, we literally stopped every 30 minutes to take pictures because everywhere was so beautiful.
This is why I recommend traveling around the Ha Giang Loop by motorbike – you can decide where to stop and enjoy nature at your own pace while driving.
Here are some popular photo spots in the Ha Giang Loop route: Tham Ma Slope Viewpoint, Quan Ba Heaven Gate, Ma Pi Leng Pass, and Needle Rock.
Visit Hmong's King Palace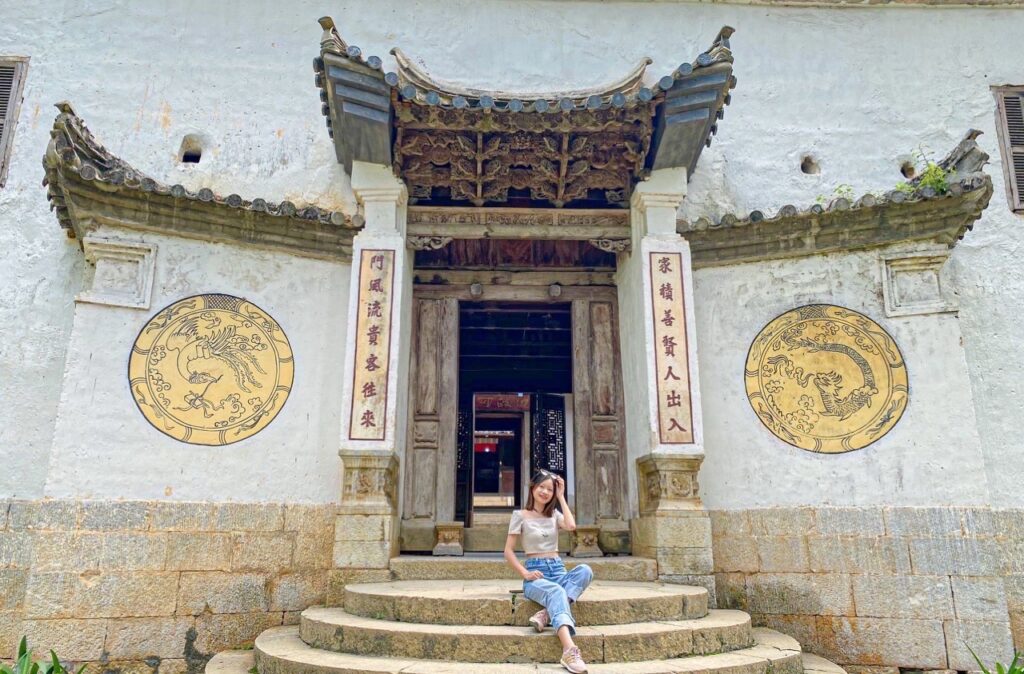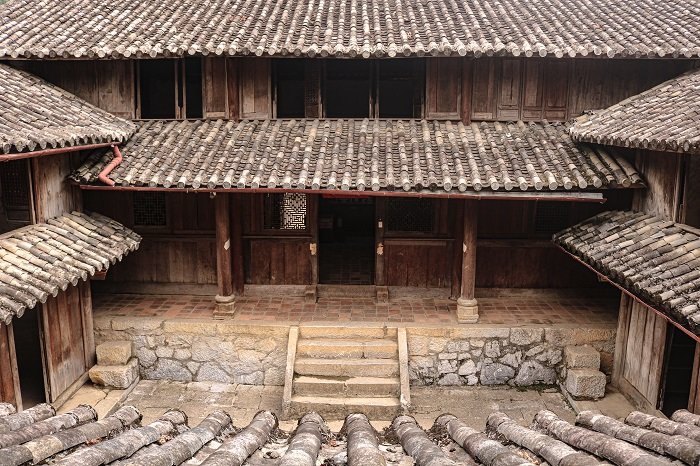 This 3000-meter-square palace belonged to Vuong Chinh Duc – the King of the Hmong people in the 19th century – who was also the richest man in Ha Giang thanks to drug trading.
Before the construction of the palace, Vuong Chinh Duc had to invite a reputable Feng Shui master from China to choose the best land to build this palace. The construction started in 1989 and took 9 years to complete, costing 150 billion VND.
Nowadays, you can still see his descendants when visiting the palace. One is a male ticket seller, one is a female tour guide, and some of them are selling souvenirs and local specialties outside of the palace.
 💡 Interesting fact: In 1945, the first son of Vuong Chinh Duc was invited to Hanoi by Uncle Ho Chi Minh and they later considered their relationship as brothers.
Opening hours: 7:30 AM – 5 PM

Entrance tickets: 30.000 VND
Check out the Rice Terrace Field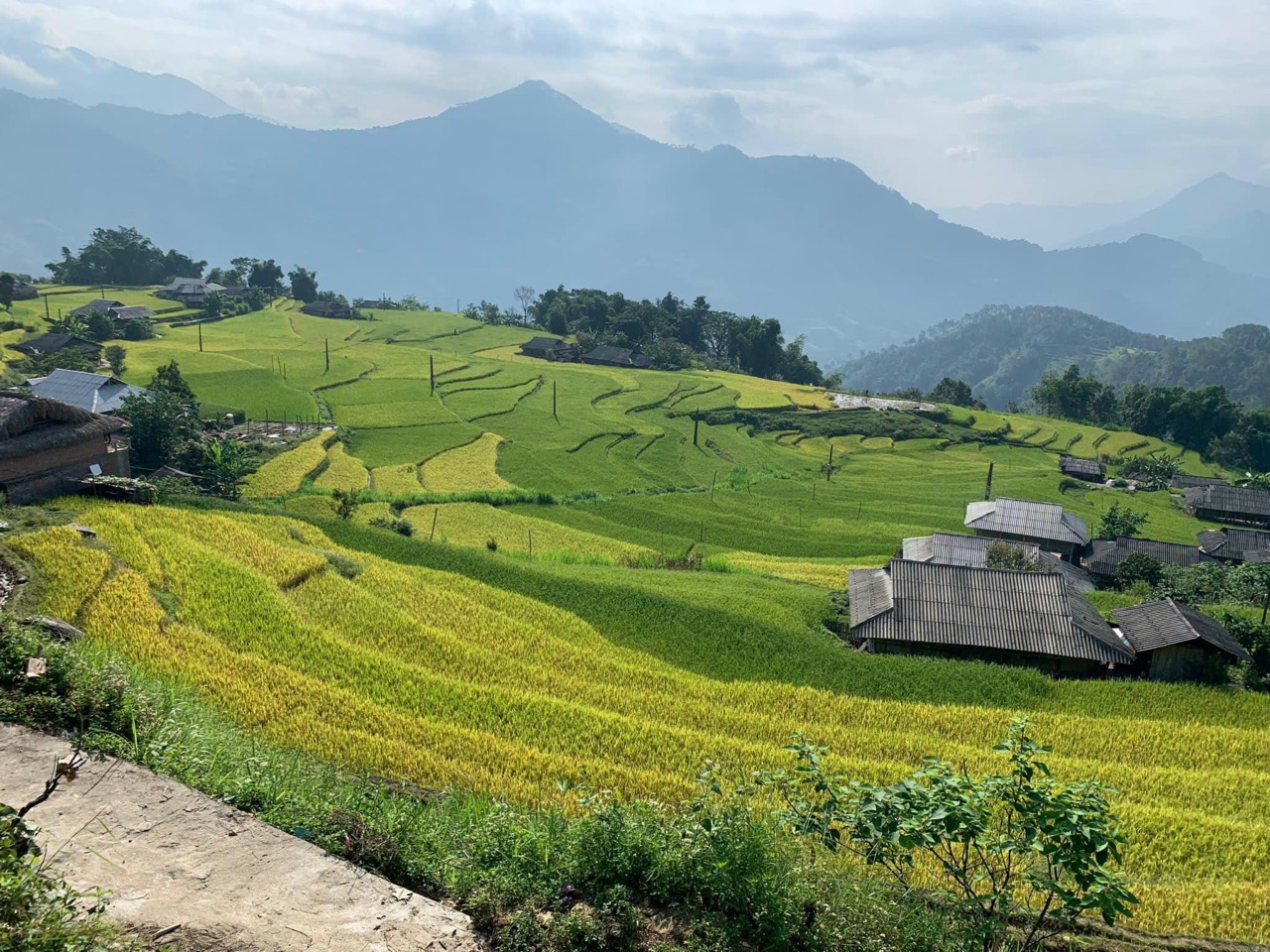 One of the best things to do in Ha Giang is to witness the beautiful rice terrace field. The most famous place to see the rice field in Ha Giang is Hoang Su Phi.
Alternatively, you can also see the rice fields in other villages such as Du Gia, Khuoi My, and Lung Vai.
If you don't have time to pass by those places, that's okay; you will see some small rice fields along the road from Ha Giang City to Dong Van from a far distance.
The best time to see the rice field is from August to September when the rice is green or golden yellow. 
Experience the Nho Que River boat ride
I don't know what to say about the beauty of the Nho Que River… I was stunned.
When I traveled to Ha Giang a few years back, it wasn't as commercialized as today. Therefore, to take the Nho Que River boat, I had to drive by myself through the Ta Lang Pass to reach the ferry station (which is no longer operating), and it was the scariest driving experience of my life.
Fortunately, nowadays, you won't need to risk your life to take the boat; the locals have opened a new and wider road to a new ferry station, and there is also a transfer service provided.
You need to go to this location, park your bike there, and walk down to the ticket office to buy tickets. After getting the tickets, a minivan will then transport you to the nearest location from the ferry station. After that, you need to walk about 1 km to reach the ferry station.
The boat ride lasts about an hour, passing through the mind-blowing Nho Que River, and it stops for about 15 minutes at the Tu San Canyon for photos.
 💡 Note: It's advisable not to take the same boat as local tourists, as they tend to take a lot of pictures and may block the view, especially older ladies. If possible, consider forming a group to rent the entire boat.
Ticket price: 120.000 VND/person

Charter boat: 1.200.000 VND/boat/ 10 people

Parking: 5.000 VND/ motorbike
Nha cua Pao – Pao's house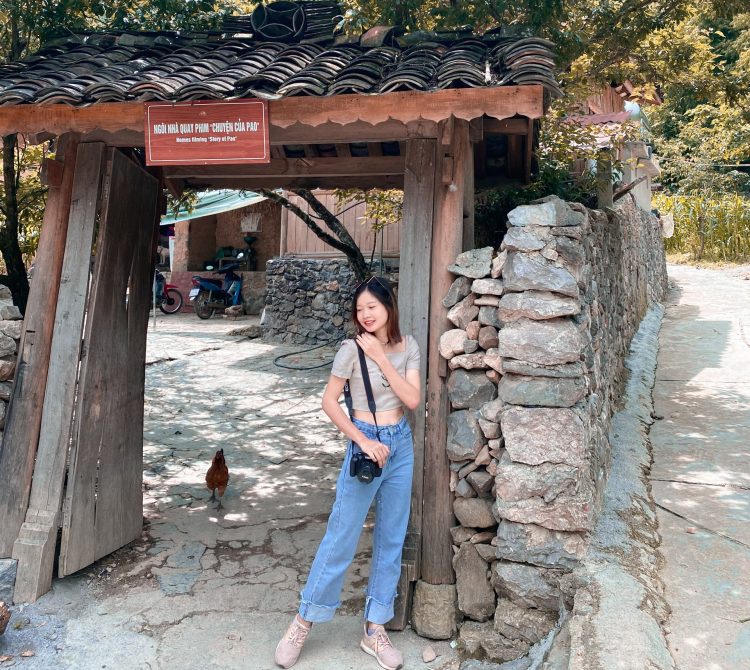 Pao's House is located inside Lung Cam Cultural Village – a small Hmong village.
It is a typical house of Hmong people which was once chosen to be the scene of "The Story of Pao"-  a movie released in 2006 about a Hmong girl named Pao and the desire to be free and happy of minorities. 
Nowadays, there is still a multi-generational family living in the house, so if you want to get inside, make sure you follow these rules:
Don't wear white clothes if you enter a local house as white is considered the colour of death according to Hmong culture.

If you see the kids, don't touch their heads because Hmong people consider this action will make them sick.

Don't whistle because it will call spirits and ghosts to the village.

Don't touch anything without asking.

Don't sit on the first chair in the house because it's only for parents even if they have passed away.
Entrance tickets: 10.000 VND
Have fun at Dong Van Ancient Street
The best thing to do in Ha Giang after a long day of driving is to wander around Dong Van Ancient Street. Here, you can find a variety of restaurants, cafes, spas, and souvenir shops.
The ancient street was established in the early 20th century. Initially, only a few families of Mong, Tay, and Chinese people lived here, but gradually more and more people settled in the area. The architecture features Chinese influences, with two-story houses adorned with yin and yang tile roofs and red lanterns.
Today, there are approximately 40 ancient houses in this neighborhood located close together under rocky cliffs.
Opening hours: 24/7 (recommended to visit at night)

Entrance ticket: Free
Conquer Ma Pi Leng Pass
Ma Pi Leng Pass was constructed from 1959 to 1965 by numerous workers, mainly from ethnic minorities.
Located between Dong Van Town and Meo Vac Town, Ma Pi Leng Pass, also known as the 'Road of Happiness,' is one of the most impressive mountain passes in Vietnam, reaching an altitude of 1,200 to 1,400 meters at the top.
Here, you can witness breathtaking views of steep mountain cliffs and the beautiful Nho Que River flowing through the valley. Make sure to stop at the Mã Pí Lèng Pass Viewpoint to fully enjoy the spectacular scenery.
Considered one of the most dangerous roads in Ha Giang, with numerous blind turns according to travelers, personally, I find it manageable. Just exercise caution when approaching a blind turn, and you should be fine.
Opening hours: 24/7 

Entrance ticket: Free
Venture to Lung Cu Flag Point
Lung Cu Flag Point is situated at the summit of Rong Mountain, adorned with a 54-square-meter Vietnamese flag, symbolizing the 54 ethnicities in Vietnam.
From this vantage point, you can behold spectacular views of mountains, Lo Lo Chai village, and the lush rice terraced fields. Especially, you can also catch glimpses of buildings in China from the other side of the fence.
This flag point is accessible by motorbike. After parking your motorbike, you need to climb about 100 steps to reach the top.
Ticket price: 40.000 VND

Parking: 5.000 VND
💡 Note:
Avoid peak hours, as the area tends to be crowded with local tourists. It's advisable to wake up early and arrive in the morning for a more serene experience.

If you prefer a non-touristy alternative, consider visiting the Northernmost Point of Vietnam. This spot is farther north and is free to visit.
Explore Dong Van Market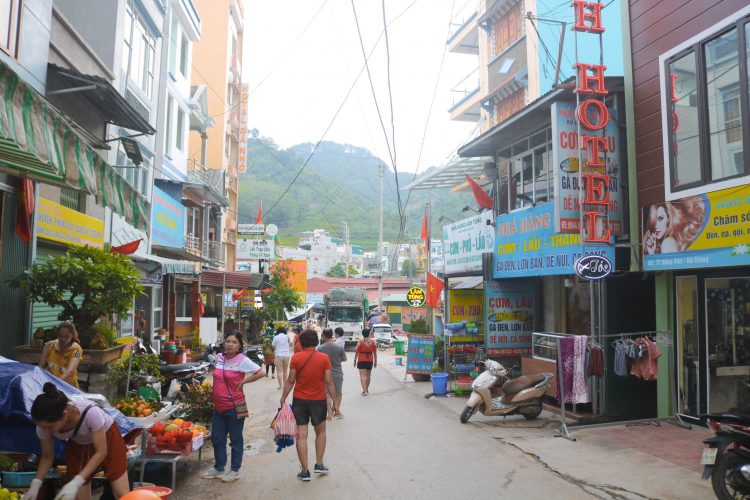 Dong Van Market was built by the French in the 1920s and has almost remained intact to this day.
The market opens all week; however, it gets much more crowded and interesting on Sundays. Most sellers in this market are ethnic minorities who walk or drive from hill to hill to bring local products to this market.
Prices in Dong Van Market are relatively cheap, and you don't need to worry too much about being overcharged because ethnic minority people are generally honest.
Opening hours: every day, 5 AM- 7 PM

Entrance ticket: free
Other places to explore in Ha Giang
Read more: How hard is the Ha Giang Loop? Is it safe to drive in the Ha Giang Loop? 
2. Ha Giang Loop route and itinerary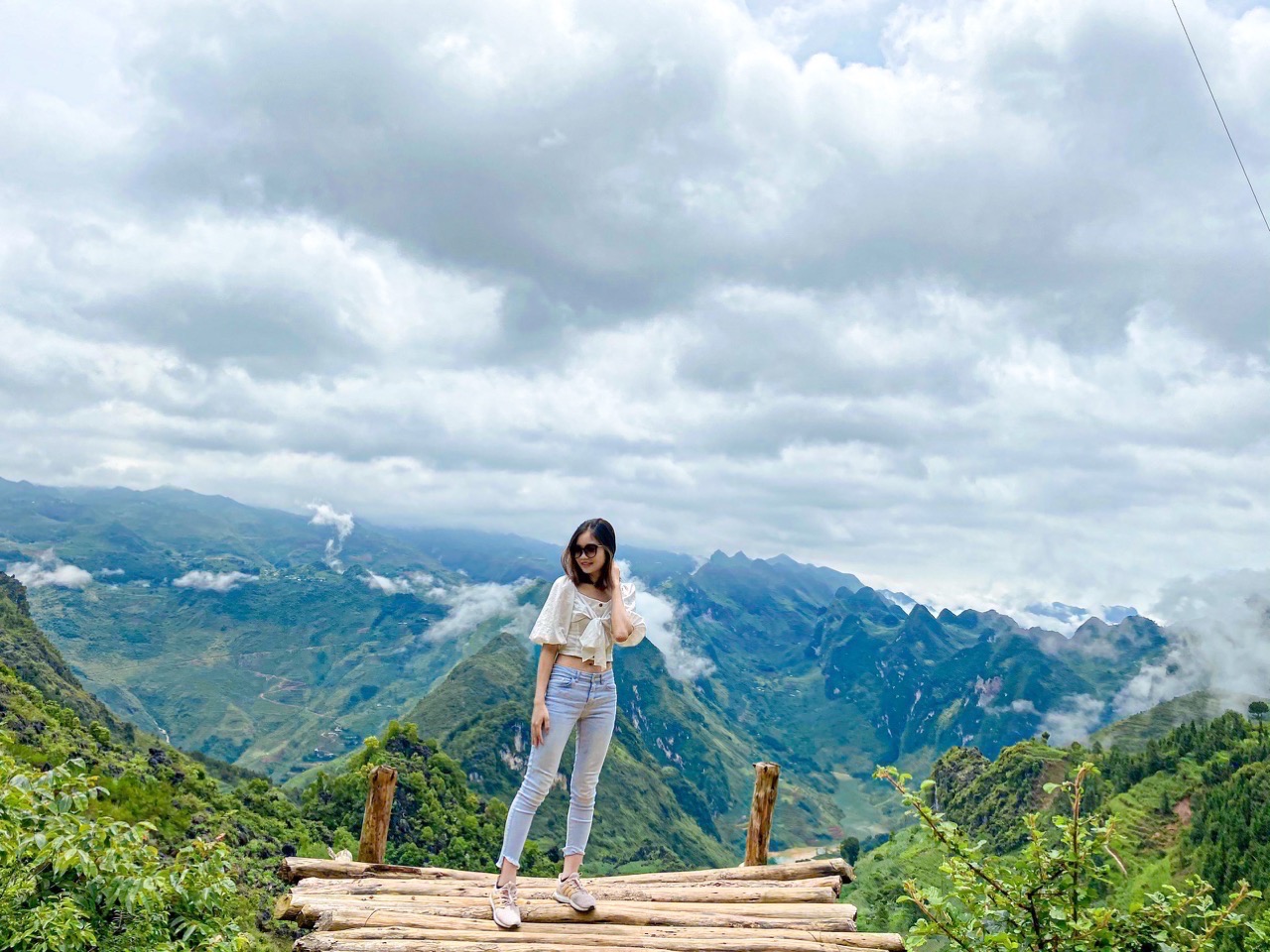 The main Ha Giang Loop route is from Ha Giang City to Dong Van via the 4C road (QL4C), which is paved and mostly in good condition.
Driving along the 4C road, you will pass by Quan Ba Heaven Gate, Tham Ma Viewpoint, Pao's house, Dong Van Plateau, Dong Van Ancient Street, Ma Pi Leng Pass, Meo Vac Town, and more.
Additionally, you can venture to small villages such as Du Gia, Lo Lo Chai, etc. The roads to these small villages are narrower and some can be quite challenging.
There are various ways to plan your Ha Giang Loop itinerary based on your preferences and level of adventure. Below are some options for the 3-day Ha Giang Loop itinerary:
Option 1: Easy Ha Giang Loop Route with just a few stops along the way, not too challenging. 
This is my Ha Giang Loop itinerary for 3 days. We took a night sleeper bus from Hanoi the night before and reached Ha Giang City at around 5 AM. The rental shop provided us with free dorm beds to stay until 8 AM. At 8 AM, we began our journey from Ha Giang City to Dong Van town, primarily via the 4C road.
Day 1: Quan Ba Heaven Gate – Tham Ma Slope Viewpoint – Dong Van Market –  Dong Van Ancient Street – Stay 2 nights in Dong Van

Day 2:

Nho Que River Boat –

Ma Pi Leng Pass – Ma Pi Leng – Needle Rock

Day 3: Pao's house – Palace of Hmong's King – drive back to Ha Giang city and reach there by 2 PM
Option 2: Visit more places and take road 34 on the way back to Ha Giang City.
Day 1: Quan Ba Heaven Gate – Yen Minh pine forest – Yen Minh town (lunchtime) – Tham Ma Viewpoint – Pao's house – Palace of Hmong King – Dong Van town (before 6 PM) – Dong Van Ancient Street – stay overnight in Dong Van

Day 2: Lung Cu Flag Tower – Lo Lo Chai village – Nho Que River Boat – Ma Pi Leng Pass – Ma Pi Leng Skywalk – stay overnight at Meo Vac town

Day 3: Pa Vi village – drive through Road 34 to go back to Ha Giang City
 💡 Note: Keep in mind that you'll make frequent stops along the Ha Giang Loop for pictures because the scenery is sooo beautiful. Ensure you reach your homestay before it gets dark, as driving on the loop in the dark can be very dangerous.
3. Best time to visit Ha Giang
There are two main seasons in Ha Giang: the dry season (from October to April) and the wet season (from May to September).
The months with the most rainfall are June and July, so it's better to avoid these months because it's more dangerous to drive the Ha Giang loop when it's raining. And remember to check the weather forecast before your trip to avoid rainy days.
Other than that, the Ha Giang Loop is beautiful at any time of the year. Besides, each month in Ha Giang features different scenery, and you can choose the month you prefer as below:
Jan – Mar: Plum flower and peach flower season

April: Red silk cotton flower season

May – Jun: Water pouring season of the terrace fields

Aug – Sept: Golden yellow rice terrace fields season

Oct – Nov: Buckwheat flower season

Dec: Rape flower season
 💡 Note: During the day, you can experience all four seasons in Ha Giang, it can be cold when the sun sets and hot at noon. 😆 Therefore, make sure to bring both summer and winter clothes with you.
3. How to get to Ha Giang?
To travel the Ha Giang Loop, you need to go to Ha Giang City and then rent a motorbike to drive along the loop via road 4C.
Getting to Ha Giang City
Although it's a remote area, nowadays, to meet the higher and higher demand for tourists, there are more and more operators who provide transportation services to Ha Giang City from many popular places in Vietnam such as Hanoi, Ninh Binh, Sapa, etc. Below are the common ways to reach Ha Giang:
By Sleeper Bus: The sleeper bus is the cheapest and most common way to travel to Ha Giang. A one-way sleeper bus ticket from Hanoi to Ha Giang is priced at only about 300.000 VND.
Buy standard sleeper bus tickets: Click here
Buy luxury sleeper bus tickets to Ha Giang from Hanoi: Click here
 ➡ Read more: Detailed guide on how to get from Hanoi to Ha Giang by bus
By Limousine: Traveling to Ha Giang City by limousine would typically be more expensive than by sleeper buses. However, it's a better option for individuals taller than 2 meters, as the beds on sleeper buses are designed for locals (narrow and short), except for the luxury option.
By Motorbike: I don't recommend getting to Ha Giang City by motorbike, especially for girls, as it can be very tiring. Keep in mind that the drive in the Ha Giang Loop route alone covers 150 km through winding roads. However, if you are brave enough, you can take on this challenge. 
By car: Renting a car charter from Hanoi to Ha Giang City would cost about 3,500,000 VND for a 4-seater car. You can book the car via this link.
Getting around Ha Giang
By Motorbike: This is the most common option for travelers who want to conquer the Ha Giang Loop route. The average price to rent a motorbike for a day ranges from 180,000 to 450,000 VND, depending on the model. There are many motorbike rental shops now in Ha Giang City. Here are some recommended options:
Giang Son Hostel And Motorbike For Rent
Hostel And Motorbike For Rent Bee Sophie
 💡 Tips:
– Most of the time, the bus/limousine drivers agree to drop you off at the rental shop. You can check with them.
– Don't rent a fully automatic scooter because it's harder to control the brakes when you encounter a blind turn. Choose a semi-automatic or manual motorbike instead (a semi-automatic scooter is small, light, and easier to drive).
By tour: Want to experience the Ha Giang Loop route but don't know how to drive a motorbike? You probably need to take on a tour. There are some motorbike tours to Ha Giang Loop that you can consider: 
➡ Motorbike tour 3D2N (small group with easy riders)
➡  Small Group tour With Easy Riders 3 Days + Private Room
My experience:
I took an overnight sleeper bus (Cau Me bus operator) from Hanoi to Ha Giang at about 9:30 PM and reached Ha Giang City around 5 AM the next day.
The driver dropped me off at the motorbike rental shop that I had contacted before. The rental shop also provided dorm rooms, and they gave me a free dorm bed to sleep until 8 AM. That was so nice of them.
Read more: How hard is the Ha Giang Loop? Is it safe to drive in the Ha Giang Loop? 
4. Where to stay in Ha Giang?
When visiting Ha Giang, you have 2 accommodation options: homestays or motels. I highly recommend homestays for the unique experience of sleeping in a traditional house of ethnic minorities. The price for a double room in a homestay starts from 400,000 VND.
There are several towns where you can stay overnight in Ha Giang, including Quan Ba, Yen Minh, Dong Van, Du Gia, Lo Lo Chai, and Meo Vac.
If you plan a 3-day trip to Ha Giang Loop, I suggest either 2 nights in Dong Van OR 1 night in Dong Van + 1 night in Meo Vac.
You can book the homestay online in advance or book on-site.
If you travel during Sept, it's advisable to book at least a week in advance.
Accommodations will also fill up quickly on weekends due to the high number of local tourists. So, make sure to book at least 3-4 days in advance if you plan to go to Ha Giang during the weekend.
My experience: I stayed for 2 nights in Dong Van town at Aladdin Homestay and was very satisfied. The host and his staff were friendly and helpful, arranging a BBQ dinner and providing breakfast. However, be aware that there were a lot of mosquitoes and insects at night.
5. What to eat in Ha Giang?
To be honest, Ha Giang's food is not very outstanding to me; the taste is just okay. However, if possible, you should try it at least once.
Some homestay owners help to order local dishes for their guests, so you can ask them. Prices for local foods are relatively cheap.
Below are some foods you can try in Ha Giang:
Sour Pho noodle
This is flat noodles mixed with ingredients like peanut, beef, Vietnamese coriander, and, most importantly, lime – the component that gives it its name. This dish is commonly served as breakfast for locals, and I had it for my breakfast too.
Au Tau porridge
Au Tau porridge is made from Au Tau. Eating Au Tau directly can be poisonous, but Hmong people know how to process it, eliminating the poison and turning it into a healthy food. The ingredients for Tau Au porridge include Au Tau, rice, minced chicken/quail meat, pepper, raw egg, etc.
Steamed rolled rice pancake (Banh Cuon)
You might have heard of this food in Hanoi and thought they were similar. However, in Ha Giang, people make it in a different way. In Hanoi, Banh Cuon is eaten with fish sauce, but in Ha Giang, the sauce is replaced by a pork broth added with some Vietnamese sausage.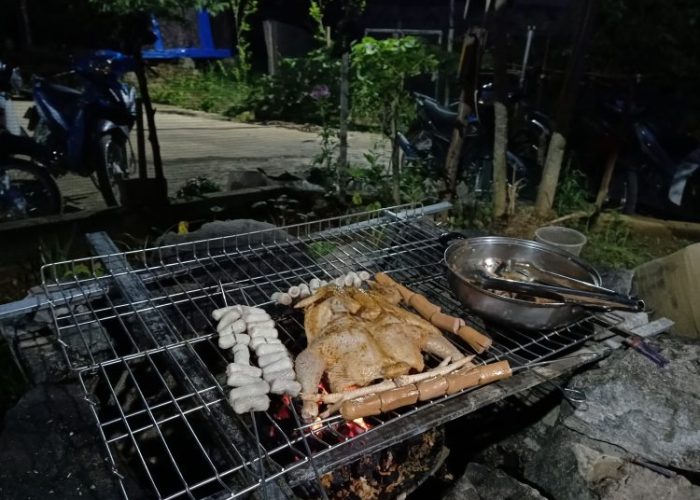 Hotpot or BBQ
Indulging in a hotpot or BBQ party in the cold weather of Ha Giang at night is so satisfying. If you stay at a homestay, ask if the host can help prepare your meal. Ours helped us with a BBQ dinner, and we also went to the local market to buy additional ingredients.
6. How many days to spend in the Ha Giang Loop?
Ha Giang is a vast province with an endless and beautiful landscape.
To explore the most popular attractions, plan to spend 3 days and 2 nights (excluding transportation time from other provinces).
If you wish to delve into small villages or conquer adventurous passes, consider dedicating at least 5 days to your journey.
Less than 2 days is not recommended, but you can still explore nearby areas such as Quan Ba or Yen Minh.
More posts about Ha Giang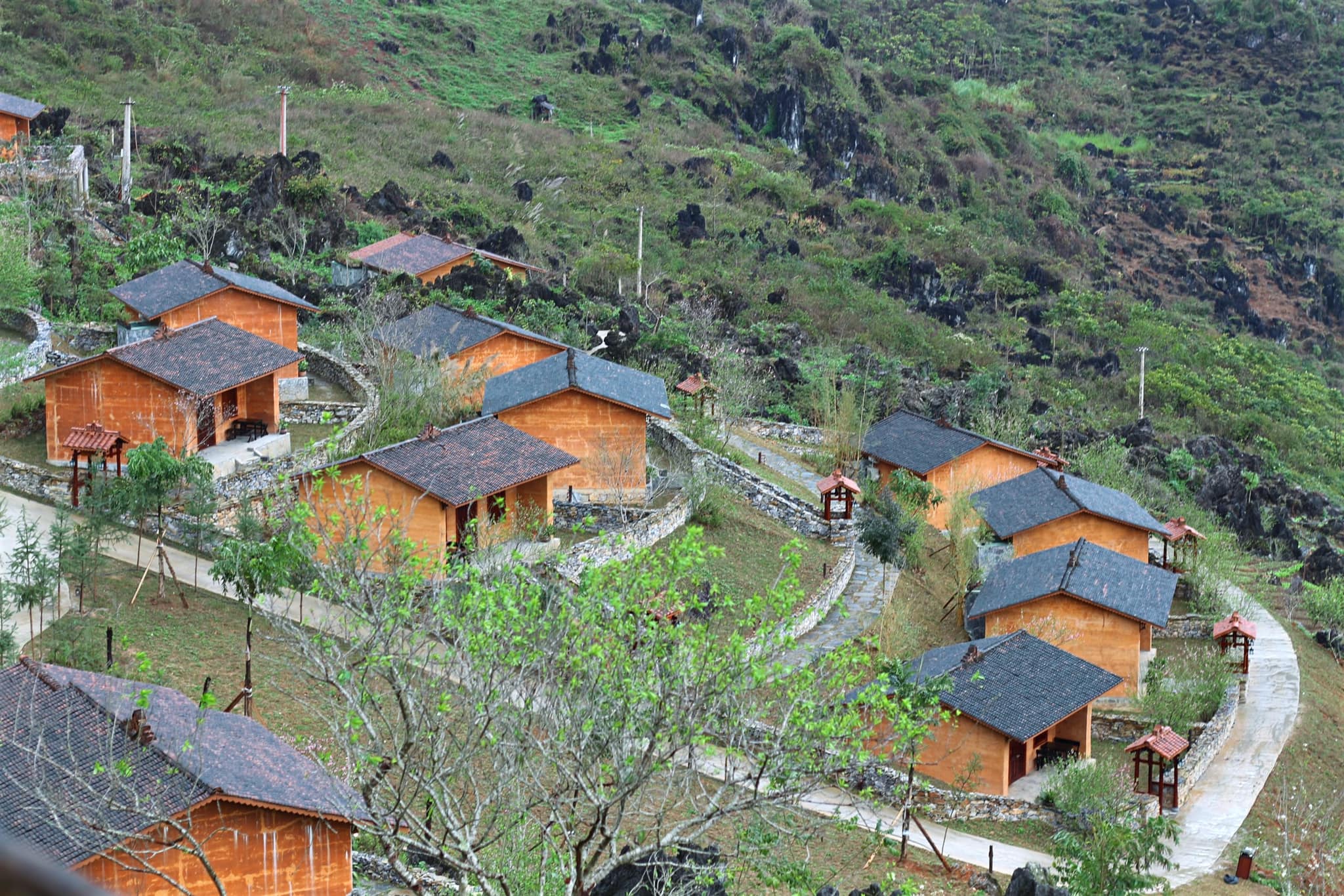 7. Ha Giang Loop travel expenses
Most of the expenses for your Ha Giang Loop trip will be allocated to accommodation and transportation. Fortunately, local food in Ha Giang is very affordable.
Here's a cost breakdown for a 3-day Ha Giang Loop trip:
Sleeper bus from Hanoi to Ha Giang: 300,000 VND/way

Local food: 20,000 – 50,000 VND/portion (Pho, noodles, porridge)

BBQ or Hotpot: approximately 200,000 – 250,000 VND/person

Homestay: 200,000 VND/person/night

Motorbike rental: 180,000 VND/day

Petrol: around 150,000 – 200,000 VND for 3 days

Attraction tickets + parking fee: about 200,000 VND
In total, you'll need less than 2,500,000 VND/person for a 3-day 2-night trip to Ha Giang, inclusive of transportation – quite a budget-friendly option given the breathtaking scenery.
Conclusion
While Ha Giang is gaining popularity, it remains a destination well worth your visit.
If I get the chance, I would definitely take another trip to Ha Giang because there are still many corners of Ha Giang that I have not visited. The vivid beauty of Ha Giang's nature lingers in my mind. Driving through the Ha Giang Loop is risky, but the experience is truly unforgettable.
In conclusion, I hope this Ha Giang travel guide assists you in planning your Ha Giang Loop route and itinerary. I've covered things to do in the Ha Giang Loop, the best time to visit, travel expenses, the Ha Giang Loop route & itinerary, and useful tips for a fantastic trip to Ha Giang. 
If you have any further questions about the Ha Giang loop route, feel free to comment below. Thanks for reading!
1. How long is the Ha Giang Loop?
The main Ha Giang Loop route is approximately 350 km long, and it typically takes 2-3 days to explore.
2. Is the Ha Giang Loop dangerous?
Yes, it is. The Ha Giang Loop route is a long winding road with many blind turns. You need to be very careful when driving in the Ha Giang Loop.
If you are not an experienced motorbike rider, it's advisable to stick to the main Ha Giang Loop route and avoid venturing into more remote areas.
3. How to do the Ha Giang loop?
You can take a bus to Ha Giang City, and from there, rent a motorbike to explore the Ha Giang Loop.
Alternatively, you can join a tour with easy riders, so you won't need to drive in the loop.