DISCLOSURE: My articles may contain affiliate links. To click on those links, you won't be charged any extra cost, instead, you help me to get some small commissions to maintain my blog. Thanks for understanding!
I'm really into ancient towns all over the world and will never be bored when traveling to those destinations. This time, I chose Malacca (Melaka) – a renowned trading port in Malaysia in the past – located to the South of Kuala Lumpur. Well, undoubtedly, this town is really worth my visit… and yours as well. 
In this ultimate travel guide, I will sum up all information that you need to know before taking your trip to Melaka.
👉 Want to rent a private car for your trip to Melaka from Kuala Lumpur? Contact me via Whatsapp +60 149.776.712 (Mai) or my Instagram for the best price 💸.
Useful links for your Melaka trip
You may also like: Batu Caves – Murugan Statue: interesting facts, history, how to get there?
1. About Melaka
Melaka is a historical site listed as a UNESCO World Heritage Site since 2008 and is known as one of the best destinations in Asia recognized by Forbes and Lonely Planet.
BRIEF HISTORY
In the 14th century, as a protectorate of Ming China, Melaka developed rapidly and was once a bustling international trading center with trade routes between China, India, the Middle East, Africa, and Europe. 
Not until 1511, Melaka became a colony of Portugal after a conquer led by Alfonso de Albuquerque. 
In 1641, after several efforts, the Dutch eventually defeated the Portuguese and captured Melaka. Despite not developing Melaka as a trading center, they still erected Stadhuys as a landmark in the city.
The Dutch then ceded Melaka to the British in 1824 according to the Anglo-Dutch Treaty. 
From 1942 – 1945, the city was ruled by the Japanese during World War II.
Nowadays, Melaka City is the political and economic center for the state of Malacca. Simultaneously, it is also one of the most famous travel destinations in Malaysia.
LOCATION
Melaka city is the capital of the state of Melaka located 148km southeast of Kuala Lumpur. You can easily reach Malacca from Kuala Lumpur within 2 hours by bus or car.
2. How to get to Melaka from Kuala Lumpur
There are 2 ways to get to Melaka from Kuala Lumpur: by bus or by car.
By bus
From Kuala Lumpur City Centre to Melaka: The easiest way is by bus which takes around 2 hours costing just around 15RM/way/person. From Kuala Lumpur, you go to Terminal Bersepadu Selatan (TBS) by LRT, KTM, or KLIA transit trains. In TBS, there are buses departing every 30 mins to Melaka Sentral Bus Terminal (and other southern parts of KL, even Singapore). Tickets can be purchased at the station or online via this link.
From Kuala Lumpur International Airport: There are bus terminals in both KLIA (Lower Ground Floor) and KLIA2 (Level 1).  The bus ticket cost about  25-35RM/way/person and take around 2 hours and 30 mins to reach the Melaka Sentral Bus Terminal. You can buy tickets online via This link.
By car
Besides, you can also go to Melaka by car. Going to Melaka from Kuala Lumpur by car is much more convenient and time-saving than traveling by bus.
If you want to rent a car to Malacca, contact me via Whatsapp +60 149.776.712 (Mai) or my Instagram for the best price 💸.
Read more: How to take a bus from Kuala Lumpur to Malacca: bus schedule & ticket price
3. How to get around Melaka
From Melaka Sentral Bus Terminal to your hotel: there are 2 options for you. One is by bus which costs about 3.5 – 5.2RM. However, as I arrived in Melaka quite late (after 8 pm) and I only have nearly 2 days to visit this beautiful city, thus, I prefer the second option – taxi/grab. You can also download Grab which is a very popular app in Southeast Asia where you can book a taxi at an affordable price. 
Around the city: I think walking is the best way as the places of interest are quite near to each other, except for the Malacca Mosque. On the other hand, you can use a taxi/ grab car when you feel too tired of walking, but believe me, it's not that tiring.
Besides, as an option for tourists, there are a plethora of colorful Trishaws with cute decorations (Doraemon, Hello Kitty, etc.) and fun music that you can try, the price may vary depending on your bargaining skills, it's about 25RM for 10mins (you can try to ask for a lower price, who knows….).
4. Where to stay in Melaka?
The best area to stay in Melaka is probably the neighborhood of Jonker Walker Street. This is where many tourist attractions are located at such as the Christ Church, Stadthuys, Melaka river cruise, etc. So if you stay nearby, you can get around by walking.
Here are some highly-rated hotels nearby Jonker Walker that cost less than 100RM/night: Ohana House HQ, Ola Hostel
During my trip to Melaka, I stayed at Bayview hotel Melaka – a 3-star hotel located in Jalan Bendahara (15mins walking to the Jonker Walker) for the price of around 150RM. The room is quite big, clean, and fully furnished with a massive window (although the view is not beautiful…at all). However, one of my concerns is that the area is a little bit dangerous for solo female travelers (as I feel) because I didn't see many people walking around, so if you travel alone, I recommend you take a taxi when it's late. Overall, I think it was quite ok with that price and location.
Note: Since 2017, Malaysia applies tourism tax for foreigners at a flat rate of 10RM/room/night (no matter where in Malaysia). So if you stay there for 4 nights, you have to pay 40RM/room.
5. Best things to do in Melaka
Best things to do in Melaka in the daytime
Admire Malacca Straits Mosque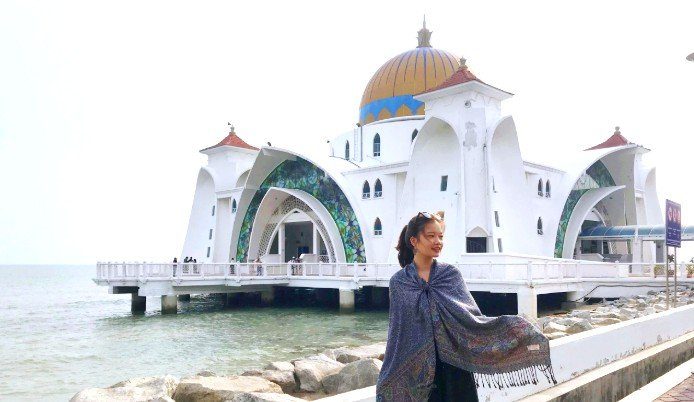 The mosque is situated on the man-made Pulau Malacca Island which is quite far from the city center taking about 15mins by taxi (costs about 15RM/way). It is a gorgeous white mosque with the harmonization between the Middle Eastern and Malay architectural styles floating on the water. 
Note:
Free Islamic clothing is offered for free for tourists visiting the Malacca Straits Mosque. You can find it on the left-hand side of the mosque. And remember to return it after visiting the mosque.

If you don't want to get inside the mosque, it's fine, you can come at any time you want as we can also take a lot of beautiful pictures from the outside.
Address: Jalan Pulau Melaka 8, 75000 Melaka, Malaysia
Opening hours: 9:00 – 17:00 on Sunday only
Walk around the UNESCO World Heritage area
This is one of my favorite things to do in Melaka. Besides Penang, Melaka is also a famous city for street art. The interesting thing is that those murals perfectly matched the ancient beauty of the town making the whole area so gorgeous, romantic, and instagramable. Fortunately, this area is located between all the famous tourist attractions, so you can easily find it when walking around the city center. 
Enjoy the bird's eye view of Melaka at Taming Sari Tower
Taming Sari Tower is the first and highest tower in Melaka with 24 levels and a height of 110 meters. This is the best place in Melaka to see the panoramic view of Melaka town. The special thing is that the observation deck will revolve around the tower so that visitors enjoy the 360-degree view. 
Pro tips: Don't buy tickets at the counter, it's cheaper to buy online via THIS LINK.
Address: Jln Merdeka, Bandar Hilir, 75000 Melaka
Opening hours: every day, 10 AM – 11 PM
Drop by Masjid Kampung Hulu
It is the oldest functioning mosque in Malaysia which was once demolished by the Portuguese and later rebuilt by the Dutch as a part of their colonization tactics. The mosque, however, is not open for tourists, thus, you can only wander around and admire its magnificence.
Address: Jalan Kampung Hulu, Melaka
Visit Christ Church Melaka

melaka christ church
It is surely the most famous attraction in Melaka which is located within Dutch Square. This church dates back to the 18th century with the Dutch architecture style and is the oldest functioning Protestant church in Malaysia. Interestingly, it was originally painted in white, until 1911, it changed its outfit to red making this area so distinctive from a far distance.
Address: Jalan Kota Melaka, Melaka
Tips tips tips:
If you want to take a Trishaw ride, it is a perfect location to find drivers. As I mentioned above, it may cost around 25RM for 10 minutes. 
Stadthuys 

Stadhuys Malacca
Next to the Christ Church Malacca is Stadhuys, it was built in 1650 by the Dutch and functioned as the local town hall but later, was converted into the History & Ethnography Museum. Same as Melaka Christ Church, Stadhuys was also initially painted in white and was re-painted in red later on.
Address: Banda Hilir, 75000 Malacca, Malaysia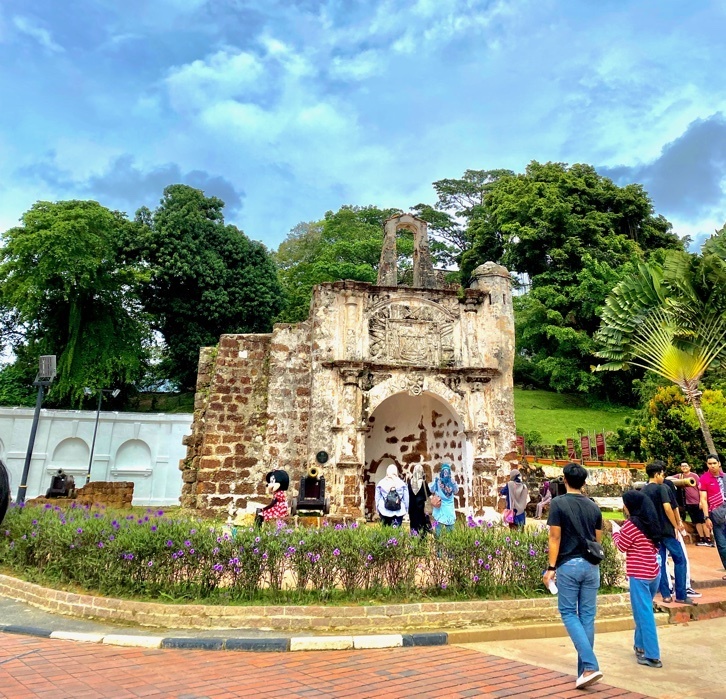 This was once a fortress of the Portuguese which was built in 1511 known as one of the oldest European historical relics in Southeast Asia. Unfortunately, it was intentionally destroyed in 1806 by the English when they dominated this city. Nowadays, there is only a small gate called the Porta de Santiago remained thanks to the decision of Captain William Farquhar to save this gateway.
Address: Jln Parameswara, Banda Hilir, 78000 Alor Gajah, Melaka, Malaysia
Opening hours: 24/7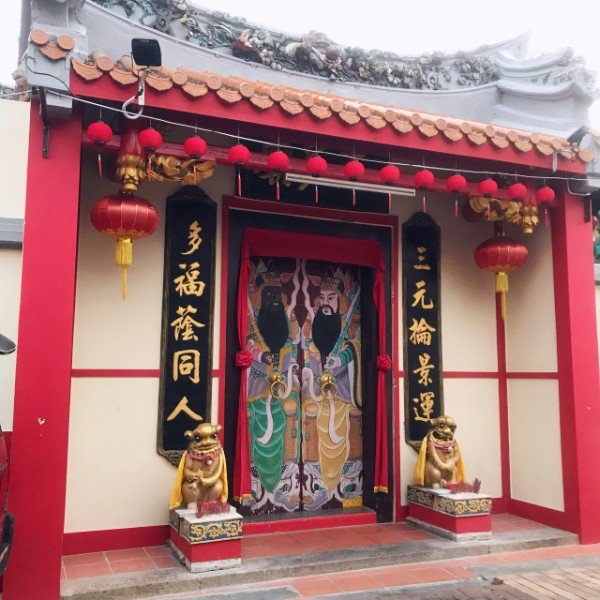 This is the oldest functioning Chinese temple dating back to the 17th century and is the most popular place of worship for the Hokkien community in Melaka. There are several prayer halls inside the temple, the main one is to worship Guan Yin – the Goddess of Mercy.
Address: 25, Jalan Tokong, Kampung Dua, 75200 Melaka, Malaysia
Opening Hours: 07:00 – 19:00
Best things to do in Melaka at night
Walk along Jonker Walk night market

Jonker walker night market Malacca
It is undoubtedly one of the best things to do in Melaka at night, especially for foodies.
No more peacefulness like during the daytime, after 18:00, this street is chock-full of people and has a myriad of dancing or singing street performances making it so lively and hectic – a good place to have fun. Especially, you will be enamored by all the delicious smells along this food paradise, try at least 4-5 foods, it's cheap and finger-licking good!!! For this site, you can spend almost the whole evening exploring it.
One thing you should bear in mind is that this market only opens on the weekend (every Friday and Saturday). 
Opening hours: 18:00 – 00:00 on Friday and Saturday
Take a Malacca River Cruise
I would say this is the most romantic thing to do in Melaka. Although the cruise is also operated during the daytime, I prefer to take it at night because we can enjoy the breeze in the evening and avoid the heat (which makes this experience less enjoyable). The total cruising time is about 45 mins to 1 hour and you can buy the tickets on some apps such as Klook, Traveloka, etc.
Operating hours: 9:00 – 11:30pm
Where to find boarding jetties: there are 2 jetties close to the center which are Muara Jetty and The Shore Jetty. You need to check your booking reservation (if you book online) to see exactly where your cruise departs. If you buy tickets at the counter, there is one ticket counter just nearby the Dutch church (next to the bridge), you can go there to buy tickets and ask for directions to the jetty.
Price: 30RM (for adults) and 25RM (for kids).
6. How many days to stay in Melaka
Well, in my opinion, 3 days 2 nights are just enough for a trip to Melaka. If less than 3 days, you cannot discover all the attractions. If more than that, there won't be many things to do in Melaka.
And make sure that you come here on Friday and Saturday when the Jonker walker night market is open. If not, there are NOT many things to do at night time, so your trip turns out quite boring.
👉 Want to rent a private car for your trip to Melaka from Kuala Lumpur? Contact me via Whatsapp +60 149.776.712 (Mai) or my Instagram for the best price 💸.
Alright, that's all I want to share with you after my trip to Melaka. Hope you find it helpful and share your thoughts below. 
Thanks for reading.
You may also like: Batu Caves – Murugan Statue: interesting facts, history, how to get there?
Pin it!