DISCLOSURE: My articles may contain affiliate links. To click on those links, you won't be charged any extra cost, instead, you help me to get some small commissions to maintain my blog. Thanks for understanding!
Malacca, or Melaka, is located on the southwestern coast of Malaysia. It was once a bustling trading hub that attracted numerous traders from all over the world. This is one of the reasons why you can observe diverse architectural styles in the town.
I visited Malacca twice, and I just love it so much. The town is absolutely stunning with ancient houses, colorful mural art, and vibrant streets. The most outstanding area is undoubtedly the Dutch Square, where everything is painted pink. Isn't that convincing enough to visit this wonderful town?
In this guide, I'm going to show you in detail how to travel from Kuala Lumpur to Malacca by bus.
Useful links for your Melaka trip
1. Distance from Kuala Lumpur to Malacca
The distance from Kuala Lumpur to Malacca is 121km. If you travel by bus/ car, it takes about 2-3 hours, depending on the traffic.
2. From Kuala Lumpur Airport to Malacca by bus
There are 2 terminals in the Kuala Lumpur Airport: KLIA and KLIA2.
The bus stop is located on the Lower Ground Floor at KLIA and on Level 1 at KLIA2.
The bus fare from KLIA/KLIA2 to Malacca is about 25-35RM/person/way.
You can buy tickets at the ticket counter at the bus stop or buy online via this link.
Check the bus schedule from KLIA2 to Malacca: Click here.
3. From Kuala Lumpur City Center to Malacca by bus
From Kuala Lumpur City Center, you can go to Terminal Bersepadu Selatan (TBS) bus station. There are numerous buses departing every hour to Malacca from 3 AM to 11 PM. 
You can purchase tickets from Kuala Lumpur to Malacca at the counter or from the vending machine at the TBS station. However, for greater convenience, I recommend buying tickets online via this link.
The bus fare from Kuala Lumpur to Malacca ranges from 10-15RM per person per way.
Check the bus schedule from Kuala Lumpur to Malacca: Click here or Click here.
How to go to TBS?
You can reach TBS from Kuala Lumpur City Center by grab car or public transportation. 
Grab car: Link to download Grab app

Public transportation: From Kuala Lumpur City Centre, you can reach TBS by KLIA transit, KTM or LRT. To get a real-time guide on how to travel from your place to TBS, you can download MOOVIT app. The information from this app is pretty accurate.  
4. From Melaka Sentral Bus Terminal to your hotel
You can go to your hotel from Melaka Sentral by Grab car or by bus.
By Grab car
Download the app: Click here
By bus
There are several buses that operate routes from Melaka Sentral to the town.
If you stay nearby Dutch Square, you should take bus 17 and get off at Muzium Belia Malaysia.
Besides you can also consider bus No. 8, 3, or 23. Bus fare is from 2-5RM. Check Google Maps for more details.
Read more: Melaka travel blog – transportation, best things to do, how long to stay
5. How to get around in Malacca?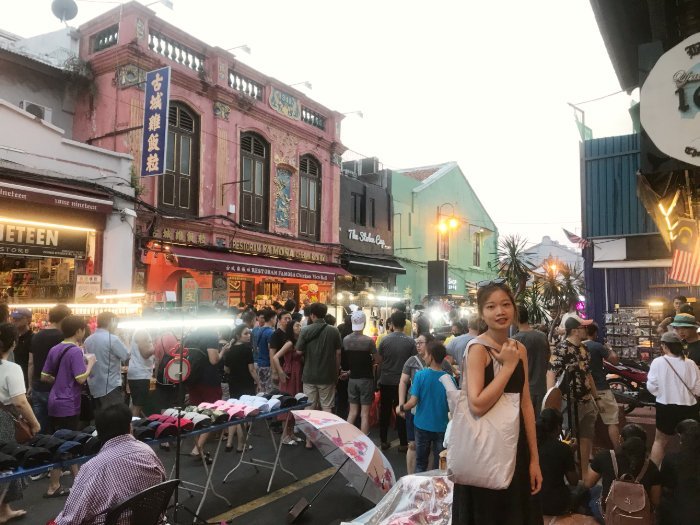 There are 3 main ways to get around in Malacca.
By walking
As most of the famous places of interest are within walking distance, you can totally walk from one place to the other.
By taxi/grab car
Besides, if you visit further places such as the Malacca Straits Mosque, you can go by taxi/ grab car. For me, I always prefer Grab car because I would know exactly how much I have to pay.
By car
Bear in mind that parking is pretty hard to find in the town, especially in the Jonker Walker neighborhood.
By trishaw
Trishaws in Malacca are cute, colorful, and so much fun. They are decorated with Doraemon, hello kitty, baby shark, etc. During the ride, the driver will also play kid music as well. Such a fun experience in Malacca. 
You can find trishaw everywhere in the town, especially in the Dutch Square.
Above is my guide on how to take a bus from Kuala Lumpur to Malacca. I hope you find it helpful and comment below for any questions.
Thanks for reading!
FAQs (Frequently Asked Questions)
1. Can you do a day trip to Malacca from KL?
Yes, it's 100% possible because Malacca is just less than a 2-hour drive from KL. However, for a day trip, I would recommend you rent a private car for greater convenience. 
Here is my recommended day-trip itinerary from KL to Malacca:
8AM: Depart from KL

10AM: Walk around the Old Town: Malacca 3D Street Art, Cheng Hoon Teng Temple, Baba & Nyonya Heritage Museum, Dutch Square

11:30AM: Malacca River Cruise

12:30PM: Have lunch

1:30PM: Visit A Famosa

2:30PM: Explore Malacca Straits Mosque

4PM: Head back to KL
2. How much is the bus from Kuala Lumpur to Malacca?
The bus tickets from KL to Malacca cost from 10-15RM/person.
3. How long is the journey from KL to Malacca?
It would be 2 hours or less if the traffic is light.
4. Is a day trip to Malacca worth it?
Yes, it totally is, especially for history lovers and those interested in experiencing a blend of cultural influences.
In addition, it's one of the nearest tourist destinations from KL making it very convenient to visit if you are traveling to KL.
5. How many days in Malacca is enough?
Although a day trip to Malacca is feasible, I would recommend at least 3 days 2 nights so that you can explore more places around the town.
6. Does Malacca have Grab?
Yes, it does. 
In fact, I found it very easy to book a grab car in Malacca.