DISCLOSURE: My articles may contain affiliate links. To click on those links, you won't be charged any extra cost, instead, you help me to get some small commissions to maintain my blog. Thanks for understanding!
Merdeka Square, or The Independence Square, or Dataran Merdeka, holds great significance for Malaysians. It is where Malaysia's first Prime Minister, Tunku Abdul Rahman, read the Proclamation of Independence on August 31, 1957, marking a major turning point in the country's history.
Want to know more about Merdeka Square? Continue reading this blog post until the end to discover its history, how to get there, what to do and see in the area, and more.
1. General information
Entrance fee
There is no entrance fee to Merdeka Square. 
You can visit the whole area for free, even the KL City Galery is also free to visit.
Dress code
No dress code is required when visiting the square.
History
The land on the west bank of the Klang River, including Merdeka Square, was originally owned by Yap Ah Loy – the 3rd leader of Chinese community of Kuala Lumpur.
In 1882, ownership of the land was transferred to the British Resident, Frank Swettenham. 
In 1892, the ground was leveled to be used as a cricket field and for other sports activities. During this time, the area was referred to as Selangor Club Padang, with "Padang" meaning "field" in Malay.
At midnight on August 30, 1957, the Malaysian flag was raised for the first time at the Padang after the Proclamation of Independence was read by Malaysia's first Prime Minister, Tunku Abdul Rahman. 
In October 1989, the Padang was renamed 'Dataran Merdeka' or Independence Square.
Today, on August 31 every year, a parade known as "The Independence Day Parade" is held at Dataran Merdeka to commemorate Malaysia's independence.
Parking
There is a very large parking garage in Merdeka Square (Google Maps links). 
If you just have a quick visit, you can park your car on the side of the road, but be careful if a traffic police passes by, you will be fined.
Opening hours: 24/7
Address: Jln Raja, City Center, 50050 Kuala Lumpur, Wilayah Persekutuan Kuala Lumpur
My review of other attractions in Kuala Lumpur:
2. How to get to Merdeka Square?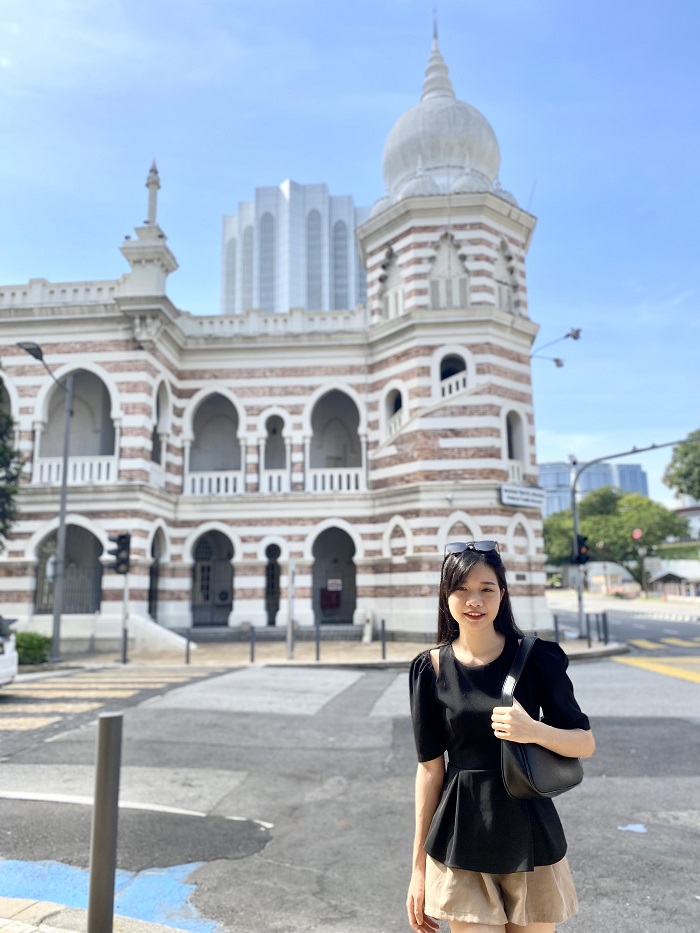 By bus
You can take bus number 400 and get off at Heritage Trail @ Jalan Tun H.S. Lee (Kl100), then walk 8 minutes to Merdeka Square.
By MRT train
The nearest MRT station from Malaysia Independence Square is Pasar Seni station, from here you walk about 10 minutes to reach the square.
By car
You can rent a self-driving car on the SOCAR app – this app is quite cheap and reliable.
If you want to rent a car with a driver to visit many KL attractions, contact me via Whatsapp +60 149 776 712 or My Instagram for the best price.
Join a tour
There are some group tours that are also quite cheap and include Merdeka Square in the itinerary, here are some of them:
PRO CODE: Click on the links above & enter code DL6KGF to get RM 20 off
3. What to do and see in Merdeka Square?
Merdeka Square
Merdeka Square in the evening is quite bustling, especially on weekends. In addition, walking here in the evening is cool and pleasant. In contrast, it is quite hot during the day and there is no shelter in the area.
If you travel to Kuala Lumpur on August 31, you can visit the square to watch the parade. Many people come here from 2-3 am to choose nice spots. However, if you don't like crowds, skip it.
Sultan Abdul Samad Building
The Sultan Abdul Samad Building is the best place to take photos in this area.
This building was constructed in 1894 and completed in 1897. This was the headquarters of the British colonial government in the early years of its establishment.
In 1974, the building was renamed after Sultan Abdul Samad, the reigning king of Selangor at the time construction began.
Currently, the Sultan Abdul Samad Building houses the office of the Ministry of Communications and Multimedia and the Ministry of Tourism and Culture of Malaysia.
This building is not open to visitors, so you can only take photos outside.
Malaysian flagpole
This is the second tallest flagpole in the world with a height of 95 meters.
Here, the Union Flag was lowered and the Malaysian flag was raised for the first time at midnight on August 31, 1957, marking an important historical milestone in Malaysia.
Royal Selangor Club
The Royal Selangor Club was founded in 1884 by the British.
This club used to be a meeting place for high-ranking members of British colonial society in Malaysia.
Many different sports activities have been held here since its early years of establishment.
There is also a restaurant here to serve tourists.
Mosaic portraits of Malaysian prime ministers
Near the flagpole, you can also see mosaics depicting portraits of Malaysian prime ministers from after independence until now.
KL City Gallery
Located behind the flagpole is KL Galery, where you can admire miniature models, photos, and collectible paintings to get an overview of the past, present, and future of Kuala Lumpur.
4. Things to know before visiting Dataran Merdeka
You should visit the square before 9 a.m. or after 4 p.m. During these times, the temperature is cooler, and your trip will be much more enjoyable. This is based on my experience after several visits to the area.

Air conditioning and free toilets are available at KL City Gallery, and admission to this place is also free. 

The best location for taking photos in this area is the Sultan Abdul Samad Building.

If you're looking for food, head to Petaling Street, which is about an 8-minute walk from Dataran Merdeka. This neighborhood is home to many famous local eateries.
Read more: Discover 25 incredible things to do in KL at night
5. Hotels near Merdeka Square
This area has many famous tourist attractions, so staying in this area is very convenient for traveling.
Below are hotels near Merdeka Square that have good reviews:
Ahyu Hotel
Room price: from 450k/night

Review score: 8.2/10

Book a room now: Click here
BIG M Hotel
Room price: 470k/night

Review score: 8.2/10

Book a room now: Click here
Santa Grand Classic Kuala Lumpur, Chinatown
Room price: from 750k/night

Review score: 8.2/10

Book a room now: Click here
6. Attractions near Merdeka Square
Near Merdeka Dataran, there are many tourist attractions you can visit on the same day. Below are my suggestions:
Jamek Mosque

River of Life

Kwai Chai Hong

Petaling Street

Central Market

Sri Mahamariamman Temple
Above is a guide to visit Merdeka Square including how to get there, what to see, etc.
If you have any questions, feel free to comment below. Thanks for reading!
FAQs – Frequently Asked Questions
1. Is Merdeka Square free?
Yes, it is. 
There is no entrance fee to the square.
2. How big is the Merdeka Square?
Merdeka Square is about 1 square kilometer.