DISCLOSURE: My articles may contain affiliate links. To click on those links, you won't be charged any extra cost, instead, you help me to get some small commissions to maintain my blog. Thanks for understanding!
A giant golden Murugan Statue beside an instagrammable colourful staircase – this is the most checked-in spot for tourists coming to Batu Caves. The caves are one of the most famous attractions in Kuala Lumpur which takes only 30 minutes to travel by public transport.
I visited Batu Caves on my second visit to Malaysia. After covid lockdown, there are not many people visiting the caves, thus, it is a perfect time for me to discover the place without rushing.
In this post, I will be sharing a complete guide to Batu Caves including useful information and tips for your trip. Let's get started!
Read more:
27 Interesting places in Ipoh, Malaysia
Kuala Lumpur travel guide. Is it expensive in Kuala Lumpur?
1. About Batu caves
Where are the Batu Caves
Batu caves is a limestone mountain consisting of many caves. The caves are situated in Gombak, Selangor, Malaysia. From the capital Kuala Lumpur, it is 13km away to the north and takes around 30mins travel time by public transport.
Opening hours: Daily, 06:00 – 21:00
Entrance fee
There are several attractions in Batu Caves, among which, the Temple Cave (on top of the colorful steps) is free of charge.
If you want to discover other caves, you need to pay for the entrance fee or a guided tour.
Dark Cave: This cave is not always open to visitors. You can only visit the Dark cave with a guided tour. There are 2 tour options: Educational tour and Adventure tour. The Educational tour costs 35RM/ adult, 25RM/child, and lasts 45mins. The Adventure tour costs 80RM/adult, 55RM/child, and lasts up to 4 hours.
Cave villa: It is nested at the foot of the main cave. The entrance fee is 15RM for foreigners and 7RM for local Malaysian.
Ramayana Cave: The cave is situated to the left of the main cave, near the statue of Hanuman – the Monkey God. The entrance fee is only 5RM.
Brief history
Batu Caves date back 400 million years ago. The earliest human presence in Batu Caves is said to be the indigenous Tamuan people, followed by the Chinese farmers who came here to exploit bat dung to fertilize their crops in the 1860s.
Not until the 1870s, Batu Caves caught public attention after William Hornaday – an American naturalist – discovered the caves thanks to the locals during his elephant hunting party.
Inspired by the mouth of the cave which looks like the spear (vel) of Lord Murugan, K. Thamboosamy Pillay – an Indian trader – decided to build a Hindu temple inside the cave and made it a place of worship in 1888.
Best time to visit Batu Caves
Sure that it's best to avoid rainy days when visiting Batu Caves. In Malaysia, rain can happen at any time of the year, but the months with the most rainfall in October, November, March, and April.
If you cannot bear the heat, avoid the month of March also. It is the hottest month in Malaysia (in fact, the weather here is quite hot all year round).
The best time to visit Batu Caves would probably be from January to February. Those are the coldest months in Malaysia with temperatures at around 25 Celcius degrees during the day.
Read more: 10 Awesome places for a weekend getaway in Selangor
2. Batu Caves – How to get there from Kuala Lumpur?
There is a direct KTM line from KL Sentral Station to Batu Caves. You can use your TnG card or buy single tickets at the ticket counter in front of the KTM entrance. One-way tickets cost 8RM, and tickets for the way back cost 5RM only.
You may also want to download an app called MOVIT, this app allows you to see the exact timing of public transport, as well as helps to find the best way to reach a location by public transport in Malaysia.
See the public transportation map HERE
3. Interesting facts about the Batu caves
Lord Murugan Statue – The 3rd tallest Hindu deity statue in the world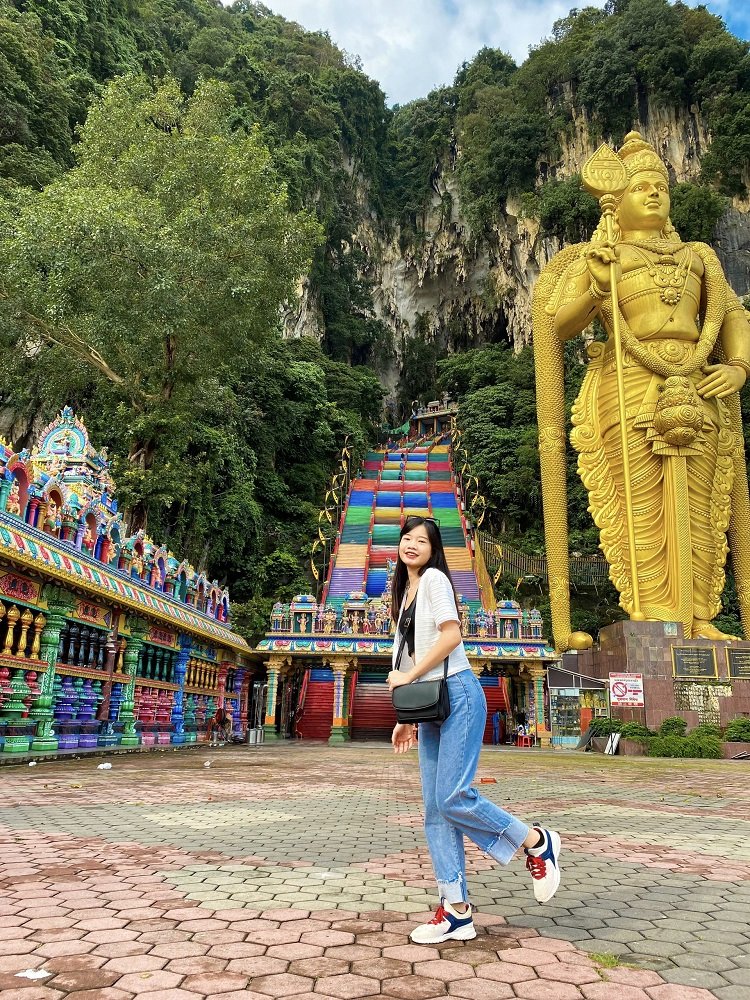 Murugan (also known as Kartikeya) is the Hindu God of War who is worshipped by Tamil communities in South India, Sri Lanka, Malaysia, etc. He is the son of Parvathi and Shiva, whose life's purpose is to eliminate Asuras and protect the Devas and other living beings.
In front of the Temple Cave is a giant golden Murugan statue of 42.7 meters in height which took 3 years to construct. This is the tallest Hindu deity statue in Malaysia and the 3rd tallest in the world.
The colorful Batu Caves steps risk the shrine being de-listed as the National Heritage Site
Originally, the Bate Caves staircase was made of wood. In 1940, the local authority replaced it with a concrete staircase with 272 steps.
In 2018, without approval from National Heritage Department, the temple committee painted the staircase into an Instragrammable color range. Although this staircase helps to attract more tourists visiting the Batu Caves, it may put the Hindu shrine inside the Cave Temple in danger of being de-listed as a National Heritage Site.
Thaipusam Festival attracts thousands of devotees worldwide come to Batu Caves
The Thaipusam Festival is held for more than 3 days in January or February every year. The festival celebrates the event when Parvati handed the spear (Vel) to Lord Murugan to defeat the evil demon Soorapadman, as well as Lord Murugan's birthday.
During Thaipusam Festival, thousands of devotees from India and Sri Lanka flood to Batu Caves to practice the ceremonial acts of devotional sacrifice through dance, food offerings, and bodily self-mortification. The festival starts in the morning (4 am) from Sri Mahamriamman Temple in China Town, then people head to Batu Caves and arrive by noon.
If you love to experience different cultures, plan your trip to Kuala Lumpur during Thaipusam Festival.
Batu Caves founder – K. Thamboosamy Pillay – also built the Sri Mahamariamman Temple in China Town.
K.Thambosamy Pillay was known as the leader of the Tamil community in Malaya in the 19th century and was a wealthy businessman in Kuala Lumpur at that time.
As a Hindu follower, K.Thambosamy Pillay founded 2 temples in Malaysia which are Sri Mahamariamman Temple and a Hindu temple inside Batu Caves in 1873 and 1888, respectively. Both are important Hindu temples among the Tamil community today which hold the Thaipusam festival yearly.
In addition, he was also one of the founders of Victoria Institution – the oldest secondary school in Kuala Lumpur.
You may also like: [Ultimate Guide] Best things to do in Malacca
4. Things to keep in mind
Dress code in Batu Caves
It is recommended to wear clothes that cover your knee as there are some Hindu shrines in the Batu Caves complex. To walk inside the shrines, you must take off your shoes and leave them outside. 
Wearing comfortable shoes when visiting Batu Caves is suggested because you need to climb 272 steps to reach the Temple Cave.
The monkeys in Batu Caves
You are an animal lover? Come to Batu Caves where you can meet hundreds of wild long-tailed macaques. However, they are quite aggressive when stealing things from tourists such as food, water, towel, handbag, etc. anything caught by their eyes. So just be careful with your belongings, hold them tight when you visit Batu Caves.
Read more: A Complete Ipoh travel guide: transportation, interesting places in Ipoh, famous food, cost