DISCLOSURE: My articles may contain affiliate links. To click on those links, you won't be charged any extra cost, instead, you help me to get some small commissions to maintain my blog. Thanks for understanding!
When I first visited in 2021, just a few tourists roamed the streets because of Covid-19. However, as Covid-19 restrictions have eased, more people are now choosing to holiday in Ipoh. Consequently, many new cafes, restaurants, and hotels have opened up. And yes, prices have also gone up.
Initially, I really thought Ipoh was just a small destination. However, after countless times visiting Ipoh, I get to know many beautiful places of interest as well as delicious local food.
This post is everything you need to know about your upcoming Ipoh trip, including best food to try, must-see attractions and a Ipoh ititerary.
Let's get started!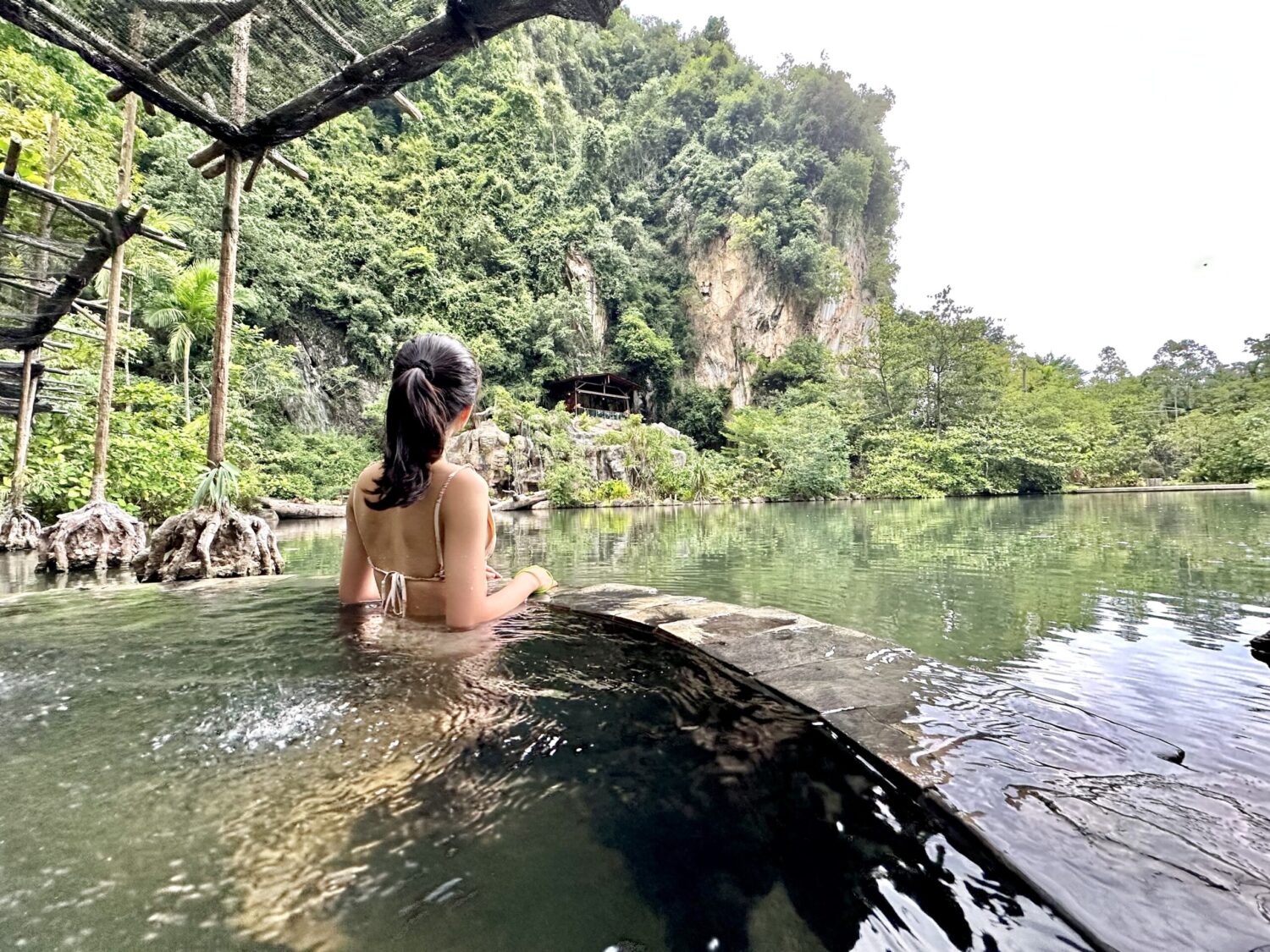 Quick notes for your Ipoh trip
Bring CASH with you because many local restaurants only accept Cash.

Have your Google Translate ready because the majority of the locals in Ipoh do not speak English.

Best Ipoh hotels (less than 34 USD/night): French Hotel,  Hotel Cheqinn
Malaysia travel sim card: Click here (get it at KLIA2)
1. Interesting facts about Ipoh
In Ipoh, there are about 30 temples that are housed inside caves, those places are called "Cave temples". The majority of them are Buddhist temples with a mix of Taoism. So be sure to visit at least one cave temple during your Ipoh trip.

Thanks to the rich tin-bearing valley of the Kinta River, Ipoh was once a prosperous town when the tin mining industry experienced significant growth in the 1920s.

Since 1937, Ipoh has served as the capital of the Perak state. Prior to that, Taiping held the position of the capital.

According to the 2010 statistics, the majority of the population in Ipoh was Chinese, comprising 44.11%, followed by Malays at 38.55%, and Indians at 14.07%.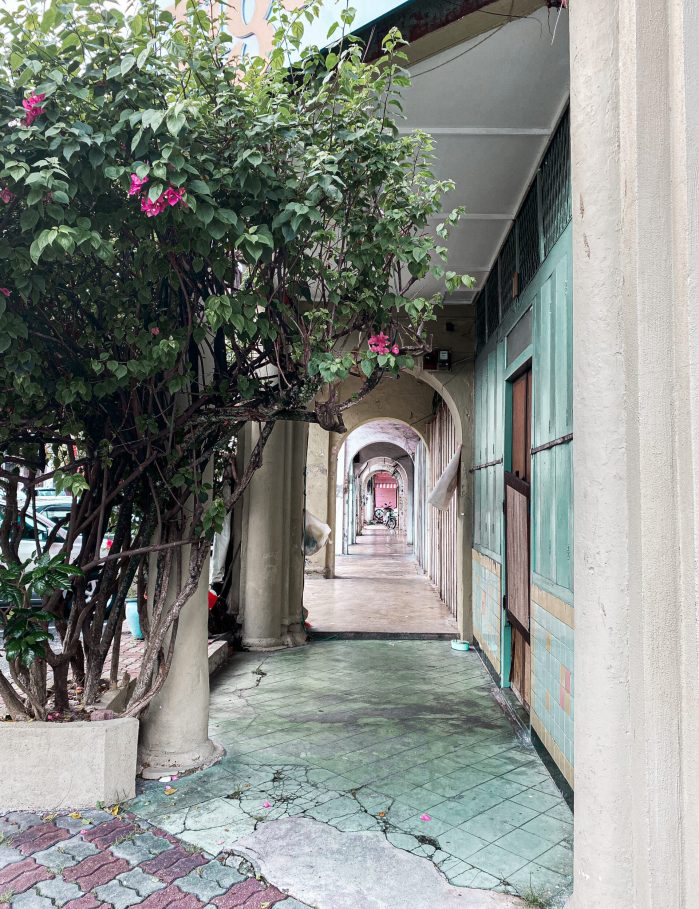 2. How to get to Ipoh?
There are 3 most common ways to get to Ipoh which are by train, by bus, and by car.
By ETS train (or KTM)
This is the fastest means of transport because it doesn't have to contend with traffic, especially on weekends or holidays. With the ETS train, you can travel to Ipoh from places like Penang and Kuala Lumpur.
There are three train options: Silver, Gold, and Platinum. Silver trains take the longest time to reach the destination and are the most economical choice. Meanwhile, the Platinum option is the fastest and the most expensive.
You can buy the ETS train tickets at the train station or online via This link. If you travel to Ipoh during the holiday/ peak season/ weekend, you should book a ticket at least a week in advance.
Travel note:
The trains depart very on time, so be punctual.

KL Sentral Station and Kuala Lumpur Station are 2 different stations in KL. Do not mistake them.
By bus
This is the most affordable way to travel to Ipoh from many destinations in Malaysia such as Kuala Lumpur, Cameron Highlands, Penang, Malacca, and more.
Bus operators such as Transnasional, Konsortium Bas Express, and Sri Maju are recommended. You can buy the bus tickets at the bus terminals or online via This link.
The bus station in Ipoh is Ipoh Aman Jaya Bus Terminal. From Ipoh Aman Jaya Bus Terminal, you can take a grab to Ipoh Old Town (about a 20-minute drive).
By car
Driving a car is the best option because you can explore all the interesting places in Ipoh by yourself, anytime and anywhere.  If you are not local, consider rent a car (no driver) on SOCAR app, it's the best app for car rental in Malaysia.
Besides, you can also rent a car with a driver from this operator (enter code DL6KGF to get RM 20 OFF).
 💡 Read my review of other destinations in Malaysia: 
Kuala Selangor: Get excited with interesting natural phenomena such as Sky Mirrors, Blue Tears, and Fireflies.
Penang: wander around George town, take pictures with lively mural arts, and indulge in the tasty local dishes.
3. How to travel around Ipoh?
Walking: It's totally possible to walk around Ipoh Old Town because most places of interest here are within spitting distance such as Ipoh Mural Lane, Concubine Lane, Han Chin Pet Soo Museum, Ipoh railway station, and more. 
Grab: Grab car is affordable in Malaysia, and Ipoh is no exception. Download the "Grab" app to book a ride at a reasonable price.
Motorbike: You can also rent a motorbike to get around Ipoh. I recommend this shop which is conveniently located in the Ipoh Old Town: TMJ Motorcycle & Car Rental.
4. Where to stay in Ipoh?
There are some areas that you can stay in Ipoh which are Ipoh Old Town, Gunung Rapat and Tambun.
Ipoh Old Town: It is the best area to stay in Ipoh because many historical attractions and restaurants are located here. 
Gunung Rapat: This area is located about 8km away from Ipoh Old Town. If you are a nature lover, this is an ideal area to stay in because it offers several natural places of interest. 
Tambun: Tambun is situated 12km away from Ipoh Old Town. It is famous for the Lost World of Tambun theme park which consists of 10 parks including Water Parks, Amusement Park, Petting Zoo, Adventure Park, Hot Spring Park, Luminious Forest, etc. Thus, if you travel with your family or friends, Tambun is a great place to have fun with many exciting activities. In addition, the area is quite close to the forest where you can enjoy nature as well.
Here are some highly-rated hotels that cost about RM150 or 34USD: French Hotel,  Hotel Cheqinn
From my experience: During my Ipoh trip, I stayed at Mboutique hotel. This is one of the best 3-star hotels located in Ipoh Old Town with authentic design. To me, it's quite good, the room is clean, the staff are friendly. Regarding location, it's possible to walk from Mboutique hotel to most of the Ipoh attractions in Ipoh Old Town, however, if you go out in the evening, using a taxi is safer. Highly recommended!
Here is the hotel's information
Address: No. 2, Hala Datuk 5, 31650 Ipoh, Malaysia

Price: from RM 190/room/night

Link to book: Mboutique Hotel.
5. Top 5 must-visit attractions in Ipoh
Qing Xin Ling Leisure & Cultural Village
This village presents a beautiful lake which is surrounded by Malaysian traditional houses, a beautiful wishing tree, and mountains. Visitors can ride around the village with provided bicycles. Additionally, there is a hill called "Memory Lane" where you can enjoy the refreshing breeze and see the traditional Malaysian shops on display.
 💡 Read my review of Qing Xin Ling: Click here
Concubine Lanes
There are 3 lanes in Ipoh: Wife Lane, Concubine Lane, and Second Concubine Lane. These lanes were presents of Yao Tet Shin – a wealthy mining tycoon – for his  3 wives. The wives oversaw their respective areas and collected rent from the businesses operating within their lanes. Nowadays, the most famous lane is Concubine Lane (today's Lorong Panglima), which is home to numerous souvenir shops and restaurants, attracting many tourists who come to visit.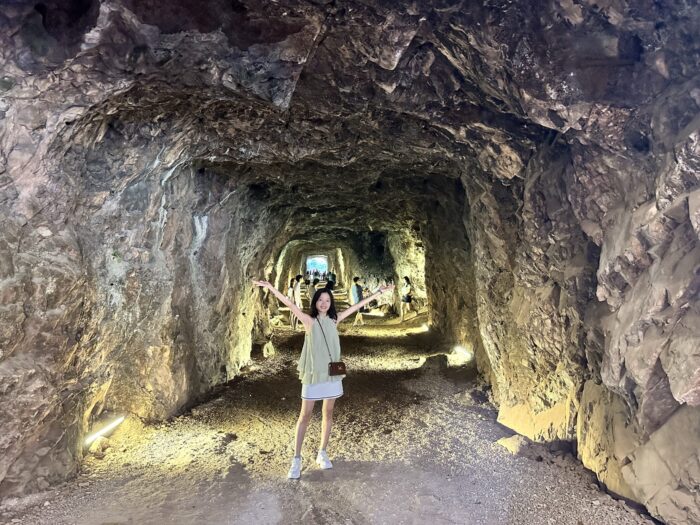 Mirror Lake
This beautiful lake features clear water which perfectly mirrors the limestone karsts in the surrounding. You can take a boat to discover the lake as well.
Furthermore, don't miss the chance to explore the trendy Kin Loong café which is renowned for its exceptional coffee.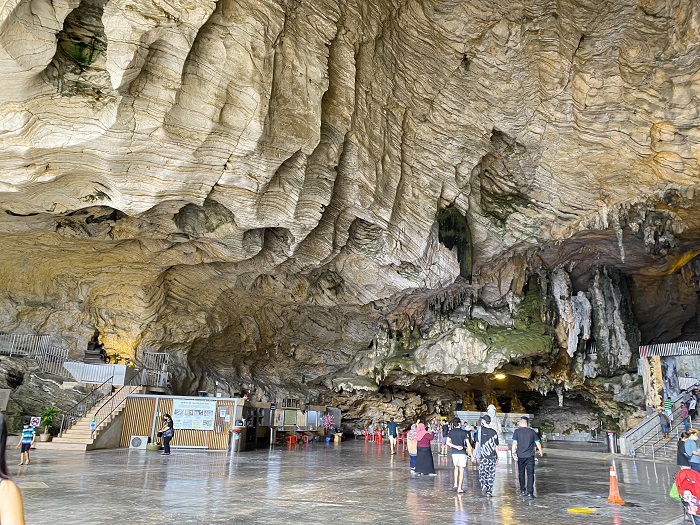 Kek Lok Tong Cave Temple
Kek Lok Tong is one of the most famous Chinese cave temples which was opened to the public in the 1920s. In the 1960s, it was utilized to excavate iron ore. It wasn't until the 1970s, when the demand for iron ore declined, that the cave ceased its mining activities and once again welcomed visitors and devotees.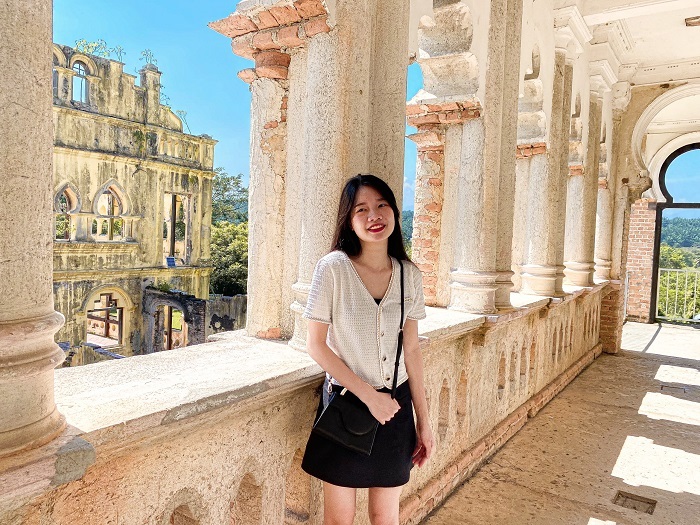 Kellies's Castle
This castle was constructed in the early 1900s by William Kellie Smith, a prosperous Scottish planter. It is a unique architectural marvel that blends Scottish, Moorish, and Tamilvanan influences. Originally, the mansion was intentionally built for his son. However, due to Kellie's death, his wife left Malaysia and left the castle abandoned to this day.
Those are the 5 Insta-worthy attractions in Ipoh that you should pay a visit.
Besides, there are a lot more places to visit in Ipoh, you can find more ideas for your Ipoh trip in this post "30 Interesting places to visit in Ipoh". 
 💡 Other attractions in Ipoh:
6. Must-try food in Ipoh
Food hunting is a must when visiting Ipoh, as this town is a paradise for food connoisseurs. Let's discover the famous dishes of Ipoh!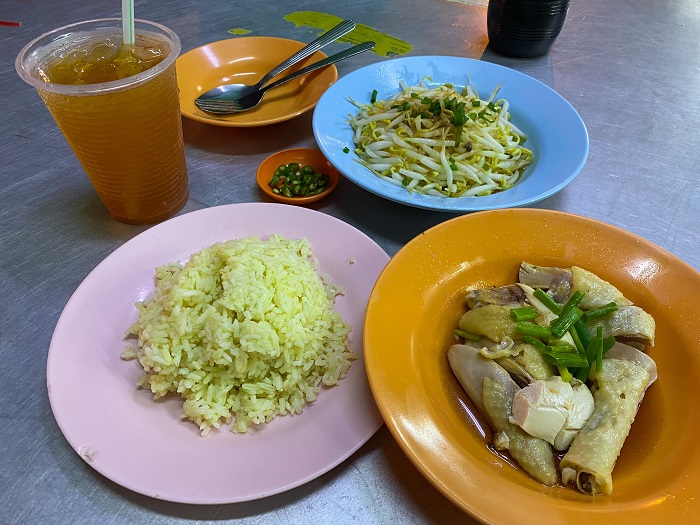 Chicken Bean Sprouts
It looks simple, but trust me, it's worth your try. The tender and juicy chicken is served together with steamed bean sprouts in sesame oil making such a perfect combination of flavor. It is often eaten with rice or noodles.
Price: RM18 – 20/portion
Salted Chicken
The cooking technique for salted chicken is really special. The chefs marinate the chicken with rice wine and Chinese herbs. Then, the chicken is wrapped in paper before being baked in a pot full of salt. As a result, the chicken is juicy and full of herbal flavor.
Price: about 35 RM/chicken
Dim sum
Dim sum is one of the most popular foods in Ipoh among the local Chinese. It is often enjoyed for breakfast or brunch. There are many restaurants serving dim sum in Ipoh, and Hong Xing Dim Sum Restaurant is one of the most famous ones.
White Coffee
In Ipoh, the coffee bean is roasted with palm oil margarine, which makes its flavor special. After that, the coffee is served with condensed milk (maybe that's why it's called White Coffee).
Price: ~RM3/cup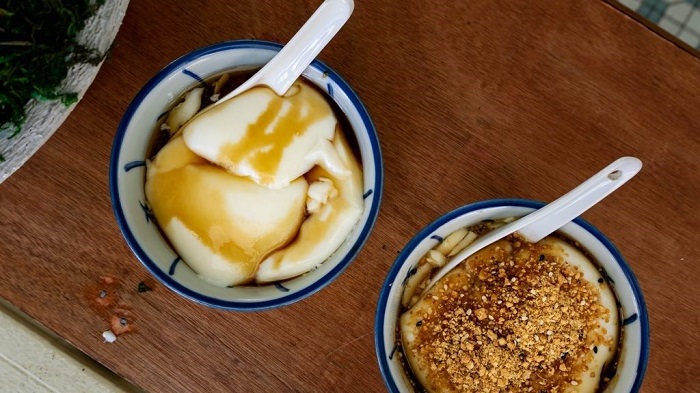 Tau Fu Fa
Tau Fu Fa is a light dessert which is made of bean curd. It is normally served with sugar syrup and maybe some topping such as jelly, red beans, etc. Good food for a scorching day!
Price: about RM 3/cup
 💡 Read my review of other destinations in Malaysia:
Malacca: explore colorful mural arts in the old town and enjoy the Malacca river cruise.
Cameron Highlands: discover the strawberry garden, tea plantation, and Cameron Flora Park – the biggest and most beautiful flower garden in Malaysia.
Kuala Lumpur: Experience the modernity of KLCC with stunning Petronas Towers and unbeatable shopping malls.
7. Ipoh travel itinerary for 4D3N
In this part, I will share the best 4D3N Ipoh travel itinerary based on my travel experience. With this itinerary, you will be able to visit most of the famous places in Ipoh within 4 days.
Day 1:
On the first day, you can wander around the Ipoh Old Town and discover some places of interest in this area. Here is the list of fascinating places in Ipoh Old Town to visit within a day (all of them are within walking distance)
Han Chin Pet Soo Museum

The Birch Memorial Clock Tower

Funtasy House Trick Art

Ipoh Mural Art Lane

Ho Yan Hor Museum

Concubine Lanes

Ipoh night market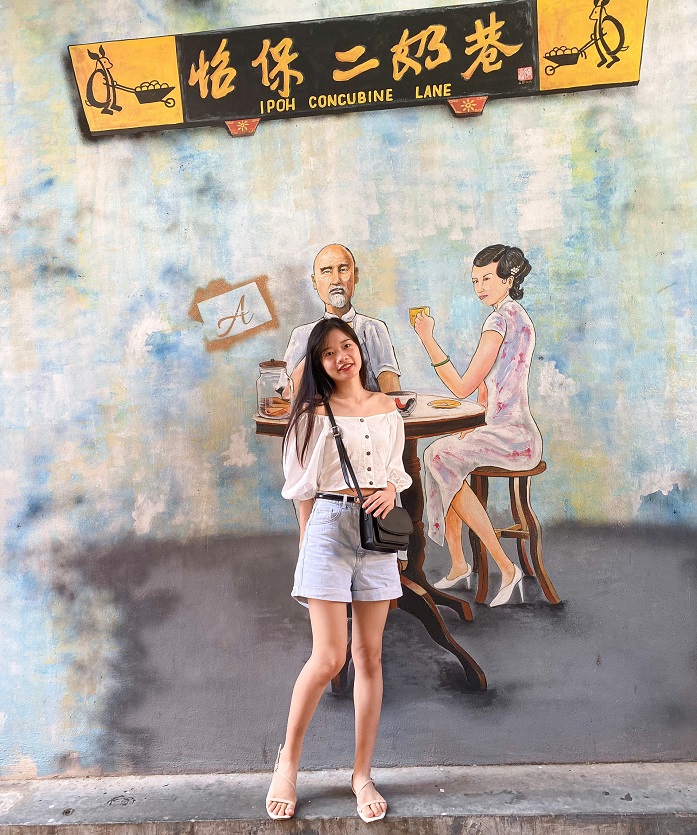 Day 2:
You can visit some Ipoh attractions in the Gunung Rapat area and Kellie's Castle. The main transportation mode is Grab car.
Here is the plan for day 2:
Ling Sen Tong Cave Temple

Sam Poh Tong Cave Temple

Kek Lok Tong Cave Temple

Mirror Lake

Qing Xin Ling Leisure & Cultural Village

Kellie Castle. (from Gunung Rapat, it takes approximately 20 minutes to drive to Kellie Castle)
Day 3:
There is a big theme park in Ipoh called The Lost World of Tambun. You can spend a whole day in this place.
Buy tickets: Click here (enter code DL6KGF to get RM 20 OFF)
Day 4:
On the last day, just take it easy by walking around the Ipoh Old Town, visiting other attractions there, and trying some Ipoh famous food. 
Things to do on day 3:
Visit Ipoh Railway Station

Drop by Ipoh Town Hall

Try Tau Fu Fah at Wong Kee Bean Curd Bercham
Above is my itinerary to travel to Ipoh for 4D3N. 
If you stay in Ipoh for a longer time, you can read my other post "28 Interesting places to visit in Ipoh" to look for other attractions with more detailed information (brief history, entrance fee, opening hours, address, etc).
8. Expenses for an Ipoh trip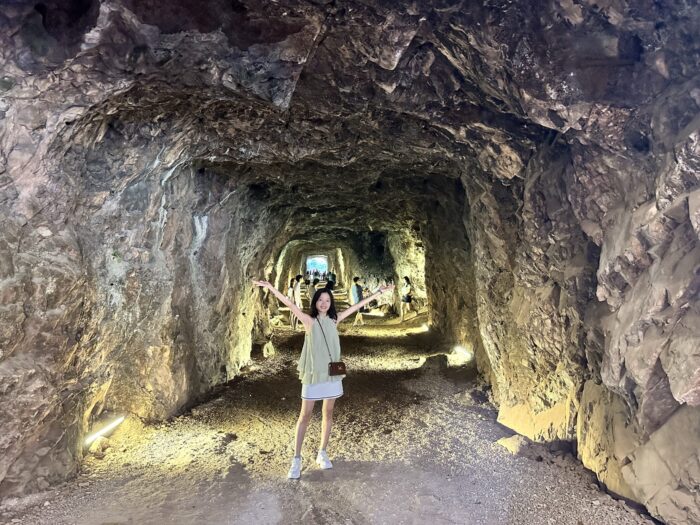 The good news is that the cost of food and attraction tickets are pretty cheap in Ipoh. So the main burden for your Ipoh trip's budget is on accommodation. You can save money by choosing a budget-friendly lodging.
Below is the cost breakdown for your upcoming Ipoh trip:
Accommodations: It would cost from RM60-100 to stay in a hostel or a 2-star hotel. Meanwhile, a double room in a 3-star hotel costs about RM150-190. If you want a 4-star or 5-star hotel, the price starts from RM 250/room/night.
Food: Food in Ipoh is relatively affordable. A portion of food in a famous restaurant is priced at about RM 20. You can even find food that costs only RM10-15 in local places.
Transportation: During my Ipoh trip, I got around on foot and by Grab car. Grab car is pretty cheap in Ipoh as well, the fare for a ride for 5 km is about RM 6-8, depending on the demand at the time you book.
Attraction ticket: Most of the places of interest in Ipoh are either free or cheap. If you visit religious attractions such as Ipoh State Mosque, Kek Lok Tong Cave Temple, and Ling Sen Tong Cave Temple, the entrance is free. Other tourist spots cost RM10 for foreigners on average.
9. General info about Ipoh
Location
Ipoh is the capital city of the state of Perak, Malaysia. Located approximately 200km from Kuala Lumpur and 160km from George Town, it takes up to only 3 hours to drive to Ipoh from both locations.
Weather in Ipoh – The best time to visit Ipoh
The daytime temperature in Ipoh is about 32 Celcius degree on average. The weather is hot most of the time. At night, the temperature can drop to about 20 Celcius degree.
The hottest months in Ipoh fall in January and February. If you cannot bear the heat, avoid it.
From September to November, there is a high chance of rain, thus, check the Ipoh weather forecast before planning your Ipoh trip.
Other than those months, you can travel to Ipoh any time as the weather is almost similar all year round, hot and sunny.
Brief history
Ipoh was the 2nd administrative center of Malaya after KL during British colonial rule. In the 1920s, when the tin mining industry became lucrative, Ipoh's economy grew exponentially thanks to its rich tin-bearing valley of the Kinta River.
In 1937, Ipoh replaced Taiping to be the capital of the state of Perak.
From 1941 to 1945,  Ipoh was captured by the Japanese.
In the 20th century, there was a slump in the Ipoh economy due to a decrease in tin demand. As a result, most of the tin mines in Ipoh were closed.
Nowadays, Ipoh become a popular tourist destination in Malaysia which offers a lot of interesting places in Ipoh to visit as well as a plethora of delicacies.
Above is my complete Ipoh travel guide including transportation from KL to Ipoh, places to visit, where to stay, how much it costs for the trip, etc.
Hope you find it helpful and have an idea of what to do in Ipoh after reading this post. Comment below if you have any questions about Ipoh travel.
PIN IT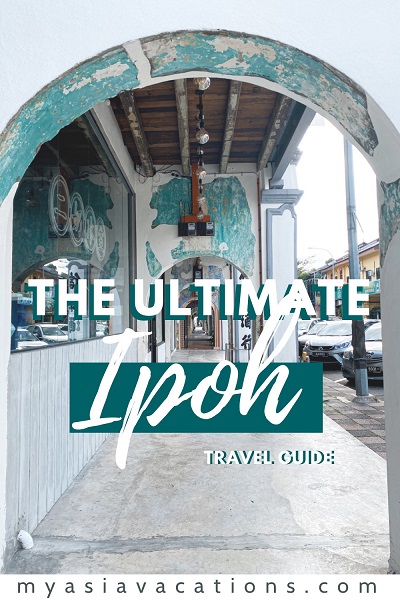 FAQ (Frequently Asked Questions)
1. What are the free things to do in Ipoh?
Ipoh is a great place to travel cheaply as it offers tons of free places to visit. Here are some famous attractions in Ipoh that are free to visit:
Ling Sen Tong

Sam Poh Tong

Ho Yan Hor Museum

Ipoh mural art

Concubine lanes

Kek Lok Tong

Ipoh train station

Ipoh night market
2. How far from Kuala Lumpur to Ipoh?
The distance from Kuala Lumpur to Ipoh is around 108 miles (174km). It takes 2.5-3 hours to travel between these two places.
3. How to get to Penang from Ipoh?
There are 3 ways to travel between Penang and Ipoh:
By bus

By train

Bt private vehicle
4. Is Grab available in Ipoh?
Yes, it is.
However, it might take a little bit longer time to book a Grab car in Ipoh, compared to Kuala Lumpur.
5. What to do in Concubine Lanes Ipoh?
In Concubine Lanes, you can take pictures with the mural art. There are 3 of them in Ipoh:
The Wife Lane (Lorong Hale): This is the least popular one.

The Concubine Lane (Lorong Panglima): This is the most crowded one. There are a lot of cafes restaurants and souvenir stores along the street.

The Second Concubine Lane (Market Lane): It's pretty beautiful now with mural art and red lanterns.
6. Is it safe to travel to Ipoh?
YES and NO
YES is because people in Ipoh are really really friendly. I came to Ipoh without cash, so I went to a random restaurant and seek for people who could give me cash (I transferred money back to their e-wallet). I was really surprised because they not only helped me but also gave me some local food to try. From that moment, I fell in love with Ipoh.
NO is because Ipoh seems not so safe in the evening. I visited Ipoh alone for the first time, to be honest, I felt quite scared when walking alone in the evening (just my feeling) because the street light was not bright enough and not many people went out in the evening. But no worries, nothing happened to me at the end of my Ipoh trip.
UPDATED: After the COVID pandemic, I saw a lot more tourists coming to Ipoh, so it should be fine to walk in the Ipoh Old Town in the evening.
7. How many days is enough for Ipoh?
I would say 4 days 3 nights is ideal for a pleasant Ipoh trip which allows you to discover the most famous and beautiful places in Ipoh.