DISCLOSURE: My articles may contain affiliate links. To click on those links, you won't be charged any extra cost, instead, you help me to get some small commissions to maintain my blog. Thanks for understanding!
I recently returned to Ipoh Old Town (2023) and was surprised by the changes. When I first visited over a year ago, few tourists roamed the streets. However, as Covid-19 restrictions have eased, more people are now choosing to holiday in Ipoh. Consequently, many new cafes, restaurants, and hotels have opened up. And yes, prices have also gone up.
This post will provide everything you need to know before travelling to Ipoh. In detail, I will share about how to travel to Ipoh from KL, what to do in Ipoh, a travel itinerary, how much it costs, etc.
Let's get started!
Read more: Top 11 Instagrammable Cafe in Penang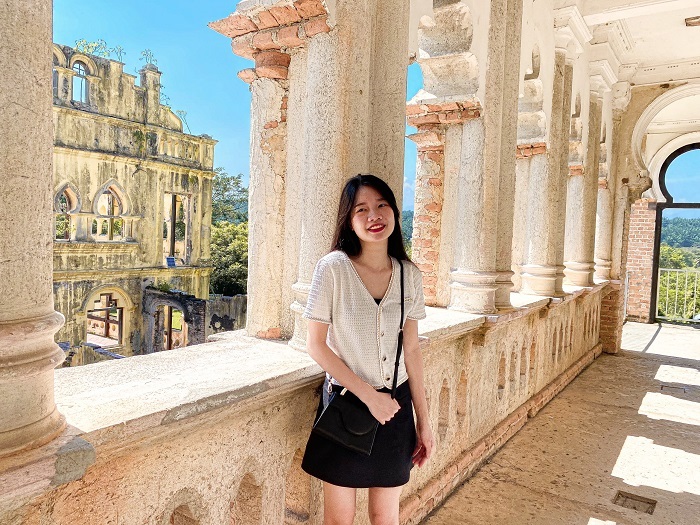 1. About Ipoh
Location
Ipoh is the capital city of the state of Perak, Malaysia. Located approximately 200km from Kuala Lumpur and 160km from George Town, it takes up to only 3 hours to drive to Ipoh from both locations.
Weather in Ipoh – The best time to visit Ipoh
The daytime temperature in Ipoh is about 32 Celcius degree on average. The weather is hot most of the time. At night, the temperature can drop to about 20 Celcius degree.
The hottest months in Ipoh fall in January and February. If you cannot bear the heat, avoid it.
In November and December, there is a high chance of rain, thus, check Ipoh weather forecast before planning your trip to Ipoh
Other than those months, you can travel to Ipoh any time as the weather is almost the same all year round.
Brief history
Ipoh was the 2nd administrative centre of Malaya after KL during the British colonial rule. In the 1920s, when the tin mining industry became lucrative, Ipoh's economy grew exponentially thanks to its rich tin-bearing valley of the Kinta River.
In 1937, Ipoh replaced Taiping to be the capital of the state of Perak.
From 1941 to 1945,  Ipoh was captured by the Japanese.
In the 20th century, there was a slump in the Ipoh economy due to a decrease in tin demand. As a result, most of the tin mines in Ipoh were closed.
Nowadays, Ipoh become a popular tourist destination in Malaysia which offers a lot of interesting places in Ipoh to visit as long as a plethora of delicacies.
2. How to get to Ipoh from Kuala Lumpur?
There are 3 most common ways to transport from Kuala Lumpur to Ipoh which are by train, by bus and by car.
By train
This is the fastest means of transport to go from Kuala Lumpur to Ipoh because it does not have to deal with the traffic, especially during weekends or holidays.
Electric Train Service (ETS) (or KTM) departs from some stations in KL and ends at Ipoh Railway Station.
Price ticket from KL to Ipoh by train
There are 3 different options for you:
Silver Service: it takes a longer time to transport (around 2,5 hours) because it stops at all stations on the way from KL Sentral to Ipoh. The price is around RM25/adult and RM17/child.

Gold Service: this train stops at lesser stations and takes only 2 hours and 20mins. The price is approximately RM35/adult and RM22/child.

Platinum Service: this is the most expensive option which costs RM49/adult and RM27/child. It stops at only 4 stations which are KL Sentral, Kuala Lumpur, Batu Gajah and Ipoh Railway Station. The whole journey takes about 2 hours and 15mins. In addition, Wifi is available onboard.
Travel note:
If you travel to Ipoh during the holiday/ peak season/ weekend, you should book a ticket ASAP because it will sell out quickly.

The trains depart very on time, so be punctual.

KL Sentral Station and Kuala Lumpur Station are 2 different stations in KL. Do not mistake them!
How to book the ETS ticket from KL to Ipoh?
There are 2 ways to book train tickets from KL to Ipoh:
Book directly at the train station

Book online via This link
By bus
This is the most affordable way to travel to Ipoh from KL. Bus tickets cost from RM20 to RM40/adult.
There are buses departing from KL to Ipoh every 30 minutes. Bus operators such as Transnasional, Konsortium Bas Express, Sri Maju, etc are recommended.
Website to book bus tickets from KL to Ipoh: Click here
 Note: The main bus station in KL is TBS (terminal Bersepadu Selatan). And the bus station in Ipoh is and in Ipoh is Ipoh Aman Jaya Bus Terminal. From Ipoh Aman Jaya Bus Terminal, you can take a grab to Ipoh Old Town (about a 20mins drive).
By car
Driving a car is the best option because you can explore all the interesting places in Ipoh by yourself, anytime and anywhere. Driving from KL to Ipoh might take about 3 hours if the traffic is light. You can rent a car via an app called SOCAR, this app allows you to rent a car at a low price. For toll fees and petrol, it would cost around RM200 for 2 ways.
3. How to travel around Ipoh?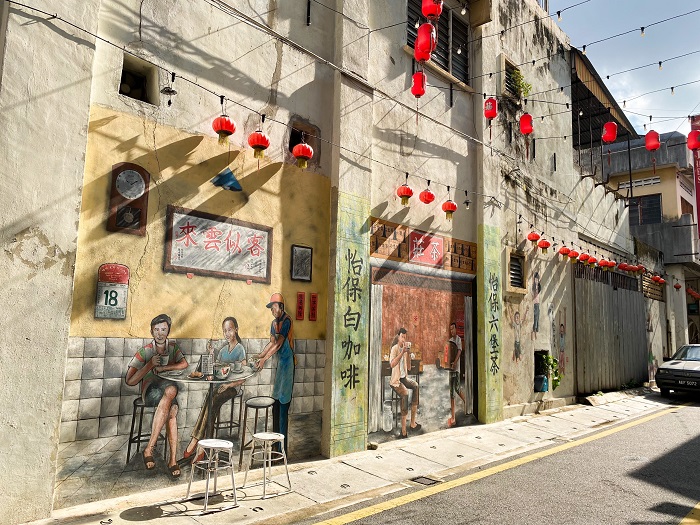 Walking
The places of interest in Ipoh Old Town are pretty close to each other such as Ipoh Mural Lane, Concubine Lane, Han Chin Pet Soo museum, Ipoh railway station, etc. Thus, walking is totally possible, especially under pleasant weather.
Grab/ Taxi
If you travel with a group of 3-4, then carpooling is recommended as it's affordable and convenient. Download the "Grab" app to book a car at a reasonable price.
Hop on Hop off bus
Hop on Hop off bus will take you to most of the famous tourist attractions in Ipoh, even Kellie's Castle. However, this bus only operates during the weekend.
There are 2 circuits:
In-Circuit route: Meru Terminal (Amanjaya) – Ipoh High Court – Little India – Ipoh Old Town – Telekom Malaysia – Brewster Road – Weil Hotel / Ipoh Parade – Gerbang Malam (night market) – Octagon – The Majestic – Panglima Kinta Mosque
Out-circuit route: Meru Terminal – Ipoh Town Hall – Ipoh Old Town – Ipoh Parade – Lost World Of Tambun – Pomelo Orchard Farm – Sam Poh Tong – Gopeng Town – Kellie's Castle – Silveritage Medan Gopeng – Panglima Kinta Mosque.
Ticket price:
Malaysian: RM12/adult for a 1-day pass, RM20/adult for a 2-day pass
Foreigners: RM12/adult for a 1-day pass, RM60/adult for a 2-day pass
Bicycle
You can also get around Ipoh by bicycle. There is a company in Ipoh called CycleDios which offers a bicycle rental service. The fee is from RM5 – RM30 for 30 mins depending on which type of bicycle you want,  a deposit of RM20 is mandatory.
To rent a bicycle, you need to download their app called "CycleDios" and register on the app. Then you can take the bicycle to any station around Ipoh. See the list of all the stations in this link.
4. Where to stay in Ipoh?
There are some areas that you can stay in Ipoh which are Ipoh Old Town, Gunung Rapat and Tambun.
Ipoh Old Town: it is the best area to stay in Ipoh since most of the attractions are located here. In addition, there are a variety of accommodation options around this area from budget-friendly hostels to luxurious hotels.

Gunung Rapat: this area is located about 8km away from Ipoh Old Town. There are several interesting places in Ipoh that you can visit here such as Kek Lok Tong Cave Temple, Ling Sen Tong Cave Temple, Sam Poh Tong, etc. In addition, if you want to save your budget, then Gunung Rapat is a good choice for you. 

Tambun: Tambun is situated 12km away from Ipoh Old Town. It is famous for the Lost World of Tambun theme park which consists of 10 parks including Water Parks, Amusement Park, Petting Zoo, Adventure Park, Hot Spring Park, Luminious Forest, etc. Thus, if you travel with your family or friends, Tambun is a great place to have fun with many exciting activities. In addition, the area is quite close to the forest where you can enjoy nature as well.
Here are some highly-rated hotels that cost about RM150 or 34USD: French Hotel,  Hotel Cheqinn
From my experience: During my trip, I stayed at Mboutique hotel. This is one of the best 3-star hotels located in Ipoh Old Town with authentic design. To me, it's quite ok, the room is clean, the staffs are friendly. Regarding location, it's possible to walk from Mboutique hotel to most of the Ipoh attractions in Ipoh Old Town, however, if you go out in the evening, using a taxi is safer. Highly recommended!
Here is the hotel's information
Address: No. 2, Hala Datuk 5, 31650 Ipoh, Malaysia

Price: from RM 150/room/night

Link to book: Mboutique hotel.
5. Famous foods in Ipoh
Food hunting is the must-do thing when travelling in Ipoh as this town is another food heaven for foodies. Let's discover what are the famous foods in Ipoh!
Chicken Bean Sprouts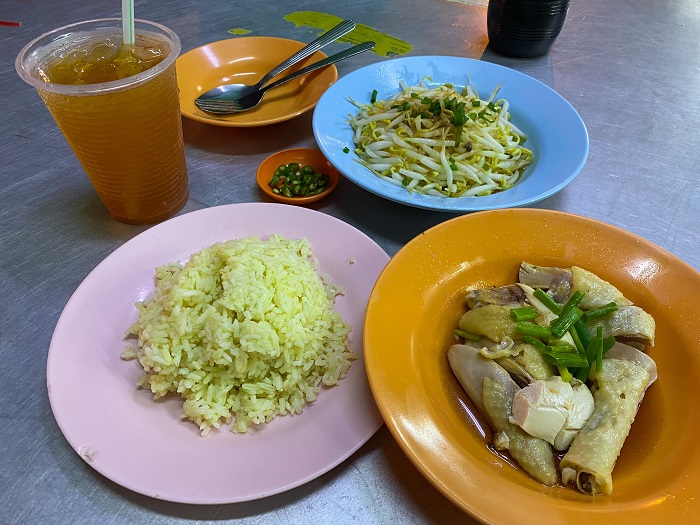 It looks simple, but trust me, it's worth your try. The tender and juicy chicken is served together with steamed bean sprouts in sesame oil. Such a perfect combination.
Here are some best restaurants to try Chicken Bean Spouts in Ipoh: Ong Kee Restoran, Restoran Tauge Ayam Lou Wong
I have tried both Ong Kee and Lou Wong restaurants. Personally, I prefer Ong Kee because the taste is just good enough, not so oily. Meanwhile, Lou Wong's bean sprouts were too oily to me as they add a lot of sesame oil.
Price: RM18/portion
Tau Fu Fa
Feeling dizzy of Ipoh hot weather? A cup of Tau Fu Fa might help you cool your body.
Tau Fu Fa is a light dessert which is made of bean curd. It is normally served with sugar syrup and maybe some topping such as jelly, red beans, etc. Good food for a scorching day!
Here are some best restaurants to try Tau Fu Fa in Ipoh: Woong Kee Bean Curd Bercham Ipoh, Funny Mountain Soya Bean Curd, Concubine Lane Tou Fu Fa
Price: about RM 3/cup
Salted Chicken
Don't worry! It's not as salty as its name.
The cooking technique for salted chicken is really special. The chefs will marinate the whole chicken with rice wine and Chinese herbs. After that, the chicken is wrapped in paper before being baked in a huge pot full of salt.
As a result, the chicken is tender, juicy and full of Chinese herbal flavour.
Here are some best restaurants to buy Salted Chicken in Ipoh: Aun Kheng Lim Salted Chicken, Ayam Garam See Hoeng
Price: about 35 RM/chicken
The most famous one is Aun Kheng Lim. I've bought chicken from there multiple times. Trust me, it's finger-licking good. 
Note: They only sell it as a takeaway.
White Coffee
To be honest, I literally thought that White Coffee mean the coffee beans in white…speechless.
So what makes white coffee famous? It's because of the roasted technique. In Ipoh, the coffee bean is roasted with palm oil margarine, which makes its flavour special. After that, the coffee is served with condensed milk (maybe that's why it's called White Coffee).
Here are some best restaurants to try White Coffee in Ipoh: Kedai Makanan Nam Heong, Kedai Kopi Sin Yoon Loong, Xin Xiang Er Nong
Price: ~RM3/cup
Dim sum
Ipoh is the best place to try this traditional Chinese delish in Malaysia. There are different flavours, but the most common one is the dumplings stuffed with pork, veggie, etc.
You can have it during brunch or tea time.
Here are some best restaurants to try Dim Sum in Ipoh: Green Town Dim Sum Cafe, Restoran Hong Kong Dim Sum BFB, Hong Xin Dim Sum Restaurant
Price: ~RM6/ small portion
6. What to do in Ipoh?
Although Ipoh is not a major tourist attraction in Malaysia, the town has plenty of amazing things to discover. Read my other post: "27 Interesting places to visit in Ipoh" for more details about the attractions such as history, entrance ticket price, opening hours, etc.
Below are some must-visit places in Ipoh:
7. Ipoh travel itinerary for 4D3N
In this part, I will share the best 4D3N Ipoh travel itinerary based on my travel experience. With this itinerary, you will be able to visit most of the famous places in Ipoh within 4 days.
Day 1:
On the first day, you can wander around the Ipoh Old Town and discover some places of interest in this area. Here is the list of fascinating places in Ipoh Old Town to visit within a day (all of them are within walking distance)
Han Chin Pet Soo Museum

The Birch Memorial Clock Tower

Funtasy House Trick Art

Ipoh Mural Art Lane

Ho Yan Hor Museum

Concubine Lanes

Ipoh night market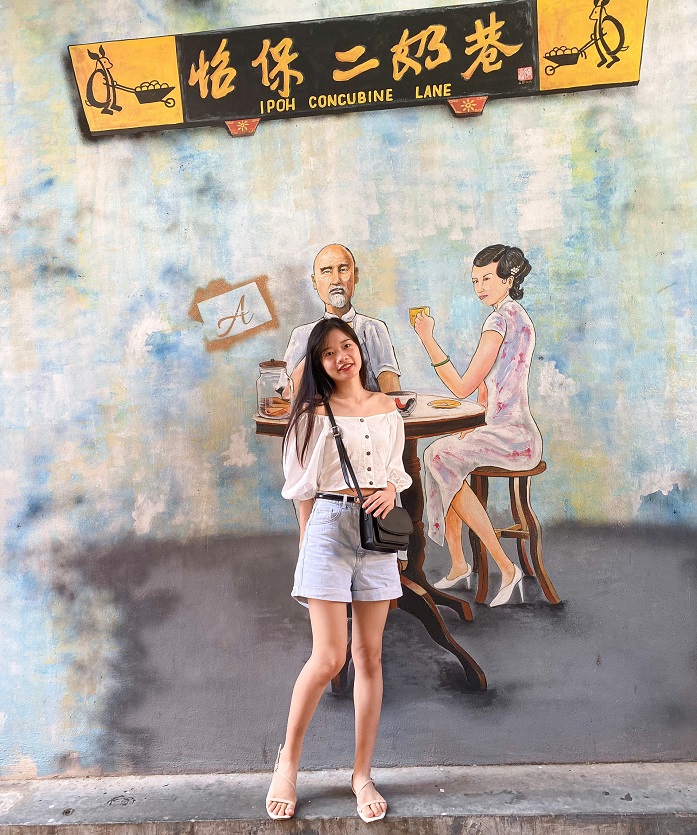 Day 2:
You can visit some Ipoh attractions in the Gunung Rapat area and Kellie's Castle.
Here is the plan for day 2:
Ling Sen Tong Cave Temple

Sam Poh Tong Cave Temple

Kek Lok Tong Cave Temple

Qing Xin Ling Leisure & Cultural Village

Kellie Castle. (from Gunung Rapat, it takes approximately 20 minutes to drive to Kellie Castle)
Day 3:
There is a big theme park in Ipoh called The lost world of Tambun. You can spend a whole day in this place.
Buy tickets: Click here
Day 4
On the last day, just take it easy by walking around the Ipoh Old Town, visiting other attractions there, and trying some Ipoh famous food. 
Things to do on day 3:
Visit Ipoh Railway Station

Drop by Ipoh Town Hall

Try Tau Fu Fah at Wong Kee Bean Curd Bercham
Above is my itinerary to travel to Ipoh for 4D3N. 
If you stay in Ipoh for a longer time, you can read my other post "28 Interesting places to visit in Ipoh" to look for other attractions with more detailed information (brief history, entrance fee, opening hours, address, etc).
8. How many days is enough for Ipoh?
Well, I would say 4 days is just enough to discover the most famous and beautiful places in Ipoh. You can even squeeze some other places in your itinerary for day 1 if you want because Ipoh Old Town is a small area and there are more things to do there.
Read more: 28 Interesting places in Ipoh, Malaysia
9. How much to spend when traveling in Ipoh?
How much to spend in Ipoh depends on how long you travel in Ipoh and your travel budget as well. For 4D3N, the average expense should be around RM600.
You can read below for more details:
3-star hotel: ~ RM150/ double room/ night
A portion of local food: ~ RM20-40
Transportation (grab): ~RM70/ 4 days
Entrance ticket: ~ RM150/ 4 days
Read more: Batu Caves – Murugan Statue: interesting facts, history, how to get there
10. Essentials to pack when traveling in Ipoh
Besides the essentials (such as clothes, passport, cosmetics, etc.), it's necessary to bring CASH with you. In Ipoh, most of the local restaurants do not accept card payments. At least, bring about 200RM for the first day. If you need more cash, ATMs are available (but not many). That's a big lesson I have learned from my Ipoh trip.
11. Is it safe to travel to Ipoh?
YES and NO
YES is because people in Ipoh are really really friendly. I came to Ipoh without cash, so I went to a random restaurant and seek for people who could give me cash (I transferred money back to their e-wallet). I was really surprised because they not only helped me but also gave me some local food to try. From that moment, I fell in love with Ipoh
NO is because Ipoh seems not so safe in the evening. I visited Ipoh alone for the first time, to be honest, I felt quite scared when walking alone in the evening (just my feeling) because the street light was not bright enough and not many people went out in the evening. But no worries, nothing happened to me at the end of my Ipoh trip.
UPDATED: After the covid pandemic, I saw a lot more tourists coming to Ipoh, so I guess it should be fine walking on the street at night.
Above is my complete Ipoh travel guide including transportation from KL to Ipoh, places to visit, where to stay, how much it cost for the trip, etc.
Hope you find it helpful and have an idea of what to do in Ipoh after reading this post. Comment below if you have any questions about Ipoh travel.
PIN IT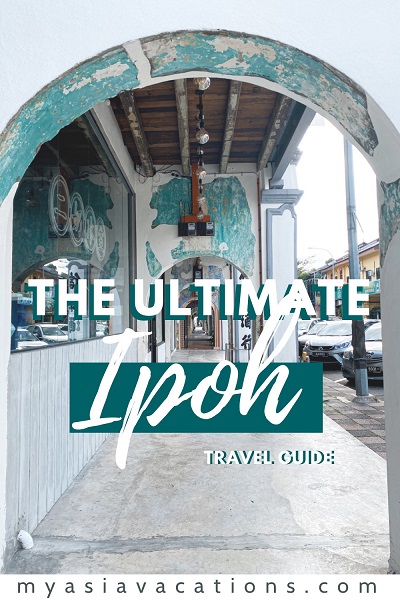 FAQ (Frequently Asked Questions)
1. What are the free things to do in Ipoh?
Ipoh is a great place to travel cheaply as it offers tons of free places to visit. Here are some famous attractions in Ipoh that are free to visit:
Ling Sen Tong

Sam Poh Tong

Ho Yan Hor Museum

Ipoh mural art

Concubine lanes

Kek Lok Tong

Ipoh train station

Ipoh night market
2. How far from Kuala Lumpur to Ipoh?
The distance from Kuala Lumpur to Ipoh is around 108 miles (174km). It takes 2.5-3 hours to travel between these two places.
3. How to get to Penang from Ipoh?
There are 3 ways to travel between Penang and Ipoh:
By bus

By train

Bt private vehicle
4. Is Grab available in Ipoh?
Yes, it is.
However, it might take a little bit longer time to book a Grab car in Ipoh, compared to in Kuala Lumpur.
5. What to do in Concubine Lanes Ipoh?
In Concubine Lanes, you can take pictures with the mural art. There are 3 of them in Ipoh:
The wife lane (Lorong Hale): This is the least popular one.

The Concubine Lane (Lorong Panglima): This is the most crowded one. There are a lot of cafes and restaurants and souvenir stores along the street.

The Second Concubine Lane (Market Lane): It's pretty beautiful now with mural art and red lanterns.