DISCLOSURE: My articles may contain affiliate links. To click on those links, you won't be charged any extra cost, instead, you help me to get some small commissions to maintain my blog. Thanks for understanding!
Koh Larn island, also known as Coral island, is located 7.5 km away from Pattaya beach. The island is well-known for its mesmerizing nature with tropical forest, crystal clear water and white sandy beaches. Especially, there is no (or very little) trash on the island which even makes our vacation more enjoyable. Needless to say, Koh Larn island is definitely an ideal destination for a nature addict.
I and my friends visited Pattaya for 2 days and we spent 1 day discovering Koh Larn island. We booked a full-day tour to Koh Larn Island by speed boat.
In this post, I will review the Koh Larn island day tour from Pattaya including tour price, how to book, tour itinerary, and useful tips.
You may also like: Phu Quoc travel blog: money-saving tips, when to go, how to get there, places to visit
1. How much is Koh Larn island day-tour? And how to book the tour?
There are multiple ways to book Koh Larn island day-tour such as OTA – online travel agent – (Traveloka, Klook, etc), tour agents, or book directly with tour operators. Among those ways, OTA is the cheapest channel. Thus, I booked the tour on Klook with a price of about 56USD (including all water sports activities).
If you haven't downloaded KLOOK, use this link and enter code DL6KGF to get a 5 USD discount from your first booking: CLICK TO DOWNLOAD KLOOK
2. Review Koh Larn Island day-tour
With 56USD, the tour included lunch, 2 ways transfer from/to hotel in the centre of  Pattaya, speedboat, bath towel, and water sports (parasailing, jetski, banana boat, snorkelling, and floating playground). I didn't spend money on anything else during the tour, so there was no extra cost.
Tour itinerary:
8:30 am Pick-up at the hotel (the operator called us 5 minutes before arrival).
Unluckily, on the day I took the tour, it was raining heavily in the morning, thus, my tour was delayed till 9:30 am.
At this point, I must spend some words praising Klook for its exceptional customer service. I texted them to ask whether the tour was cancelled due to the rain. Within only 15 minutes, they replied and confirmed the tour timing to me. I didn't expect such great customer service from a big company like Klook. If you have any queries, just contact their CS via Whatsapp.
9:30 am: Finally, the driver came to pick us up. We sat at the back of Songthaew.
After 15 minutes, we arrived at the beach. The tour guides then separated customers into different groups based on nationality/language. After that, we got on a speed boat and headed to the island.
To be honest, it was the first time I took the speed boat, well, not so fun because I got seasick, but still had enough energy to play the games haha.
The first stop was a floating house that operated the parasailing service. Everyone had a chance to play 1 round (about 5 minutes). However, we had to queue up and wait for quite a long time…I guess about 1 hour…
WC is available in this area but it's not so clean.
There was also a photographer who took picture of you during your ride like this: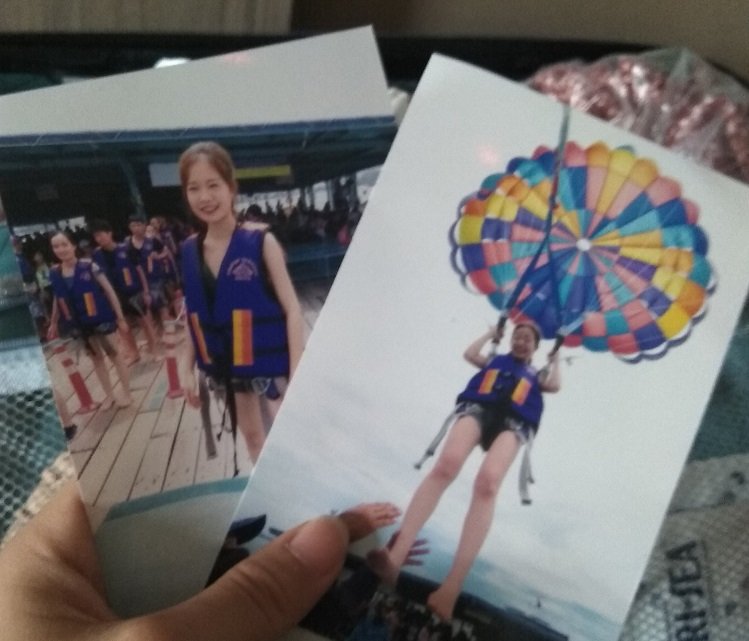 After parasailing, we moved to the beach to have lunch and rest for an hour. There was an appointed area for you to take a rest, don't go to the other area, or you will be charged an extra fee.
And this was our lunch:
Luch was not enough for me, there were some seafood, fruits, rice and local dishes. In addition, the taste was so so (maybe I'm quite picky). Thus, I recommend you bring your food or buy extra food at the restaurant.
The next activity was jetski. I had around 10 minutes driving around with a private guide. At first, he taught me how to drive, then he let me drive by myself.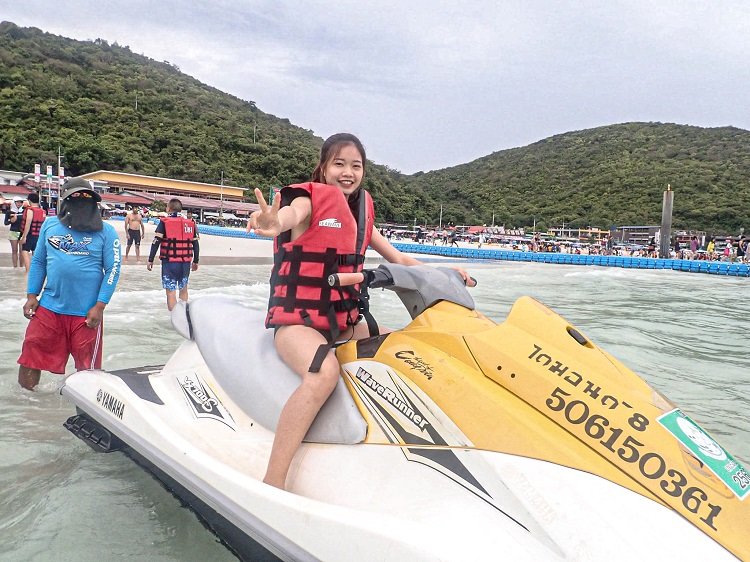 After that, we played banana boat. This game is for a group of 4-6 people. It's super fun if you play with your friends.
The last activity was snorkelling and a floating water playground. In this part, the guide taught us how to use snorkelling gear. Then we freely played in the area for around 30 minutes and headed back to Pattaya beach. 
Then the Songthaew driver dropped us at our hotel, and the tour finished by 5:PM.
3. Things to keep in mind when visiting Koh Larn island
This tour is not recommended for the elderly and kids.

Wear comfortable clothes to play games.

Bring a hat, sunscreen, and sunglasses to protect your skin from harsh sunlight.

After the tour, the operator will print out our picture and put it in a frame FOR SALE. Each picture costs 100 baths. It's a waste of money, don't ever buy because they will send us the google drive link which contains all those pictures.

This is a group tour of 10-20 people. If you prefer a private tour, you can contact a local tour operator to book a private speed boat, the price fluctuates between 1500-3000 baths depending on the size of the speed boat.

If you chose a group tour, I recommend booking it with full activities ( including parasailing, jetski, banana boat, snorkelling, and floating playground).

Tourist scams – this is quite a popular thing in Thailand. You need to be aware every time you book any services, check the price carefully, and confirm 2-3 times. In Pattaya, there was a situation where a tourist dealt price of water sports services, the provider said 100, and he thought it was 100bath and was ok with the rate, but when paying, the provider said it was 100USD, not 100bath…then he could just accept to pay because he already used the service. So be careful when dealing with prices everywhere.
Alright, this is my whole experience with the Koh Larn Island tour. Share your thoughts and experience in Pattaya, especially Koh Larn Island down below. I would love to hear.
You may also like: Kuala Lumpur travel guide. Is it expensive in Kuala Lumpur?
PIN IT!