Hue is an amazing spot for travellers who want to know more about "the old Vietnam". It is Vietnam's ancient capital and the capital of spirituality of today. Until now, although a vast number of relics were destroyed due to the war, there are still many historical buildings left from the past which offer a lot of value in terms of history and culture. Besides its ancient beauty, like other cities in Vietnam, Hue is also developing and has its modern vibe. Thus, when visiting Hue, you will see both the old and the new at the same time.
After my trip to Hue, I have learnt some secret tips to save the budget and I think you should know them before your trip to Hue. What are the money-saving tips when travelling to Hue? I have put together all the budget-saving tips when travelling to Hue in this post.
Let's go!
1. Don't miss free-admission sites
You will be surprised that Hue offers to tourists many free places, yet beautiful and rich in value. 
One thing you should bear in mind is that all pagodas in Vietnam are free to visit. Regarding Hue, the Buddhism capital of Vietnam, Hue has more than 300 pagodas of which there are 100 ancient pagodas. For this reason, visiting some of them is a "cannot-miss" thing once you come to Hue. During my trip to Hue, I visited 2 of them which are Thien Mu Pagoda (the most famous one in Hue) and Thien Lam Pagoda (the one having Myanmar architectural style). In addition, if you have more time you can consider some others such as Tu Dam Pagoda, Bao Quoc Pagoda, etc.
The park is located on the bank of the Huong River (Perfume River), near Truong Tien Bridge and Nguyen Dinh Chieu walking street – all of which are famous tourist attractions in Hue. It was built to commemorate the event of 3rd February 1968 when a fierce battle between Vietnam and the American army occurred in many cities and towns, in which, Hue suffered the most severe consequences, causing thousands of death. Along the park, there are a lot of sculptures expressing people's suffering from the war from which you can somehow understand the city's history. Other than that, this place is a perfect place to rest in the evening or early morning and enjoy the splendid view of the Huong River.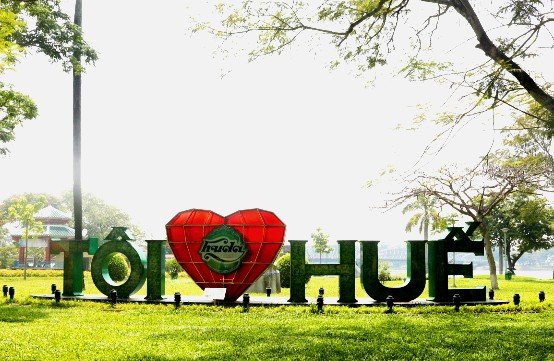 President Ho Chi Minh's Memorial House
Although it's not as famous as other sites such as the imperial citadel or royal tombs, I believe that if you are interested in history, this place is definitely worth your visit. It was the place President Ho Chi Minh stayed during his childhood from 1895 to 1901 when his father had to move to Hue to study and work as a Mandarin under the Nguyen dynasty. Inside, there is an altar worshipping his parents and some antiquities that his family used during that time.
Different from what people would think of Hue – an antique landscape, this city also offers a lot of entertainment, the night walking street is an example. The atmosphere here will bring you from the ancient to the modern, exciting Hue. This street's got a lot to offer, from food stalls/ restaurants, and bars to souvenir stalls. Thus, don't miss it.
Founded more than 100 years ago (since 1896) by the French colonialists, this school is the first and oldest high school in Vietnam. In the beginning, only children from royal and noble families were allowed to study here. Nowadays, this school is for gifted students who have to pass a competitive entrance exam to get admission.
2. Buy combo tickets to several tourist attractions
From 2020, admission fees to all famous sites in Hue increased by about 2 USD each. Thus, we need to make the most of the combo tickets offered. Those tickets provide admission to all the most attractive sites in Hue including the Imperial Citadel, Royal Tombs, An Dinh Palace, etc. and there are 3 different combos that are valid for 2 days, thus, just take your time to visit those attractions.
3. Do not rent a motorbike from your hotel
As I'm working in the tourism industry, I know that it will be more expensive if you rent a motorbike/car from your hotel (maybe more than 150.000vnd/day). Thus, I searched on the Internet and rented it on my own. Last time, I rented motorbikes from Minh & Coco company with the price of 100.000vnd/day (best price in the market), their service is very good, you just need to call them to book and give them your address, they will bring the bike to your hotel. Here is their number: 0914 099 806.
4. Take an airport shuttle bus to your hotel
As a taxi may cost you at least 250.000vnd/way, there is a cheaper way to transport from Phu Bai airport to Hue city centre: shuttle bus. This bus costs only 50.000vnd/person, thus, if you are a solo/ couple traveller, it would save you a big amount. The bus stops right at the front of the airport's entrance door with a frequency of 30-60 minutes/ ride. If you arrive in rush hour, you may want to book the ticket in advance, here is their phone number, you can call them to ask for a slot: (054) 3826826.
5. Do not rent audio guides at the royal tombs
The audio guide is actually not expensive (about 50.000vnd/site), but I think it's not worth it. I rented it when I came to the Minh Mang tomb and I feel that it's not informative enough because it provides just a short presentation about each building (about 1-2 minutes). And that information can be easily found on the Internet with one click.
Above are the 5 useful money-saving tips when travelling to Hue that you can apply. Do you have any other tips? Please share with me and other readers in the comment box. Enjoy your trip to Hue!!
You may also like:
Hue, Vietnam travel blog: places of interest, tourist map, how many days to stay?