Vietnam is known as a food heaven that every traveller is looking for. However, if you are a vegetarian, it might be challenging for you to find a good place for your meals. Luckily, nowadays, more and more vegan restaurants are opened to meet your demand. Uu Dam Chay restaurant is one of the most famous vegan restaurants in Hanoi among both the locals and tourists. For years, it has been receiving a handy of excellent reviews on many websites, especially Tripadvisor.com.
However, is it really good? I will answer this doubt through this honest review about this Hanoi vegan restaurant which includes both good and bad things.
Read more travel tips in Hanoi
---
1. General info of Uu Dam Chay restaurant
Address: 34 Hang Bai street, Hang Bai, Hoan Kiem, Hanoi
Opening hours:
Mon – Thurs: 7:30 – 22:00
Fri – Sun: 7:30 – 22:30
Only serve drinks from 7:30 – 10:00 am
Phone number: 098 134 98 98
My rating: 4.5/5
---
2. Pros of Uu Dam Chay restaurant
This restaurant is a heaven for vegetarians as it serves a wide variety of vegan options, you can choose Vietnamese food with vegan version such as spring roll, Chung cake (a Vietnamese cake served in New Year), sticky rice, tofu, etc., Besides, there are also some Italian, Thai, or Japanese dishes that you can choose.
The food itself is beautifully decorated in an antique, yet fancy style.
Now, when it's come to the taste, I really admire the chef's creativity when he/she can create such myriad options of fabulous vegan food that you can't find in many vegan restaurants in Hanoi. This restaurant really changes my point of view about vegan food which I originally thought were bland, and not tasty.
However, it's not that much outstanding and exceptional, all the dishes are pretty much at the same level of tastiness. Of all the dishes I've tried here, only some of them are really worth ordering the next time. 
Overall, for vegetarians, you don't have many choices and I believe that you will love the food here.
See Menu of Uu Dam Chay Restaurant to get more idea of the dishes served and its price.
I also take some pictures of the dishes that I have tried.
Dishes I strongly recommend: Sticky rice, sweet gruel, spring roll, cabbage with soy sauce, and stirred fried rice with mixed veggie.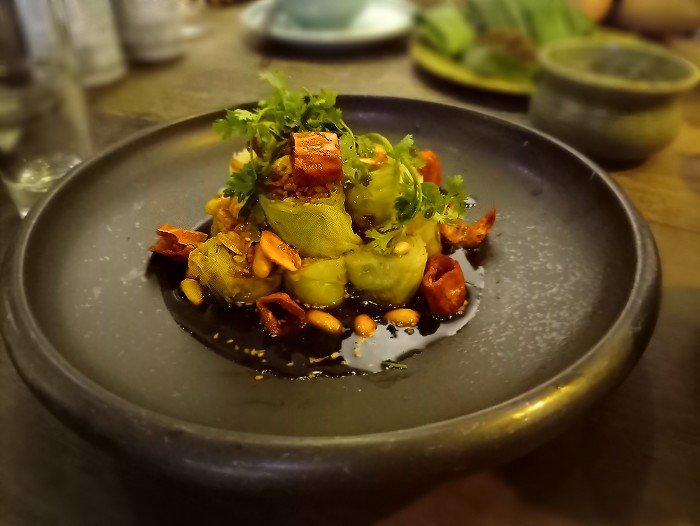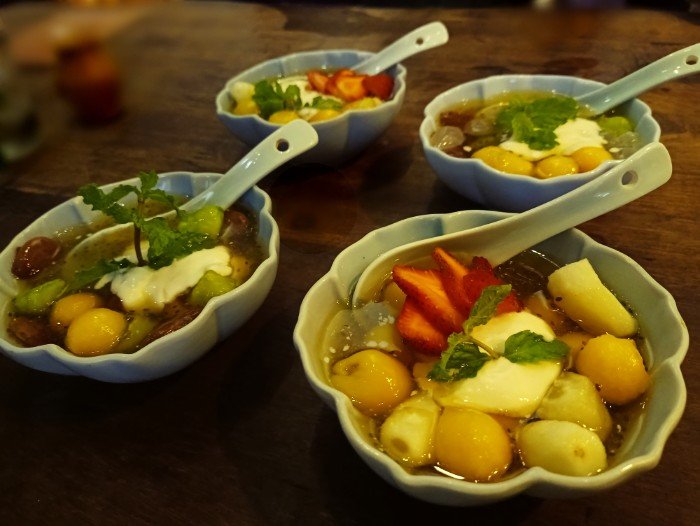 Don't recommend:
This is a banana dish, it's TOO SALTY for me, even it's served to eat with rice, but still too salty!
I expected to have to original coconut water, but sadly, they squeeze some kumquat (which is sour) into the water, making taste so weird.
Other "so so" dish: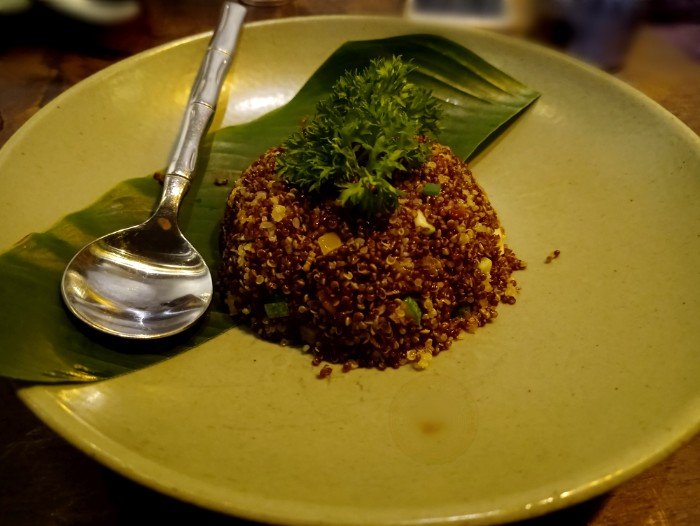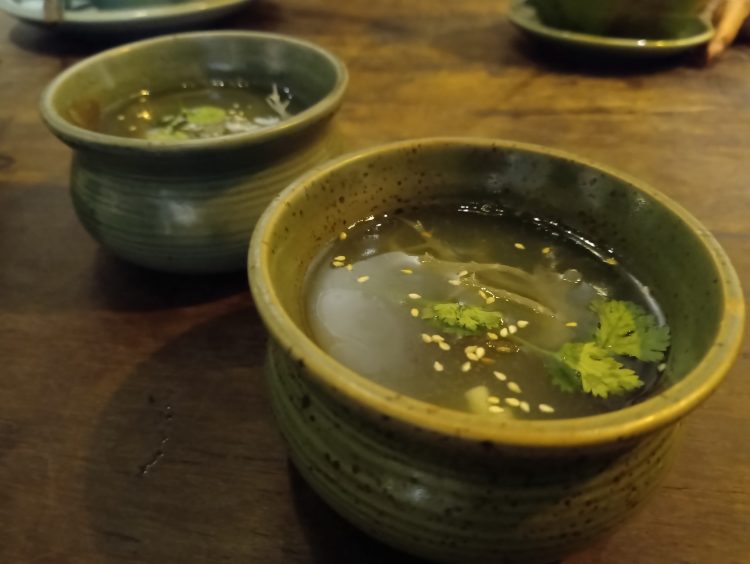 This is a quite classy restaurant (at least, for most of the Vietnamese), so the price is quite "classy" too. It costs around 100,000 – 200,000 VND for a dish. On average, it may cost you around 300,000vnd/person to get a full stomach. I remember the most recent time I went there with family and the bill was over 1,700,000vnd/ 4 person (about 400,000vnd/person).
The reason why I love Uu Dam Chay Restaurant partly is because of its decoration which is a perfect mix between modern and antique style. In addition, it also incorporates Buddhism architecture (and music) which bring peace into the atmosphere.
The restaurant is very spacious with 3 floors. It's just so beautiful from every corner, but I was recommended that the upper floor is more stunning.
Surely that it has such a perfect location which is near Hoan Kiem lake – the most famous tourist attraction as well as the heart of Hanoi. From the lake, you can easily reach Uu Dam Chay Restaurant by foot (30 minutes), or by motorbike/taxi (5 minutes).
---
3. Cons

of Uu Dam Chay restaurant
To be honest, I had been here twice and don't have any negative feelings about this vegan restaurant.
However, I have read some bad reviews about Uu Dam Chay Restaurant on TripAdvisor and will sum up a few points here for you.
– Staffs 
Many people said the staffs are impolite, is it really so? Well, personally, I don't have any problem with them. After reading several guests' comments, I think there might be 2 reasons for it.
First, the staffs are always busy, no matter when you come, the restaurant seems always busy and that's why they could not take extremely good care of you.
Second, they don't speak English very well, therefore, misunderstanding may happen. For this reason, if you have any special order or request, you have to really make sure that they do understand you clearly (whether to use google translate, or speak really slowly).
– Waiting 
As there are a lot of customers here,, sometimes you may have to wait for a while for the food coming. I also had the same experience, but I'm ok with that. 
To fix this problem, some dishes are pre-prepared (since the second time I came here, the dishes are served quicker than before, so I realized that they must have been cooked before that). However, some people may not like that.
Tips tips tips
Make a reservation before you come to assure that you will get a table.
Don't order more than 1 fried dish. The first time I came, I ordered 2 veggie fried dishes and it turns out quite oily and we couldn't finish them. In fact, they were very tasty, just too much oil.
---
4. Would I come back to this restaurant?
100% Yes,
I'm quite satisfied with Uu Dam Chay restaurant and believe that it is the best vegan restaurant in Hanoi. Therefore, I strongly recommend you to reserve a table at this vegan restaurant to try some vegan delish here.