DISCLOSURE: My articles may contain affiliate links. To click on those links, you won't be charged any extra cost, instead, you help me to get some small commissions to maintain my blog. Thanks for understanding!
Noisy, fun, and crowded – those are the adjectives I would use to describe Ta Hien Beer Street in Hanoi's Old Quarter. As I walked towards the street, the music got louder and louder, and more and more people appeared. I knew it was going to be a fun experience.
Ta Hien Beer Street is known as a sleepless corner because it stays open until midnight. It's a place where you can enjoy a lively and hectic atmosphere that nowhere else in Hanoi offers.
In this guide, I'm going to share everything you should know about this vibrant Bia Hoi junction, including its history, things to do and to keep in mind when visiting Ta Hien Beer Street.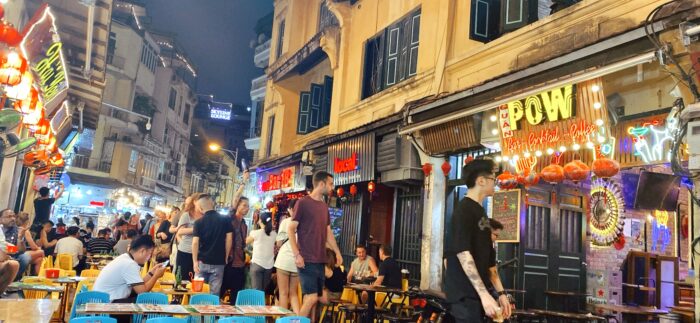 1. About Ta Hien Beer Street in Hanoi Old Quarter
Where is Ta Hien Street?
Ta Hien Street is a 270-meter-long street situated in the heart of Hanoi's Old Quarter, specifically in Hang Buom Ward of the Hoan Kiem District. In addition to Ta Hien, its neighborhood also follows the same model as a beer and bar street. The whole area is very hectic and packed with people. 
Ta Hien Beer Street map
How to go to Ta Hien beer street?
You can go to Ta Hien beer street on foot, by taxi, or by motorbike. However, I highly recommend reaching Ta Hien beer street by walking, as the way to Ta Hien is super busy with lots of vehicles, and it is very difficult to find parking (not to mention, the parking here is more expensive, at 20,000 VND/motorbike, which is double the parking price near Hoan Kiem lake).
Ta Hien's opening hours
From my observations, some restaurants in Ta Hien begin to open at 3 PM. However, the liveliest time on Ta Hien is typically from around 7 PM to 1 AM.
Brief History of Ta Hien beer street
In the 19th century, during the French colonial period, Rue Géraud was the name given to this narrow alley. Despite this, the locals still referred to it as Quang Lac due to the presence of the Quang Lac Theater at No.9 Ta Hien (which is now the 1900 Club Hanoi). This theater was widely renowned at the time and was considered a lively entertainment hub for the upper class in Hanoi.
After 1945, the alley was given a new name, Ta Hien Street, in honor of Ta Quang Hien, leader of the Can Vuong movement in the 19th century.
Today, this neighborhood has become one of the liveliest places in Hanoi's Old Quarter, always packed with both locals and tourists sitting on small stools and enjoying the local beer. This location is well-known for its reputation as the bia hoi junction, the sleepless corner, and the international intersection of Hanoi.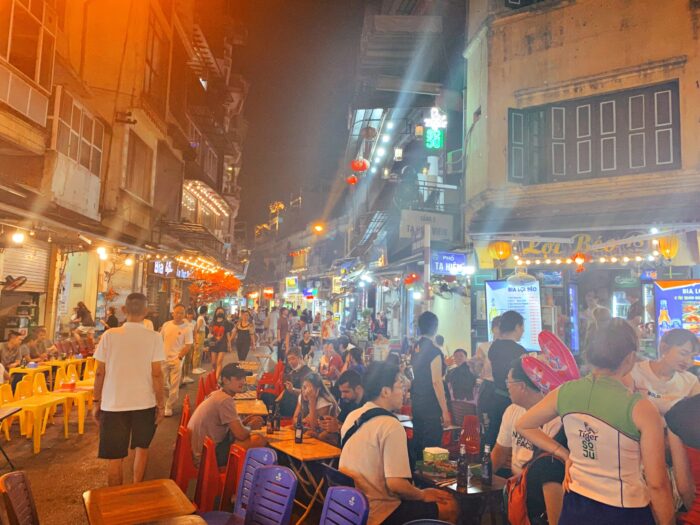 Ta Hien unique features
Distinct architecture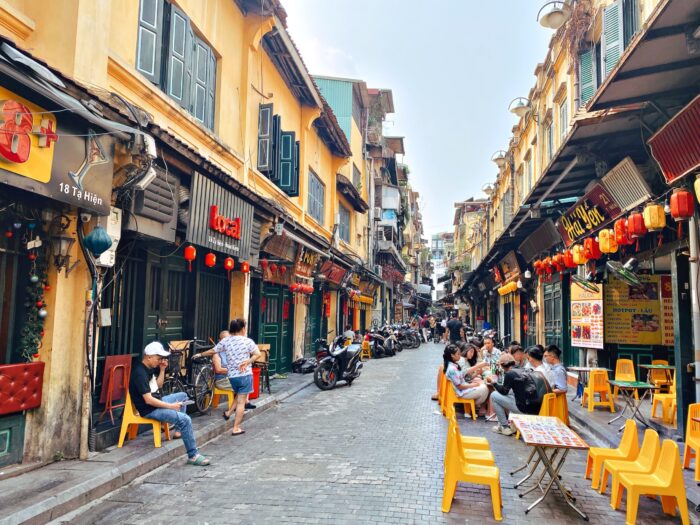 There is a difference in the architectural styles of houses on Ta Hien Street in Hanoi's Old Quarter. 
The houses with odd numbers (you can see the number of each house beside or above its door) have a French architectural style with two floors and a sloping roof. 
The even-numbered houses have the typical Vietnamese architecture with two floors, the lower floor is close to the street, and the upper floor is set back a bit.
A narrow, crowded, and bustling alley at night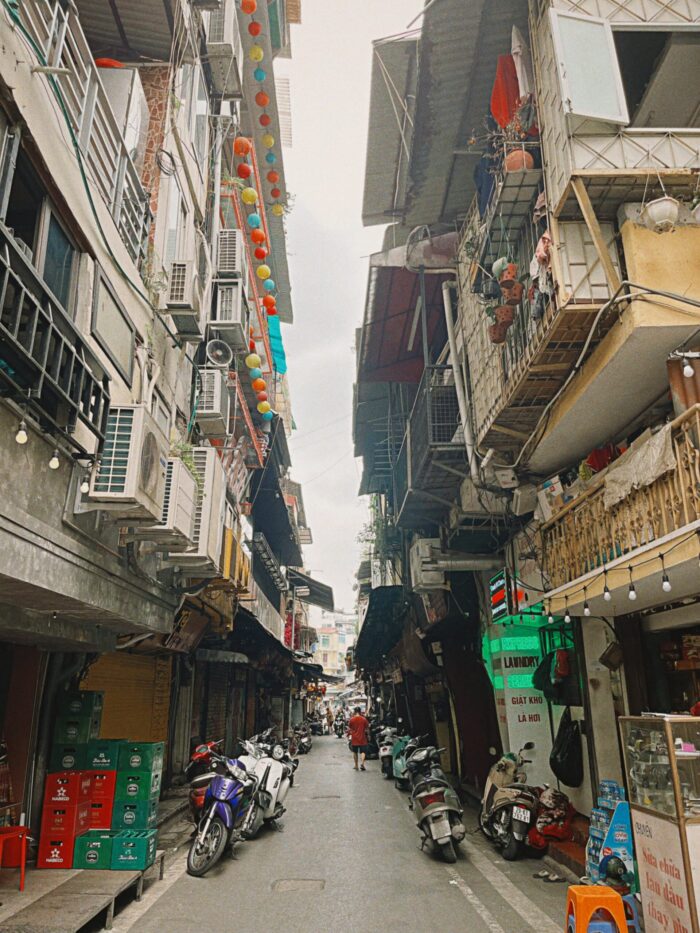 Ta Hien Street at night is the opposite extreme of what it is during the day. Before 5 pm, it is just a typical street like any other in Hanoi's 36 Old Streets, narrow and ancient. However, when the sun goes down, it immediately transforms into a lively and vibrant place with a vast influx of visitors who come here to indulge themselves with fresh craft beer, local food, and music. 
That's why Ta Hien Beer Street has become one of the favorite places among both locals and tourists for nightlife.
Is Ta Hien Beer Street expensive?
Unfortunately…it is.
The prices on Ta Hien Street are marked up quite a lot. For example, if you buy a bottle of Heineken beer for 2X.000 VND in a convenience store, the price in Ta Hien should be at least 3X.000 VND. 
But for tourists, many people consider the beer and food in Ta Hien to be cheap, whereas, for us locals, it's not.
In fact, almost everything in Hanoi's Old Quarter is more expensive than in other areas of Hanoi. The cheapest things that you can find in the Hanoi Old Quarter are probably food from street vendors, as their main customers are locals.
More posts about Hanoi
Review water puppet show at Thang Long Water Puppet Theater in Hanoi
2. Things to do and see on Ta Hien beer street
Enjoy the atmosphere
To be honest, I came to Ta Hien just for its atmosphere. It's fun, exciting, and unique. Here, you'll see a whole lot of people sitting, walking, drinking beer, and eating. And it's amazing to be a part of this. This is a great place to have fun with family and friends or to make new friends.
Delight in the refreshing beer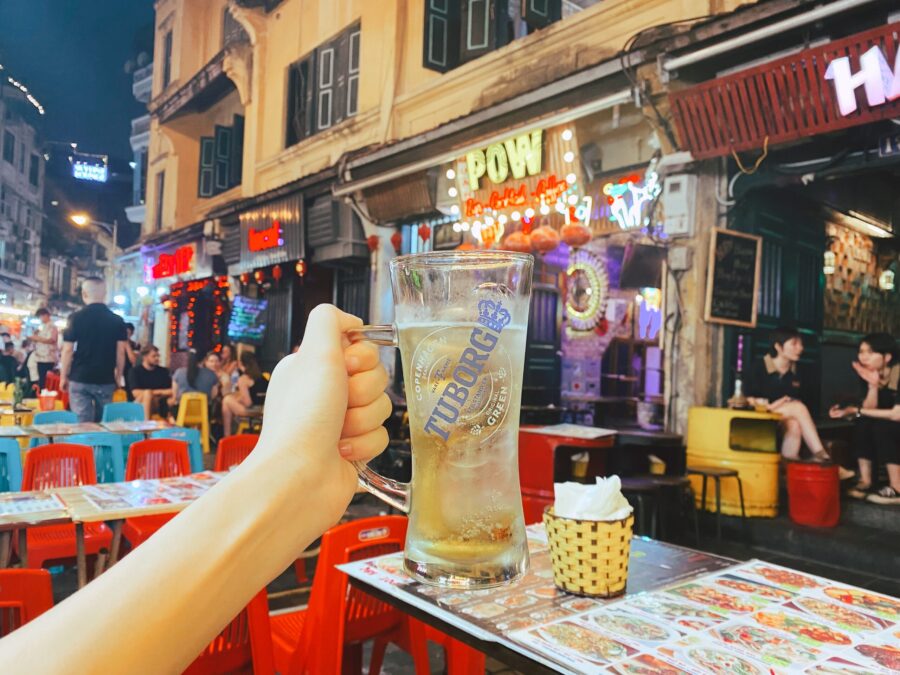 Yes, unquestionably, the first thing that comes to our minds when we talk about Ta Hien Street is beer. Beer is a unique feature of this neighborhood, so much so that it's unofficially known as 'Beer Street' or the "Bia Hoi Junction". 
Here, you can relish fresh beer while sitting on tiny plastic stools. There is a variety of beer available in this alley, including Bia Hoi, Sai Gon beer, Hanoi beer, and more. However, the most common beer in Ta Hien is Bia Hoi, a refreshing and light draft beer that is brewed daily and served fresh. It is also affordable and typically served in a small plastic cup. 
And before visiting Ta Hien, remember to learn how to cheer in Vietnamese: "Một, hai, ba, Dzô" (One, two, three, cheers). You probably will hear this phrase a lot while visiting this bia hoi corner or any restaurant in Vietnam.
Sample some of the local cuisines
Vietnamese people never drink beer without food or a snack. This could be anything from roasted peanuts or sunflower seeds to savory dishes such as roasted squid, roasted quail, or fermented pork sticks. And, of course, you can find all those dishes on Ta Hien Street.
Besides, you can also find food for your dinner here. They offer tons of food such as hot pot, stir fry noodles, pho, banh mi, etc.
Let loose at a club/ bar
Not only can you enjoy beer and food at a restaurant in Ta Hien, but you can also hit up a club or a bar for some fun. Here are some recommendations:
1900 Le Théatre Bar
Address: 8 Ta Hien Street

Opening hours: daily, 8:30 pm to 1 am (open all day on Monday)

Tel: 091 111 19 00
Local Bar
Address: 16 Ta Hien Street (close on Monday)

Opening hours: 6 pm to 2 am

Tel: 098 845 19 08
Blues bar
Address: 2B Ta Hien Street

Opening hours: 24/7

Tel: 097 418 56 81
Northern Soul Rooftop Bar
Address: 31 Ta Hien Street

Opening hours: 5 pm to 2 am (close on Monday)

Facebook: Click here
3. Things to bear in mind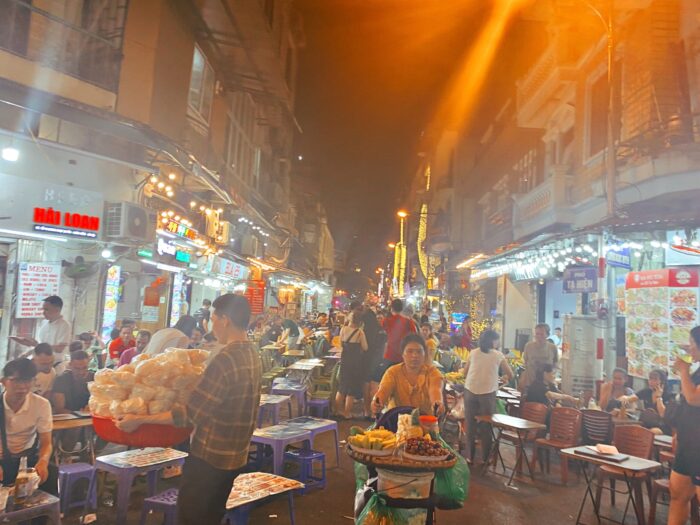 Many people will approach you to sell things such as fruits, phone cases, etc., while you are sitting (and for sure, it's overpriced). I remember having to reject at least five of them (luckily, they were not persistent). If you want to avoid it, you can find a seat inside a restaurant.

If you are looking for accommodation in Hanoi's Old Quarter, avoid the area near Ta Hien beer street. The reason is that this neighborhood is too busy, making it difficult to transport or book a taxi, and it can be very noisy at night.

During the daytime, most of the restaurants will close. From around 3 pm, some of them open and you can find some food here as well. And the street is busiest from around 7 pm when the sun goes down.
More posts about Hanoi
Review water puppet show at Thang Long Water Puppet Theater in Hanoi
6. Other attractions near Ta Hien beer street
There are numerous renowned tourist attractions in the vicinity of Ta Hien Beer Street such as:
Hoan Kiem Lake – an iconic symbol of the capital Hanoi. It is associated with the legend of the Holy Turtle who helped King Le Loi borrow the magical sword to defeat the enemy. 

Ma May Ancient House (87 Ma May Street) – a traditional house of old Hanoians. The house was built in the early 19th century and is one of the 14 ancient houses in Hanoi that still retains almost intact the structure of ancient Hanoi houses.

Bach Ma Temple (76 Hang Buom Street) – the oldest temple in Hanoi. It is part of the four protective temples (alongside Quan Thanh Temple, Kim Lien Temple, and Voi Phuc Temple) that safeguard Thang Long (the former name of Hanoi) against evil spirits.

The Old Quarter Night Market – a bustling and lively market that takes place on weekends on Hang Dao Street.
Above is my guide to Ta Hien Beer Street in Hanoi's Old Quarter. I hope this post is helpful to you. If you have any questions, feel free to comment below. Thanks for reading!
FAQs (Frequently Asked Questions)
1. What is the name of the beer street in Hanoi?
It's Ta Hien. This is a bia hoi corner that attracts hundreds of people every night to enjoy the noisy and fun atmosphere.
2

. What to eat at Beer Street in Hanoi?
There are loads of food options in Ta Hien Beer Street from snacks to main meals such as pho, banh mi, steamboat, dried squid, fries, sausage, etc. 
3. What is the cheapest beer in Vietnam?
The cheapest beer in Vietnam is Bia Hoi – a freshly brewed local beer that costs only around 10.000 VND/ cup.
4.

How much is a beer on Beer Street Hanoi?
It depends on which kind of beer you want. For the local Bia Hoi, it's around 10.000 VND/cup. For branded beer, it's about 35.000 VND/bottle.
5.

How to get to Beer Street in Hanoi?
You can get to Ta Hien Beer Street by foot, taxi, motorbike taxi, or your own motorbike. I would not recommend you to drive to the beer street because the parking is pretty far (and hard to find), the parking fee is expensive here and the traffic is very bad here in the evening.