DISCLOSURE: My articles may contain affiliate links. To click on those links, you won't be charged any extra cost, instead, you help me to get some small commissions to maintain my blog. Thanks for understanding!
Update as of Nov 2023: The train street is open to visitors for the entire week.
I lived in Hanoi for six years and worked in the Old Quarter for two years, and my favorite experience here was enjoying a drink on Hanoi Train Street while waiting for the train to come. It was a truly unique and thrilling experience.
During my third visit, I was lucky to have had the chance to talk with Mr. Dong, the owner of Railway Cafe. He has been living on the Hanoi Train Street since childhood, and I was able to gather a lot of useful information from him, particularly regarding the interesting history of the area and the Hanoi Train Street timetable.
In this blog post, I will provide you with all the essential information you need to know about visiting Hanoi train street, such as its history, its photos, how to get there, Hanoi train street timetable, and updated news about its opening.
Read more: A thorough guide to Ta Hien Beer Street in Hanoi's Old Quarter
1. Hanoi train street timetable 2023 (for Part 1 and Part 2)
Below is the Hanoi train street timetable for 2023. You can take a screenshot for your reference.
MON – FRI: 21:05, 21:40, 22:00
SUN – SAT: 7:45, 8:50, 9:20, 11:30, 15:20, 16:20, 17:30, 18:15
Note:
This Hanoi train street timetable is not really accurate. In reality, the train might come on time or late. On my most recent visit to the train street, the train was supposed to pass by at 11:30 AM, but I had to wait till 12PM.

For the Hanoi Train Street timetable in Part 3, there are more trains passing through every day. To check the timetable, you can go to dsvn.vn, type from "Hanoi" to "Nam Dinh" and choose the date. There, you will find the timetable for all trains on that day. During the summer, which is the high season for local tourists, the train frequency is higher.
2. Why is Hanoi Train Street so famous?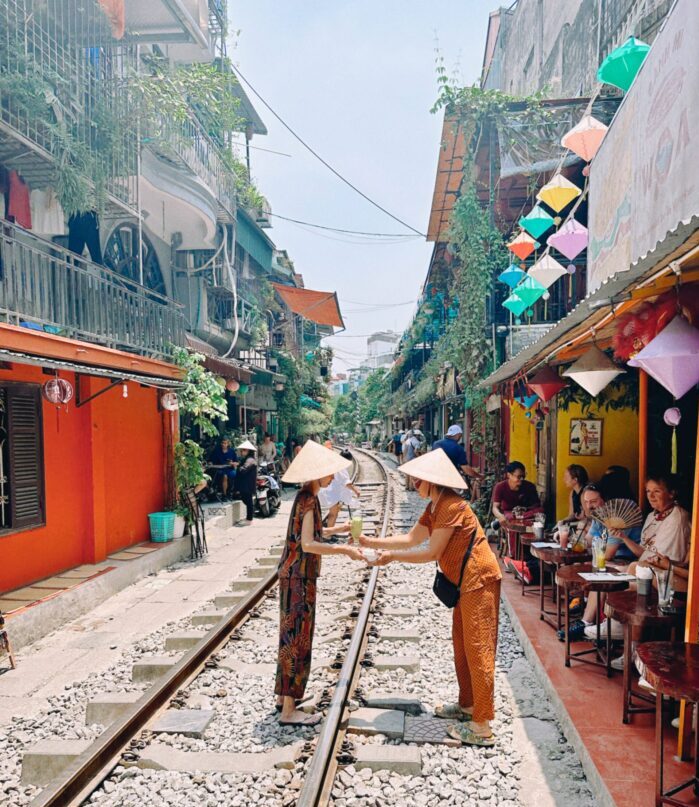 Hanoi's Train Street is undoubtedly one of the most unique and exciting attractions in the city. Why? Because this is where you can see a railway running alongside a narrow road hemmed in by local houses that are only a meter away from the tracks. 
Imagine you are drinking a cup of coffee while sitting in a small chair next to a railway. As you savor the coffee, suddenly someone shouts, 'The train is coming, get inside immediately!' and you have to move inside the cafe. That's exactly what I saw when visiting Hanoi Train Street for the first time.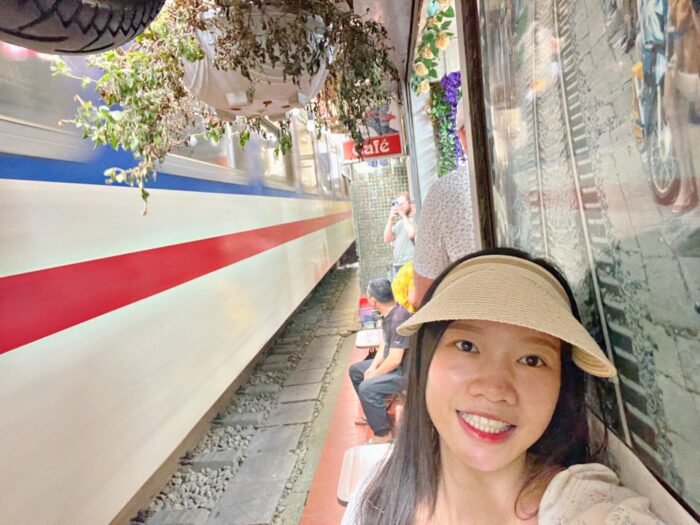 As I write this post, I have visited Hanoi Train Street 3 times. During my third visit on a Sunday morning, I witnessed three trains passing by. It was even more thrilling because I was seated right in front of the cafe's door. My feeling?…Well, I was a little scared and didn't dare to move.
3. Where is Hanoi Train Street?
The Hanoi Train Street is a section of the rail line that connects Hanoi Station with other provinces. Currently, it is still in use, but in the future (by 2050), there might not be any trains running here anymore as Hanoi Railway Station will be relocated to another location.
There is no official entrance to Hanoi Train Street, but there are multiple entry points to access it. Below are the three most common parts of Hanoi Train Street and the corresponding entry points:
Part 1: This is the most famous section of Hanoi Train Street, and tourists usually come here to take pictures because there are many café shops that make the area colorful. Below are the 2 entry points for Part 1:
163 Phung Hung Street (there are about 3 staircases to go to Hanoi train street in Phung Hung Street, you can just choose any of them)

3 Tran Phu Street
Part 2: This section is less common, and there are not many café shops open on this street yet. Below is the 2 entry points for Part 2:
3 Tran Phu Street

3 Dien Bien Phu Street
(The pictures in this post were taken in this part of the Hanoi train street).
Part 3: This part is quite far from Part 1 and Part 2, and the railway line crossing this street leads to the southern part of Vietnam, not the north like Parts 1 and 2. It is far less popular than the other two parts, but it's a good place to go if you want to avoid tourists and experience local life. Currently, there are also some café shops open in this part. Below is the 2 entry points for Part 3: 
222 Le Duan Street

2A Kham Thien Street
Note: entrance to the train street is totally free.
Hanoi train street map
Below is a map in which I've highlighted different parts of Hanoi train street, specifically, part 1 in red, part 2 in yellow, and part 3 in purple. You can click on each point to view the corresponding entry point's address.
4. Is the Hanoi Train Street currently open or closed?
As of  April 2023, Hanoi Train Street is closed. There will be an official update from the government coming soon in May 2023. And I'll update it here.
UPDATE: The train street is open as of Nov 2023.
 

 

Xem bài viết này trên Instagram

 
More posts about Hanoi
5. Best cafes on the Hanoi train street 
Below are some highly-rated cafes that you can visit on the Hanoi train street.
Cafe ga đông dương
Address: 116/ 5a Tran Phu street, Cua Dong ward, Hoan Kiem district
Opening hours: daily, 8 AM – 11:30 PM
Railway Cafe
Address: 112/ 5 Tran Phu street, Cua Dong Ward, Hoan Kiem district
Opening hours: 7:30AM – 12AM
Cafe A99
Address: 29A P. Nguyen Thai Hoc Street, Cua Nam Ward, Ba Dinh District  
Opening hours: 8 AM – 10 PM
Nam Vy Coffee – Hanoi Train Street 2
Address: 222 Alley, Le Duan St, Kham Thien, Dong Da, Hanoi 
Opening hours: 2:30 AM – 8:30 PM
6. Hanoi train street history 
I spent nearly three hours speaking with Mr. Dong and was thrilled to have gathered a lot of information about the history of Hanoi Train Street. 
The railway station, previously known as Hang Co Railway Station before 1976, was built by the French from 1901 to 1902. In 1954, ownership of the station was transferred to the League for the Independence of Vietnam.
During the period 1960 to 1975, many employees of the Vietnam Railways Corporation were given land along the railway track, including Mr. Dong's mother. This is how Hanoi Train Street was established. 
Mr.Dong himself has also lived here for years. He depicted the local life on this street as poor. No one wanted to live here as it was very dirty, full of trash, and overgrown with wild grass.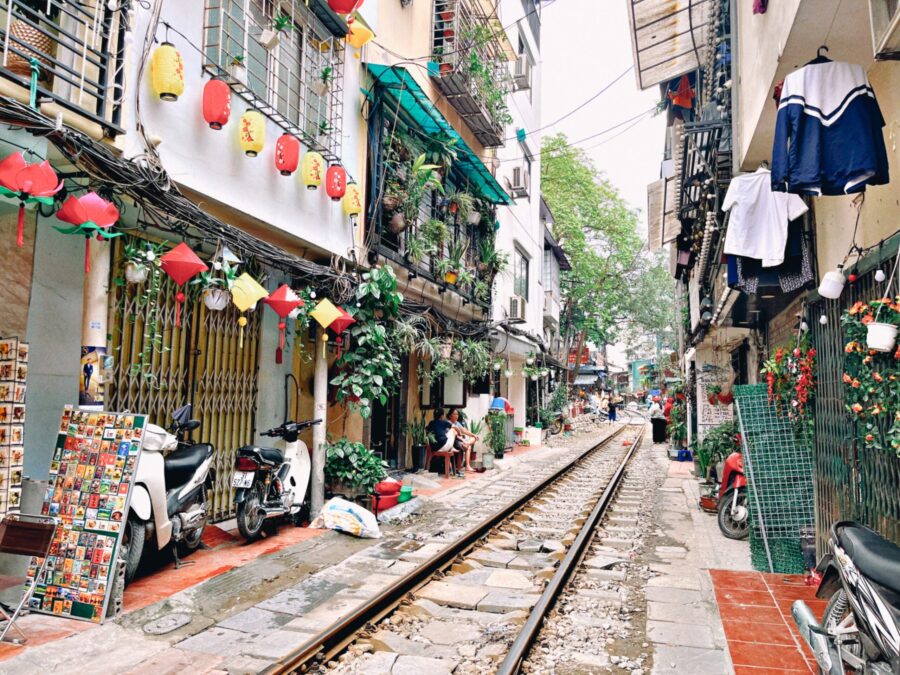 When the Railway Law was issued in 2005, all the houses located in this area were identified to be within the safety corridor of the railway, which meant that the people living there suddenly become illegal residents.
Since 2005 until now, no functional agency has come forward to free up the land or relocate residents from the railway safety corridor, causing the locals' lives and daily activities to face numerous difficulties and hardships.
In 2017, the first cafe shop on Hanoi Train Street was opened by a local woman. Since then, more and more cafes have been opened and the street has gradually transformed into today's appearance – lively, colorful, but still rustic.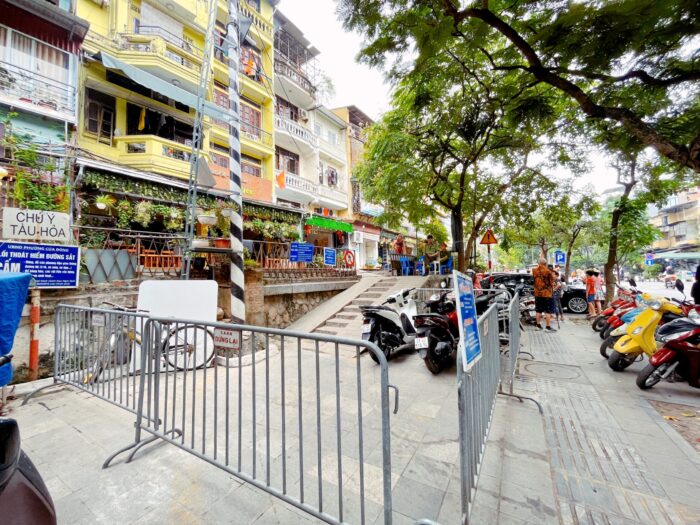 In 2019, the local authorities decided to block the street for safety reasons (I saw police officers standing there every day just to monitor the street).
Since then, the street was reopened in January 2023 and closed again in April 2023. For now, there are no official updates about when it will open or if will it be closed permanently (I will try to update ASAP).
Update as of May 2023: The train street is open to visitors for the entire week.
Read more: A thorough guide to Ta Hien Beer street in Hanoi's Old Quarter
7. The local life on Hanoi train street
Most of the houses on Hanoi Train Street are small (as small as 8 square meters), including Mr. Dong's house. He said that if the government approves the opening of Hanoi train street, he will reconstruct his house into 2-3 floors to have more living space and to accommodate more customers.
As the houses are narrow, locals often do their household chores in front of their doors, such as burning stoves, washing dishes, washing clothes, etc. 
To foreigners, this might seem quite strange, but to be honest, it's a common practice in Vietnam, especially in small provinces where there are many landed houses.
If you want to see more of the local life on Hanoi train street, it's better to go to the less popular part (part 2 and 3).
8. Is it safe to visit the Hanoi train street?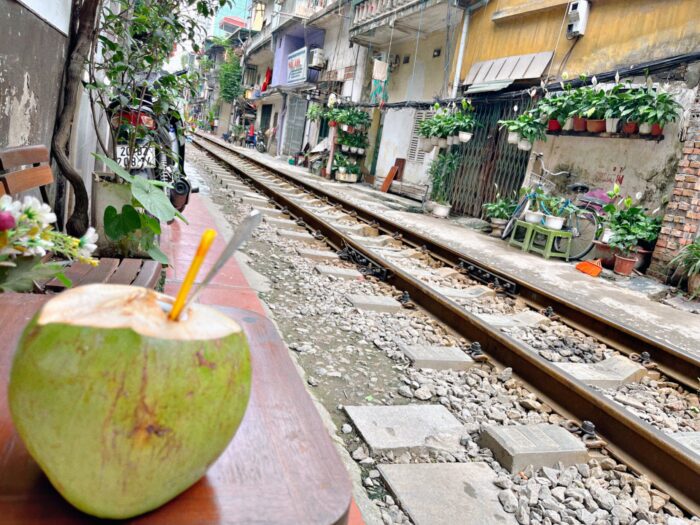 Yes, it is.
To ensure the safety of all visitors, business owners on both sides of the railway typically proactively notify individuals 10-15 minutes before the train arrives and ask them to stay behind the safety line (marked with yellow color). 
In addition, 10 minutes before the train comes, there will be a bell ringing to notify everyone.
Besides, according to regulations, trains from Hanoi station to Long Bien station are only allowed to run at a maximum speed of 15 km/h, which is much slower than other sections of the rail line.
Therefore, it's totally safe to visit the Hanoi train street, just don't do crazy things such as touching the train when it's passing by.
Read more: Review Water Puppet Show at Thang Long Theatre – Hanoi (photos + video)
9. Tips when visiting the Hanoi train street
To ensure your safety, please stand behind the orange safety line or stay inside the cafe. In my experience, it can be quite scary when a train passes by, even at slow speeds. Therefore, choose a good place to stand or sit for your safety.

Don't stand in front of other people's shops for too long if you don't want to buy anything. It can be quite annoying for the shop owners when a lot of tourists come and stand in front of their shops, thereby disturbing their business.

There is a small food street called Tong Duy Tan Street located next to the train street, which offers tons of delicious food. I tried the crab noodles (Bun Rieu Cua), spring rolls, and snails here, and all of them were amazing. 
👉 Want to book a Hanoi airport transfer or a Hanoi city private car? Contact me via Whatsapp +60 149.776.712 (Mai) or my Instagram for the best price 💸.
10. Attractions near the Hanoi train street
As it is located in the heart of the Hanoi Old Quarter, there are many places of interest near Hanoi train street. Here is the list of attractions that you can visit within the same day with Hanoi train street:
Thang Long citadel

Hanoi Flag tower

Vietnam National Fine Arts Museum

Temple Of Literature

​​Hoa Lo Prison Relic
Above is all the information you need to know about Hanoi Train Street including its history, how to get there, Hanoi Train Street timetable, etc. If you have any questions, feel free to comment below. Thanks for reading!
More posts about Hanoi
Frequently Asked Questions (FAQs)
1. Are there any accidents on Hanoi train street?
As of 2023, there was no accident recorded in the Hanoi train street
2. Should I visit Hanoi Train Street in the daytime or at night?
It depends on what you wanna see.
If you want to see the train passing by the street, follow the Hanoi train street timetable above.
If you just want to see the local life, you can visit it anytime you want.
3. Is the Hanoi train street timetable accurate?
No, it's not.
It's only for reference because sometimes the trains come late. But it's advisable to follow the timetable above and patiently wait for the train.