DISCLOSURE: My articles may contain affiliate links. To click on those links, you won't be charged any extra cost, instead, you help me to get some small commissions to maintain my blog. Thanks for understanding!
[Best street food in Hanoi]
Talking about Hanoi street food, honestly, I don't know how and where to start.
Street food is very common in Vietnam that you can find every street corner, and Hanoi is not an exception. Additionally, as a local Vietnamese who had stayed in Hanoi for 7 years, there are a myriad of street food options coming to my mind when starting to write this blog post. But I will try to condense a list of the best street foods in Hanoi that I love the most. 
1. Crispy pancake (Xèo cake) – the best street food in Hanoi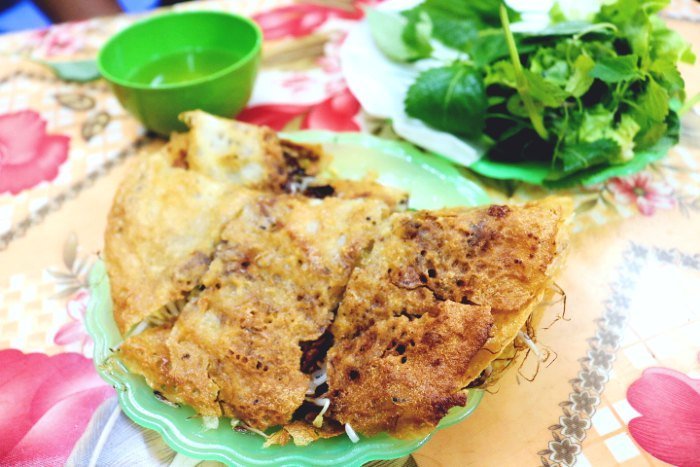 In Vietnamese, "Xèo" literally means "sizzling", this name stems from the sound when we pour the batter into the pan…sizzling (xèooo). On the outside, this snack looks pretty much like an omelette. In fact, this light yellow colour is from turmeric, which makes the cake looks much more appetizing. On the inside, there are shrimp/ beef/ pork, bean sprouts and some spring onions. Like many other Vietnamese foods, the crispy pancake is also combined with fresh veggies like lettuce, coriander, etc. and is dipped into a sauce.
You may see different types of sauce in different regions of Vietnam, in Hanoi, we use fish sauce which is a balance of saltiness, sweetness and sourness. Putting all together, this Xeo cake just brings you to the perfect harmonization of all the flavour and texture. Thus, despite having tried this pancake many times, I'm still in love with this Hanoi street food as the first day.
Address: 22 Hang Bo, Hoan Kiem, Hanoi

Opening hours: 15:00 – 22:30

Price: 20.000vnd/portion
2. Grilled egg (Trứng chén nướng)
I accidentally discovered this street food when wandering around Hanoi Old Quarter with my friend. We passed by a small street corner and saw many people sitting on small chairs and seemed happy with their dishes. Uhmmm that's a good sign…let's give it a try.
The food is pretty easy to make. They break about 4 quail eggs into a mini bowl sitting on a charcoal grill, then add butter, sausage slices, spring onions, dried shredded pork and fried onion as the topping. The flavour is a bit strange for me (positively). And the funny part is that you can experience eating street food in Hanoi on a small little chair just like a local.
I have no idea if there is any other place selling Trung Chen Nuong but this place is pretty worth a try.
Address: 24 Nguyễn Quang Bích, Cửa Đông, Hoàn Kiếm, Hà Nội

Price: 12.000vnd/cup

Opening hours: 16:30 – 22:00
More posts about Hanoi
3. Bánh rán (deep-fried sticky rice ball)
Northern Vietnamese people like having a snack in the afternoon and Bánh rán is one of our favourites. This dessert is originally from China since the Tang dynasty, however, there is a significant difference between Chinese and Vietnamese Bánh rán. In China, it is commonly filled with red bean paste inside, meanwhile, the Vietnamese use mung bean paste.
Its outer shell is made from rice flour, mashed potato and sugar, in addition, the cake can be coated or not with sesame, honey or sugar. This is definitely a tasty treat for a sweet tooth. Besides, there is also a savoury version of Bánh rán which looks similar to the sweet ones but is filled with chopped pork, glass noodle, veggie, etc. and eaten with fish sauce.
Here below is my favourite place to buy both types of Bánh rán. In addition, the stall also serves other tasty food such as pillow cake, Vietnamese spring rolls, prawns cake, etc.
Address: 52 Lý Quốc Sư, Hàng Trống, Hoàn Kiếm, Hà Nội

Opening hours: 10:00–21:30

Price: about 20.000vnd/person
4. Fried Pho noodle (Pho chien phong)
Well, when talking about Pho, you may expect a bowl of Pho soup. But no, Pho chien phong is a totally different thing. Not like the long-shaped traditional noodle, the Pho here will be cut into small squares and then deep-fried in a hot oil pan. Then, the crunchy noodle will be topped with stir-fried beef with veggies. This dish is very popular among the Vietnamese and Ngu Xa Street (near West Lake) is well-known for the best Pho chien phong in Hanoi. 
Address: Pho cuon Hung Ben, 33 Ngũ Xã, Ba Đình, Hà Nội

Opening hours: 09:00 – 22:00 

Price: 60.000vnd/plate (for 2 people)
Note: besides Pho chien phong, Ngu Xa Street is also famous for fresh spring rolls (Pho cuon), thus, you can order 1 more plate of Pho cuon as well.
5. Banh mi
Needless to say, Banh mi has been known as the most popular street food of Vietnam, especially in Hanoi. It has been a popular staple food in Vietnam since the 19th century when Vietnam was a part of French Indochina. As soon as the French baguette was introduced to Vietnam, the Vietnamese invented a number of variations of it and that makes the Vietnamese banh mi become one of the signature street foods of Vietnam. Banh mi can be filled with many types of proteins such as grilled pork/ beef/ chicken/ pate, along with veggies like pickle papaya/ cucumber and Vietnamese coriander.
One of the most well-known places to eat this attractively delicious food is Banh mi 25, this stall is decorated as the ancient Hoian town making it an instagrammable spot and the food is also very sanitary and yummy.
Address: 25 Hang Ca, Hoan Kiem, Hanoi

Opening hours: 07:00–21:00 (weekday) and 7:00 – 19:00 (weekend)

Price: about 35.000vnd/banh mi
6. Snail
Snails are consumed in Vietnam for a long time and we love it so much.  In the North of Vietnam, the most common way to cook snails is to boil with lemongrass and lime leaves. The cooked snails will be served with a sauce which is a combination of chilli, fish sauce, chopped lemongrass, and chopped lime leaves. Additionally, people usually serve pickle star-fruits, figs or papayas along with boiled snails to reduce its fishy smell. 
Would you dare to try this popular street food in Hanoi?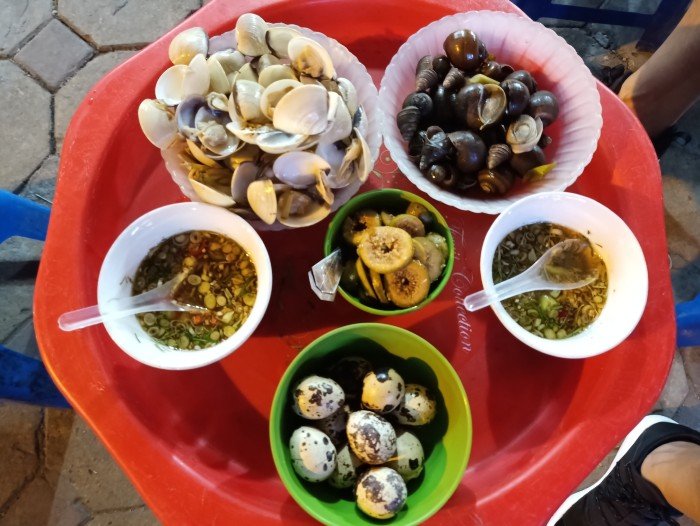 A recommended place to have boiled snails is in Tong Duy Tan street. There is a small stall operated by a mute couple, although the price is a little higher than other places, the food is amazingly good.
Address: 5 Tong Duy Tan, Hang Bong, Hoan Kiem, Ha Noi

Opening hours: 15:30 – 20:00

Price: 15.000 –33.000 VND/ dish
More posts about Hanoi
Above are the 6 best street food in Hanoi that I recommend you to have a try once you travel to this hectic city.  Are you willing to try all those foods when visiting Hanoi? Leave your comments down below to share your experience.
You may also like:
[Honest Review] Uu Dam Chay Restaurant in Hanoi with Pictures
PIN IT!