DISCLOSURE: My articles may contain affiliate links. To click on those links, you won't be charged any extra cost, instead, you help me to get some small commissions to maintain my blog. Thanks for understanding!
When I arrived at the Uluwatu temple, there was already a long queue of people waiting for the Kecak dance performance…Well, I did not expect that many people…
The Kecak Fire Dance, a traditional Balinese performance rooted in the Hindu epic Ramayana, tells the tale of Prince Rama's quest to save his wife, Sinta, from the demon king Rahwana. Given its cultural significance, the Kecak Fire Dance is a must-see for travelers visiting Bali.
In this post, I'll share all the details about the Kecak fire dance in Bali's Uluwatu temple, including some pro tips at the end. 
Read more: Review my trip to Bali with pro tips for first timers
1. Overview of the Kecak fire dance in the Uluwatu temple
Location: Uluwatu temple, Pecatu, South Kuta, Badung Regency, Bali, Indonesia

Ticket price: 150.000 IDR/ adult, 75.000 IDR/ child

Link to buy tickets online at a discount: CLICK HERE

Show time: 18:00 and 19:00 daily
2. What will you see during the Kecak fire dance in Bali?
A noteworthy aspect of this dance is the absence of musical instruments. Instead, a choir of approximately 70 male dancers will provide the only auditory accompaniment through their "cak-cak-cak" chants. This is the reason why the dance is called the "Kecak fire dance".
There are 4 scenes in the performance: 
Scene 1: Rama, Sinta and Golden Deer
Rama, Sinta, and Laksamana entered the arena where they encountered the Golden Deer. Upon Sinta's request, Rama went after the deer while Laksamana stayed behind to guard her. Suddenly, they heard a cry for help, which Sinta assumed was from Rama. Urging Laksamana to assist him, he hesitated to leave Sinta, recalling Rama's instruction to keep watch over her. However, due to false accusations of wanting to benefit from Rama's demise, Laksamana disregarded the instruction and left Sinta alone.
Read more: Review my trip to Bali with pro tips for first timers
Scene 2: Sinta, Rahwana, Bhagawan and Garuda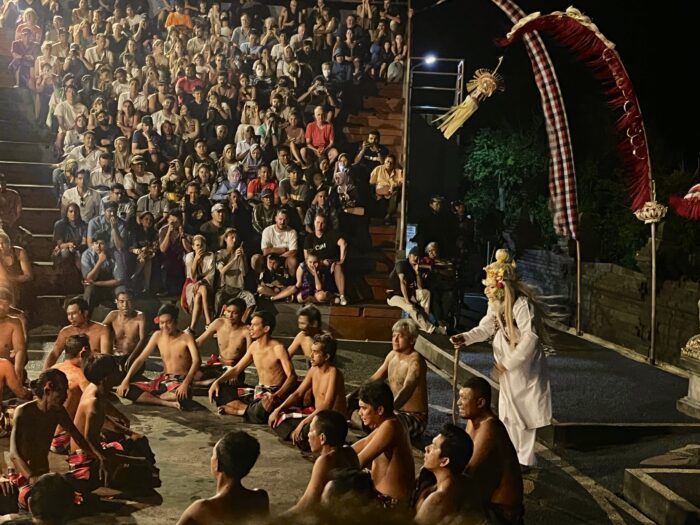 Rahwana's attempt to kidnap Sinta was unsuccessful. However, he resorted to deception by transforming himself into an old man named Bhagawan who feigned thirst and asked for water from Dewi Sinta. After providing him with water, Sinta was taken captive by the very same Bhagawan, who was actually Rahwana in disguise. Sinta's cries for help were heard by Garuda, a bird flying overhead, who attempted to rescue her but failed when Rahwana cut off its wings. Consequently, Sinta was taken to Alengka Pura by Rahwana.
Scene 3: Sinta, Trijata and Hanoman
Sinta found herself in the Alengka Palace Park, accompanied by Rahwana's nephew, Trijata. There, she expressed her despair. However, she was soon visited by Hanoman, the White Ape, who claimed to be an envoy of Rama and presented Rama's ring. Sinta entrusted Hanoman with some flowers and a message, asking Rama to rescue her at the earliest. Hanoman immediately made his way to Alengka Pura's garden, which he destroyed, leaving the servants and giants baffled. They soon apprehended Hanoman, who was subsequently tied up and set on fire. But due to his immense strength, Hanoman managed to break free and escape unharmed.
(This is the most impressive part of the show).
Scene 4: Tualen, Sugriwa, Rahwana, Rama and Laksamana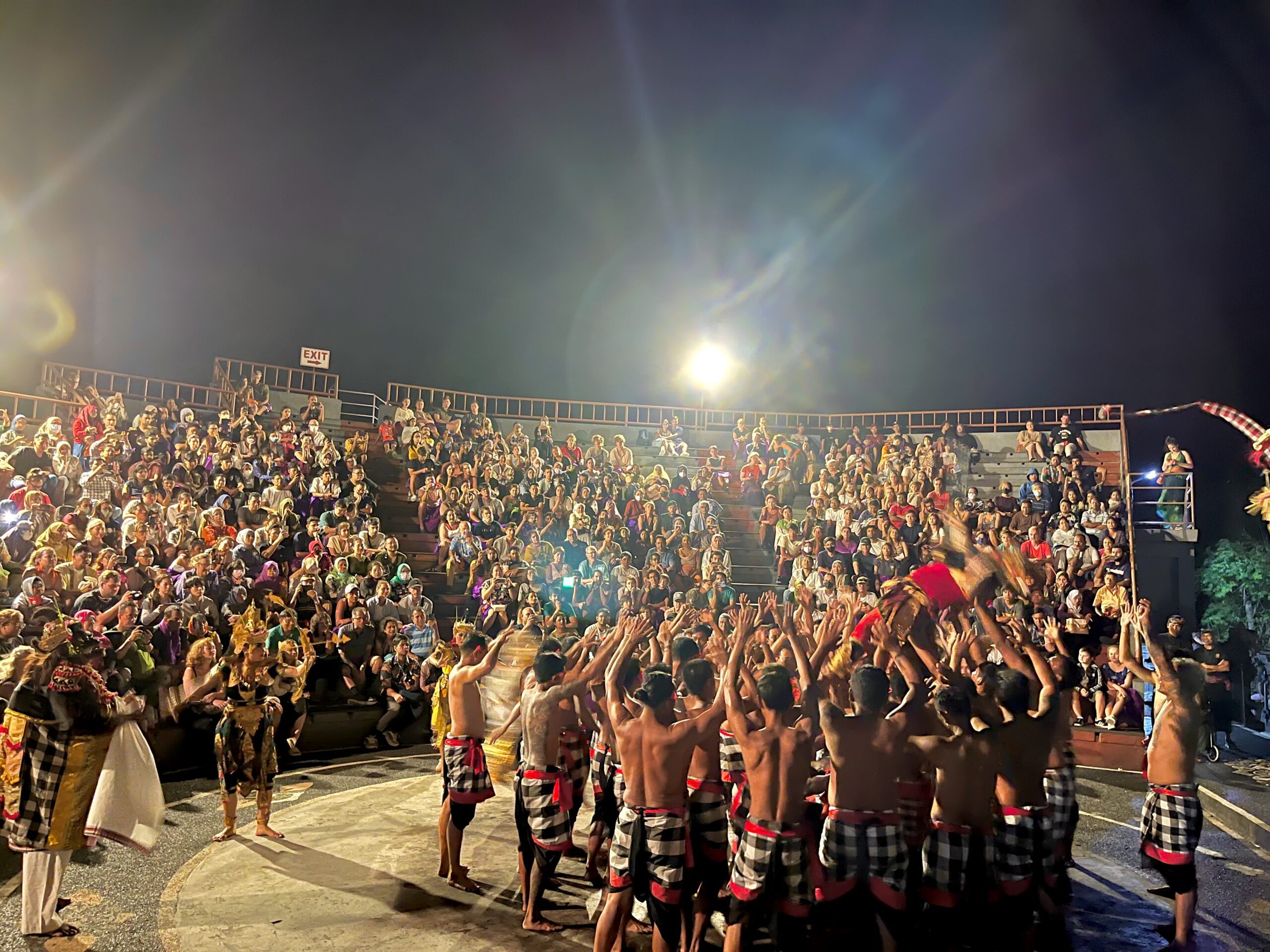 Tualen, who was a servant of Sugriwa, the King of the Red Ape, arrived at Alengka Pura to assist Rama in rescuing Sinta from Rahwana's clutches. When Rahwana discovered this, he became furious and a fierce battle ensued between him and Sugriwa. Eventually, Hanoman arrived at the scene along with Rama and Laksamana. With the help of Rama's magic arrow, Rahwana was defeated and fell to the ground. However, Hanoman was quick to take Rahwana's head before it touched the ground. In the end, Rahwana was defeated, and Rama and Sinta were finally reunited.
Read more: Review my trip to Bali with pro tips for first timers
3.  Things to know about the Kecak Fire Dance
Here are things you need to know before buying the tickets for the Uluwatu temple Kecak fire dance, Bali:
It's recommended to buy tickets online (via THIS LINK) to get a cheaper price compared to buying at the counter. 

The Kecak fire dance ticket does not include the entrance ticket to the Uluwatu temple. You have to pay 50.000 IDR per person for that. Additionally, it's required to wear pants/dresses that cover your knees when entering the temple. If not, they also provide the sarong for free in front of the ticket counter.

There are only two show timings available: 6 pm and 7 pm. Tickets purchased through the provided link are valid for both time slots. It's important to note that even if you purchase tickets in advance, you must still go to the counter at least 30 minutes before the show to exchange them for paper tickets. If tickets are sold out, you can wait for the later show at 7 pm or request a refund.

The best seats are in the middle, as the actors will face that area for most of the performance.

It's advisable to read the story behind the dance before watching it because there is no explanation during the show. You can read it above or from the paper you will be given when getting the show tickets.
So that's all you should know about the Kecak dance in Uluwatu temple. If you have any questions, feel free to comment below.
FAQ (Frequently Asked Questions)
1. What does the Kecak dance represent?
According to belief, the Kecak Dance has its roots in a Balinese traditional ceremony known as Sanghyang, which was performed to drive away malevolent spirits or evil forces, and involved dancers entering into a state of trance.
2. What is unique about the Kecak dance?
One of the distinctive features of the Kecak dance is that it does not require any music or instrumental accompaniment apart from the rhythmic chanting of a group of shirtless male dancers producing the "cak-cak-cak" sound with their mouths, while simultaneously moving their bodies and hands in a swaying motion.
3.

Is Kecak a traditional dance?
Yes, it is.
The Kecak dance is a traditional Balinese dance-drama that portrays the tale of the Ramayana epic.