One of the most unique resorts in Malaysia is probably the Lexis Hibiscus Resort in Port Dickson of which the design is inspired by the hibiscus – the national flower of Malaysia. 
However, how does it look in real life, how is their service, and which activities to do in the resort? In this post, I'm going to share my experience and review all aspects of the Lexis Hibiscus Resort through the most honest lens.
Read more: Melaka travel blog: transportation, best things to do, how long to stay 
1. General information about Lexis Hibiscus Resort
Address: 12th Mile, Jalan Pantai, 71250 Port Dickson, Negeri Sembilan

Price range: from RM 800 /room/night

Website: https://www.lexishibiscuspd.com/
2. My Review of Lexis Hibiscus Resort
I booked a Premium Pool Villa at about RM 1000/room/night (includes breakfast and buggy car). And below is my review of the resort:
Check-in process
It took a quite long time for the check-in process because we had to fill in the check-in form by ourselves. It would be very time-consuming if you go with a big group. And remember to avoid weekends and holidays as it can take up to 30-45 minutes. 
The exterior of the resort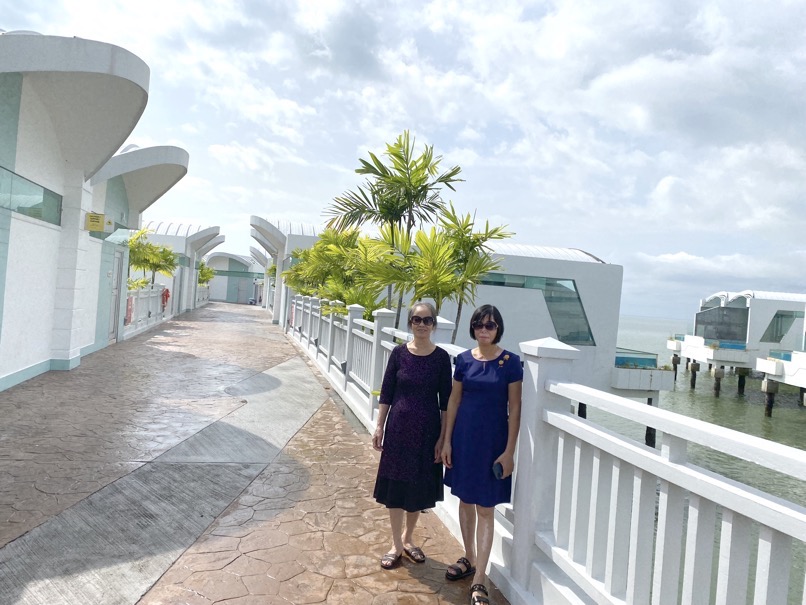 The resort looks really stunning and gorgeous as a whole. It's very relaxing and enjoyable to wander around it in the early morning or evening. 
The room
The room is fully equipped, only a kettle is not provided. There was a swimming pool and sauna room in my room as well. The view from the room is great (although the sea water is not that clean…).
The interior design was ordinary, looked like a 3-star hotel to me. 
The worst thing is that there was a big mold on the ceiling, right above my bed. Obviously, it dropped to my bed, making it look so dirty. Not to mention, the cup tray is also full of dust. I'm pretty sure that they did not have a check on the room before letting us check-in. 
Watch my video below for more details.
 

 

Xem bài viết này trên Instagram

 
The breakfast
They serve buffet breakfast. Nothing so special about the food, just simple dishes.
Buggy car service
My experience of the buggy service was pretty good because I traveled there during weekdays. I think you should probably avoid the weekend as many people said they had to wait for quite a while.
Things to do in Lexis Hibiscus Resort
Enjoy the private swimming pool. 
There are many activities offered in the resort with EXTRA CHARGE such as cycling, boat tour, jetskiing, etc. Below is the price for each activity.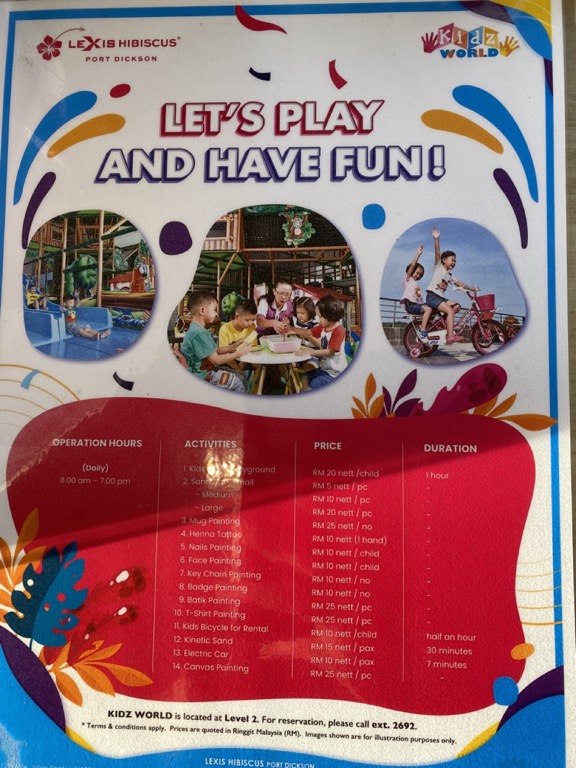 You can also have a drink at their sky bar and enjoy the live music. The price was affordable, only RM20-30/drink. Additionally, from the bar, you can see the whole resort in the shape of a hibiscus flower.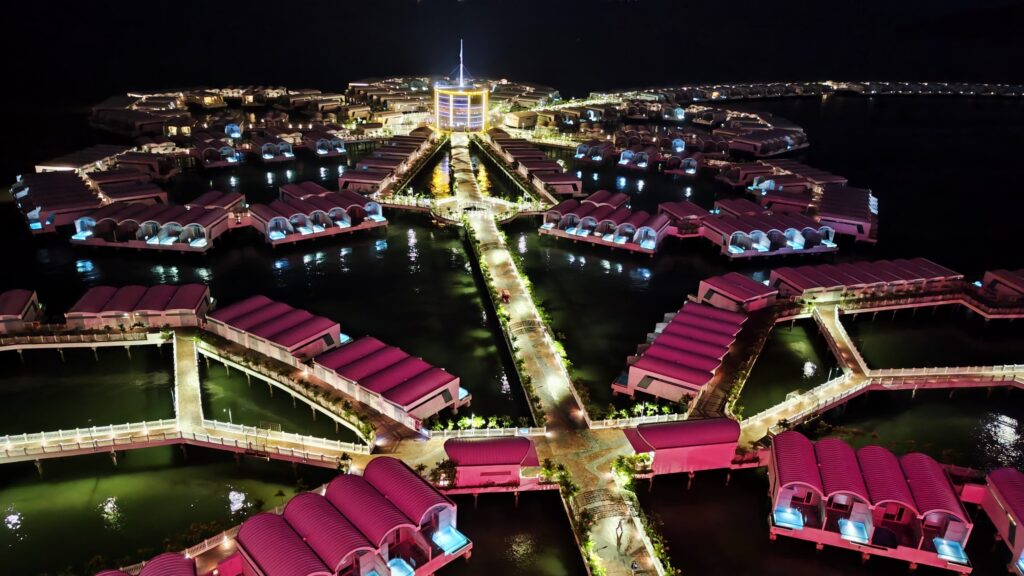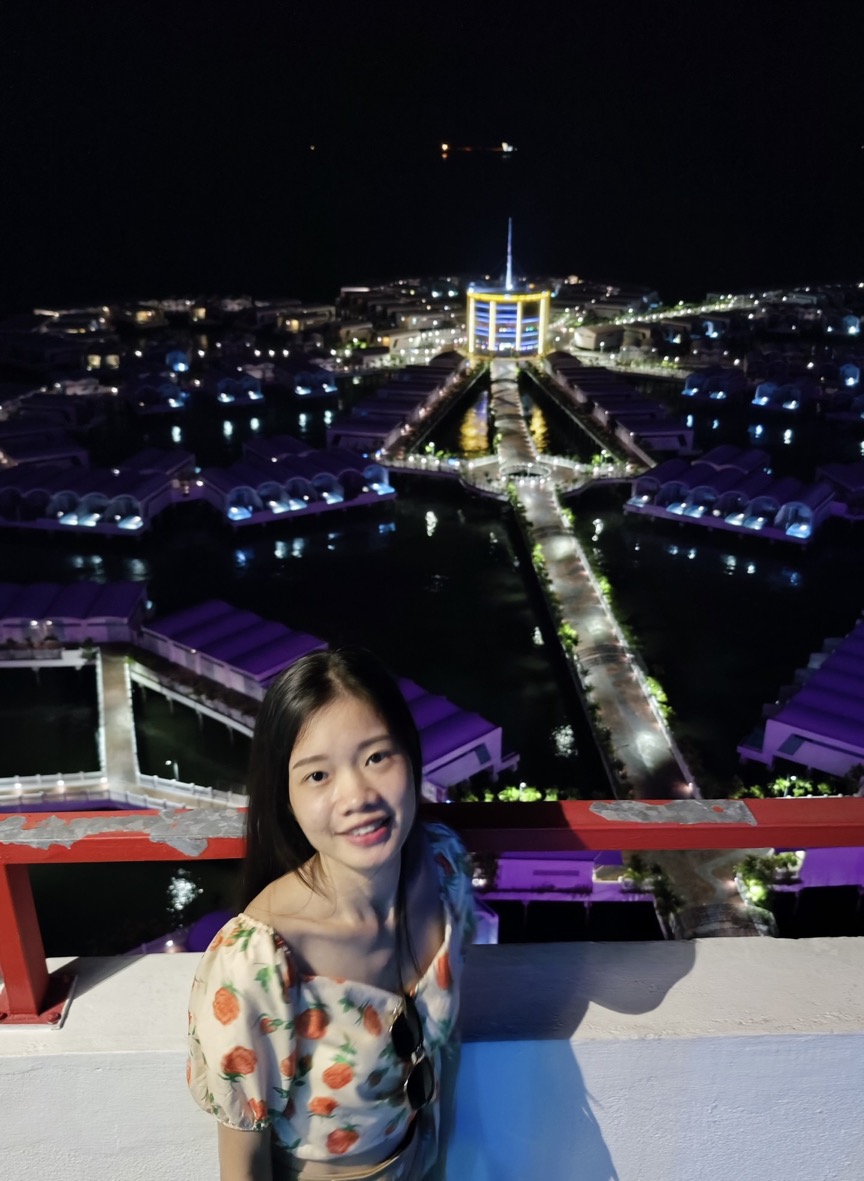 To conclude, I would rate Lexis Hibiscus Resort a 6/10. It's a bit overpriced with what they offer, especially the dirty room. 
Read more: Melaka travel blog: transportation, best things to do, how long to stay 
Above is my review of Lexis Hibiscus Resort in Port Dickson. I hope you find this post helpful. Share your thoughts in the comment box. Thanks for reading!