DISCLOSURE: My articles may contain affiliate links. To click on those links, you won't be charged any extra cost, instead, you help me to get some small commissions to maintain my blog. Thanks for understanding!
I bet you must have seen some dazzling pictures of a dreamy floral garden when searching for Cameron Highlands' places of interest, right? It is Cameron Flora Park (or CH Flora Park) – an instagrammable attraction in Cameron Highlands that opened to the public on 1st November 2021.
To be honest, as a girl, I couldn't resist not visiting this park during my 1st visit to Cameron Highlands. And the experience was totally worth my time and money.
In this post, I'm going to review Cameron Flora Park and provide you with all information about the park before you visit it. 
Information about CH Flora Park
Read more: Cameron Highlands travel blog: transportation, itinerary & cost
 

 

Xem bài viết này trên Instagram

 
1. How to get to Cameron Flora Park?
How to get to Cameron Highlands?
Cameron Flora Park is located in Cameron Highlands, thus, let's see how can we get to Cameron Highlands first. 
If you don't drive a car, then the only way to travel to Cameron Highlands is by bus. Tanah Rata is the bus terminal in Cameron Highlands. Here are some common routes to the Tanah Rata bus terminal:
From Kuala Lumpur to Cameron Highlands
The bus terminal in KL: Bersepadu Selatan (TBS) – the main long-distance bus terminal in Kuala Lumpur, Malaysia
Duration: 3.5 hours.
Ticket: around RM40
Website to book ticket: CLICK HERE
From Penang to Cameron Highlands
The bus terminal in Penang: Sugai Nibong Bus Terminal
Duration: about 4 hours
Ticket: RM40
Website to book ticket: CLICK HERE
From Ipoh to Cameron Highlands
The bus terminal in Ipoh: AmanJaya Bus Terminal (it is pretty far from Ipoh old town (where most of the tourist attractions are located in). To get to the bus terminal, you need to take a grab/taxi or catch a bus at Meden Kidd Bus Station straight to AmanJaya Bus Terminal at RM2).
Duration: 2.5 hours
Ticket: RM20-25
Website to book ticket: CLICK HERE
How to get to Cameron Flora Park?
To visit the attraction, you need to go to Flora Park Parking (type exactly in Grab/Google Maps/ Waze). From here, you will be picked up by a truck. The return trip is included in the price of the entrance ticket.
Note: If you drive a car, then bear in mind that parking at Flora Park Parking is not free. It cost me 6RM for less than 2 hours.
2. Budget-friendly accommodation nearby Cameron Flora Park
Below are some budget-friendly accommodations that have positive reviews located close to Cameron Flora Park:
Ng Family's Farm Stay
Review: Suitable for families, friendly staff, clean room, great location, quiet at night
Nearby attractions: Cameron Flora Park, Sheep Sanctuary, night market, Ee Feng Gu Bee Farm, Butterfly Farm, Cactus Point, etc.
Link to book: Click here
The Cocoon Capsule Hotel:
Review: Very clean and neat rooms, helpful and friendly staff, good location, a great choice for solo travelers.
Nearby attractions: Cameron Flora Park, Sheep Sanctuary, night market, Ee Feng Gu Bee Farm, Butterfly Farm, Cactus Point, etc.
Link to book: Click here
3. How much is the entrance ticket to Cameron Flora Park?
For now, you can only buy the tickets after getting off the pick-up truck. The ticket counter is next to the entrance barrier.
Cameron Flora Park's ticket price:
Adult: 50RM

Child (4-12 years old): 25RM

Local citizen: 45RM

Disabled or kid below 3 years old: Free
Note:
The price includes a return trip (between the parking area and the attraction) and unlimited time at the park (one entry only). For extra services such as picnic set/ Flora Hobbit house afternoon set, you need to pay extra money.

For a picnic set, you need to book at the website or contact them via Instagram for more details. However, it's not always available and depends on the season. Thus, you need to check with them beforehand.
They just opened a new section called Flora Hobbit House where you can relax in a private area and enjoy a luxury afternoon tea for 2 hours. There are 2 timings a day: 11:00am – 1:00 pm and 3pm-5pm. Booking can be made via their official website.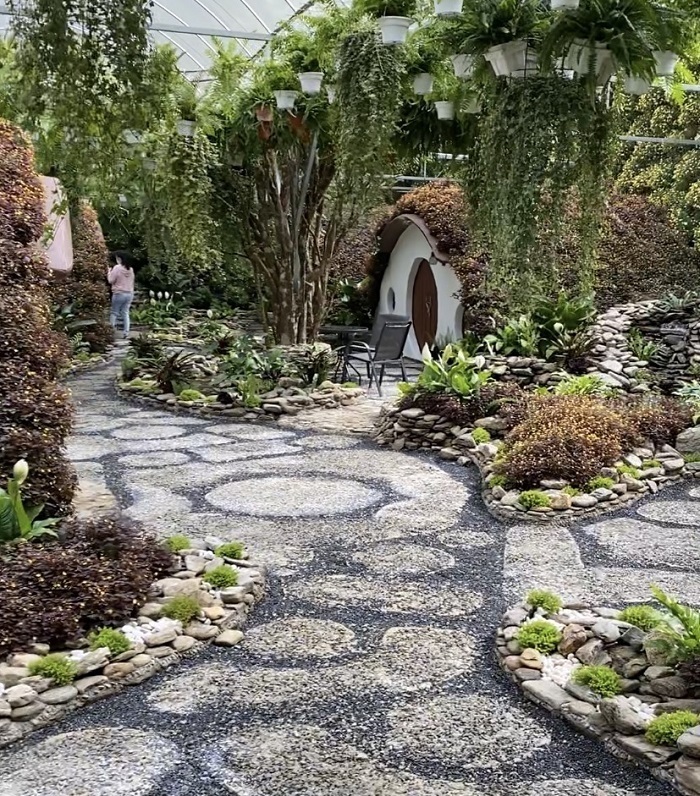 4. What's inside Cameron Flora Park?
After purchasing the tickets, you will be provided with a map of the park. There are 2 sections inside Cameron Flora Park: indoor and outdoor.
The indoor area is just in front of the entrance barrier. There are plenty of blooms on the ground, on the wall, or hung from the ceiling. The whole arrangement looks like a fairy tale kingdom. Sounds tempting huh?
If you want a more private and luxurious experience, you can book their picnic package or Flora Hobbit House tea set. Booking can be done via their website.
Regarding my experience, I spent about 30 minutes exploring the whole indoor area (of course, including picture time haha). There are 2-3 small cafés also if you want to chill out among a dreamy bloom background.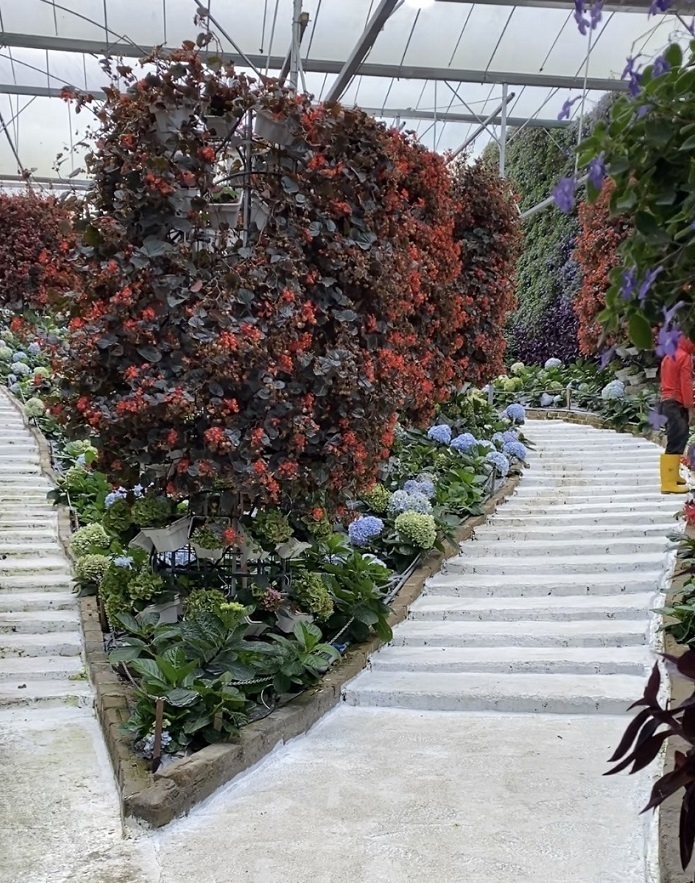 In addition, you can also discover the outdoor area. It's way better to take photos in this area thanks to the dreamlike setting and sunlight making your pictures so dazzling. However, the entire area is a hill and it is quite tiring to hike up to the top. Thus, I don't recommend this area if you accompany the elderly or kids.
Here are some notable places to take pictures:
the stair to the sky

The round chair

The pathway to heaven (this one is located at the foot of the hill)
 

 

Xem bài viết này trên Instagram

 
There is also a café at the hilltop called The View café. The price is actually pretty pricey but it's totally understandable since their operational cost is high and it offers such a nice view from the top. I ordered a piece of strawberry oreo cheesecake and one strawberry pinky tinky, both tasted really good, the strawberry seemed fresh and sweet and the total damage was 41RM. The only thing to complain about is that the café's indoor area is a bit hot.
Read more: Cameron Highlands travel blog: transportation, itinerary & cost
5. Things to bear in mind when visiting Cameron Flora Park
Remember to keep the tickets until the end as they will check them before you get on the drop-off truck.

Try to visit the park as early as possible to avoid the crowd.
 I arrived the CH Flora Park Parking at 9:45 am and there was already a long queue waiting for the pick-up trucks. Luckily there are more than 4 trucks and the distance from there to the park is not far (a 5-minute drive), thus, my total waiting time was only about 10 minutes.
As I arrived at the park, seemed like the park was not that crowded because it could house many people at a time. However, at about 11 am, I saw more and more people and we even need to queue up to take pictures of the pathway to paradise (by the way, some people were really impolite to skip the line, I waited for a while to take a turn and they just jumped in directly… speechless).
The park is not wheelchair-user friendly as there are many stairs.

There are 4-5 cafés and toilets in each section.
Above is my review of Cameron Flora Park, I hope you find it helpful. If you have any questions, feel free to ask in the comment box below. Thanks for reading!
Frequently Asked Questions – FAQ
How long does it take to visit CH Flora Park?
It would take 1-2 hours, depending on how many pictures you want to take.
Can I drive to CH Flora Park by myself?
No.
As I observed, the road to the Park is very rocky, and narrow and can only fit 2 cars. Furthermore, the road is private, you cannot access the road.
Can I buy tickets for CH Flora Park online?
No.
As of 2023, you can only buy entrance tickets at the site.