DISCLOSURE: My articles may contain affiliate links. To click on those links, you won't be charged any extra cost, instead, you help me to get some small commissions to maintain my blog. Thanks for understanding!
There is a unique place that you don't want to miss when visiting Can Tho: the Cai Rang Floating Market. This is where you can witness how people live and trade on their wooden sampans, enjoy local specialties, and immerse yourself in folk music.
And you know what surprised me the most when I arrived at this market? It's how the sellers approach you to sell their products, it's like a scene from "Fast and Furious."
If you want to visit the Can Tho Floating Market by yourself, here's some good news! It's incredibly easy to access and affordable. 
In this blog post, I will share a detailed guide on how to discover the Cai Rang Floating Market by yourself and recount my own experience in the market.
Read more: How to get from Sai Gon to Can Tho by bus?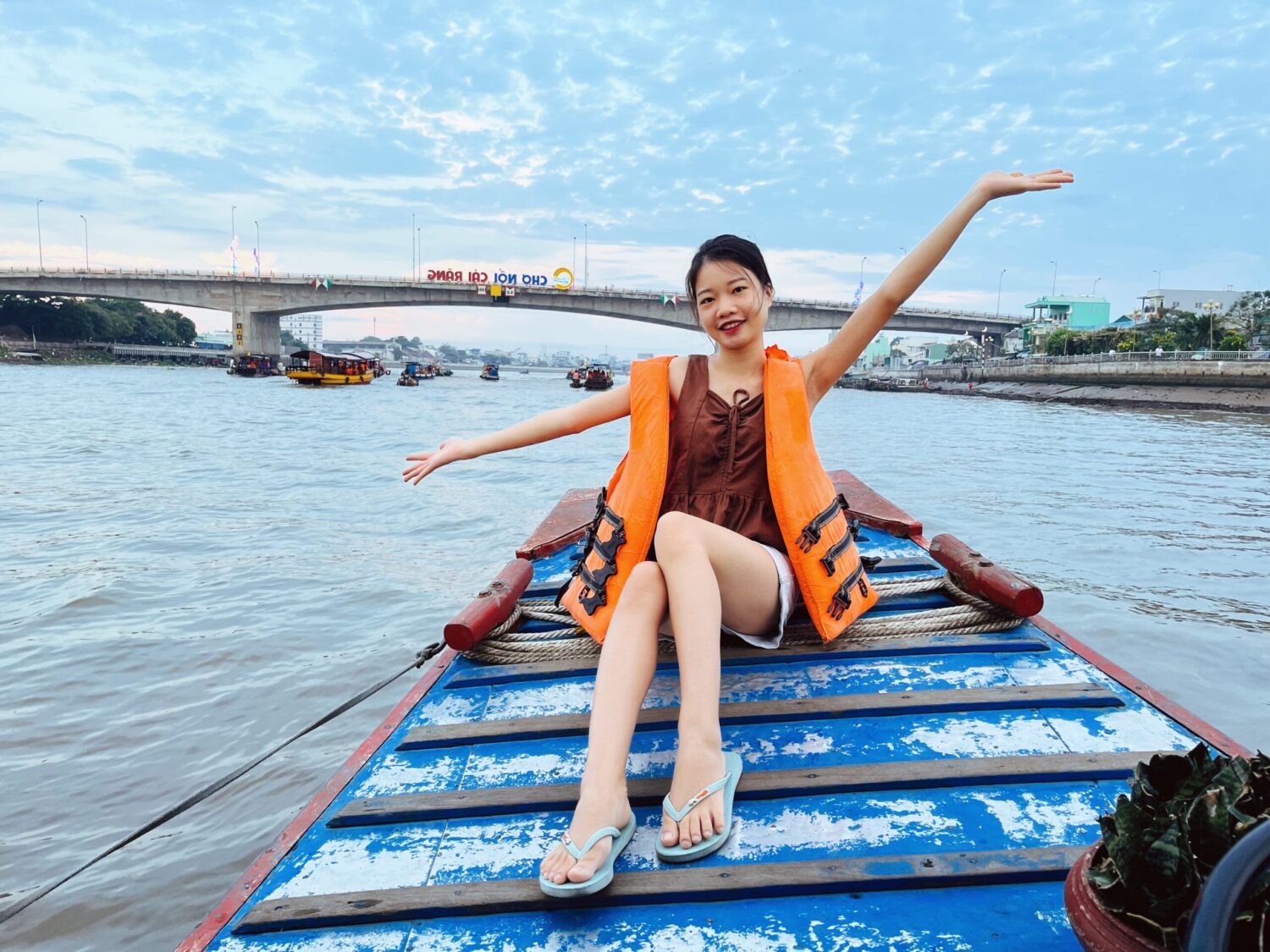 1. A glimpse of the Cai Rang Floating Market
The Cai Rang Floating Market is one of the oldest floating markets in the Mekong Delta, which served as a commercial center in Can Tho City and its neighboring provinces in the past. The market originated from the essential needs of the locals when streets and vehicles were not yet developed.
Cai Rang market is also the largest Floating Market in the Mekong Delta, with approximately 250-300 wooden rowboats operating daily. However, the number of boats in the Cai Rang floating market has been decreasing year by year due to a decline in buyers and sellers. Moreover, many locals have abandoned their boats to seek a better life on land.
In 2019, The Rough Guides Magazine (UK) voted the Cai Rang Floating Market in Can Tho as one of the ten most impressive markets in the world. 
Furthermore, on March 10, 2016, the market was officially recognized as a national intangible cultural heritage by the Ministry of Culture, Sports, and Tourism.
2. Best time to visit Cai Rang Floating Market by yourself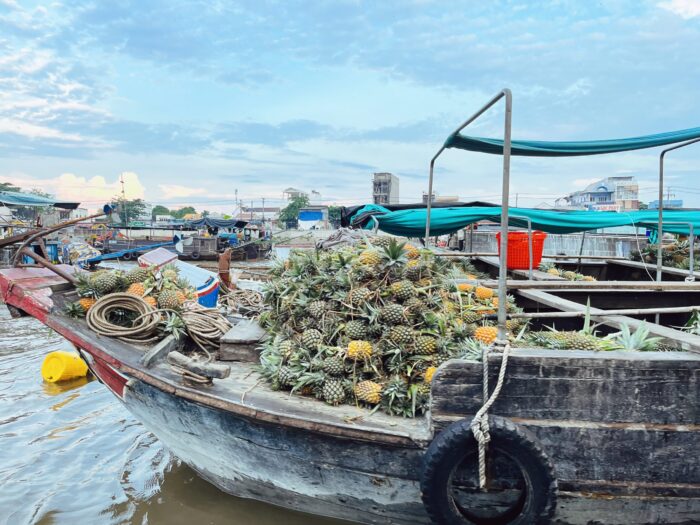 The best month to visit Cai Rang Floating Market – Can Tho
The floating water season, from September to November, is said to offer the most beautiful scenery of the year. It is also an ideal time to indulge in specialties made from linh fish, field crabs, water hyacinth stems, and water lily buds. However, this is also the period when it rains the most.
If you cannot bear the heat, it's best to avoid April to July, as those months are the hottest of the year. In contrast, December to February is much cooler, but do expect some rainfall.
If you enjoy tasting various types of fruits, then the period from June to August is suitable. During this time, the sampans are filled with fruits such as rambutan, durian, jackfruit, pomelo, and green-skinned grapefruit.
And remember, the Cai Rang Floating Market will be closed during the Tet holidays (1st and 2nd day) and the Doan Ngo festival (5th day of the 5th lunar month).
The best time of the day to visit the Cai Rang Floating Market
It is advisable to visit the market at around 5-6 am. From Ninh Kieu ward, boats depart during this time every day.
By approximately 7:30 am, the market starts to disperse. There won't be many sellers, and it can also become scorching hot.
3. How to get to Cai Rang Floating Market by yourself?
Getting from Sai Gon to Can Tho
Can Tho is very easy to access from HCMC. Buses or limousines depart every hour from HCMC.
You can purchase bus tickets at Western Bus Station or via 12.gosia (click here).
For more details, you can read my post: Sai Gon to Can Tho bus: timetable, ticket price & review of my trip.
Visiting Cai Rang Floating Market by yourself from Can Tho city
The Cai Rang Floating Market is situated about 6km (3.7 miles) away from Ninh Kieu Wharf (city center). To visit the market, there are 2 ways:
Depart from Ninh Kieu Wharf: This is the most convenient option if you stay in the city center. You can either purchase a group tour or rent a private boat at the wharf. There are plenty of providers available, and you will find them after walking around the area for a while (they will approach you to promote their services). The prices offered by these providers are generally the same.
The group tour is affordable, priced at only 100,000 VND per person, which includes visits to three attractions (detailed review at the end of this blog post).
Alternatively, you can rent an entire boat for your group. The price is 400,000 VND per boat for a 3-hour tour and 600,000 VND per boat for a 6-hour tour. The 6-hour tour will take you to additional places such as a fruit garden and a fish sauce production house.
Pros: 
The ticket is cheap and easy to purchase.

The boat is spacious with a cover (however, some private boats don't have a cover, so you need to check carefully with the operator).
Cons: 
You cannot choose which boat to buy from as the tour boat will assign a designated breakfast boat for you, typically the pink-colored one (I'm quite certain they are partners). However, you have the option to decide whether to buy or not.
Depart from Cai Rang Floating Market: If you want to experience the Can Tho Floating Market by yourself from A to Z, you can go directly to the market and rent a local wooden rowboat. This means you need to drive for about 15-20 minutes to reach the market by around 5 am. Once there, you can find the local boats and ask the price ( should be around 350,000 VND per boat). However, you might encounter a language barrier as the locals don't speak English. No worries! This is why Google Translate was born.
Pros:
You can freely explore the market and decide what to buy and from which boat to buy.

You can immerse yourself further into the local culture.
Cons: 
There will be a language barrier without a tour guide.

Some of the local boats don't have covers, so you might feel hot and uncomfortable after 7 am.
If you don't have time to plan your trip, joining a tour may be a better option than visiting the Can Tho Floating Market by yourself. There are several 2-3 day tours available that depart from HCMC and include a visit to the Cai Rang Floating Market. Here are two tours that you can consider:
2D1N Mekong Delta with floating market guided tour on Klook: Click here.
Cai Rang Floating Market and Mekong Delta Luxury 2-day tour on Viator: Click here.
For my own trip, I purchased the boat tour departing from Ninh Kieu Wharf, which I found to be a safe and affordable choice as a solo female traveler. The experience was quite enjoyable, and I will share more details about it later in this blog post.
4. What to see and do in the Cai Rang Floating Market?
When visiting the Cai Rang Floating Market in Can Tho, you have the opportunity to witness how people live and trade along the waterways. 
Do you see a 3-5-meter-tall pole at the bow of every boat? Take a closer look, and you will notice something hanging on it. Those are samples of the products the sellers offer. However, if you see clothes or household items, that indicates it is just a house and they are not selling anything.
The way the sellers approach their customers is very engrossing. They come next to their target and tie a rope to connect the two boats. It might feel a bit aggressive the first time you experience it.
Tourists often buy fruits, breakfast, and drinks at the market. There are plenty of breakfast options available, including hu tieu, com tam (broken rice), pho, bun rieu, and more.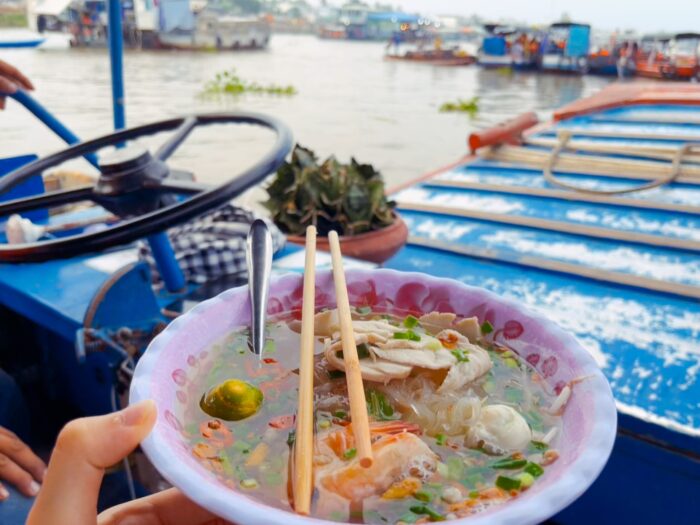 The prices at the Can Tho Floating Market are higher compared to those on land. However, they are still affordable. For example, a bowl of hu tieu costs 40,000 VND, and a cup of soya milk costs 10,000 VND.
Here's a pro tip: the deeper you go inside the market, the cheaper the prices become.
If you visit the Cai Rang Floating Market on Saturday or Sunday, you have the chance to watch "đờn ca tài tử," which is a traditional Southern Vietnamese folk music performed by a group of artists on a boat.
5. Review my tour of the Cai Rang Floating Market
As mentioned earlier in this blog post, I opted for a group tour departing from Ninh Kieu Wharf for two reasons:
It was cheaper to share the boat with others.

I did not dare to drive to the market in the dark alone as a solo female traveler. 
The night before, I strolled around Ninh Kieu Wharf and randomly chose a tour desk (Tran Tuan company) to purchase the tour. After paying 100,000 VND, the ticket lady handed me a ticket and informed me to arrive before 5 am.
The next morning, I arrived at 4:45 am, only to find out that I had to wait for 30 minutes for departure (probably because we were waiting for other people to arrive).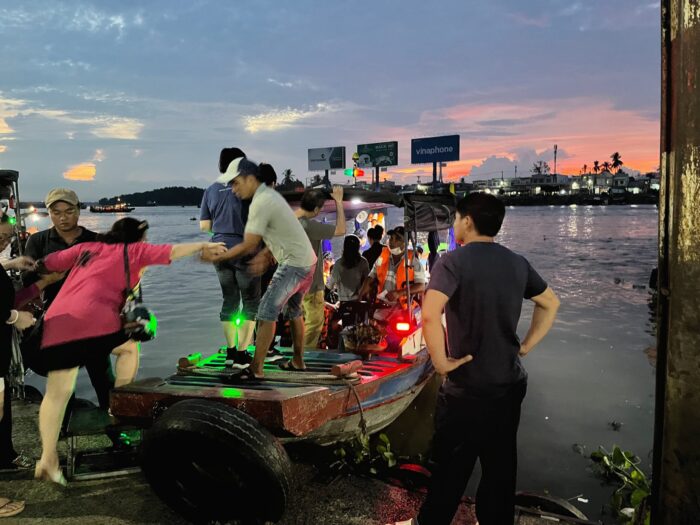 We finally departed at 5:17 am, 17 minutes later than the scheduled time. By 5:50 am, I reached the market entrance.
There were hundreds of boats and sampans selling various items such as fruits, flowers, and food (along with many local tourist boats as well).
Four boats approached ours. One sold drinks like coffee and soya milk, two sold fruits, and one sold breakfast.
We bought our breakfast from a pink-colored boat, which was likely the business partner of the tour company. The price was reasonable, at 40,000 VND per bowl of hu tieu. However, the taste was average, the broth was too sweet for me. Nonetheless, I came here primarily for the experience, not for the food.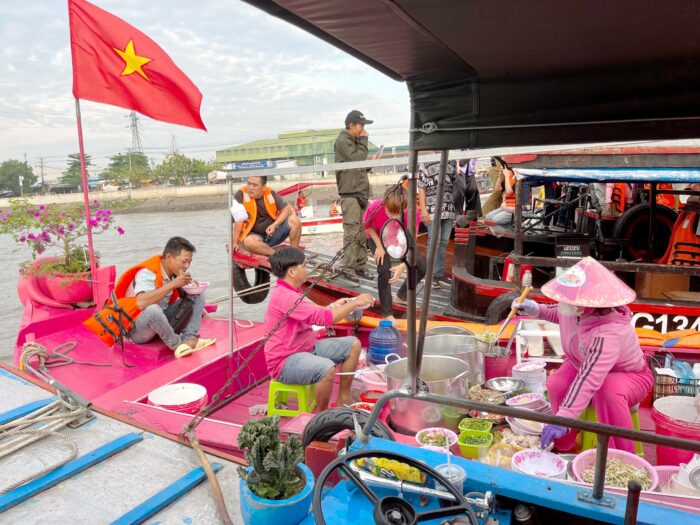 While having breakfast, the boat driver paused until we all finished our food and returned the bowls. The tour guide told us to pour any unfinished food into the river for the fish to eat, but I personally didn't think it was a good idea.
Afterward, we visited a floating shop that offered a wide range of local specialties and souvenirs.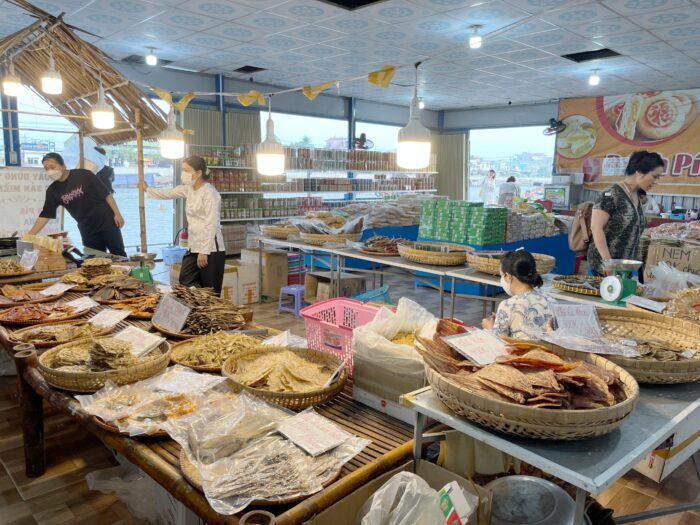 Our last stop was the Hu Tieu production facility called Lo Hu Tieu Que Toi, where we witnessed the process of making fresh Hu Tieu, Hieu Tieu pizza, and coconut candy. 
We headed back to Ninh Kieu Wharf at 7 am, as it began to get hot and sunny.
The tour ended at 7:30 am. I was completely satisfied with this experience. The tour guide was kind and helpful, she helped us take numerous photos. The itinerary was well-planned, and not overly packed with activities. However, the timing was not punctual, as my tour was delayed by 17 minutes.
Regarding tipping, it is recommended to tip the tour guide and driver around 50,000 to 100,000 VND if you are pleased with the service.
6. Do and Don't when visiting Can Tho Floating Market by yourself
Always wear a life jacket when you are on the boat.

Remember to bring cash with you as the sellers only accept cash.

Avoid bargaining excessively and then leaving without buying anything in the early morning. Vietnamese people consider this to be bad luck, especially if you are the first customer of the day.
In conclusion, the Cai Rang Floating Market was one of the highlights of my trip to Can Tho. It was incredibly fascinating to immerse myself in the bustling atmosphere of the market and observe the daily activities of families living on boats. It's an unforgettable experience!
That's how you can explore the Can Tho Floating Market by yourself. Feel free to ask any questions below, and thank you for reading!