DISCLOSURE: Some of my articles may contain affiliate links. To click on those links, you won't be charged any extra cost, instead, you help me to get some small commissions to maintain my blog. Thanks for understanding!
Planning for a day trip to Putrajaya? Don't forget to experience Cruise Tasik Putrajaya. This is an amazing experience that offers you a ride around the artificial lake of Putrajaya on a cruise.
I went to Putrajaya on a sunny day in May, during the Hari Raya holiday. I planned to visit the mosque and experience riding a horse in Equestrian Park Putrajaya, but sadly, they were both closed on that day. So I could only do the cruise tour operated by Cruise Tasik Putrajaya.
In this post, I'm going to share my experience on Cruise Tasik Putrajaya including all the information about the cruise, the Putrajaya Cruise price, and my review with pictures.
Read more:
KL to Penang travel guide: How to transport? What to do in Penang? Best time to visit
1. About Cruise Tasik Putrajaya
Website: https://www.cruisetasikputrajaya.com/index.html
Phone: +(603) 8881 0648
Email: [email protected]
Jetty location: Presint 1, 62000 Putrajaya
There is a staircase behind the Putrajaya Information Desk (in the picture), just go down to that staircase and the jetty is just on the right-hand side.
 

 

Xem bài viết này trên Instagram

 
2. How to get to the jetty of Cruise Tasik Putrajaya?
By public transportation
Below is the guide to go from Kuala Lumpur to Putrajaya train station, and from the station to the jetty.
From Kuala Lumpur to Putrajaya
The easiest and fastest way to get to Putrajaya from Kuala Lumpur is by KLIA Transit train. The whole journey takes about 20 minutes and costs  RM 14/person/way.
Departure station: KL Sentral
Arrival station: Putrajaya Sentral
Note: There is a KTM line called KLIA Ekspres, it's totally different from KLIA Transit and does not stop at Putrajaya Sentral Station. So remember to buy to correct tickets.
From Putrajaya Sentral Station to the jetty
You can take a taxi/grab car to the jetty from the Putrajaya Sentral Station, it's only a 10-minute drive. 
By car
Driving a car is much faster and more convenient. If you don't have a car in Malaysia, you can rent it via SOCAR app, this app provides a car rental service at a competitive rate.
By tour
Joining a tour is an easy option if a car and public transportation are not suitable for you. I highly recommend this tour: Putrajaya and River Cruise Tour because there are a lot of people who booked this tour and most of them gave positive feedback about it. 
Some information about the tour:
Website to book tours: Click here

Inclusion: English-speaking tour guide, round-trip transfer to & from Kuala Lumpur city center, Cruise ticket.

Attractions included in the itinerary: Cruise Tasik Putrajaya, Putrajaya Mosque, Putrajaya Bridge, PJ Government Centre, Putrajaya Perdana.

Duration: from 9:30 to 13:00
3. Putrajaya Cruise price
Putrajaya Cruise price ranges from RM30 up to RM3000+ depending on which service you choose: sightseeing cruise, dining cruise, and Perahu Dondang Sayang.
Sightseeing cruise
This 45-minute cruising experience offers a ride around the stunning man-made Putrajaya lake. The cruise operates every day at different times (details as below).
Ticket price:
Local Malaysian: RM30/adult, RM20/child.
Foreigners: RM50/adult, RM35/child.
Private Charter:
Kelah and Sebarau (double-decker) cruise: RM3000 for the first hour + RM1800 for every subsequent hour.

Daun and Belimbing (single-decker) cruise: RM2000 for the first hour + RM1200 for every subsequent hour.
Dining at Cruise Tasik Putrajaya
Dining on the cruise is one of the best things to do in Putrajaya. Not only can you enjoy a local Malaysian buffet, but also the magnificent view of Putrajaya Lake. The whole journey lasts 1-2 hours.
There are 2 types of cruises to choose from:
Cruise Dine @ Dawn: This is a luxury cruise that accommodates a maximum of 20 passengers.
Cruise Dine @ Sebarau/ Kelah: This is a double-decker cruise that accommodates a maximum of 60 passengers.
Ticket price:
RM130/adult, RM88/child for weekdays.
RM150/adult, RM98/child for weekends & public holidays.
Cruise Dine @ Sebarau/ Kelah:
RM150/adult,  RM108/child for weekdays.
RM170/adult, RM188/child for weekends & public holidays.
Note: Payment and booking should be made a week before.
Perahu Dondang Sayang
Dondang Sayang is a traditional Malaysian boat that looks similar to Gondola in Venice, Italy. This boat will take you from Putra Mosque towards Taman Botani in 20-25minutes. The daily ride is offered from 10 am to 6 pm.
Ticket price:
There are 3 types of services offered at different prices:
Perahu sightseeing (group tour):
Local Malaysian: RM20/adult, RM12/child.
Foreigners: RM40/adult, RM26/child.
Private charter: RM200/group of maximum of 6 passengers

Love boat: It is a romantic private cruising experience for couples with dinner and drinks. The price is RM250/hour for weekdays and RM350/hour for weekends.
Read more:
Batu Caves – Murugan Statue: Interesting facts, history, how to get there?
A complete Ipoh travel guide: transportation, what to do in Ipoh, famous food, cost
4. How to buy tickets for Cruise Tasik Putrajaya?
For daily single tickets, they can be bought at the ticket counter located in front of the jetty entrance.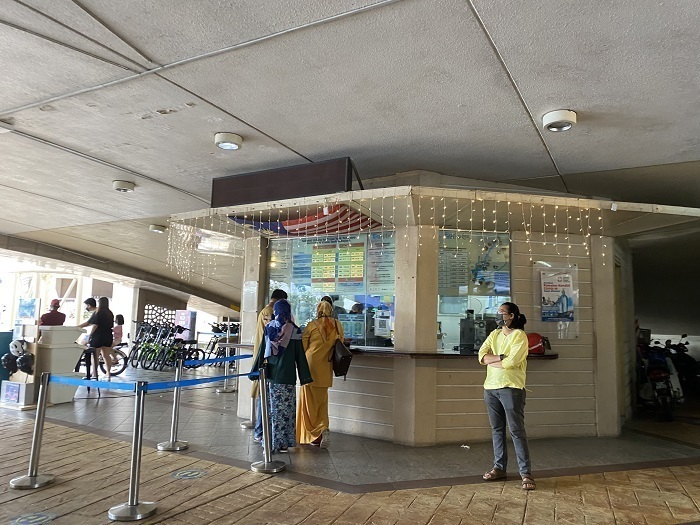 For charter service booking, you can contact them via the phone number or email (provided above) at least 1 week before. Payment or deposit is also required prior to departure.
5. My review about Cruise Tasik Putrajiaya
I only experienced the sightseeing cruise and here is my review of it:
The cruise interior design is modern and luxurious, and air-conditioners are available onboard.

There are 2 balconies from which I could enjoy the breeze and the view of Putrajaya Lake.

There is a presenter to explain the history or information about every landmark we pass by.

The schedule is sometimes not correct as stated on their website or ticket counter. We came there during the holiday and thought that the cruise would depart at 11 am as informed. However, we came to the ticket counter but no one was there until 12 pm, and they said that the cruise ran at 1:30 pm. Therefore, we had to go somewhere else for lunch and came back before 1:30 pm for the cruise. It was a scorching hot and tiring experience.
Some pictures of Cruise Tasik Putrajaya: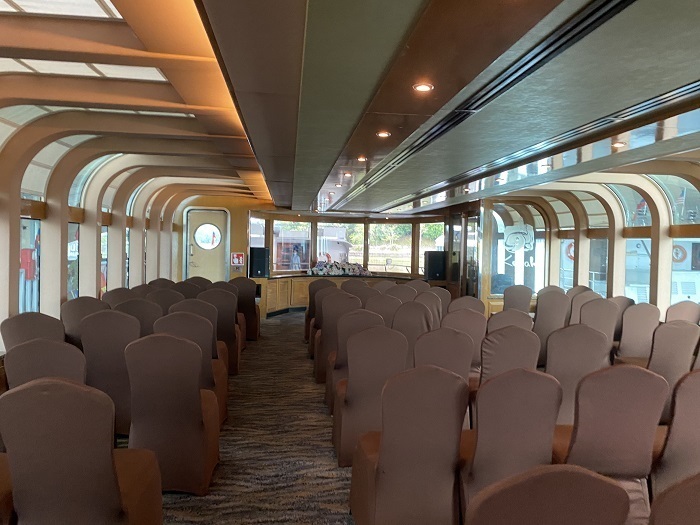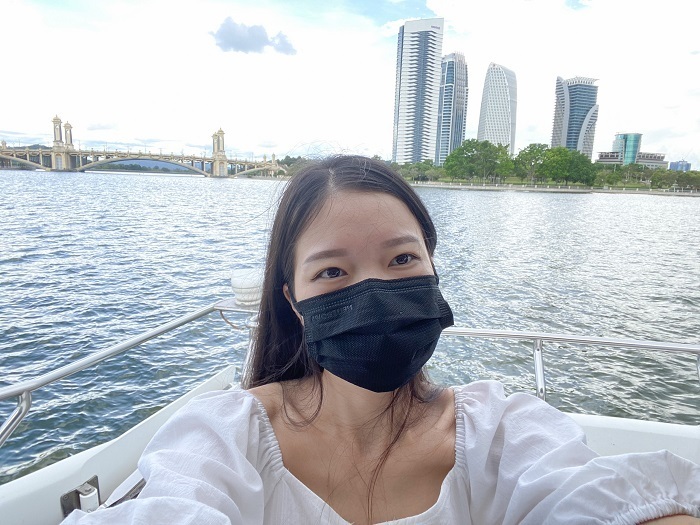 Overall, it was a good experience. The cruise is nicely designed and clean, the staff is polite. However, I highly recommend you call them in advance to ask about the schedule of Cruise Tasik Putrajaya to avoid wasting your time and energy. 
Above is my experience of Cruise Tasik Putrajaya including all the information about the cruise, the Putrajaya Cruise price, and my review with pictures. Hope you find it helpful. Share your thoughts in the comment box.
Read more: 10 Awesome places for a weekend getaway in Selangor
Summary
Reviewer
Review Date
Reviewed Item
Author Rating
Product Name